Nigerian discus thrower Chioma Onyekwere (© Getty Images)
"I am strong," Chioma Onyekwere says before she steps into the ring. "I am powerful. I am explosive."
It's an affirmation for Onyekwere to prepare herself mentally during each performance. But there's truth to it, too. The 29-year-old Nigerian discus thrower demonstrated her strength when she broke the African record earlier this season with a 64.96m throw that surpassed the qualification standard for the World Athletics Championships Budapest 23 in August.
Onyekwere has led a relentless career: as well as her area discus record she is a two-time African champion and last year she became the first Nigerian woman to win a discus title at the Commonwealth Games.
Beyond athletics, Onyekwere possesses a talent for mechanical engineering, which was her field of study in college. Moments not spent training for international competition are dedicated to her full-time work as an automotive engineer at Ford Motors.
But while her abilities in the circle stand out, her determination and leadership also warrants attention.
Two years ago, a lost opportunity lowered her hopes to the point of almost quitting the sport. But today, she speaks confidence into each attempt and sets an example for younger throwers.
"I can do this," she says to herself now when she shakes out before competition. "And I'm capable of much more."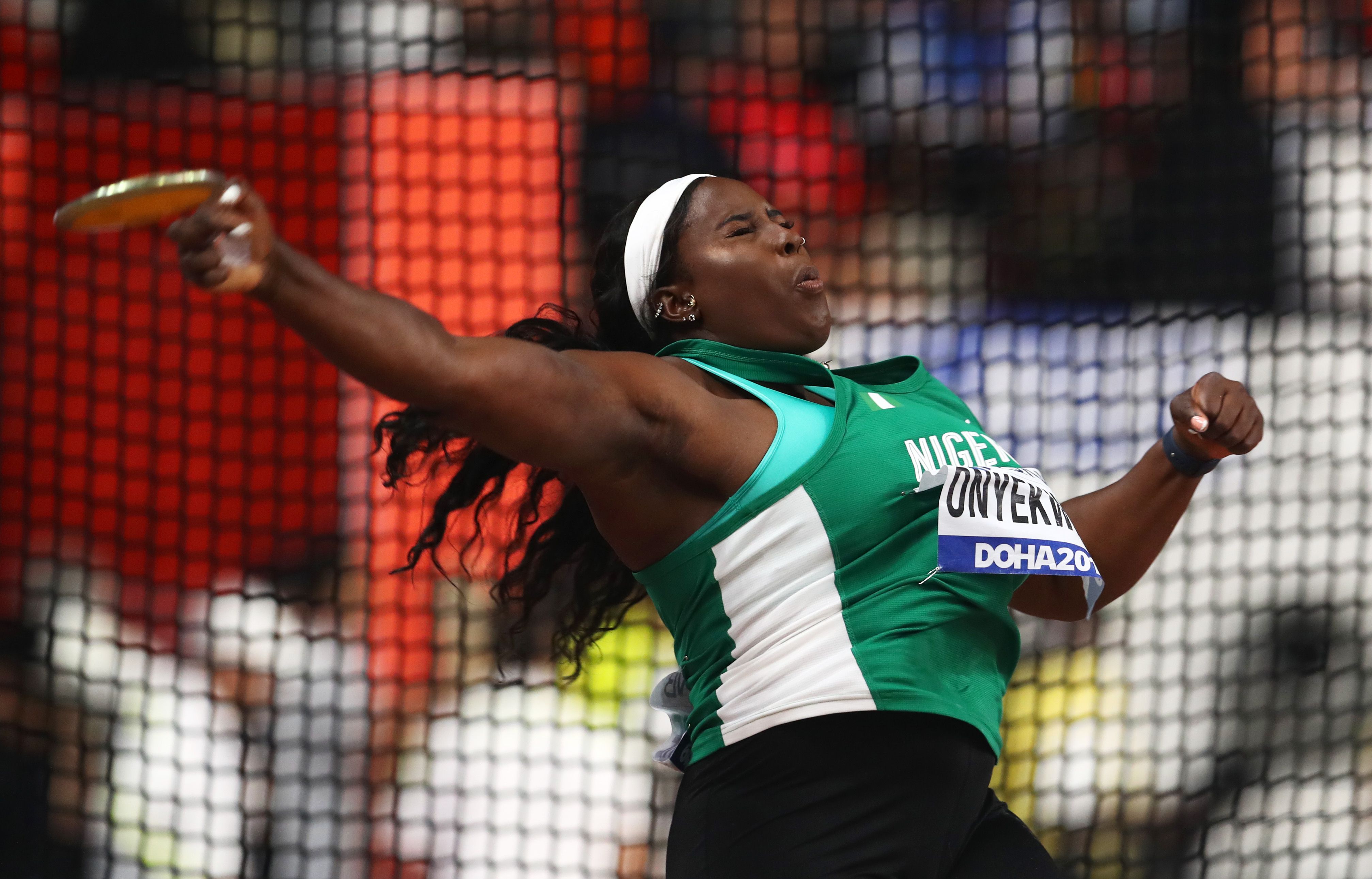 Chioma Onyekwere competes at the World Athletics Championships in Doha (© Getty Images)
Questioning everything
In 2021, Onyekwere was supposed to have her year of domination. She set a PB that season, opening up the opportunity to represent Nigeria at the Olympics in Tokyo. It would be her first Olympics. She says it felt like she was really on her way to achieving her dreams.
But she arrived in Tokyo to discover that the unthinkable had happened – she and some of her fellow Nigerian athletes were ruled ineligible to compete because the Nigerian Federation had not met the minimum drug-testing requirements for 10 of its athletes. Classed as a "Category A" country by the Athletics Integrity Unit, Nigeria was required to ensure that at least three no-notice out-of-competition tests were conducted on each of its athletes, no less than three weeks apart in the 10 months leading up to the Olympics.
Onyekwere returned home to Michigan feeling consumed by grief so heavy, she considered never throwing again.
"It was definitely a time to stop and just question everything," Onyekwere says.
But as she reflected, she realised that she wanted control over her own throwing career.
"I love throwing," she adds. "And I wouldn't want to stop this just because something else was in play and prevented me from moving forward. I would like to end it on my own terms."
Her re-commitment to the sport was more of a process than an immediate shift. The first time she stepped foot in the ring again after a two-month break, she broke down and "started bawling."
"I had so much anxiety about coming back to track and field, and so much anxiety about competing in general," she says.
She spent time rediscovering what she loved so much about athletics. A self-proclaimed "math person" at heart, Onyekwere dove into the data of her progress. She keeps a journal where she records each distance, each mistake and each adjustment. She tracks her training schedule compared to competitions or rest days, then compiles all of this data into spreadsheets she can look back on.
"I like numbers. Numbers don't lie. And it brings out my geeky side a little bit," Onyekwere adds with a laugh.
In addition to quantitative data, she also keeps notes on her emotions and thoughts during each throw. Tension and stress lead to messy throws. But when she's calm and having fun, everything clicks.
She says her affirmations about strength and power are an essential part of her routine to combat in-the-ring anxiety.
"I have to calm my spirit and calm myself down before entering the circle," she says. "And then I just get after it."
You can have it all
Onyekwere shifted her priorities when she entered her new era as an athlete. She now wants to support the dreams of the next generation of throwers – the dreams she has for herself are a way to show them what's possible.
She started sharing videos of her throws on social media as a resource for younger throwers.
"It's such an honour, and it's so sweet, to be a role model for the throwers out there. That's one of the things that just makes you want to keep going," Onyekwere says.
Just a few hours before competing at the Oklahoma Throws Series meeting in April, a coach approached Onyekwere at the track.
"Hey, I have this young African American girl that I coach, and she's just so inspired by you," Onyekwere remembers him saying. "And she really looks up to you."
That was exactly the encouragement Onyekwere needed. At that meeting, she accomplished one of her biggest career goals when she broke the African record – previously left untouched for 16 years – with a 64.96m throw.


View this post on Instagram

She realised that her accomplishments have an audience. Young throwers, and specifically female throwers, were watching to see what she'd do next.
"I'm hoping to inspire lots of young girls pursuing throwing, or to pursue anything they're interested in. I want to tell them, 'You can really do it all,'" Onyekwere says. "'You can have it all.'"
She'll be the first to say that she wasn't the strongest thrower in college. While competing for the University of Maryland, it took her a while to break out of the 40-metre range.
But as she transitioned into her professional throwing career – while also working as a full-time engineer throughout the week – she saw rapid improvement. Onyekwere won her first senior African Championships title in 2018, only a couple of years into the professional landscape. She then competed at the World Championships in Doha in 2019, and broke the Nigerian record in 2021 as a qualifier for the Olympics. She successfully defended her African title in 2022.
Her performance at the World Athletics Championships Oregon22 didn't go as she had hoped when she didn't make it through to the final, finishing with a mark of 57.87m. But she came back strong later that season to win gold at the Commonwealth Games in Birmingham.
So, what's next for Onyekwere? She's continuing to work full time at Ford Motors. Her area record-breaking throw was more than enough to qualify her for the World Athletics Championships in Budapest, where she'll be chasing more improvements and hopefully more records. And she has her sights set on the Paris Olympics in 2024.
Most importantly, she wants her accomplishments to be a testament to the power of African women.
"I've said it before, but I really want to put Africa on the map and show that we're a force to reckon with," Onyekwere says. "We're capable enough to have a seat at the table. And to do great things."
Madeline Ryan for World Athletics