Guowei Zhang Beijing World Challenge 2015
China's dance-tastic high jump star Guowei Zhang tells us why with greater heights come greater celebrations.
Guowei Zhang has always been, in his words, "a little crazy". Aged 14 and competing in a schools competition, the Chinese high jumper decided there was far too much spectator interest in the nearby long jump. Rather than compete in front of a meagre crowd, the young Zhang decided to do something about the lack of attention the high jump competition was receiving.
He explains: "I went over to the long jump and I convinced people who were watching the long jump to watch me," says Zhang, who wore a fetching light blue t-shirt complete with glittery shoulders for our sparkle-infused interview.
Their curiosity stirred by the demands the young, charismatic high jumper was making, a number of spectators at the school meet headed over to watch him. They were treated to an exhilarating show by the teenager who – naturally – won the competition with a trademark flourish.
Unlike his mother and father, who he says are much more reserved, Zhang has always been a natural showman when he takes to the athletic stage.
"In this respect, I am maybe a little different from other athletes. But I try to keep calm in my daily life, when I am not as crazy," the Binzhou-born athlete explains. "When I am on track, I will try to show my best to the audiences and to be more exciting."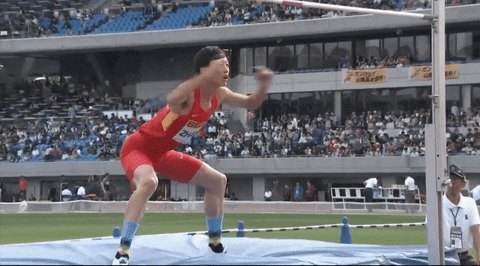 "Sometimes it just happens"
Zhang is now renowned for his energetic post-clearance celebrations. The world championship silver medallist can't quite lay claim to being the world number one high jumper, but in terms of celebrations he is the undisputed king.
Where does his passion for ostentatious celebrations begin?
"I do them because I am excited," the 24-year-old says. "I am on the stage and in the spotlight and I like to show my best to the crowd."
Zhang has had plenty to get excited about lately, finishing in the top three in each of his last Diamond League appearances – a run that spans back to the start of 2015. From flapping like a bird to praying like a mantis, he has treated the world to a wide assortment of celebratory poses. He had a treat for his home fans at the 2015 Beijing World Championships, where he unveiled an all-new Kung Fu pose.
"I got the Kung Fu idea to reflect 5000 years of history," explains 2m (6ft 6ins) tall Zhang, who used to practise the martial art of Tai Chi – a form of Kung Fu - as a child.
"Different athletes have different characteristics and I just want to show some Chinese characteristics."
Are the celebrations rehearsed or spontaneous?
"I often think about what my personal celebration should be," he admits. "Sometimes I think about them, although sometimes it just happens."
As for future post-clearance performance plans, Zhang is keeping schtum. He does admit that world indoor champion Gianmarco "Half Beard" Tamberi has the most impressive armory of celebrations of all other international high jumpers.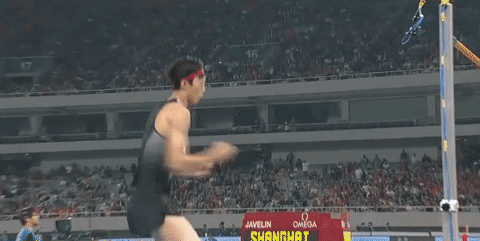 👊🏽 Kiss Kiss Bang Bang 👊🏽
As for Zhang, he is focused on training hard with the aim of bettering the 32-year-old Chinese record of 2.39m held by Zhu Jianhua.
Given he currently boasts a personal best a tantalising one centimetre below that mark, you wouldn't bet against Zhang becoming the owner of that record in the future.
"I have my belief that if I work harder, I can performer better. But I always like to perform in front of people," he adds.
They've become performances – and celebrations – the whole track and field world just can't get enough of.