A view of the London Stadium (© Kirby Lee)
It's only 50 days until the IAAF World Championships kicks off, so here are 50 reasons – in no particular order – why London's gonna be the greatest athletics extravaganza the world has ever seen!
1. Before worlds come team trials. Finding out who qualifies for various national teams is a tasty starter for the main course that's expecting us come August.
2. We get to reclaim the London Stadium for athletics! Go home football.
3. All the athletes are super excited (if you believe social media).
4. Opening and Closing Ceremonies. Beijing put on a brilliantly bonkers show two years ago, but London has experience with successfully following in Chinese ceremony makers' footsteps.
5. World records. They're always special, but setting a record in a championships environment is an even more impressive feat. Ashton Eaton scored a WR 9045 points in the decathlon in Beijing. Will any records fall in London?
6. Usain Bolt's swansong. Tissues at the ready.
7. Mo's royal rumble. It's his last year on the track and just thinking back to Super Saturday is giving us all the feels.
8. Men's and women's marathon races are run on the same day. 42.195km x 2 = FUN #maths.
9. The London Stadium is in Stratford, Stratford is in East London and East London is trendy as …. 😎
10. Can the US women repeat their 100m hurdles sweep from Rio? As reigning Diamond League winner world record holder Keni Harrison has a wildcard, so no qualifying drama this year. Phew.
The USA celebrate a clean sweep in the women's hurdles
11. Shaunae Miller-Uibo is going after the Marie-Jose Perec 200/400m double 😱.
12. The women's pole vault is reaching vertigo-inducing heights this season. The world record is 5.06m FYI.
13. World champs viewing parties. Invite your friends, throw on a ton of face paint and create some athletics-themed cocktails. Sex on the Curtis Beach, anyone?
14. How far can Luvo Manyonga go? The last time anyone long jumped further than 8.60m was way back in 2009. He's done it four times this season alone.
15. Could there be a 23-metre throw in the men's shot put? 2017 has already witnessed the best depth in the event since the 1980s.
16. The women's steeplechase is nuts. Will the likes of Celliphine Chespol, Hyvin Kiyeng and Ruth Jebet push for another world record?
17. Can Germany sweep the men's javelin?
18. Christian Taylor is going for his third world title. And will Jonathan Edwards lose his world record on home soil?
19. Truly inspiring personalities. Aries Merritt, Thomas van der Plaetsen, Cesar Ramirez, Majd Eddin Ghazal, the list for potential Hollywood blockbusters is endless.
20. The battle of South America for the women's triple jump crown. Caterine Ibarguen vs. Yulimar Rojas.
21. The Athlete Refugee Team were a crowd favourite at the World Relays and we can't wait to welcome them to London.
The Athlete Refugee Team enters the stadium at the IAAF World Relays
22. The heptathlon is insane right now. Nafi Thiam became the fourth woman in history to score over 7000 points – or as former SPIKES editor James Charlton described it: "It's the hottest set of numbers since Herodotus invented the number three".
23. Anita Wlodarczyk. Hammer GOAT.
24. The 50km race walk was one of the most dramatic events in Rio last summer and this year's rematch is already looking just as mouth-watering.
25. A real battle of the generations awaits in the women's high jump. Can 38-year-old Ruth Beitia add the world title to go with her Olympic crown?
26. Team spirit. Kenya topped the medal table in Beijing. Which anthem will we know off by heart come the end of the champs this time round?
27. If you support a colonial take on history, you will know that London invented time. Being smack bang in the middle of the clocks is a boon for die-hard athletics fans tuning in from around the world.
28. The media race. It provides more drama and more daring outfits than an entire season of The Bachelor. We're currently campaigning to have the event live streamed on our Facebook page.
29. The fearless Laura Muir is going for the 1500/5000m double. In front of a home crowd, anything can happen.
30. The half-beard returns. If fit, basketball shorts wearing Italian beanpole Gianmarco Tamberi could make some serious noise in the men's high jump.
31. Games Makers are back. They made London 2012 special. They will do the same this summer.
32. The decathlon. All of it. With Ashton Eaton retired, there will be a new king.
Decathletes on their lap of honour in Beijing
33. The public transport system. Getting to the stadium can be a nightmare, but not in London. You can hop on the Tube, the DLR, the Overground, take a boat or even a cable car en-route to Stratford. James Bond even parachuted in last time round.
34. The marathon course is formed of a loop, so we can choose a seat and watch the runners go by more than once. Whoop!
35. Athlete spotting in Westfield Shopping Centre was fun in 2012 and will be just as fun this time round. Tweet us your paparrazzi shots.
36. Is someone going to let us drive one of those little discus, javelin and hammer transporter cars? Probably not 😔
37. The women's 200m. We wouldn't dare trying to call that one. Also, will there be any spectacular lane switches?
38. For the first time in world champs history, women get to compete in the 50km race walk.
39. That one ultimate race. You decide which one we mean.
40. Athletics becomes more popular in pub quizzes again, which means us real fans can show off our knowledge in front of armchair pundits.
41. Mondo Duplantis. He's 17 and he's already cleared 5.90m in the pole vault. Need we say more?
42. So much swag. Ezekiel Kemboi, Blanka Vlasic, Guowei Zhang, Usain Bolt, and everyone else for that matter: we can't wait to see which slick moves they have in store for us this year.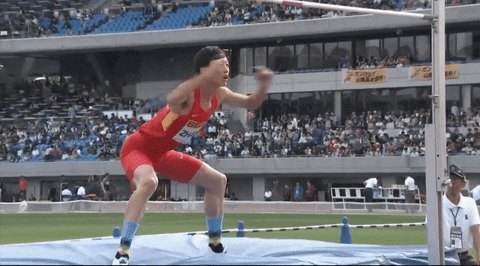 43. Wayde van Niekerk. Can he do the 200/400m double? Can he go sub-43?
44. Remarkable TV commentary #JessicaEnnisGoodnight.
45. The men's hammer. In Rio it proved as unpredictable as the British weather. Who the winner is will be anyone's guess.
46. @smokymozzarella's #FantasyLondonLuckyDip – the independent, alternative and fan-led athletics fantasy game.
47. Relays. There's nothing quite like the drama that trying to hand over a baton at full speed three times creates.
48. Teenage talent. Sydney McLaughlin, Wilma Murto, Vashti Cunningham, Candace Hill, Abdul Hakim Sani Brown, Khalifa St. Fort – remember the names #justsaying.
49. Crazy hairstyles, daring make-up and elaborate accessories – a global stage really brings out the best (or worst?) when it comes to athletes' looks.
50. We're guaranteed a new men's 200m world champion. Someone's got some big shoes to fill.