Mihaly Igloi and Jim Grelle, 1960 Wanamaker Mile winner (© Los Angeles Track Club)
In his time as a track coach at the celebrated Honved Sports Club in the Kispest district of Budapest, Mihaly Igloi developed into one of the finest middle and long distance running gurus of all-time. It is only fitting that the late Hungarian great of the coaching world should be honoured in his home city with a World Athletics Heritage Plaque, awarded in the posthumous category of Legend.
At the opening of the MOWA Heritage Athletics Exhibition in Budapest on Friday (14), the award was announced by Jon Ridgeon, Chief Executive Officer of World Athletics, and presented to Miklos Gyulai, President of the Hungarian Athletics Association, for their safe keeping until a permanent location for its display is agreed.
The exhibition, which is open to the public for five months until the conclusion of the World Athletics Championships in Budapest on 27 August, includes the race number worn by one of Igloi's most celebrated charges, Laszlo Tabori, when he became the third man in history in run the mile in under four minutes.
The World Athletics Heritage Plaque is a location-based recognition, awarded for an outstanding contribution to the worldwide history and development of the sport of track and field athletics and of out-of-stadia athletics disciplines such as cross country, mountain, road, trail and ultra-running, and race walking.
Igloi, who was born in Hungary's capital city in 1908, was the driving force behind Tabori, Sandor Iharos and Istvan Rozsavolyi, the 'Magnificent Magyar' middle distance trio who made an major mark on the world record book in the mid-1950s.
His influence, however, spread beyond his homeland. Under his guidance, the US runner Jim Beatty became the first sub-four-minute miler indoors in 1962 and the fast-finishing Bob Schul, also of the USA, won Olympic 5000m gold in Tokyo two years later.
Igloi started his own track and field career as a pole vaulter, winning the Hungarian junior title as a 19-year-old, before turning to middle distance running and becoming an Olympian and world record-breaker. He ran in the 1500m heats at the 1936 Olympics in Berlin. Three years later, in August 1939, he was a member of the Magyar AC quartet that set a 4x1500m relay world record of 15:55.4 in Budapest, clocking 3:58.4 on the penultimate leg.
Igloi became intrigued by the interval training regime of Janusz Kusocinski, the Pole who won Olympic 10,000m gold and broke Paavo Nurmi's 3000m and 4-mile world records in 1932. Kusocinski would run 200m repetitions over and over and Igloi visited coaches in Germany, Finland, and Sweden to study the methodology of interval work.
Honved's heroes
After World War Two, while working as a professor of history at the University of Budapest, he became a track coach at Honved, the army sports club whose football team was famously captained by Ferenc Puskas, one of the game's all-time greats.
It was in Budapest's Nepstadion in September 1953, seven months before Puskas scored two goals in his country's celebrated 7-1 slaughter of England there, that Igloi achieved his breakthrough coaching success. Representing Hungary, four of his pupils – Sandor Garay, Erno Beres, Rozsavolgyi and Iharos – set a 4x1500m relay world record of 15:29.2.
In the two years that followed, the same record was broken twice more by a Honved club team in Budapest. Again at the Nepstadion, in July 1954 Tabori, Rozsavolgyi, Ferenc Mikes and Iharos clocked 15.21.2. Then, at the Kinizsi Ground in September 1955, the same quartet improved to 15:14.8.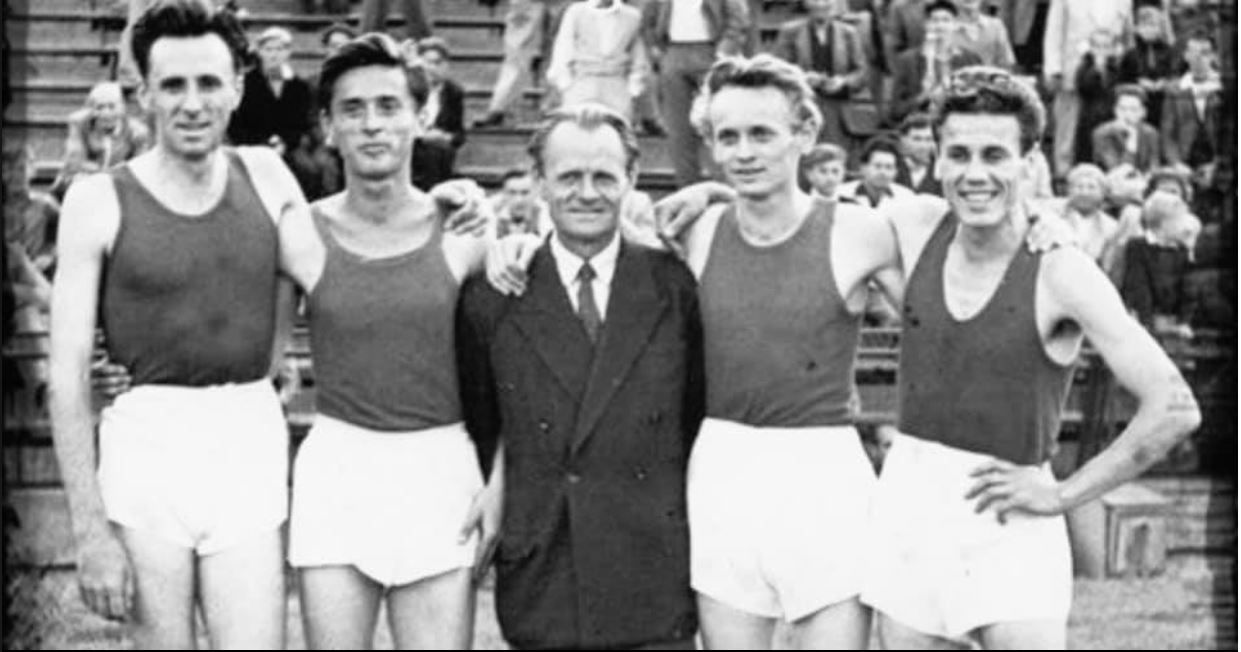 Ferenc Mikes, Sandor Iharos, Mihaly Igoli, Ivan Rozsavolgyi & Laszlo Tabori after their 4x1500m record in Budapest, 1954 (© I Play Track Foundation)
The latter performance came in what was a stunning annus mirabilis for Igloi and his Honved heroes, who were prospering on a diet of twice a day training and high-volume 100m to 400m intervals.
Between them, Iharos, Rozsavolgyi and Tabori broke or equalled seven individual world records in the space of five months that year, 1955.
The tall, slender Iharos – born in Budapest in 1930 as Sandor Israel – broke five of them. After lopping 3.2 from the 3000m mark held by Belgian Gaston Reiff with a time of 7:55.6 at the Honved Sports Ground on 14 May, he clocked 8:33.4 for 2 miles at the White City in London on 30 May, ran 3:40.8 for 1500m in Helsinki on 28 July, and then recorded 13:50.8 (on 16 September) and 13:40.6 (on 23 October) for 5000m at the Nepstadion, either side of a short-lived 13:46.8 by Vladmir Kuts of the Soviet Union.
Rozsavolgyi, a cigarette-smoking former footballer, sliced 4.8 off Reiff's 2000m record at the National Sports Ground in Budapest in October. Tabori equalled Iharos' 1500m record, running 3:40.8 in Oslo in September. In May that year he became the third man to achieve a sub-four-minute mile, after Britain's Roger Bannister and Australia's John Landy, clocking 3:49.00 in London.
The world record-breaking continued into 1956, Rozsavolgyi running 30:40.6 for 1500m and Iharos 28:42.8 for 10,000m, but after the Hungarian revolution and subsequent Soviet invasion there were no medals for Igloi's runners at the Melbourne Olympics that year.
"Tough guy" moves to LA
Igloi moved to the United States, taking coaching roles first at the Los Angeles Track Club and then the Santa Monica Track Club. His methods continued to bear fruit. In 1962, the diminutive Beatty became the first man to crack the four-minute mile indoors, clocking 3:58.9 in LA with Tabori assisting as a pacemaker. Beatty also set a 2-mile world record outdoors in 1962, 8:29.8, and improved his world indoor mile record to 3:58.6 at Madison Square Garden in New York in 1963.
Schul set a 2-mile outdoor record of 8:26.4 in Los Angeles in August 1964, two months before sprinting past Michel Jazy to win the Olympic 5000m final in Tokyo.
When Igloi died in 1998, aged 89, Beatty described him in The New York Times as "a tough guy, a coach from the European school that says: 'I am the coach. You are the athlete. You will do what I say or you will leave the classroom.'
"For him to coach you, you had to approach him," Beatty added. "He would never ask anyone if he could coach them, because he didn't think there would be a psychological commitment.
"As a result, you respected his coaching ability and his training theories. He would bring you not only to your goals, but greater goals than he saw in you."
Igloi, who later moved back to Hungary, died in Budapest on 4 January 1998, and is buried in the same cemetery as Laszlo Tabori.
Simon Turnbull for World Athletics Heritage