Heritage Plaque at the Juan Muguerza International XC
On Saturday 8 January, Ane Beitia, the Mayoress of the Spanish town of Elgoibar, inaugurated the World Athletics Heritage Plaque which was awarded in 2019 to the Cross Internacional Juan Muguerza.
The following day, the 78th edition of the Elgoibar's famous cross country – a World Athletics Cross Country Tour Gold meeting – took place outside the town which is situated in the heart of Spain's Basque region.
The World Athletics Heritage Plaque is a location-based recognition, awarded for "an outstanding contribution to the worldwide history and development of the sport of track and field athletics and of out of stadia athletics disciplines such as cross country, mountain, road, trail and ultra-running, and race walking".
The Juan Muguerza International Cross Country is named after the 1920 Olympian (1500m & 5000m) Juan Muguerza Sasieta (6 May 1900 – 5 May 1937) who died in the Spanish Civil War.
The race was first held in 1943 and became an international race 20 years later.
Ethiopia's Mamo Wolde, the 1968 Olympic Marathon champion, was the first international winner and went on to take four titles. Spain's three-time world cross country medallist Mariano Haro, with five victories, is the most successful athlete in the international era.
The first women's race was held in 1967 and Spain's Belén Azpeitia, with six wins, is the best all-time performer.



The Juan Muguerza XC starts and finishes in Elgoibar's Mintxeta stadium, which was also the location of the plaque inauguration ceremony.
Next to the stadium's athletics track, two large plinths celebrate the careers of Muguerza and Wolde. Unveiled by the Mayoress Beitia on Saturday, in between the two plinths, stands a metal torch shaped display in the top of which the Heritage Plaque has been mounted behind glass.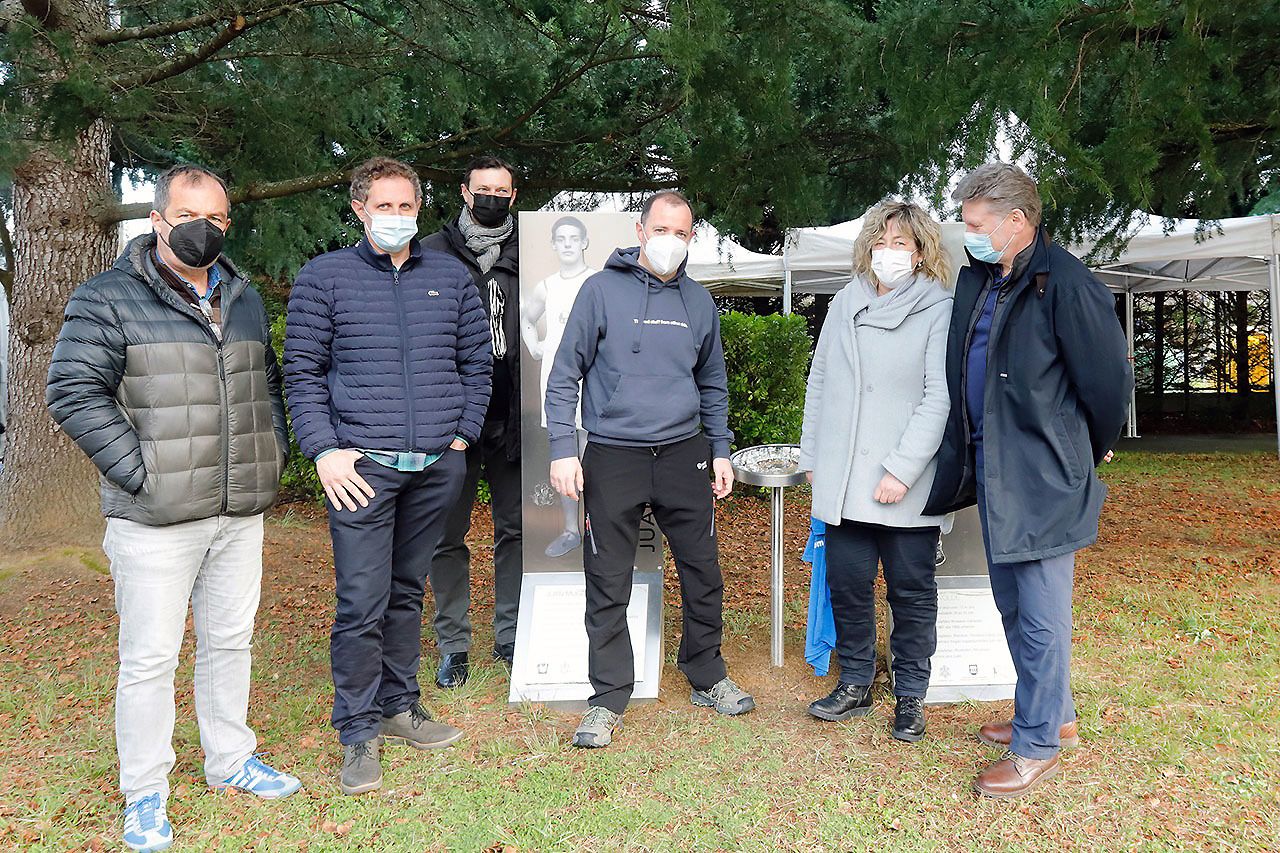 Accompanying Beitia at the ceremony was race director Zigor Diez, and Britain's Eamonn Martin, who was the winner of the men's race in Elgoibar in 1991.
Also present representing the city were Ramon Mujika, Sport Director of Elgoibar Patronato and Iñigo Loiola Elgoibar, Sport Councillor.
Chris Turner for World Athletics Heritage