Susana Feitor finishes third at the 2005 World Championships (© AFP / Getty Images)
Portugal's Susana Feitor always believed she would win a World Championships medal; she just had to wait 15 years to make it happen.
Her moment in the sun came in Helsinki in 2005 when even then she had to come from a long way back to win bronze in the 20km walk.
The shoes and bib numbers which Feitor wore in Helsinki were recently donated to the World Athletics Heritage Collection which is on permanent exhibit in the Museum of World Athletics (MOWA). The shoes will also be on display for five months at the MOWA Heritage Exhibition in the Hungarian capital ahead of the World Athletics Championships Budapest 23.
Outsprinted in Seville
The Portuguese race walker, born in January 1975, started out a precocious world U20 5km champion as early as 1990. She made rapid progress in the senior ranks where she earned bronze at the 1996 European Cup, and third again at the European Championships two years later – both at 10km.
The dream of a world medal really took hold in Seville in 1999 when she got frustratingly outsprinted for bronze by Australian Kerry Saxby-Junna. Just a mere five seconds denied Feitor a place on the podium, this time at 20km.
But thereafter, the phrase "I didn't want to end my career like this" got uttered more than a few times. Every time there was a downturn – and there were several over the next six years – there was always something to keep the flame flickering.
Feitor went to the Sydney Olympics in 2000 in good heart, only to suffer a devastating two-centimetre hamstring tear leading up to the big day. "Had the Olympics been in Europe, I would have been sent home," she said. But the physios patched her up to finish a lowly 14th in 1:33:53.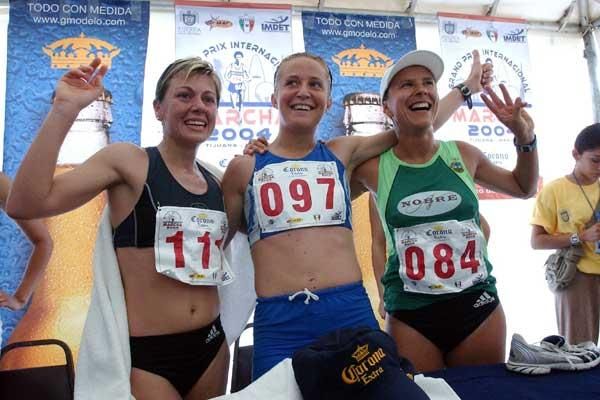 Susana Feitor (POR), Elisa Riguado (ITA), Maria Vasco (ESP) (© Omar Martínez)
What did make a difference at those Games were the silver and bronze won by Norway's Kjersti Plätzer and Spain's Maria Vasco. "Those were athletes I could fight in regular competition, and I thought, I'm not so far from the truth".
Feitor reckons she took all of her bad luck 'anger' out on 2001 when she set seven personal bests from 3km to 20km inside four months, including a 1:27:55 national record at 20km.
New coach
But the next four years leading up to the 2005 World Championships were again a mixture of injury and angst.
She didn't know whether to laugh or cry when her shoe came off in the first 500 metres of the 2004 Olympic Games that resulted in 20th place. "My shoelaces came undone, and I thought, 'what the…?'
"So, I was ready to stop my career right there. I thought, 'it's been great, but I'm done'. I took four months off but come the Christmas holiday season there were greetings from old (race walking) friends who encouraged me."
Feitor vowed to rethink how she trained, and was taken under the wing of Stefan Plätzer, who had guided his wife to Olympic silver in 2000. There were new training camps in the likes of Flagstaff and St Moritz, and Plätzer's calming influence encouraged Feitor to take 'baby steps' on her way back to full fitness. At the same time, she had the benefit of Jorge Miguel, who had worked with her from the start of her career.
"Sports science also played a part," she adds. "It's taken as read now, but back then it was in its infancy. I got regular help from physios and doctors, who often worked on me after a session, so I was ready to go back out the following day as good as new. I was still with problems; hamstrings usually. But my shape was good at the key moments and with fewer injuries."
The training was less intense but more focused, so come 7 August 2005 and a start time of 11:35am, Feitor believed she was in good shape. Even so, she set off conservatively, and was never in the top 10 at any split until the final 4km.
"I was unsure if I was strong enough to go with the leading group, so I started at the back. By 13km I was 10th or 12th."
The disqualification of Athanasia Tsoumeleka just after 15km while battling third was heartbreak for the 2004 Olympic champion, but a tremendous boost to Feitor, who by now was reeling in place after place.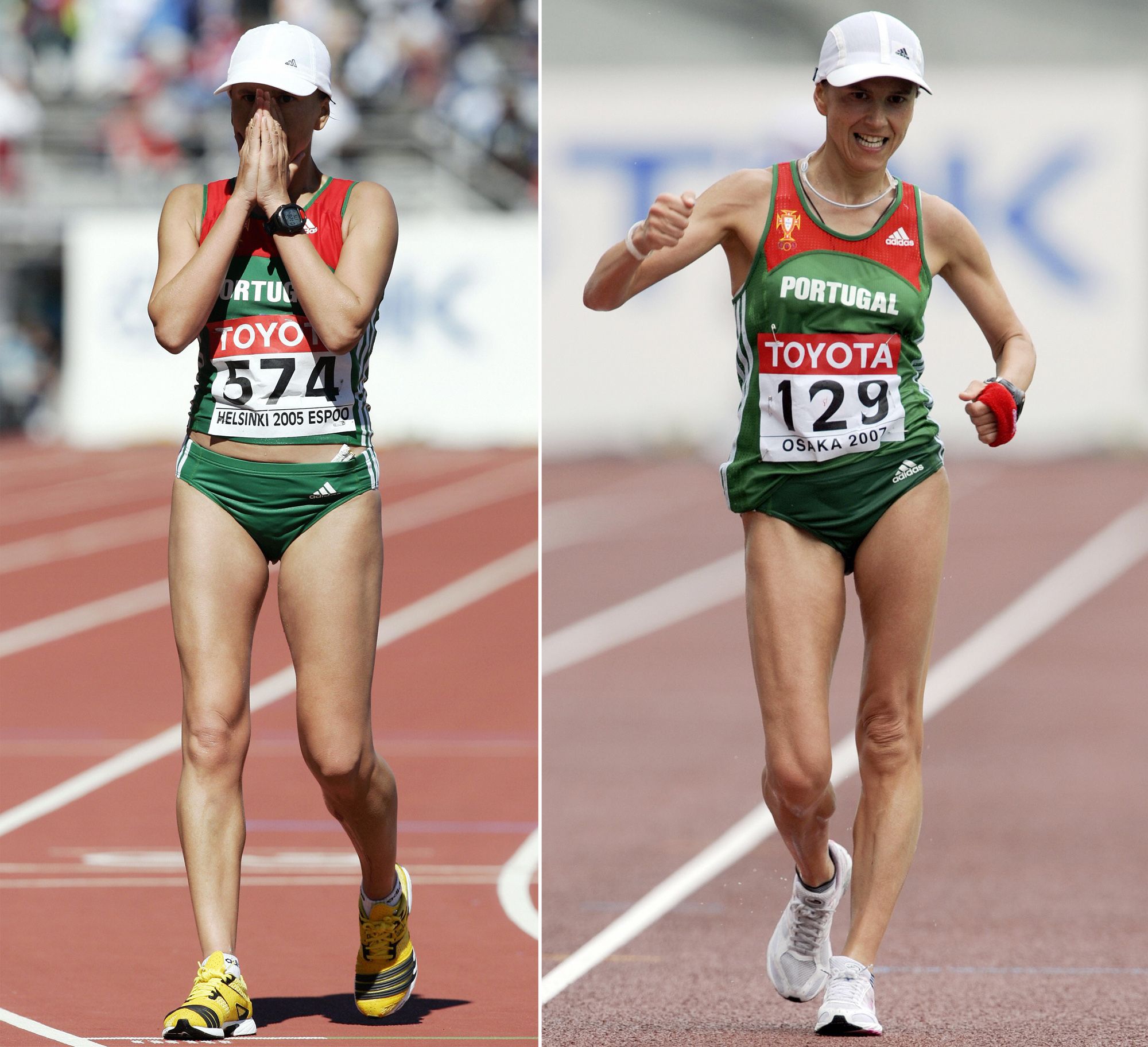 Susana Feitor at the 2005 (left) and 2007 (right) World Championships (© AFP / Getty Images)
"Sure, to see one less opponent was a great help," recalls Feitor. "It also occurred that I was clocking the same kilometre splits as I was at the start, but the others were getting slower."
Unusually for a major race walk, there were slopes on the course. 'Hills' might be pushing it, but climbing every kilometre still took its toll. And on the way back to the stadium, there was a real ramp that found Feitor's previous inspiration Vasco, now third, wading through treacle.
Feitor sensed this was her moment. Roared on by supporters, she passed the 2000 Olympic bronze medallist on the hill just before the stadium entrance.
"She (Vasco) is usually strong on hills, but that's where I got her. Everyone was cheering: 'you can do this'. I didn't think so, and then suddenly I could. She was dying."
"That was the first year I had done uphill sessions, and it probably made the difference," adds Feitor. "But I was always thinking about her. I told myself: keep the focus, keep the focus; don't get disqualified, and I was trying not to look back. Just before the end, I thought: this is going to happen."
Feitor put her hands to her face as she crossed the line: a heady cocktail of disbelief and elation. Her 1:28:44 finishing time was her fastest since the 2001 national record.
'I really miss travelling'
The story might have ended there, but it would be another 10 years before the Portuguese finally hung up her racing shoes as, again, that combination of injuries and bad luck was tempered by fifth and 10th places at the next two World Championships along with another fourth after the amended 2011 edition in Daegu. That was her 11th consecutive World Championships appearance – more than any other woman in World Championships history.
She also achieved two team medals at the World Race Walking Team Championships. At the 2014 edition in Taicang, China, she recorded an astonishing 1:28:51 at the age of 39.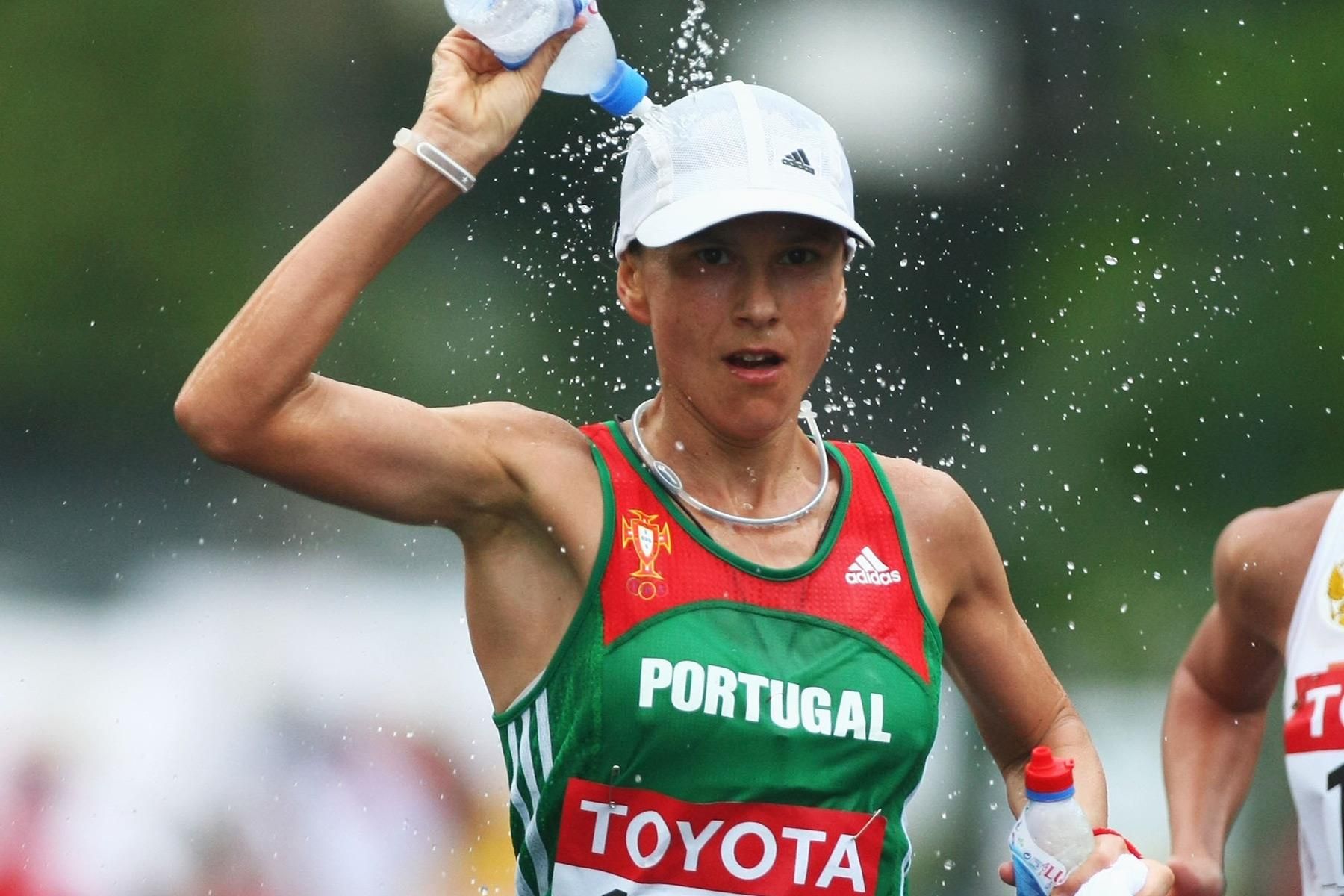 Portuguese race walker Susana Feitor at the IAAF World Championships (© Getty Images)
Feitor is now studying to qualify as a personal trainer, which begs the question: might she like to head race walking in Portugal one day?
"Five years ago, I don't see it," she said. "But as you grow, some things are not as hard as you imagine. Everything is about the people. If they believe in me, why not? The one thing I really miss is travelling. That was a marvellous part of being involved in sport. I miss the world."
Paul Warburton for World Athletics Heritage