Roberto Quercetani, founding member of the ATFS
The doyen of athletics statisticians Roberto Luigi Quercetani (1922-2019), along with the Association of Track Field Statisticians (ATFS) of which he was a founder member, have been jointly awarded the World Athletics Heritage Plaque.
The renowned athletics historian Quercetani was ATFS's first president from 1950 until 1968 and the general editor of the ATFS Annual each year to 1969.
The plaque, which has been awarded jointly in the categories of 'Legend' (Quercetani) and 'Culture' (ATFS), was unveiled on Friday (2) by World Athletics President Sebastian Coe at the library at ASSI Giglio Rosso sports club, Florence, Italy, which houses Quercetani's collection.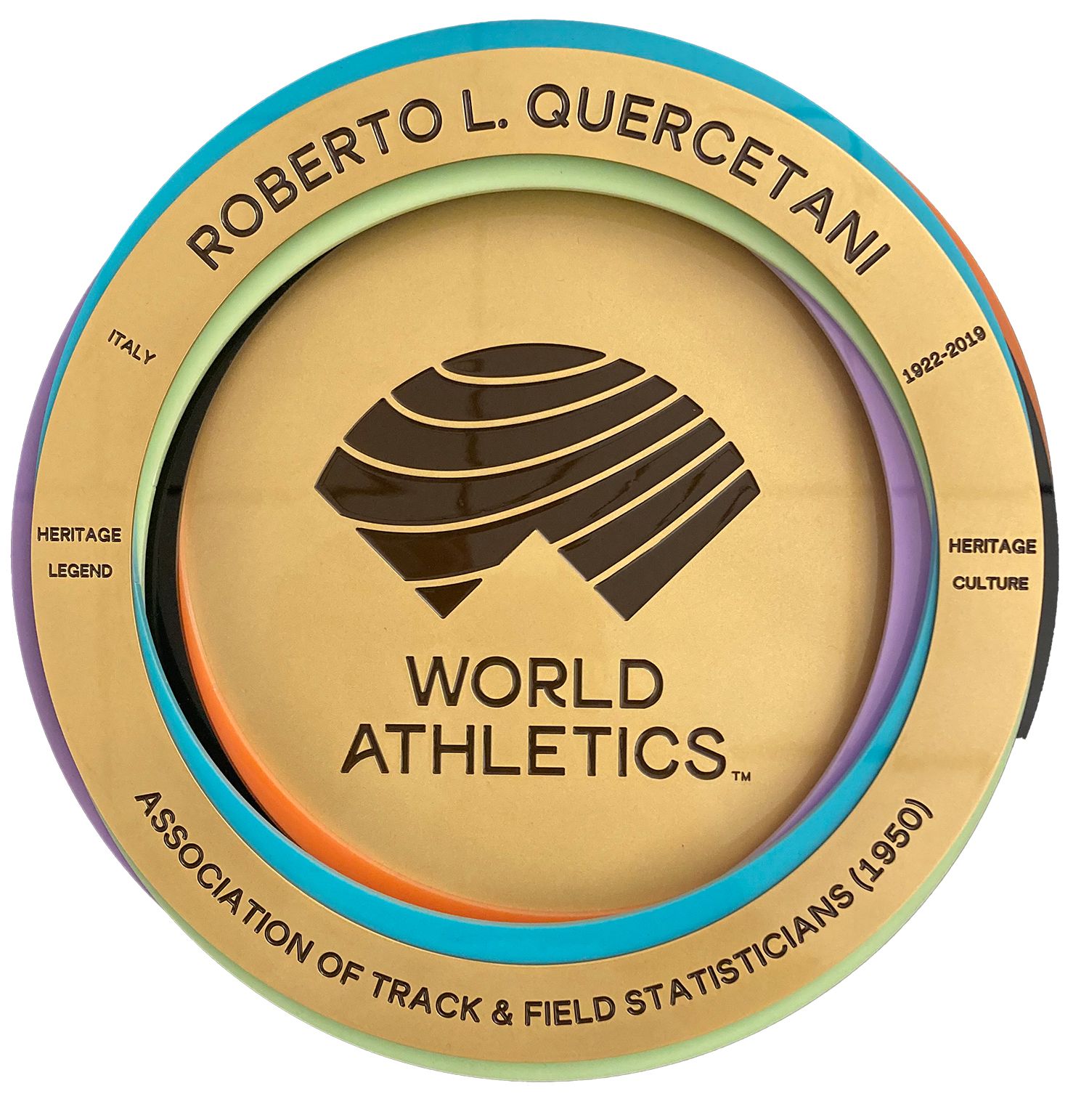 "Quercetani was the most prolific of athletics historians. His first major publication in English, A World History of Track and Field Athletics (1864 -1964), was republished many times, taking athletics' story right up to the start of the present century. This book is the 'go-to' resource for all budding athletics fans, let alone historians.
"The ATFS, which Quercetani helped found in 1950, continues to be responsible for the accurate recording of the performances of our sport to the present day. Today's award honours Quercetani and the ATFS and recognises the huge debt of gratitude our sport owes to them."
The World Athletics Heritage Plaque is a location-based recognition, awarded for an outstanding contribution to the worldwide history and development of the sport of track and field athletics and of out-of-stadia athletics disciplines such as cross country, mountain, road, trail and ultra-running, and race walking.
Foundation of ATFS
For a sport so dependent on accurate timing and measurement, statistics had always been important and many an individual had laboured away keeping records of performances. But it was not until a group of enthusiasts gathered together on 26 August 1950 in the Café de la Madeleine in the Rue de la Montagne, Brussels, to form the ATFS that their hobby was transformed into a well-coordinated service to the athletics community.
As Quercetani put it: "From the very beginning, the ATFS has as its foremost aim that of popularising accurate and competent recording of track and field results on a world-wide basis."
The seeds were sown by Quercetani and the USA's Donald Potts, who in 1947 had combined to compile 100-deep world all-time lists in all the standard men's events with full date and venue details for each performance. The result of their collaboration was a self-financed 70-page booklet entitled A Handbook on Olympic Games Track and Field Athletics, which appeared in 1948.
That modest but hugely valuable publication proved to be a catalyst. The 1924 Olympic 100m champion Harold Abrahams, a prolific writer on the sport and himself a keen statistician, used the book to help with the seeding for the London Olympics of 1948.
Another highly impressed recipient of the booklet was Fulvio Regli from Switzerland, like Quercetani a brilliant linguist. Early in 1950 he wrote to Quercetani suggesting they helped form an international association of statisticians. Potts and others were brought into the discussions about pooling resources and knowledge and the outcome was that historic meeting in Brussels, organised by Belgian sports journalist Andre Greuze during the 1950 European Championships.
The founding members of the ATFS were – in addition to Quercetani (president), Potts, Regli (secretary general) and Greuze (treasurer) – Norris McWhirter of future Guinness Book of Records fame from Britain, Bruno Bonomelli of Italy, Erich Kamper of Austria, Ekkehard zur Megede and Wolfgang Wunsche of Germany, Andre Senay of France and Bjorn-Johan Weckman of Finland. Potts and Wunsche were not actually at the meeting but were considered founding members all the same, while among the ATFS's first decisions was to choose Abrahams as honorary president.
Beccali's boy
Born in Florence in May 1922, Quercetani was only 10 when athletics entered his life. He was out walking with his father in August 1932 when he caught sight of a large cinema screen on top of a building announcing that Luigi Beccali had won the Olympic 1500m title in Los Angeles the previous day. That fired his imagination and he started collecting newspaper clippings relating to athletics. It was the start of a lifetime's obsession with the sport's facts and figures. Among his earliest treasured memories was seeing Beccali set an Italian 800m record during halftime at a football match in his native city in 1933.
From schooldays Quercetani became a student and master of foreign languages, skills that helped him to establish contacts and friendships worldwide and that enabled him to become an interpreter with the Allied armies in Italy by 1944. During his teens he avidly read Italian, French, German, Swedish and American sports newspapers and magazines as he subscribed to and contributed to publications in several countries from the late 1930s.
Soon after the war, he started corresponding with US mathematician Potts in California. They formed a famous partnership that produced the first detailed world all-time lists and led to the extensive documentation of athletics to which we are accustomed, but which was exceptionally poor when Roberto and his associates started their work. He also started the prestigious and authoritative annual World Merit Rankings for Track & Field News in 1947.
Quercetani led the compilation and publication of four volumes of Track & Field Performances Through the Years that covered world lists from 1921 to 1950, the years before the annual ATFS lists.
A freelance journalist, Quercetani covered most of the world's major athletics events for many years, especially from 1951 for La Gazzetto dello Sport and contributed to a wide range of publications. A lover of trivia, his final offering – written in his nineties – was entitled Intriguing Facts & Figures from Athletics History 1860-2014 and dedicated to his beloved wife Maria Luisa "for her untiring support and understanding".
World Athletics Heritage
With thanks to the late Mel Watman