The history of Irish athletics is a complex one, certainly as far as its governing institutions have been concerned, but it's also a colourful and uplifting one and comes into full focus this weekend.
The 150th Irish Championships are being held in Dublin's Morton Stadium on Saturday and Sunday and will be a celebration of the country's rich and long contribution to the sport.
Although the current generation of Irish athletes will have the main aim of qualifying for the World Athletics Championships next month, and the European Championships in August, memories will stretch back to the 19th century and how athletics gained a footing in the Emerald Isle.
In James Kelly's excellent book Pound for pound, a winner: Sport in Ireland, 1600-1840, the author devotes a modicum of space to athletics and elaborates on the fact that although ad hoc races took place in villages and at county fairs during the two-and-half centuries in question, the pastime was far less popular than other pursuits of this era such as pugilism, cock fighting horse racing and blood sports. However, the Irish Famine from 1845 to 1852 effectively put an end to all forms of social activities and, as society restructured after this defining moment in Irish history, athletics started to become more popular.
Irish Famine changes society
Ireland's first recorded athletics meeting that resembles those of the current day was held at Trinity College, Dublin in 1857. The Irish Champion Athletic Club was then founded in 1872 by local engineer and keen sportsman Henry Dunlop after the Trinity College Provost banned any further athletics meetings on its grounds.
Dunlop also leased what was to become the famed Lansdowne Road and laid down what he later described as "a cinder running path of a quarter-mile," before organising Ireland's first national athletics championships in 1873.
The first nine editions of the championships were held under the aegis of the Irish Champion Athletic Club before then being organised by the short-lived Amateur Athletic Association of Ireland. In 1881, the first Irish Cross County Championships were also held in Dunboyne.
However, political differences came to the fore in 1884 with the establishment of the Gaelic Athletic Association (GAA) which was focussed on repelling the British influence on the local sporting scene.
Two national championships
The GAA started to host its own athletics championships in 1885 to rival that organised by the re-branded Irish Amateur Athletic Association (IAAA) which had been set up in Dublin in February 1885.
From 1885 to 1922, parallel championships were held by the GAA and IAAA with athletes often winning titles at both in the same year. Notably, while the IAAA stopped staging its championship between 1915 and 1918 because of World War I, the GAA continued to stage an event giving rise to the justifiable boast that the Irish national championships, in its various forms, are the longest continually held national athletics championships in the world.
During this period, Irish athletes also competed at the Olympics as part of Great Britain teams as the country was still under British rule winning four gold medals, notably Tim Ahearne's 1908 triple jump win of 14.915m which remained an Olympic record until 1924.
Following Irish independence in 1922, a new body called the National Athletic and Cycling Association (NACA) – formed after a merger of the IAAA, Cross Country Association of Ireland and the Athletics Council of the GAA – took over the administration of athletics in Ireland. For a while, all seemed calm – to the wider world as least – as Ireland joined the International Amateur Athletic Federation, the forerunner of World Athletics, in 1924 and sent a team of 10 athletes to the Paris 1924 Olympic Games.
O'Callaghan makes history
History was made in 1928 when hammer thrower Pat O'Callaghan won gold at the Amsterdam 1928 Olympic Games, the first Olympic medal of any description in any sport for an independent Ireland. In 1931, Tim Smyth became the first Irish winner of the International Cross Country Championships, which were held that year at the Baldoyle Racecourse near Dublin.
A year later, Robert Tisdall won the 400m hurdles at the 1932 Los Angeles Olympic Games before O'Callaghan – a candidate for the honour of being Ireland's greatest ever athlete – retained his hammer title on the same day.
However, political issues were again to intervene and NACA was suspended from the IAAF in 1935 over its insistence that it also had governance over athletics in Northern Ireland.
Consequently, Ireland did not send a team to the 1936 Olympic Games and, although Tisdall had by then retired, O'Callaghan would likely have been a medal contender once again.
A new body, the Irish Amateur Athletic Union (IAAU), was set up in 1937 and admitted to the IAAF as the Irish representative but its creation again led to two national championships being staged from 1937 through to 1966, a more-widely recognised one organised by the IAAU and its successors and another by NACA, the situation complicated further by the latter's affiliation to the Irish Olympic Council.
In 1967 after discussions between various parties over the previous two years, both groups finally agreed to dissolve themselves and form a new association, the Bord Luthchleas na hEireann (BLE) and unity prevailed once more. A few die-hards in NACA, however, continued to keep alive an organisation by that name until 2000 when the BLE and NACA joined forces to form the Athletics Association of Ireland, which is now known by its shortened name of Athletics Ireland.
Against a backdrop of all these political shenanigans, which stretch back more than a century, Irish athletes have continued to periodically shine on the global stage.
Delany's memorable win in Melbourne
Following the successes in Los Angeles, it was to be 28 years before an athlete in the familiar green vest got a medal and once again it was a gold thanks to Ronnie Delany's iconic 1500m win in an epic race at the Melbourne 1956 Olympic Games.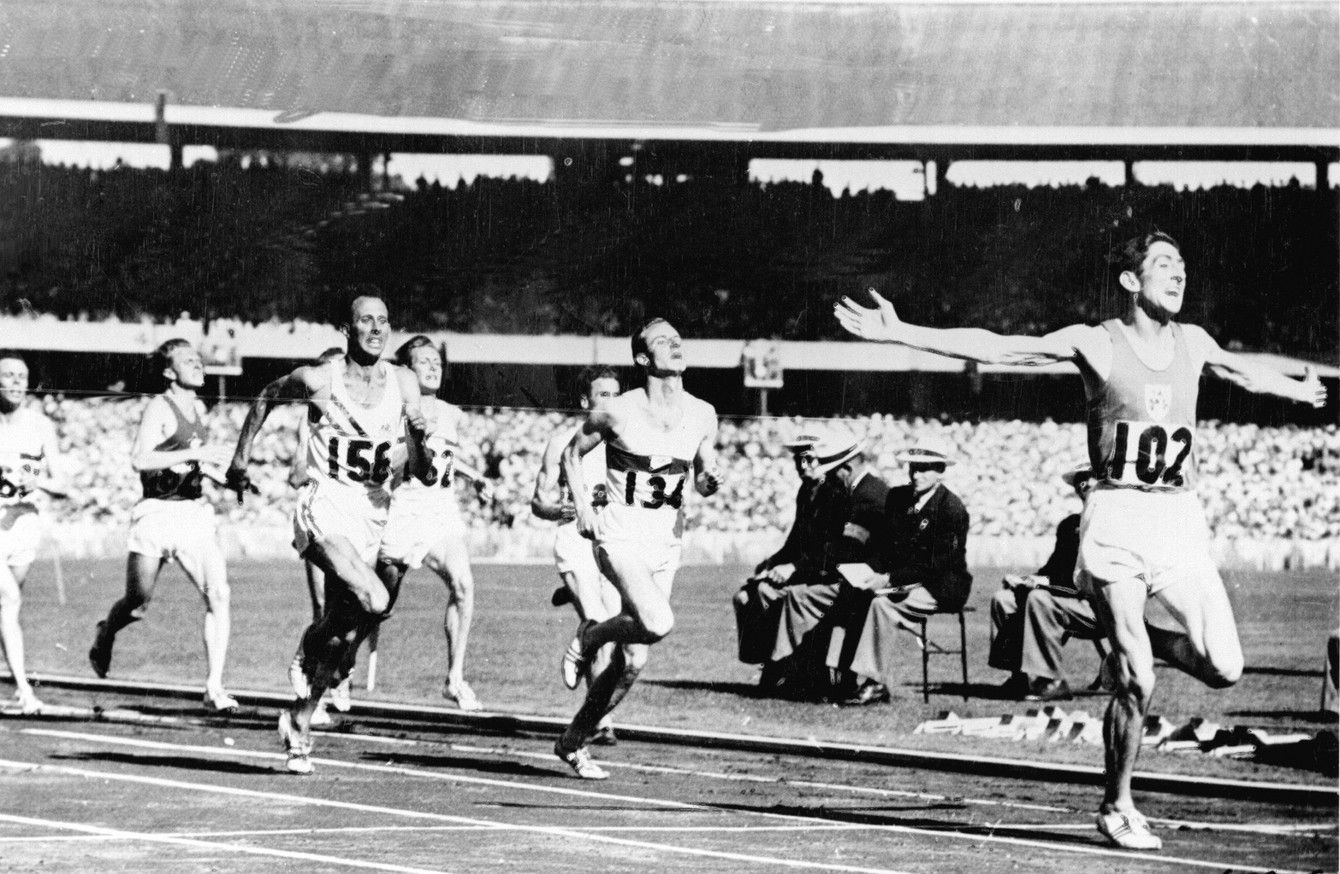 John Landy (156) takes the 1500m bronze behind Ron Delany of Ireland at the 1956 Olympics (© Getty Images)

Delany's triumph remains the last time the Irish national anthem has sounded out in an Olympic athletics arena, but John Treacy – the 1978 and 1979 world cross-country champion – and Sonia O'Sullivan went close when they took silver medals in the 1984 marathon and 2000 5000m.
Eamonn Coghlan was a frustrated fourth in the 1976 Olympic Games 1500m and then the 5000m four years later in Moscow but got compensation when he was victorious in the longer event at the inaugural World Athletics Championships in 1983, memorably going through the gears over the final 150 metres to leave all his rivals training in his wake.
O'Sullivan then followed in Coghlan's footsteps by taking the 1995 world 5000m title in Gothenburg, and in the 21st century Irish race walkers have had not inconsiderable success with Olive Loughnane and Robert Heffernan winning world titles in 2009 and 2013.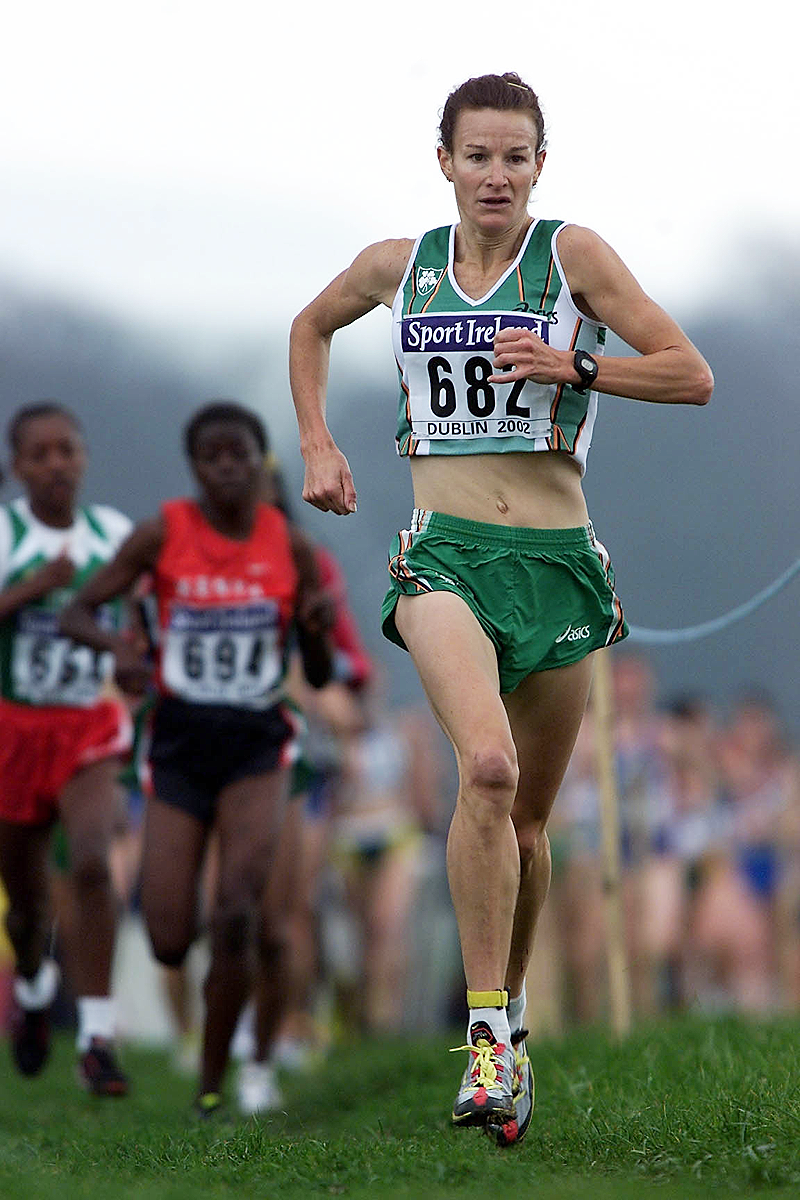 Sonia O'Sullivan in action at the 2002 IAAF World Cross Country Championships (© Getty Images)

Irish runners also prospered at the early World Indoor Championships with Marcus O'Sullivan being particularly adapt, winning 1500m titles in 1987, 1989 and 1993 and Frank O'Mara taking back-to-back 3000m gold medals in 1987 and 1989.
O'Sullivan's myriad medals
Sonia O'Sullivan took a 3000m silver medal in 1997 before Derval O'Rourke took a surprise but fully deserved 60m hurdles victory in 2006.
Inevitably, for a country with as rich an athletics history as Ireland, it is impossible to do justice to everyone who deserves to be acknowledged but it would be badly remiss not to mention Catherina McKiernan who took four successive silver medals at the World Cross Country Championships between 1992-95 as well as the winning the inaugural European cross-country title in 1994.
O'Sullivan followed this by showing off her talent on all surfaces with a double triumph in both the long and short races at the 1998 World Cross Country Championships, in the latter case the first year it was contested in this competition.
Athletics Ireland as a federation is also noting its centenary in 2022, tracing the origins of its modern-day organisation back to the founding of NACA on 19 July 2022, and this will be celebrated formally in November at the federation's annual gala awards event.
Phil Minshull for World Athletics Heritage