Sally Pearson races in Sopot in 2014 (© Getty Images)
When you happen to live on Australia's Gold Coast, with its sub-tropical climate and 300 days of sunshine every year, indoor athletics must seem like an alien concept.
For Sally Pearson, though, leaving behind the sun and heading halfway around the world to tread the track and field "boards" proved to be a worthwhile exercise.
Not that the Gold Coast sprint hurdler with the Midas touch was a prolific indoor racer. In an international career that spanned 16 years, the two-time world outdoor, one-time Olympic 100m hurdles champion and seventh fastest 100m hurdler of all-time only contested nine indoor meets over the barriers.
Three of those meets happened to be World Indoor Championships, and, in turn, they featured the joy, the frustration and the physical pain that hallmarked Pearson's long and productive career.


Sopot silver
Now 35, living happily in competitive retirement with husband Kieran and one-year-old daughter Ruby, Pearson has generously donated the spikes and singlet from the second of those global indoor campaigns to the ever-expanding Museum of World Athletics (MOWA).
The 2014 World Indoor Championships in the Polish seaside resort of Sopot required Pearson to harness the fighting spirit she doubtless inherited from her single mother Anne, who worked two jobs to make enough money to support her daughter's burgeoning athletics ambitions.
Pearson arrived in Sopot as the defending champion, success at the 2012 World Indoor Championships in Istanbul (in 7.73) having maintained the momentum of her stunning world outdoor success in Daegu in 2011 through to what proved to be a victorious Olympic year campaign.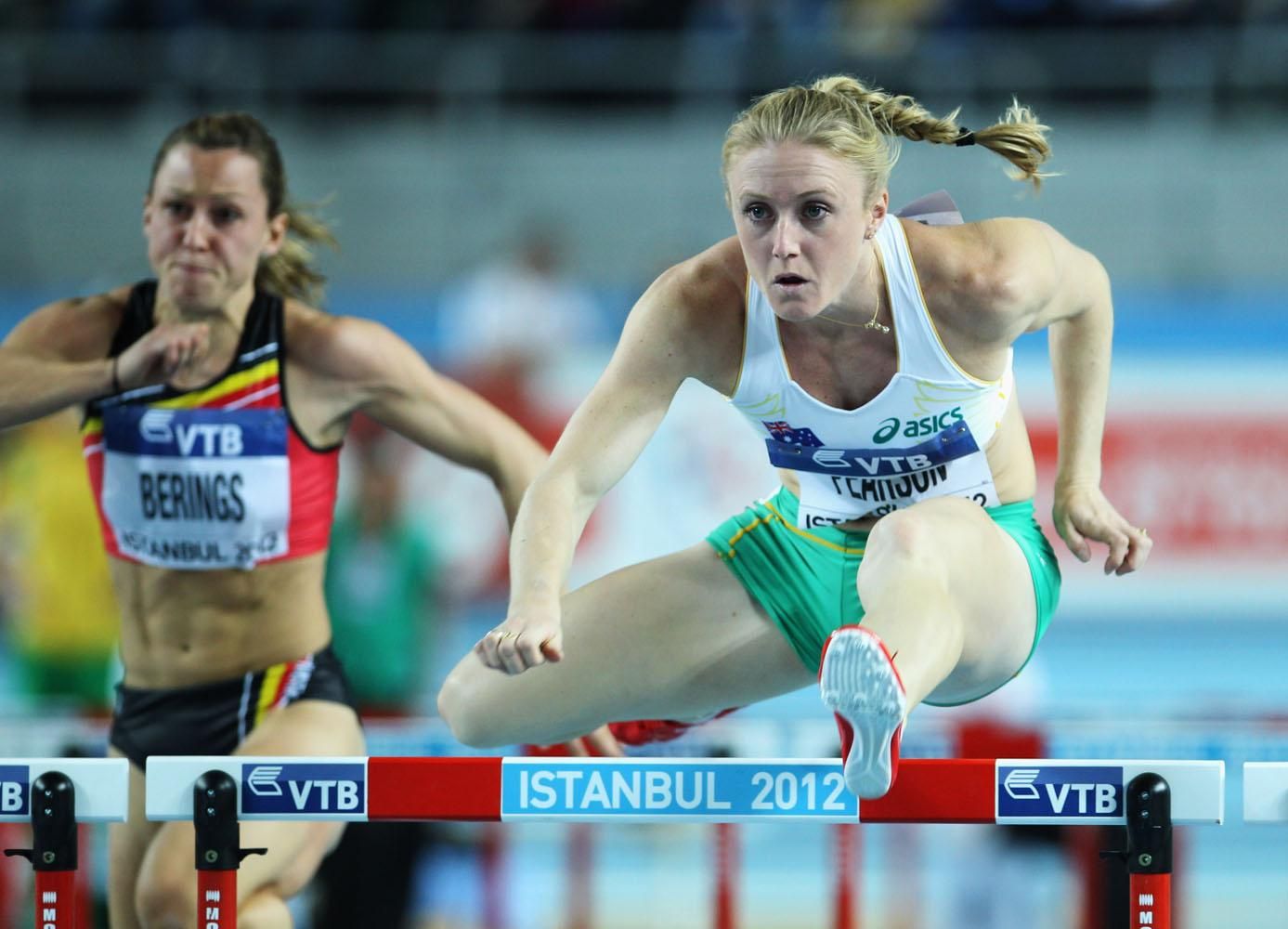 However, she was still rebuilding her form, technique, and confidence after being undermined by two hamstring tears in 2013. She led the world rankings with a 7.79 clocking in Berlin but whacked the ultimate hurdle in the final and had to settle for silver in 7.85, 0.05 behind the emerging Nia Ali of the US. "I stuffed up," Pearson lamented, with characteristic Aussie frankness.
Hampered by injury, she exited at the semifinal stage of the 2018 championships in Birmingham, her final taste of track and field indoors.
"Indoors is fun," she said in Sopot. "It's got a huge atmosphere because the crowd are so much closer. I think that's what I like about it the most."


Melbourne's 80,000 home crowd
It was in the outdoor arenas, however, that the pride of the Gold Coast Victory club was at her sparkling best.
After dabbling in swimming and gymnastics, Sally Pearson – née McLellan – first made her mark in track and field in 2001, winning the 100m and the 90m hurdles at the Australian Youth Championships as a 14-year-old. Guided by Sharon Hannan, her coach until 2013, she combined sprinting and hurdling throughout her formative years.
It was in the 100m hurdles that she claimed a world youth title in 2003 at Sherbrooke in Canada, where Usain Bolt (just a month older, having been born in August 1986) took the boys' 200m in a championship record of 20.40. McLellan prevailed in 13.42.
A month later, still only 16, the future Sally Pearson became Australia's youngest ever representative at the World Championships. Making her senior international debut in Paris. she was entrusted with anchor leg duties in the 4x100m relay heats.
At the 2004 World U20 Championships in Grosseto, Italy, McLellan claimed a bronze medal in the 100m, clocking a personal best of 11.40, but finished fourth in the 100m hurdles final, missing a second podium place by 0.01.
The following year her twin talents took her into the record books as the first woman to win the senior Australian 100m and 100m hurdles titles and early in 2006, still a teenager, she sampled the pressure cooker of a home major championships at the Commonwealth Games in Melbourne.
The athletics events were held on a specially laid track and field arena inside the iconic MCG, the Melbourne Cricket Ground, with 80,000-plus crowds replicating something of the 2000 Sydney Olympic atmosphere. It proved to be a rollercoaster experience for McLellan.
She reached the final of the flat 100m, finishing seventh in 11.50, but crashed out in dramatic, heart-breaking style while challenging for a medal in the 100m hurdles final. Consolation came with a bronze in the 4x100m relay, the home quartet taking third place behind Jamaica and England.
It was at the end of her prolonged 2006 season, at the World Cup meet in Athens in September, that McLellan broke through the 13-second barrier in the high hurdles, finishing fourth in 12.95. Then, six months later, at the Australian Championships in Brisbane in March 2007, she improved to 12.92, shaving 0.01 off Pam Ryan's 34-year-old national record.
That year she continued to pursue both the 100m and the 100m hurdles, reaching the semifinals of each at the World Championships in Osaka and lowering her lifetime best over the flat to 11.14. That, however, proved to be the limit of her personal ambition as a sprinter – and her fastest time too.


World title and World Athlete of the Year
Come Olympic year, in 2008, McLellan channelled her focus solely on the 100m hurdles. It paid off in the Beijing Bird's Nest.
In a dramatic finish, as clear favourite Lolo Jones hit the ninth hurdle and stumbled home seventh and her US teammate Dawn Harper took gold in 12.54, the five women from second to sixth flashed across the line virtually together. Just 0.02 separated them and, after the photo-finish picture had been scrutinised, an ecstatic McLellan was given the silver medal in 12.64, the same time as bronze medallist Priscilla Lopes-Schliep of Canada.
Hampered by a torn disc in her back, McLellan finished fifth in the 2009 world outdoor final in Berlin and then won the 2010 Commonwealth title in Delhi before entering the purple – or golden – patch of her career in 2011.
By now, she was Sally Pearson, having married school sweetheart Kieran Pearson in April 2010.
In the semifinals of the World Championships in Daegu, Pearson lowered her Oceania record to 12.36 (0.3m/s), then blitzed to her first global crown with a stunning 12.28 (1.1m/s) in the final. It moved her to the No.4 spot on the world all-time list – behind Bulgarians Yordanka Donkova (12.21) and Ginka Zagorcheva (12.25) and Russia's Lyudmila Narozhilenko (12.26) – although it now ranks seventh best.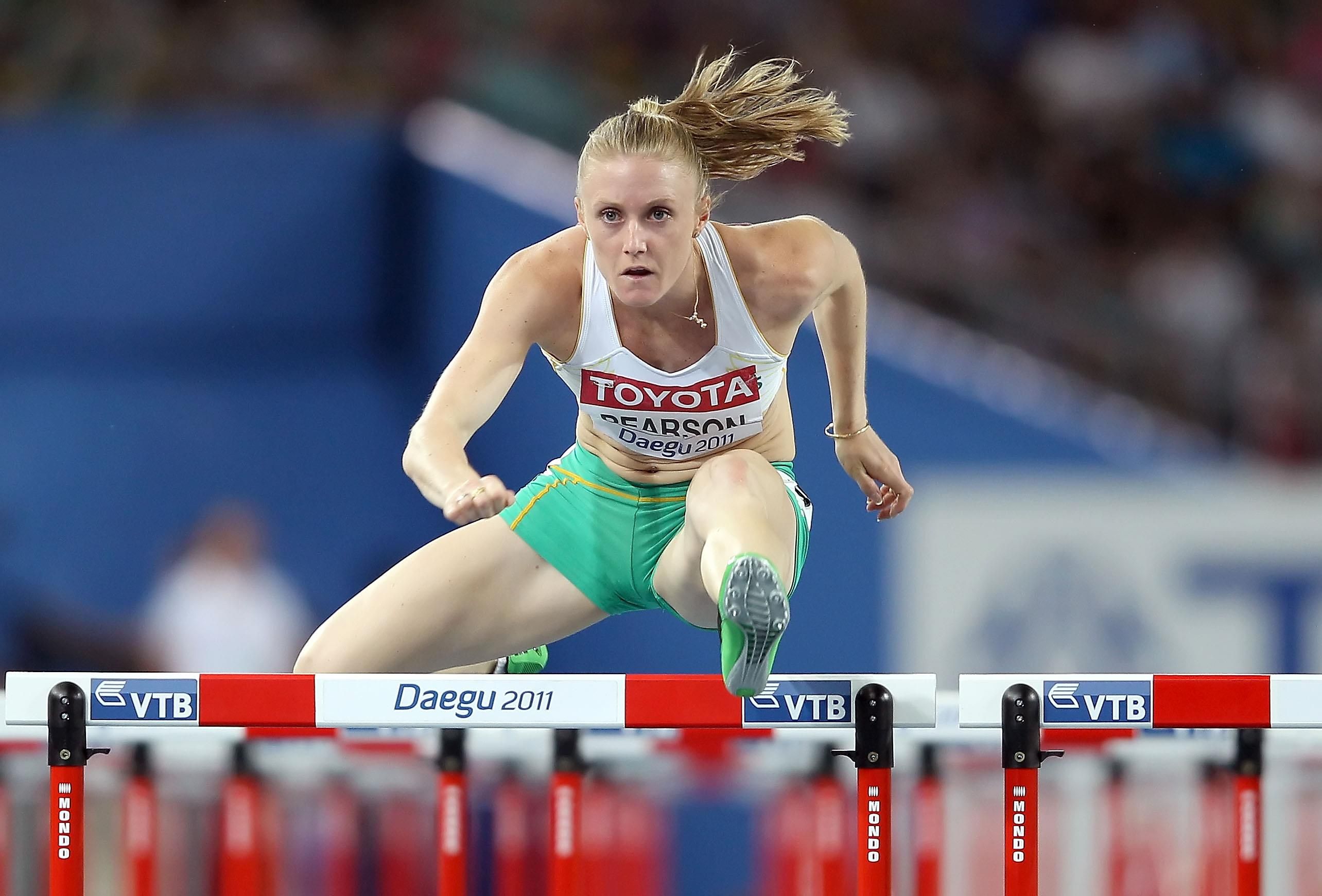 The hot favourite delivers Olympic gold
Then, after world indoor triumph in Istanbul, came Olympic glory at London 2012.
Voted Female World Athlete of the Year in 2011, Pearson needed all of her steely determination to overcome the mounting pressure and the challenge of her rivals. There were inevitable parallels, and contrasts, to Cathy Freeman, who rode the host nation's expectations to her momentous, monumental 400m victory at the Sydney Olympics.
Back in 2000, Freeman travelled 11,000 miles to escape the mounting pressures of home by preparing for the Games in London, alongside her British rival Donna Fraser. Pearson based herself close to London in Kent, her mother's home county in England, living with her aunt.
That might have afforded some protection from the attentions of home but when Pearson emerged from training to take part in her final test before the Games, the London Grand Prix at Crystal Palace, she was the reddest of hot favourites. She had been unbeaten by any of her rivals in 31 hurdles races, outdoors and in, stretching back to August 2010. She had lost in Brussels in 2011 but it was one of the barriers that beat her in the Belgian capital; she fell at the sixth hurdle.
Warming up for her heat at Crystal Palace, she clattered into the second hurdle and tumbled to the rain-sodden track. She picked herself up but was clearly rattled. The usual decisive thrust of acceleration was absent as she rose from the blocks. She had to dig deep to hold off Kellie Wells, pipping the US hurdler by 0.01 in 12.53. Wells got the better of her in the final, prevailing by 0.02 in 12.57.
When it came to Games time, however, Pearson proved her thoroughbred pedigree – and her mettle. The resurgent Harper pushed her hard all the way in the final but the Australian edged the defending champion by 0.02, setting an Olympic record of 12.35, with Wells a distant third in 12.48.


London gold again. The last hurrah!
The following year Pearson suffered two hamstring tears but still took world outdoor silver in Moscow. In 2014 there was world indoor silver and a second Commonwealth gold, but in 2015 she broke her wrist and left forearm after crashing in the Golden Gala in Rome and in 2016 a hamstring injury kept her out of the Rio Olympics.
And so, to the 2017 World Championships in London. Keni Harrison lined up clear favourite on the track where she scorched to her 12.20 world record twelve months prior. The US athlete could only finish fourth, however, as Pearson regained her Midas touch, winning from Harper again in London in 12.59.
It proved to be a final hurrah. An achilles tendon injury cruelly ruled Pearson out of her home Gold Coast Commonwealth Games in 2018. Then, in 2019, came the announcement of her competitive retirement.
Now working as a mentor for Athletics Australia, the Gold Coast's finest can draw upon many a golden memory for inspiration.
"Winning Olympic gold was obviously huge," she told Steve Landells in an interview for World Athletics' Personal Bests series. "But my career highlight came at the 2011 World Championships in Daegu, because of the time I ran in the final (12.28) and winning the gold medal.
"I couldn't have asked for any more."
Simon Turnbull for World Athletics Heritage