Henry Rono in 1978 (© Getty Images)
On the morning of Saturday 8 April 1978, the world record for the men's 5000m stood at 13:12.9 to one Theodorus Jacobus Leonardus Quax.
Running in the July Games in Stockholm's Olympic Stadium the previous year, the Dutch-born Kiwi more commonly known as 'Dick Quax' – runner-up to Lasse Viren in the Olympic 5000m final in Montreal in 1976 – had shaved 0.1 from the global mark hitherto held by the brilliant Belgian Emiel Puttemans.
It had taken 11 years for the record to be pared down 3.7 seconds since the supreme Australian clock-chaser Ron Clarke's epic 13:16.6 run, also in the Swedish capital, in 1966.
By the end of this particular Saturday in 1978, the men's 5000m world record would be reduced in one go by 4.5.
The quantum leap was taken at the Edwards Field track at the University of California in Berkeley, with its panoramic views of the Berkeley Hills, San Francisco Bay and the Golden Gate Bridge, by the unlikely figure of Kipwambok Rono.
'Henry' Rono, as he preferred to be known, (or Sir Henry, as L'Equipe subsequently christened him) was a 26-year-old physical education and psychology sophomore at Washington State University. He hailed from Kiptaragon, a collection of small farmsteads in the Nandi Hills in Kenya's Rift Valley.
A bicycle accident left him unable to walk until he was six. His father died in a tractor accident around the same time and his mother struggled to scrape together the fees to educate Henry. He was in and out of school for years.
Inspired to take up running by Kip Keino's 1500m victory at the 1968 Olympic Games in Mexico, Rono's talent blossomed when he was recruited by the Kenyan army. He was selected for the 5000m and 3000m steeplechase for the 1976 Olympics but never made it to Montreal because of the Kenyan boycott.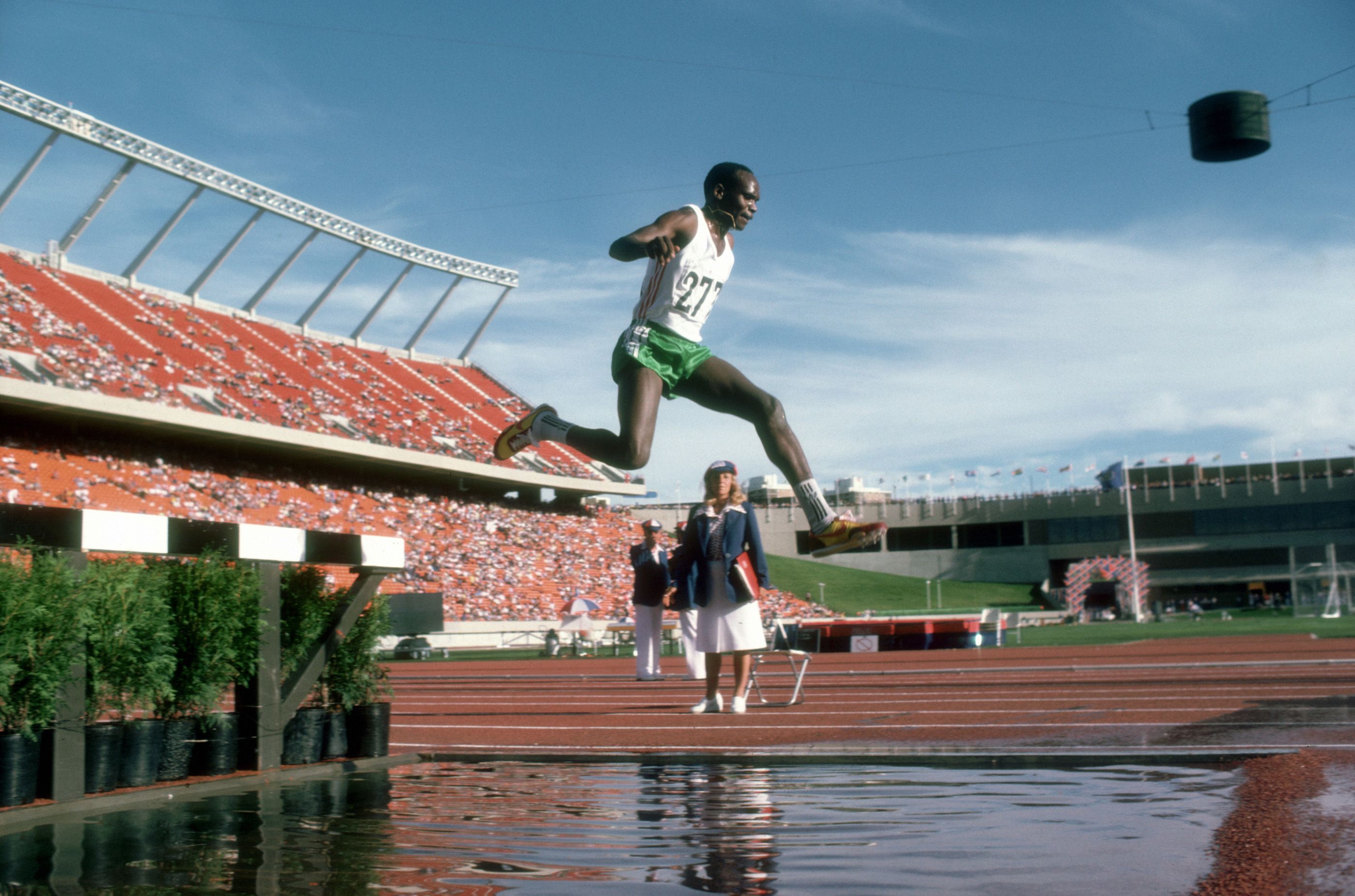 Henry Rono competes in the 3000m steeplechase at the 1978 Commonwealth Games in Edmonton (© Getty Images)
81 dizzying days
By the start of the 1978 outdoor season, he was studying and training in the USA and still a little-known figure on the international scene. Although at the tail end of the 1977 season he had shown hints of his ability – with a 27:37.1 clocking for fourth place on the world all-time 10,000m list when finishing second to Brendan Foster in the IAC-Coca Cola Meeting at Crystal Palace in south London, and with 7:40.9 as runner-up to another great Briton, Steve Ovett, in a 3000m race in Wattenscheid, Germany.
Still, there was nothing in Rono's back catalogue to suggest he would wreak such devastating damage on the world record books in April, May and June of 1978.
Quax's 5000m was to be the first of four global marks to fall victim to the rampant Rono within the space of 81 dizzying days.
As Jonathan Rosen of the New York Times put it: "Rono didn't simply break four world records [at 5000m, the 3000m steeplechase, 10,000m and 3000m]. He obliterated them in low-key meets with little competition, on a diet of cheeseburger and Budweiser [other refreshments were, of course, available at the time, as they are now].
"His stride wasn't the most graceful. But his willpower and barrel-chested force were unmatched."
That was evident at Edwards Field that April day. Running for Washington State in the Triangular Match meet, the short but long-striding Rono powered his way relentlessly into the world record book.
Hitting the front after a sluggish opening 67.3 lap, he proceeded to chase the clock on his own, averaging circuits of 63.1 overall and closing with a 59.5-second final lap.
On the track where the 19-year-old Jim Ryun uncorked his 3:51.3 world mile record in 1966, Rono crossed the line in 13:08.4, breaking Quax's record by 4.5 and improving his lifetime best by 13.7.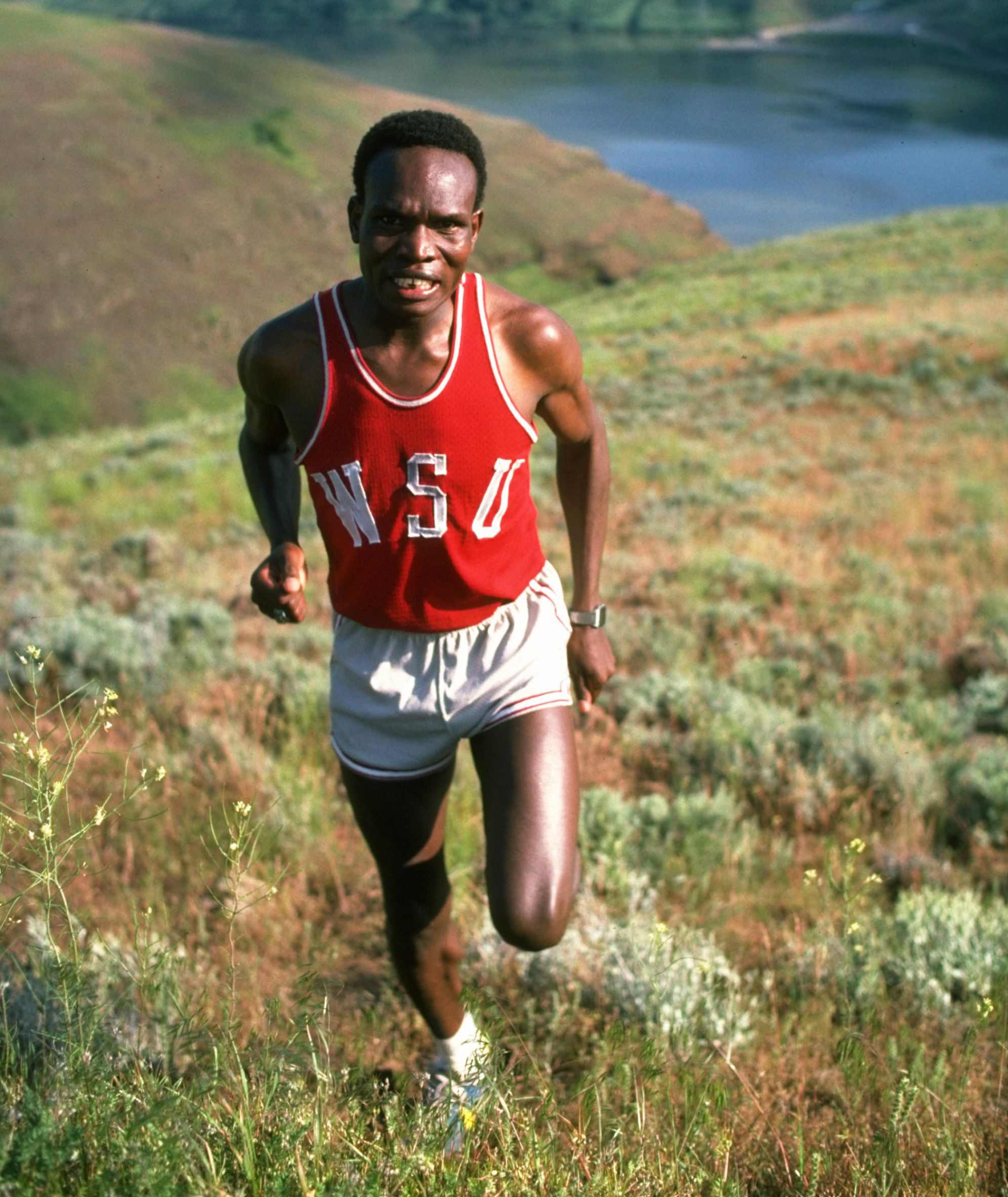 Henry Rono during a training run in Snake River Canyon, USA (© Allsport / Getty Images)
Ragged hurdling
Next Rono turned his attention to the 3000m steeplechase. In Seattle on 13 May, despite windy conditions and a ragged hurdling technique, he clocked 8:05.4, carving 2.6 off Anders Garderud's two-year-old record.
The Swede had run 8:08.02 in snatching gold in front of a 73,000 crowd in a dramatic Olympic final in Montreal in 1976. He was pushed hard by the Pole Bronislaw Malinowski and the East German Frank Baumgartl, the latter crashing when on level terms with Garderud at the final barrier but still recovering to take bronze.
The settle in Seattle could hardly have been starker in comparison.
Just 200 hardy souls braved the elements to watch the Northwest Relays meeting at Husky Stadium. Rono had to contend with gusts of eight metres per second in what was another solo assault.
Jim Johnson, who finished second in 8:36.1, ventured to suggest: "If Rono had any hurdles technique, he'd have broken eight minutes today. His hurdling form is ragged but he has a lot of horsepower and uses it. There's certainly nothing lacking in his speed between the hurdles."
Rono's best steeplechase time before 1978 had been 8:29.0, although he improved to 8:14.8 in April of that year.
Negative world record splits in Vienna and Oslo
After becoming the first man to hold world records for the 5000m and 3000m steeplechase, the indefatigable Kenyan moved on to Europe and the home of The Third Man for an assault on compatriot Samson Kimobwa's 10,000m figures of 27:30.5.
The venue for what was a specially-organised 25-lap race was Cricketer Place in Vienna, within the grounds of Prater Park – in the shadow of the giant Reisenrad Ferris wheel, on which Orson Welles delivered his famous speech about the cuckoo clock in the classic film set in the Austrian capital.
Luckily, the judges' hand watches were all functioning correctly at Cricketer Place, because the photo-finish equipment failed to capture Rono crossing the line in a stunning 27:22.4 (27:22.47 according to the electronic photo-cell timing) – a whopping 8.2 seconds inside Kimobwa's record.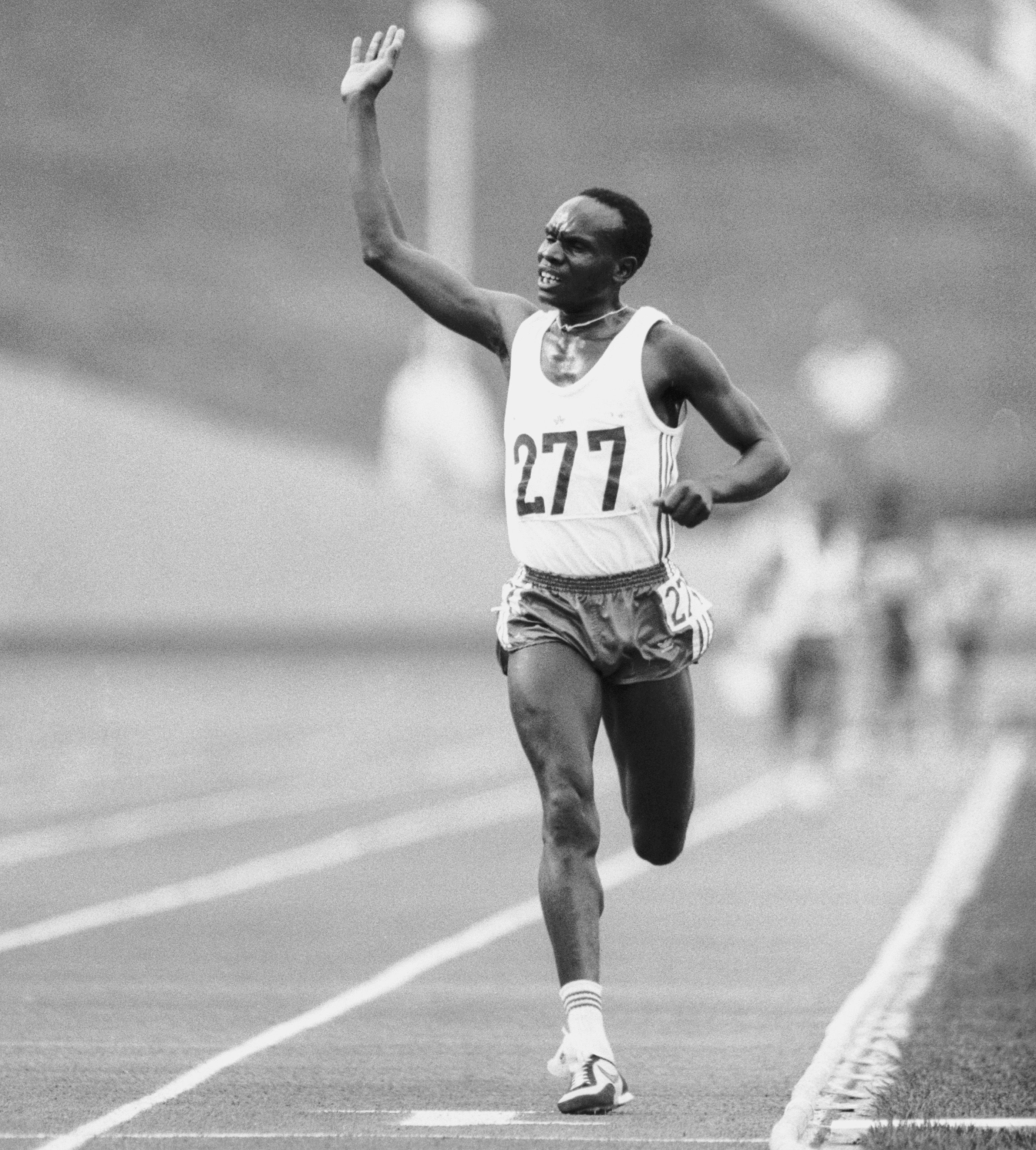 Henry Rono celebrates at the 1978 Commonwealth Games in Edmonton (© Getty Images)
On this occasion, Rono had pacemaking assistance for part of the way. Dutchman Jos Hermens, holder of the world hour record and future orchestrator of three successful attempts on the 10,000m world record by Haile Gebrselassie and two by Kenenisa Bekele, lasted eight and a half laps before stepping off the track.
Rono reached halfway in 13:48.2 and ran the second 5000m solo in 13:34.3, summing a final lap of 57.0. Domingo Tibaduzia of Colombia was second, half a lap behind, finishing in 27:53.0, a South American record.
Rono produced another negative split to claim world record number four. At the Bislett Games in Oslo on 27 June, he finished 3.1 inside Brendan Foster's 3000m time, clocking 7:32.1. He ran 3:49.5 for the first half and 3:42.6 for the second, a 1500m PB for him.
Rono was on his own once he moved to the front on the fourth lap and the enormity of his achievement was underlined by the fact that his two closest pursuers, Suleiman Nyambui of Tanzania (7:40.3) and Britain's Nick Rose (7:40.4), moved to fifth and sixth on the world all-time list.
Those four runs alone would have guaranteed a place in any pantheon of all-time greats but Rono proceeded to secure a 10,000m and steeplechase double at the All-Africa Games in Algiers and toyed with some high-class opposition before claiming 5000m and 3000m steeplechase golds at the Commonwealth Games in Edmonton, Canada.
He went unbeaten in 31 outdoor races in 1978 until an epic two-mile tussle with Steve Ovett in the end-of-season IAC-Coca Cola meeting at Crystal Palace, the Briton's formidable kick taking him to victory in a world outdoor best of 8:13.5.
"The next eight years are more or less a blank"
As in 1976, Rono missed out on the Olympics in 1980 because of another boycott. There was one final hurrah, however, before his running career and his life took a downward turn.
He started the 1981 season with a beer belly but finished it with another 5000m world record. In fact, he started the day of 13 September with a hangover, having got drunk the night before a 12-and-a-half lap race in Knarvik, Norway, sweating off the effects with an hour run in the morning. In the afternoon, he ran 13:06.20, breaking his Berkeley time by 2.2.
Sadly, the drinking took its toll. In the years that followed, Rono endured periods of homelessness, was arrested for drink-driving and undertook a string of menial jobs in towns and cities across the USA just to survive.
Happily, though, in the late 1990s he started to get a grip on his alcoholism. He learned English properly for the first time, qualified as a teacher and started coaching.
"I've been to the top of the highest mountain and then came down to the bottom of the world," Rono reflected when receiving the 2008 Inspiration Award at the World Athletics Gala in Monte Carlo. "Looking back now, I can remember what happened in 1978, but then the next eight years are more or less a blank."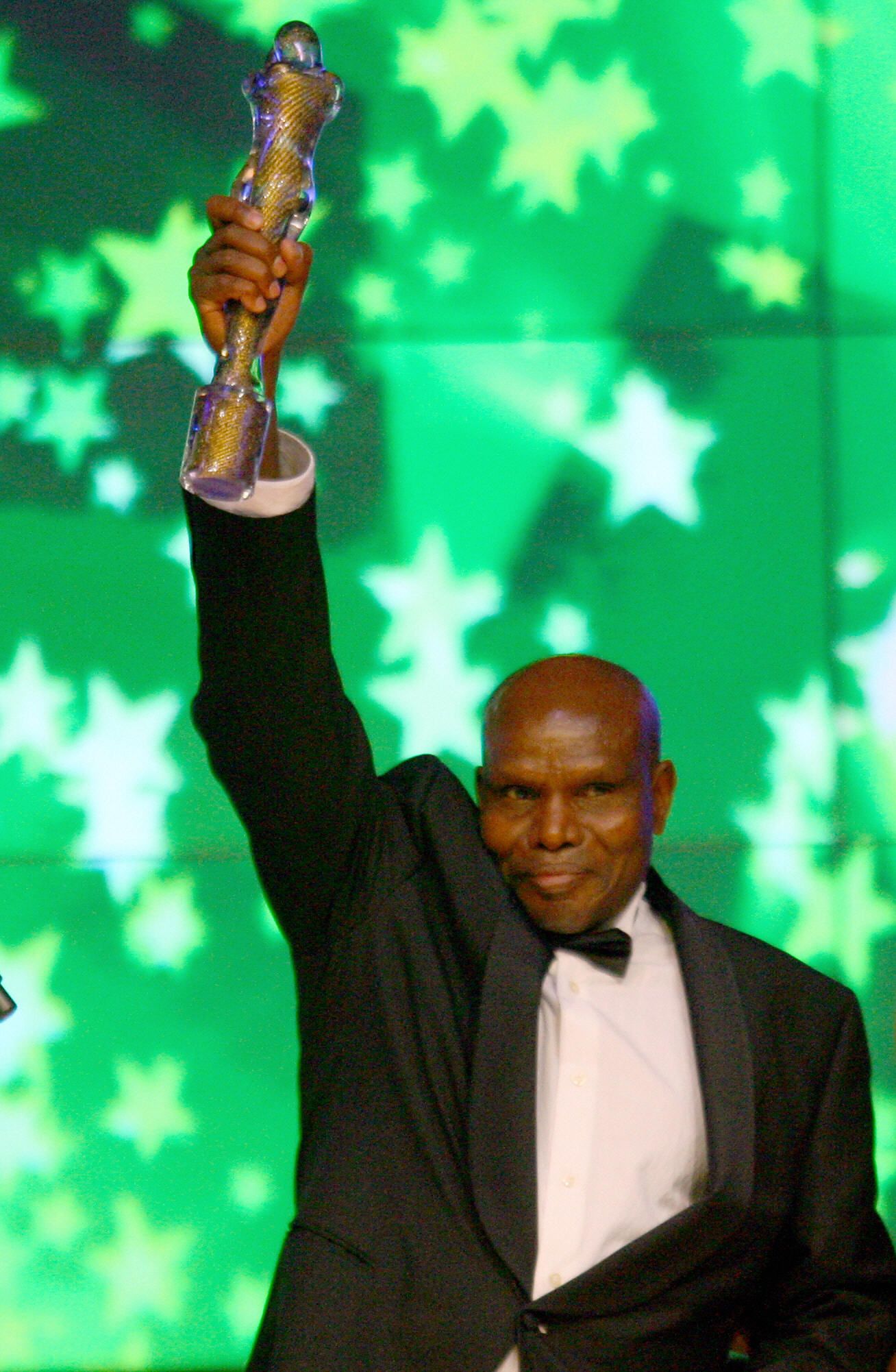 Henry Rono at the World Athletics Gala in 2008 (© AFP / Getty Images)
At 71, the inspirational Rono is happily settled back in Kenya, living in his old home village of Kiptaragon, "among the avocado trees and Bougainvillea flowers of his youth," as the New York Times reported in September last year.
The period in his life of which he is most proud, he insists, is not when he broke four world records in 81 days, 45 years ago now, but the time when he enrolled in community college and finally achieved the goal that had long eluded him: a mastery of English.
Simon Turnbull for World Athletics Heritage