Canadian sprinter Harry Jerome
The Harry Jerome International Track Classic (1964), Canada's longest running international invitational meet, has today been awarded the World Athletics Heritage Plaque. The accolade recognises the competition's historic contribution to the development of track and field athletics in North America.
The announcement was delivered at a press conference on the eve of this year's edition of the competition. The World Athletics Continental Tour Bronze meet is hosted at Swangard Stadium, Burnaby, British Columbia, which is where the plaque will be permanently displayed.
The World Athletics Heritage Plaque is a location-based recognition, awarded for 'an outstanding contribution to the worldwide history and development of the sport of track and field athletics and of out-of-stadia athletics disciplines such as cross country, mountain, road, trail and ultra-running, and race walking'.
"Congratulations to the Harry Jerome International Track Classic on the award of the World Athletics Heritage Plaque (category: Competition)," commented World Athletics President Sebastian Coe.
"From its foundation in 1964 as the Achilles meet, to its renaming 20 years later in honour of the 100m world record breaker, the late Harry Jerome, the Classic has been Canada's premier international track and field invitational."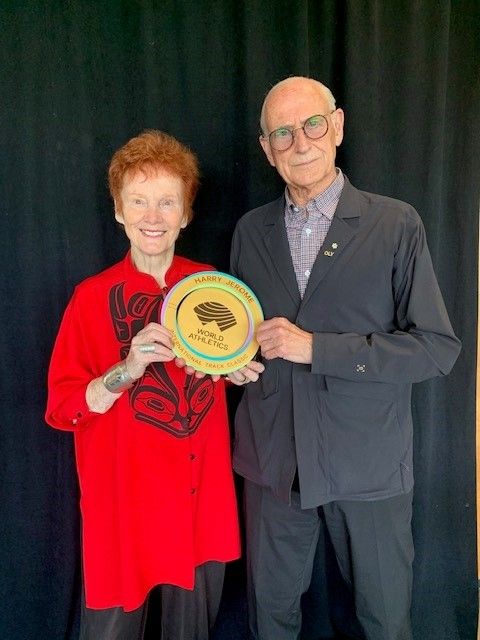 "Instrumental to the competition's enduring success have been the Olympians Dr Doug and Diane Clement (pictured, right) who founded the Achilles International Track Society, which since the start has organised the event which has made such a large contribution to the history of athletics in Canada," concluded Coe.
The inaugural Achilles meet (now called the Harry Jerome International Track Classic) was held at Vancouver's Empire Stadium, the site of the 1954 British Empire Games and Miracle Mile, as a preview to the 1964 Tokyo Olympic Games.
1984 marked the renaming of the meeting in honour of North Vancouver's late multiple world record breaker Harry Jerome, who was the 100m bronze medallist at those Tokyo Olympics.
The Achilles society has hosted 'The Jerome' at Swangard Stadium in Burnaby, BC, since 1983.
Canada's longest running international invitational meet has thrilled spectators with performances by world and Olympic champions, world record-holders, Canadian stars, and young hopefuls.
Numerous international greats have competed at the meeting including Mike Boit, Eamonn Coghlan, Joaquim Cruz, Ashton Eaton, Cathy Freeman, Jackie Joyner-Kersee, Carl Lewis, Merlene Ottey, Tom Petranoff, Daley Thompson, and John Walker to name but a few.
Canadian stars competing have included Dylan Armstrong, Donovan Bailey, Melissa Bishop, Debbie Brill, Angela Chalmers, Charmaine Crooks, Andre DeGrasse, Derek Drouin, Gary Reed, Bruny Surin, Brianne Theisen-Eaton, Damian Warner, and Lynn Williams.
Chris Turner for World Athletics Heritage