Jefferson Perez celebrates his 20km race walk victory at the Bolivian Games in Ambato, Ecuador (© AFP / Getty Images)
South America can boast of a proud athletics history that stretches back to the 19th century in several countries, not least Chile who were present at the inaugural Olympic Games in 1896 and a founding member of the global governing body of what is now known as World Athletics in 1912.
By contrast, through the combined influences of a relative lack of economic prosperity and infrastructure, Ecuador – whose national athletics federation celebrates its centenary on Wednesday (15) – left it later to embrace athletics.
In their book Historia del Atletismo Ecuatoriano 1923-1927, the authors Manuel Bravo Calderon and Veronica Idrovo Suarez write in their introduction: "Ecuadorian athletics lovers at the start of the 1900s would run around the streets, parks and [town] squares of the emerging Ecuador but it was a long way from participating in a [formally organised] competition as there were no institutions in charge of organising a meeting that could bring together the best local exponents… much less being part of a delegation that could represent the country at the main international events."
Nevertheless, as Bravo Calderon and Idrovo Suarez note, by 1920 athletics competitions that would be recognisable today started to be held: "by groups of driven athletes in Quito, Guayaquil and other provinces despite poor techniques and equipment." Within the space of just four years, several local multi-sports federations emerged, which then organised regional and national athletics competitions, with the Ecuador athletics federation being founded on 15 March 1923. In parallel, the Paris-based Ecuadorian diplomatic Enrique Dorn y Alsúa, who was a personal friend of Pierre de Coubertin and had joined the International Olympic Committee in 1920, was also urging the Ecuadorian government to accept an invitation for the country to attend the 1924 Olympics Games in his adopted home city, as well as fund a team.
Ecuador makes Olympic debut in Paris
Consequently, a three-man team representing Ecuador and comprised solely of athletes was selected to make the arduous journey to the French capital.
However, it was an inauspicious start to Ecuadorian Olympic ambitions as, on the opening day of competition on 6 July, sprinter Alberto Jurado finished last in his 100m heat, and his compatriot Alberto Jarrin failed to finish in a famously chaotic straight 10,000m final which saw at least 33 runners – historians are still not certain of the exact number – crammed on to the start line of the 500m track before Finnish legend Paavo Nurmi subsequently emerged as the winner.
For a variety of political and economic reasons, Ecuador was not to return to the Olympic arena for more than 40 years until 1968, but despite being absent from the global stage the country did make forays into continental competition over the coming decades.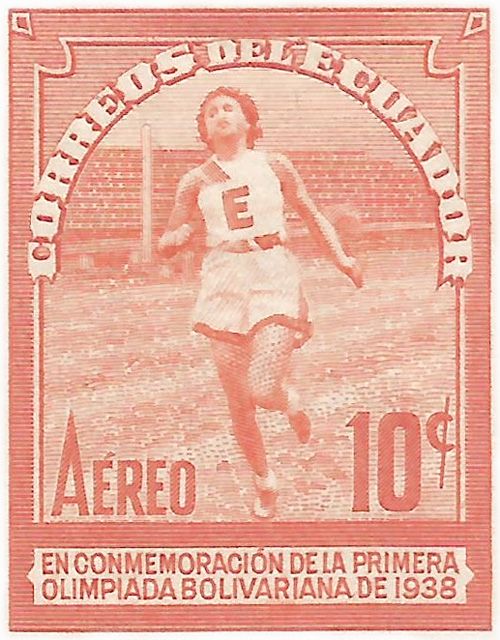 Ecuador made a belated debut at the South American Championships in 1939, held in the Peruvian capital Lima, and returned from the first championships to feature women's events with a gold medal to its name thanks to the 100m winner Carola Castro (pictured), who acquired the nickname of La Flechita de Oro ('The Little Golden Arrow').
From the late 1960s, in addition to returning to the Olympic Games, Ecuador stated to become more active in organising continental championships, starting with the 25th South American Championships in 1969.
However, not to diminish the efforts of all those that came before him – both on and off the track – the country's athletics profile reached new heights with the feats of race walker Jefferson Perez, whom many Ecuadorians would call their greatest sporting hero to emerge from their Andean country.
Atlanta gold makes Ecuadorian history
Perez first gave notice of his prodigious talent when he emotionally won the 1988 South American U18 Championships 5km race walk, held in his home city of Cuenca, at the age of 14 and against rivals up to three years older.
At the 1990 World U20 Championships, while still only 16, he took the bronze medal in the 10,000m race walk. It was the first time an Ecuadorian athlete had set foot on a global championships podium.
Later the same year, within the space of two weeks in November, he took the South American Race Walking Cup U20 10km title and gold over 5km at the South American U18 Championships.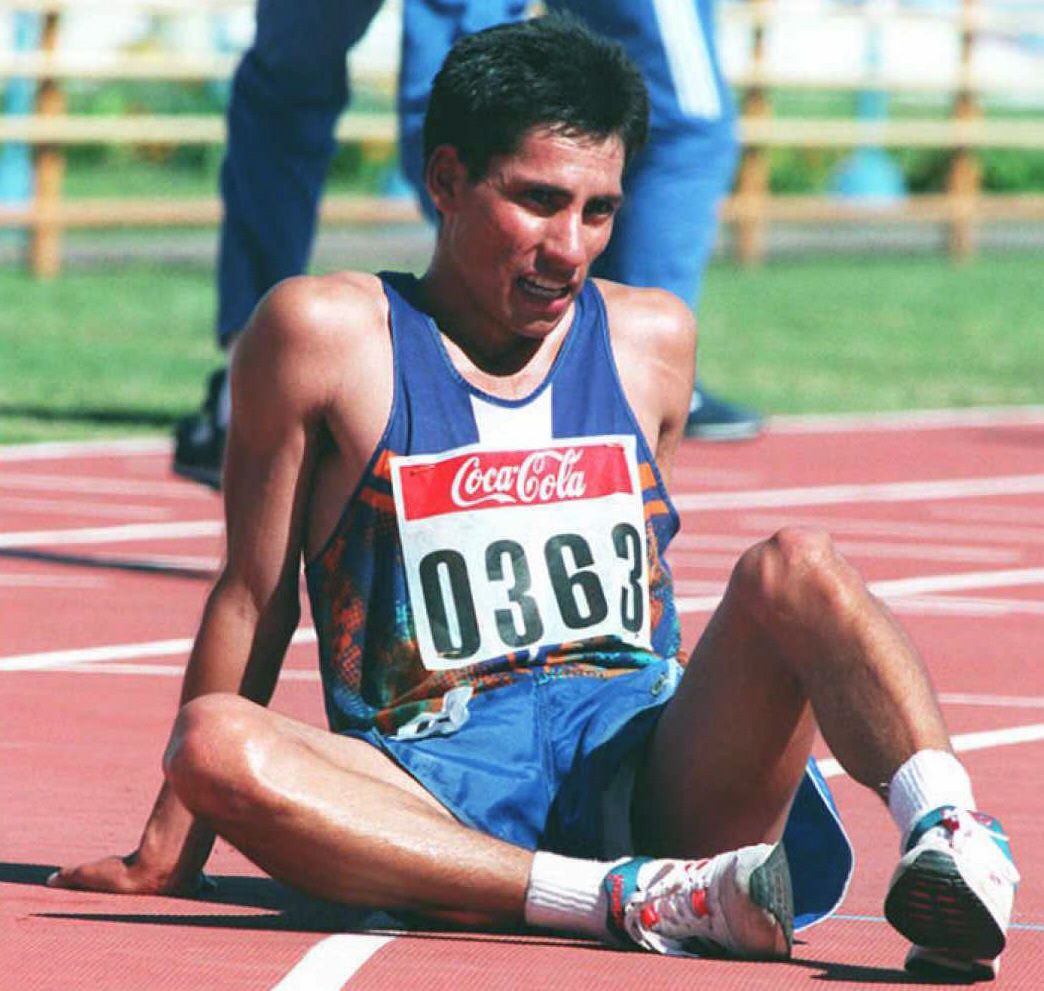 Jefferson Perez at the 1995 Pan American Games (© AFP / Getty Images)
From that point, the age-group titles kept piling up for Perez, both on the road and the track, culminating in him winning the 1992 world U20 10,000m crown in the Korean capital Seoul, the first global title for any athlete from Ecuador.
In the following three years, his successes included two South American Race Walking Cup 20km titles and a Pan American Games gold medal in 1995. But, perhaps influenced by his disappointing 33rd place at the 1995 World Championships, he didn't start the Atlanta 1996 Olympic Games 20km race walk regarded as a medal contender, with most pundits favouring members of the super-quick trios from Mexica and Russia.
However, Perez upset the odds and came through from fourth at the halfway point with a blistering second half of 39:08 to win in a national record of 1:20:07, nine seconds clear of his nearest rival and becoming the youngest ever Olympic race walk champion.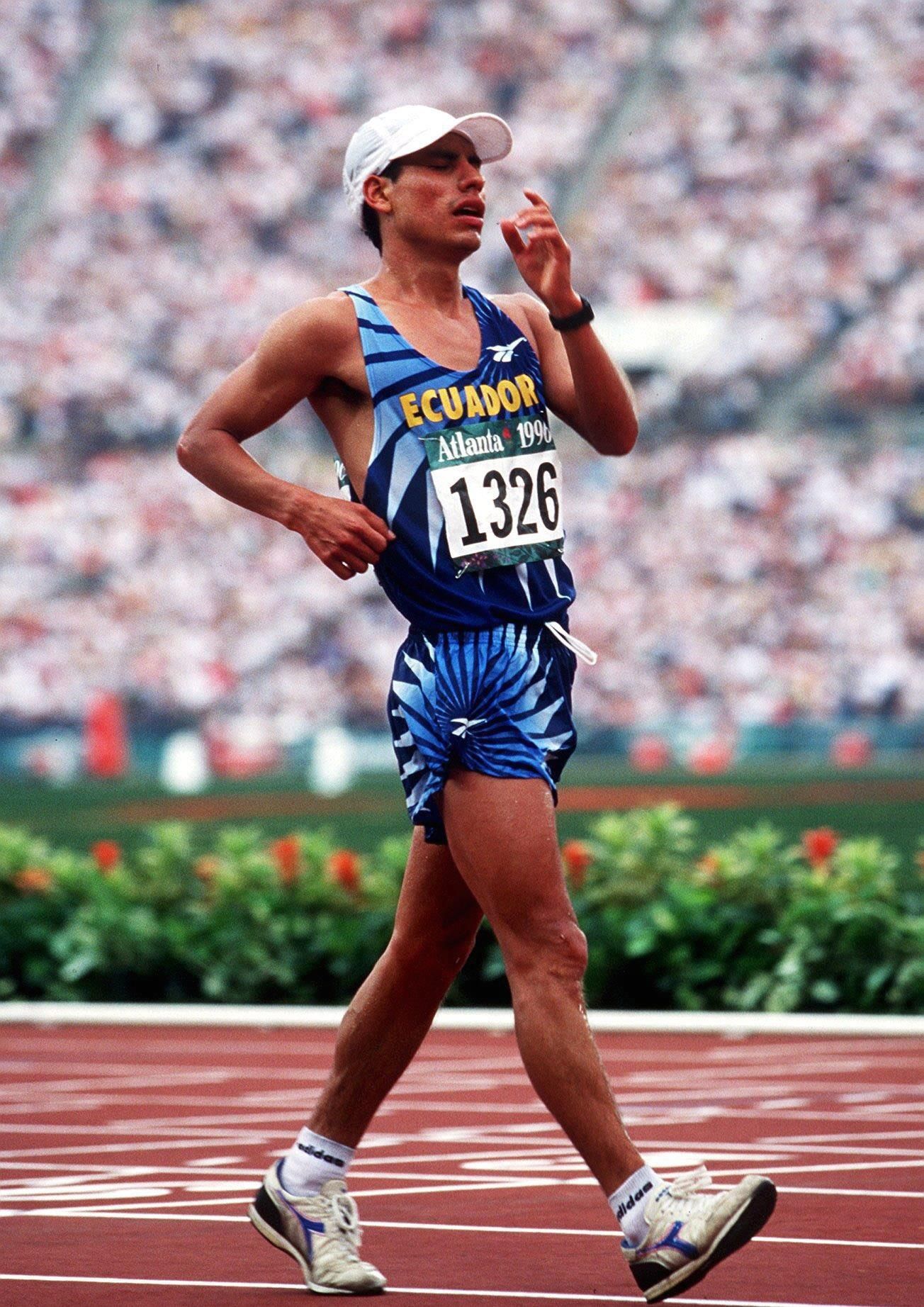 Jefferson Perez wins the 20km race walk at the 1996 Olympic Games in Atlanta (© Getty Images)
It was a milestone for not just Perez but Ecuadorian sport as a whole – one of those "Where were you when…" moments for many Ecuadorians – as the first Olympic medal of any colour won in any sport by an Ecuadorian, let alone a gold.
Three world titles for Perez
After Atlanta, nobody ever left Perez out of the reckoning again and the Ecuadorian flag regularly flew high at major athletics championships.
Perez went on to take the 20km race walk silver medal at the 1999 World Championships and then earned three consecutive world 20km race walk gold medals in 2003, 2005 and 2007. His winning time of 1:17:21 in 2003 became the first official world record for the event when standards for road events were recognised from 2004 onwards.
In 2008, after just missing out on medals with fourth-place finishes in his preferred 20km event at both the 2000 and 2004 Olympic Games, Perez took one last tilt at a major title and finished second at the Beijing Olympics before bowing out of international competition a few weeks later with a third-place finish over 20km at the World Race Walking Challenge Final in Murcia, Spain.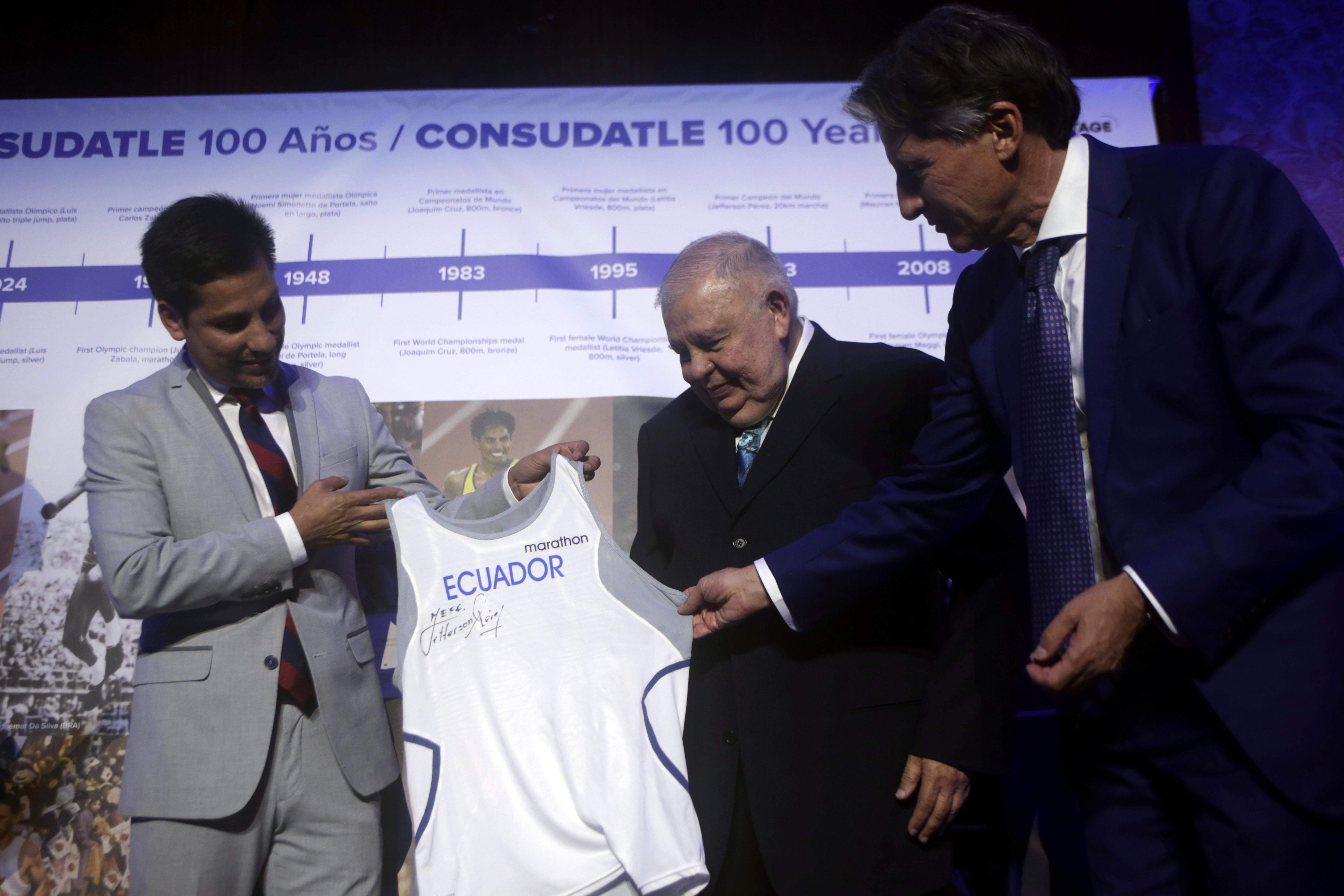 Jefferson Perez donates his 2007 World Championships 20km race walk gold medal winning vest to the World Athletics Heritage Collection
To mark the centenary of the South American Area Association in 2018, Perez donated his singlet from the 2007 World Championships in Osaka to the World Athletics Heritage Collection and it is on display in the Museum of World Athletics.
To date, even though other Ecuadorian sportspeople have since stood on the podium at the Olympics, Perez remains his country's only athletics medallist and the only multiple medallist across all sports.
But Perez is no longer the only Ecuadorian to stand on the podium at the World Championships after Alex Quiñónez earned 200m bronze in 2019.
Tragically, barely two years later, Quiñónez was shot and killed in the streets of Ecuador's second city Guayaquil.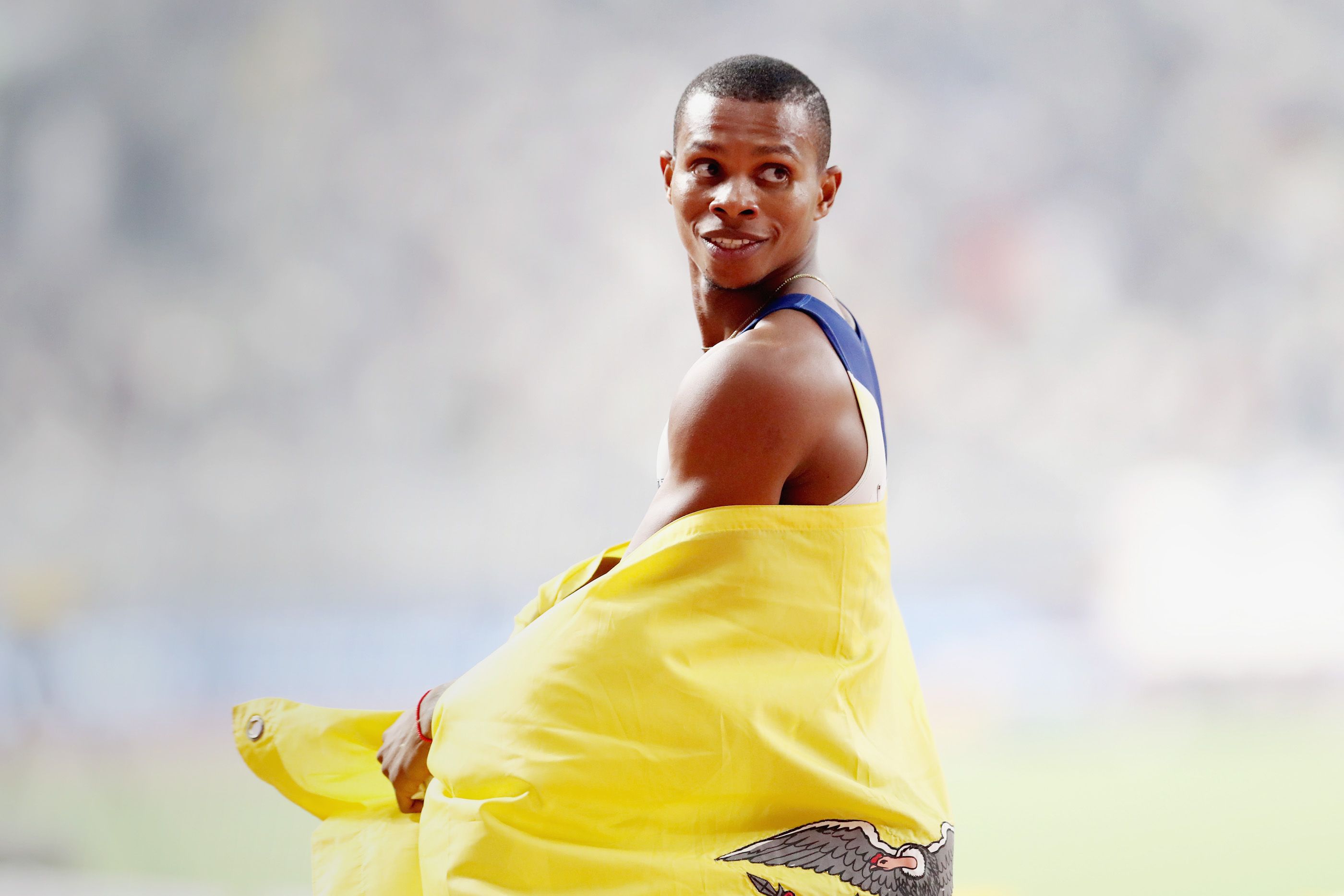 Ecuadorian sprinter Alex Quinonez (© Getty Images)
Pintado and Suárez lead Ecuador's Budapest challenge
So is there anyone who can follow in the footsteps of Perez and Quiñónez and take a medal at the World Championships in Budapest this summer?
Sprinter Gabriela Anahí Suárez, just 22, just missed out on a place in last year's World Championships women's 200m final, setting a national record of 22.74 in her semi and is clearly a huge talent. But perhaps the best bet is a man who has been inspired by the legacy of Perez, Brian Pintado.
Pintado, who coincidently also hails from Perez's home city of Cuenca, finished agonisingly close to emulating his idol with fourth place in the 35km race walk in a South American record of 2:24:37, and placed fifth in the 20km race walk, at last summer's World Championships in Oregon.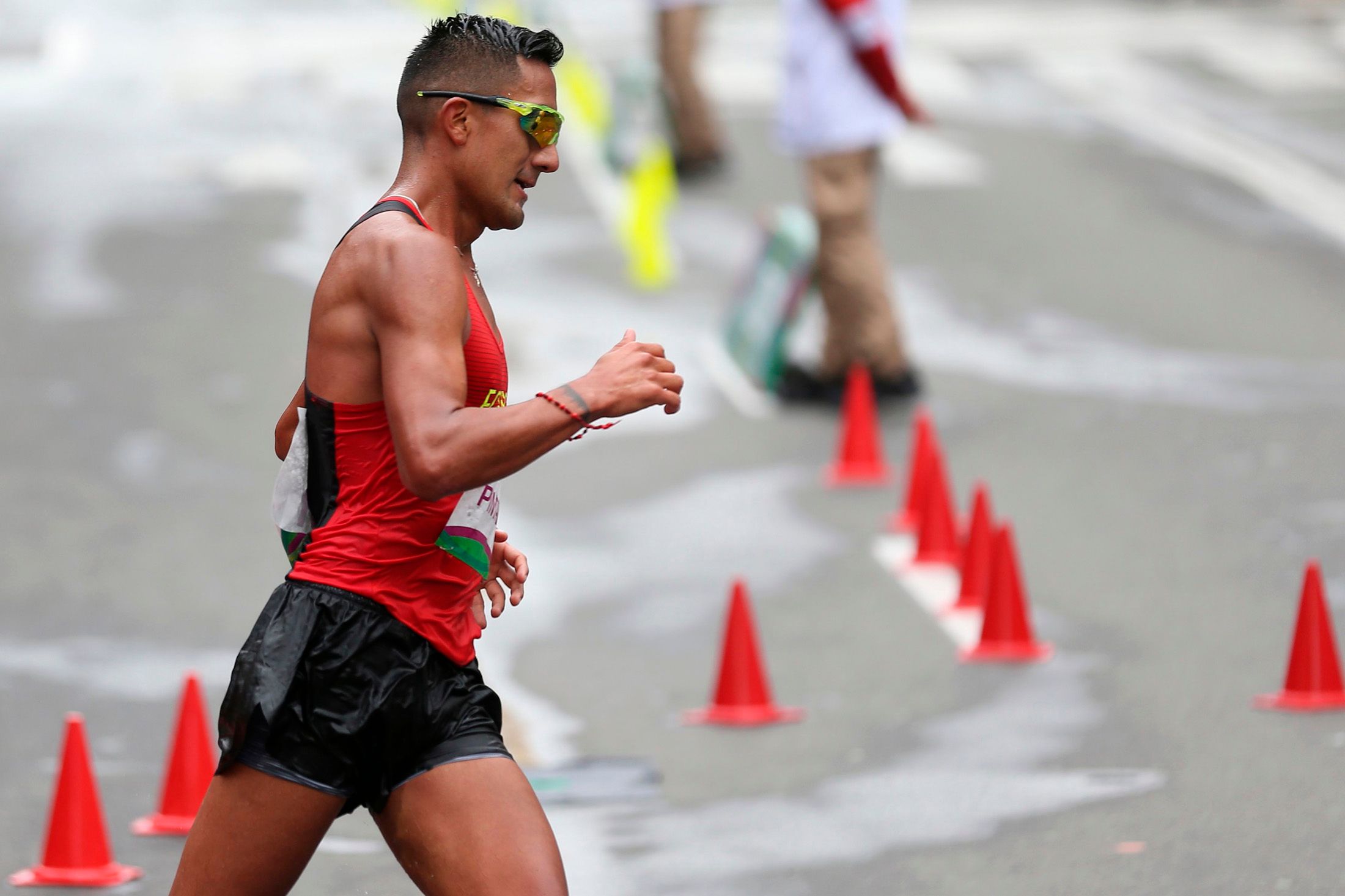 Ecuadorian race walker Brian Pintado (© Getty Images)
The 2019 Pan American Games 20km race walk champion only started racing over the longer distance last year – and Oregon was just his second competitive outing over the distance – but he appears to have made the transition with ease.
A medal in the Hungarian capital this coming August would be a fitting way of celebrating and adding lustre to the Ecuador athletics federation centenary.
Phil Minshull for World Athletics Heritage