Olympic 100m silver medallist Dorothy Manley congratulates winner Fanny Blankers-Koen at the 1948 Games in London (© Getty Images)
World Athletics is deeply saddened to hear that Great Britain's Dorothy Manley, the 1948 Olympic 100m silver medallist, has died at the age of 94.
As well as finishing second behind Fanny Blankers-Koen at the 1948 London Olympics, Manley was a record-breaking relay runner and won European gold as part of the British 4x100m team in Brussels in 1950.
Born in Manor Park in London on 29 April 1927, Manley took up athletics while at school and joined an athletics club at the age of 17.
A fan of the football club West Ham United, Manley had watched her team win the Football League War Cup at Wembley in 1940 and eight years later she was back in that same stadium, racing for Olympic glory.
"Back in 1947, they drew up a list of possible people who they thought might reach the Olympics and my name came up for the high jump, not the sprinting at all," she said in an interview for the football club's website in 2013. "Even to this day, I've never found out what I did in 1947 to put my name on that list of possibles."
She started training for the London Olympics in March 1948, coached by Sandy Duncan. "Even as a high jumper, I had to warm up, and he (Duncan) had seen me running around the track. He came to me and said: 'Dorothy, I don't think you'll make it as a high jumper but I can see potential in your running, so will you allow me to coach you?'."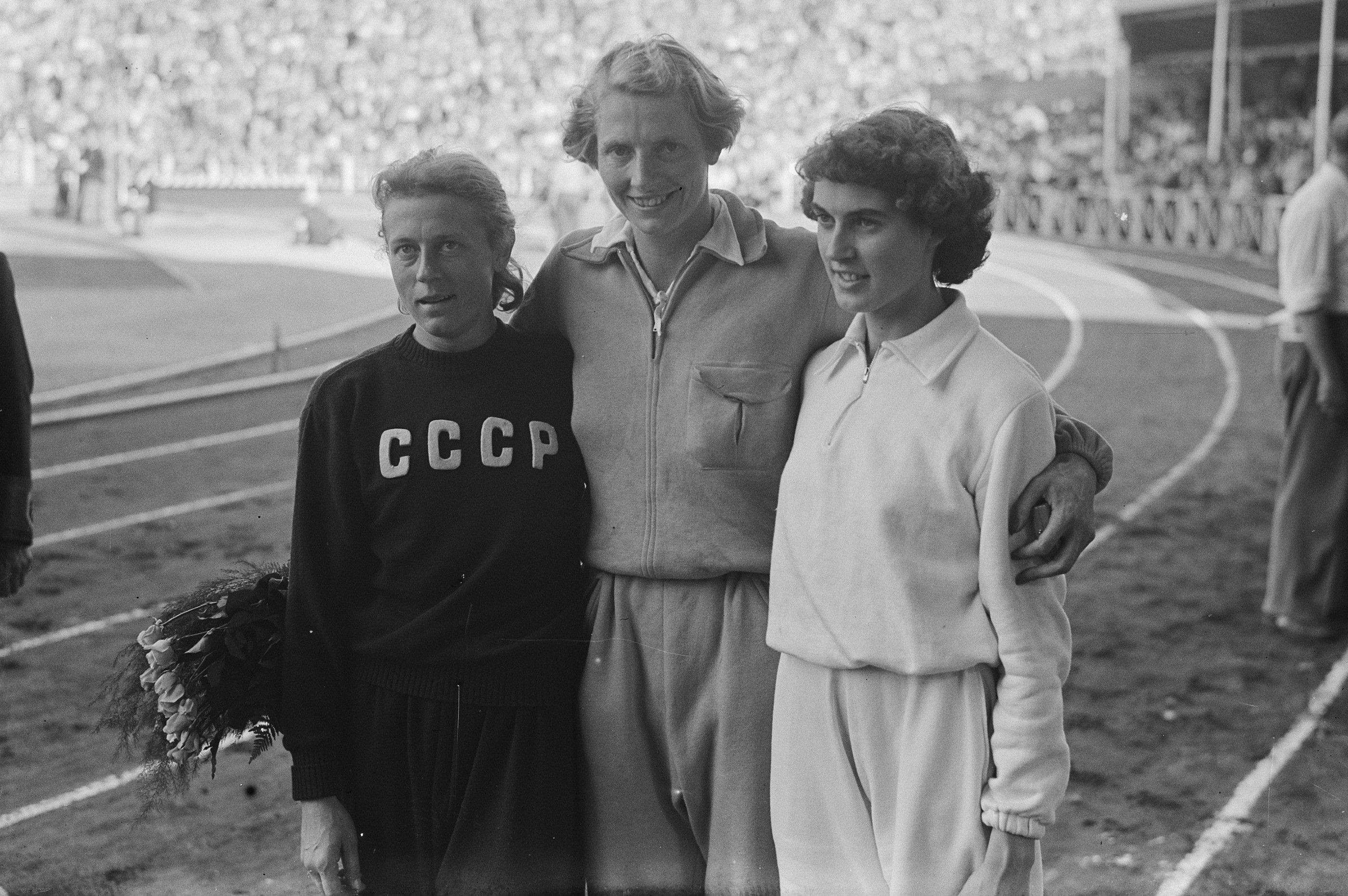 Dorothy Manley (right) with her fellow 1950 European 200m medallists Yevgeniya Sechenova and Fanny Blankers-Koen (© Daan Noske / Anefo)

Balancing her job as a typist with her training, Manley used unpaid holiday to compete in the 1948 Games. Wearing a vest and shorts made by her mother, she won both her 100m heat and semifinal at the Olympics, clocking 12.1 and 12.4 respectively, before running 12.2 in the final. Blankers-Koen's gold was one of the four that she won during the London Games, with bronze claimed by Australia's Shirley Strickland.
"Fanny Blankers-Koen, who beat me in the 100m final, was such a wonderful person and she would have beaten me no matter how hard I had trained, because she was such a powerful girl," Manley added in her 2013 interview.
In 1950 she claimed two relay medals at the British Empire Games in Auckland and also finished fourth in the high jump, despite only finding out after her arrival at the Games that she had been entered for the discipline.
Later that year she teamed up with Elspeth Hay, Jean Desforges and June Foulds to win the European 4x100m title in Brussels, where she also claimed 200m bronze. She then formed part of a record-breaking quartet that clocked 1:41.4 in 1951, improving the world 4x220 yards best.
Manley retired from athletics in 1952 but was back witnessing Olympic action in London 60 years later, when she was in the crowd for the women's 100m final at the 2012 Games.
World Athletics