Doris Brown Heritage (© World Athletics Heritage)
When it comes to showcasing the heritage of women's cross country running, nothing could be more fitting than the winner's medal earned by the aptly-named Doris Brown Heritage on her trip to Barry, Wales, in March 1967.
World Athletics Heritage is delighted that Brown Heritage has generously donated her historic prize to the Museum of World Athletics (MOWA). In winning it 55 years ago, she became the first official women's international cross country champion.
It was the first of five successive victories by the bespectacled Seattle runner in the International Cross Country Union (ICCU) Championships, the forerunner of the global country championships that we know today. In the era of the World Athletics Cross Country Championships, from 1973 onwards, only one woman has won five senior long course titles: the great Grete Waitz.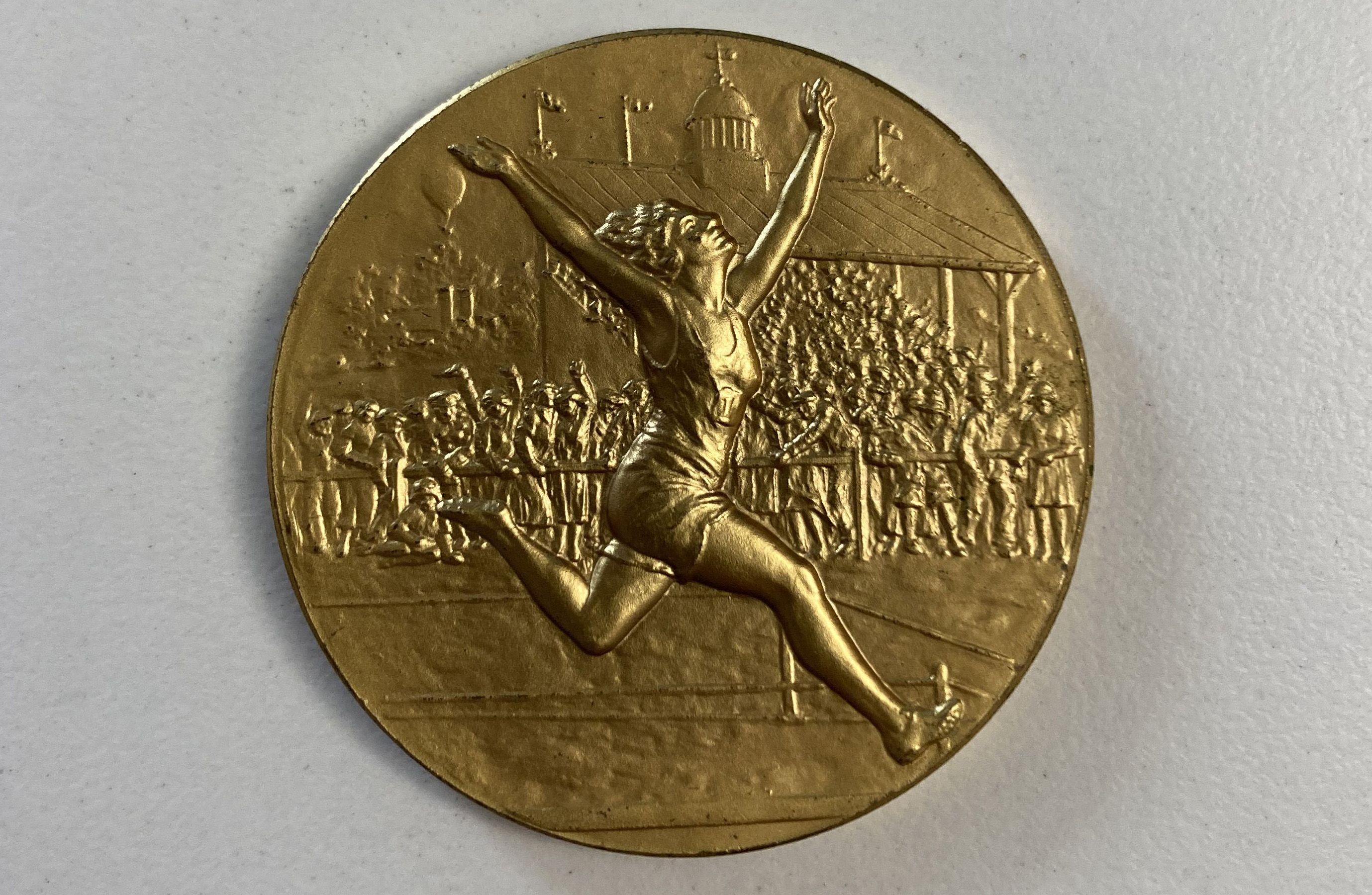 Doris Brown Heritage's historic cross country gold medal (© World Athletics Heritage)
"We've come a long way"
That Brown Heritage is not as widely celebrated a trailblazing sporting figure as the late Norwegian, who took the women's marathon world record through the 2:30 barrier, is simply due to timing. She was the greatest female distance runner in the world at a time when there were no international distance races for women on the track beyond 800m.
The first global platform for her talent came in 1967 when the ICCU decided to add a women's race of 3km to its annual International Cross Country Championships.
There had been unofficial women's races before. The first two, in 1931 and 1932, were won by England's Gladys Lunn, who completed an unlikely 880 yards and javelin double at the 1934 British Empire Games. Lunn's compatriot Diane Leather was a winner in 1954, the year she became the first woman to break five minutes for the mile, and in 1955 and 1957, the last time a women's race had been run.
The 1967 race, however, was the first to have the official blessing of the ICCU, and the first to be incorporated into the programme of the International Cross Country Championships.
The 26-strong field included just two women from outside of Europe – indeed, just two from outside of the host nation Wales, England, Scotland and Ireland. Patricia Cole of the United States finished 15th. Her compatriot finished a clear winner.
Doris Brown, as she was at the time, was a class apart. She prevailed by 37 seconds from England's Rita Lincoln, who, as Rita Ridley, won the first Commonwealth Games 1500m final for women in 1970.
"It was so exciting to win that first international cross country title," said Brown Heritage, who turned 80 in September, still lives in the Seattle area and has long been on the coaching team at Seattle Pacific University. "All the men were really famous. They treated me really well.
"They gave me a standing ovation at the awards presentation. Women were not a big deal in those days in running. We've come a long way."
Paid her own way again
Even in the aftermath of her historic triumph, Brown Heritage did not receive the recognition she deserved. A report in The Herald newspaper concentrated almost entirely on Gaston Roelants' convincing victory in the men's race.
"A contemptuous laugh over his right shoulder and a playful jump to swipe the crossbar above the finishing line as he crossed it – that just about sums up G Roelants' opinion of his opposition in the senior race of the International Cross Country Championships on Saturday at Barry," wrote the British newspaper's athletics correspondent, Ron Marshall.
Roelants, the bearded Belgian who won the Olympic 3000m steeplechase title in Tokyo in 1964, finished 17 seconds clear of his nearest rival, England's Tim Johnston. Scotland's Lachie Stewart, memorable winner of the Commonwealth 10,000m title ahead of Ron Clarke on home ground in Edinburgh in 1970, was fourth. Farther back in the field were celebrated marathon men Ron Hill (11th) and Jim Alder (23rd), and Tom O'Riordan (20th), the Irish Olympian who forged a long career as one of thew world's leading athletics writers.
Only in the final paragraph of The Herald report did Brown Heritage receive a passing mention: "The first women's race to be run for the Home Countries was won easily by an individual entered from the United States, Mrs D Brown."
Having been obliged to pay her own way for the trip from Seattle, Brown Heritage hoped her success might prompt the US to send a team to the 1968 event in Blackburn, England. Again, however, she had to find the finances herself – although, in successfully defending her title, winning by 12 seconds from compatriot Vicki Foltz, she led a group of US women to victory in the team section.
Brown Heritage won the individual title again at Clydebank in Scotland in 1969, at Frederick, Maryland, in 1970 (when Italy's Paola Pigni won another women's race held on the same weekend in Vichy) and in San Sebastian in Spain in 1971.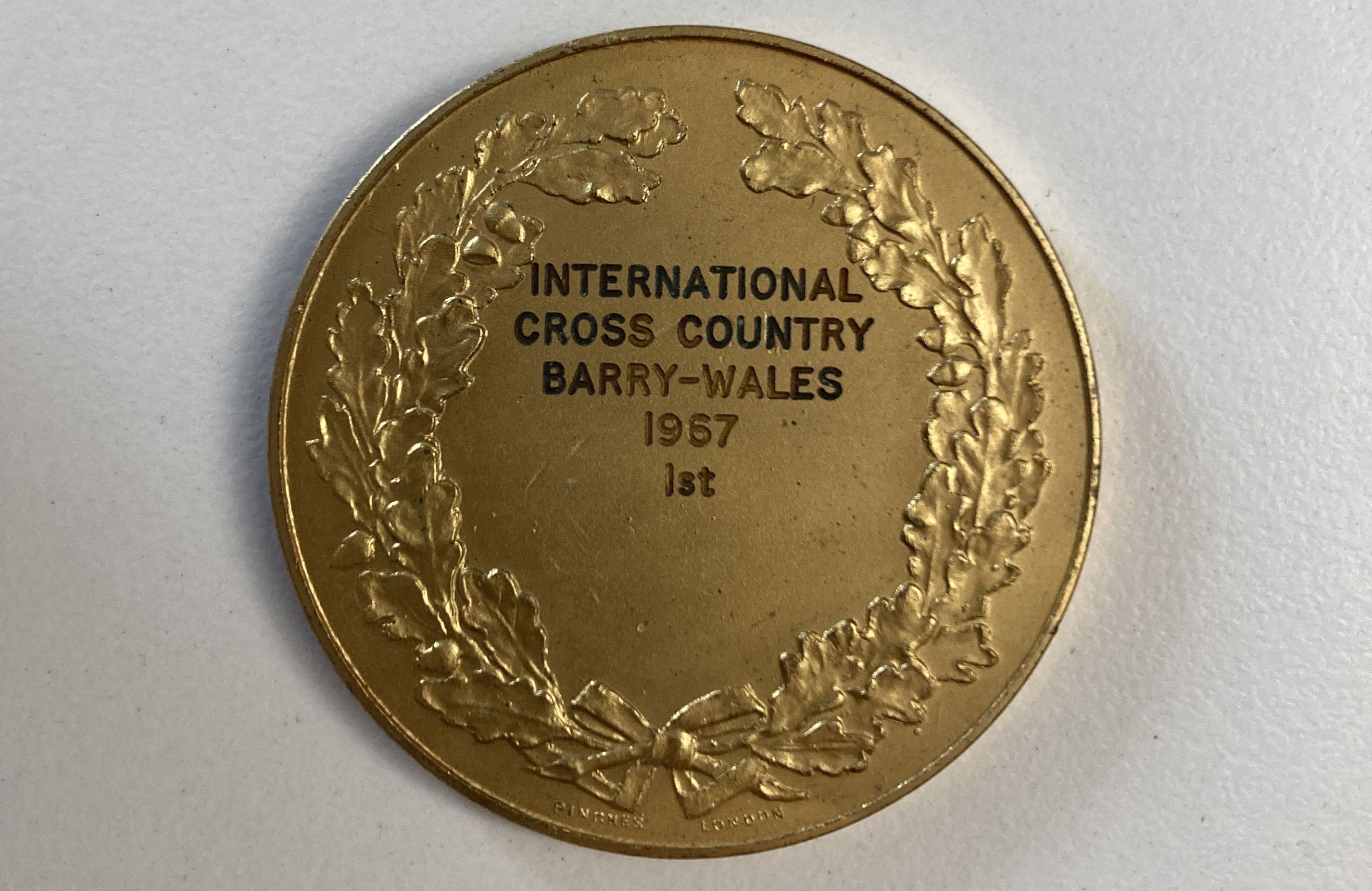 The reverse of Doris Brown Heritage's historic cross country gold medal (© World Athletics Heritage)
"She's going like a bomb"
Not that her ground-breaking was confined to the cross country arena.
Born Doris Elaine Severtson at Gig Harbor in Washington State in September 1942, she was the first woman to clock a sub five-minute mile indoors. Running in Vancouver on 19 February 1966, she clocked 4:52.0, smashing the week-old world best of 5:03.6 set by Britain's Joyce Smith.
There is wonderful video on YouTube of Brown Heritage watching grainy footage of her younger self achieving the feat while talking to the Lakewood High School Distance Squad in 2019. - https://www.youtube.com/watch?v=0XtkkH0YIbg. Commentator Jim McKay and summariser Ron Delany, Ireland's 1956 Olympic 1500m champion, clearly had no idea of her pedigree as she trailed the leader for the first eight laps.
"It's a one-girl race," said McKay. Then, with three laps left, Brown suddenly swept ahead. "That's Doris Brown of the Falcons (the Seattle Falcons Track Club)," said McKay. "She's the girl with the glasses on."
"It looks like Brown's race," said Delany. "She's going like a bomb. It's a marvellous display of paced running."
Brown Heritage chuckled at the sight of herself receiving a tea set as a prize for her barrier-breaking achievement. "It was one of the two highlights of my running career," she told her audience. "This, and winning the first international cross country race for women in March 1967."
A month before Brown Heritage travelled to Barry, she returned to Vancouver to improve her indoor world mile best to 4:40.4. Only five women have succeeded her as holder of that global mark: compatriots Debbie Heald, Francie Larrieu and Mary Decker plus Romania's Doina Melinte and Genzebe Dibaba of Ethiopia, who set the current figures of 4:13.31 in Stockholm in 2016.
Brown Heritage qualified for the US Olympic team in 1968 and 1972. In Mexico City in 1968 she finished fifth in the 800m final that was won by her US team-mate Madeline Manning in a Games record 2:00.9. In 1972 she was injured while preparing for the Games in Munich, ruling her out of the 800m.
She won 800m silver medals at the Pan Am Games in 1967 and 1971. In July 1971 she briefly held the world best for 3000m, smashing Pigni's two-year-old time by 11.1 seconds with a time of 9:26.9 in Bakersfield. Six days later Joyce Smith clocked 9:23.4 in London.
"Arduous training regime"
The pity was that Brown Heritage's high paced endurance training would have better suited her for the 5000m and 10,000m on the track. As the late, great Mel Watman observed in the pages of Athletics Weekly in 1967: "Possibly no woman in history has trained so intensively as this 5-foot 4-inch Washingtonian of Norwegian descent."
Brown Heritage is the first woman known to have run 100 miles a week.
Interviewed by Roger Robinson for a Runner's World feature marking the 50th anniversary of Brown Heritage's first international cross country success, Watman said: "In the summer of 1966, Doris ran three times most days: five miles in the morning, speed work in the afternoon, and up to 10 miles in the evening. Her weekly total was between 70 and 100 miles."
Brown Heritage had switched her attention to coaching before she ran her first marathon, at the age of 33, in Vancouver in 1976. She won in 2:37:45. She finished runner up to Miki Gorman in the New York City Marathon later the same year.
As a coach, Brown Heritage guided the US Olympic team in 1984 and also Jaqi Hansen, the first woman to breach the 2:40 marathon barrier. She has served on the World Athletics Cross Country Commission and has been inducted into the US Track and Field Hall of Fame – both as an athlete and a coach.
Her contribution to her sport has been immense.
As Watman observed: "With her arduous training regime, Doris is one of the most significant figures in the evolution of women's running."
Simon Turnbull for World Athletics Heritage