David Moorcroft runs a 5000m world record in Oslo in 1982 (© Bislett Games)
On a bright, crisp autumnal Saturday morning in the English West Midlands last month, Lucy Barbour was striding along in the weekly Coventry 5km parkrun when she pulled out her camera and started videoing her accompanying father. "Doing my bit for Help the Aged today," she quipped.
David Moorcroft just laughed. He has always been a self-deprecating soul.
At 68, he can still keep up with the young guns of the family. Or just about. Lucy crossed the line in 29:30, her Dad in 29:31.
There was a time, of course, when Moorcroft was the fastest 5000m runner in the world. The fastest in history, actually.


Remarkable world record donations
Yesterday (18), Moorcroft was back again in the Bislett Stadium in Oslo to attend a special ceremony to open a new room in the stadium dedicated to the late Svein Arne Hansen, director of the Bislett Games, president of European Athletics and World Athletics Council Member.
World Athletics Heritage Plaques were unveiled in the room honouring the trailblazing Norwegian distance runner Grete Waitz and the Oslo Bislett Games.
With Norway's Olympic 400m hurdles champion Karsten Warholm joining Moorcroft at the ceremony, Bislett's world record past and present were joined. Both record-breakers generously made donations to the World Athletics Heritage Collection and the Museum of World Athletics (MOWA).
Warholm gave one of the spikes he wore on 1 July at this year's Bislett Games when he broke Kevin Young's 1992 world record.
Moorcroft presented the collection with the right shoe which he wore on 7 July 1982, when he took the breath away with the eighth of the 25 world record performances that have been established at the Bislett Games.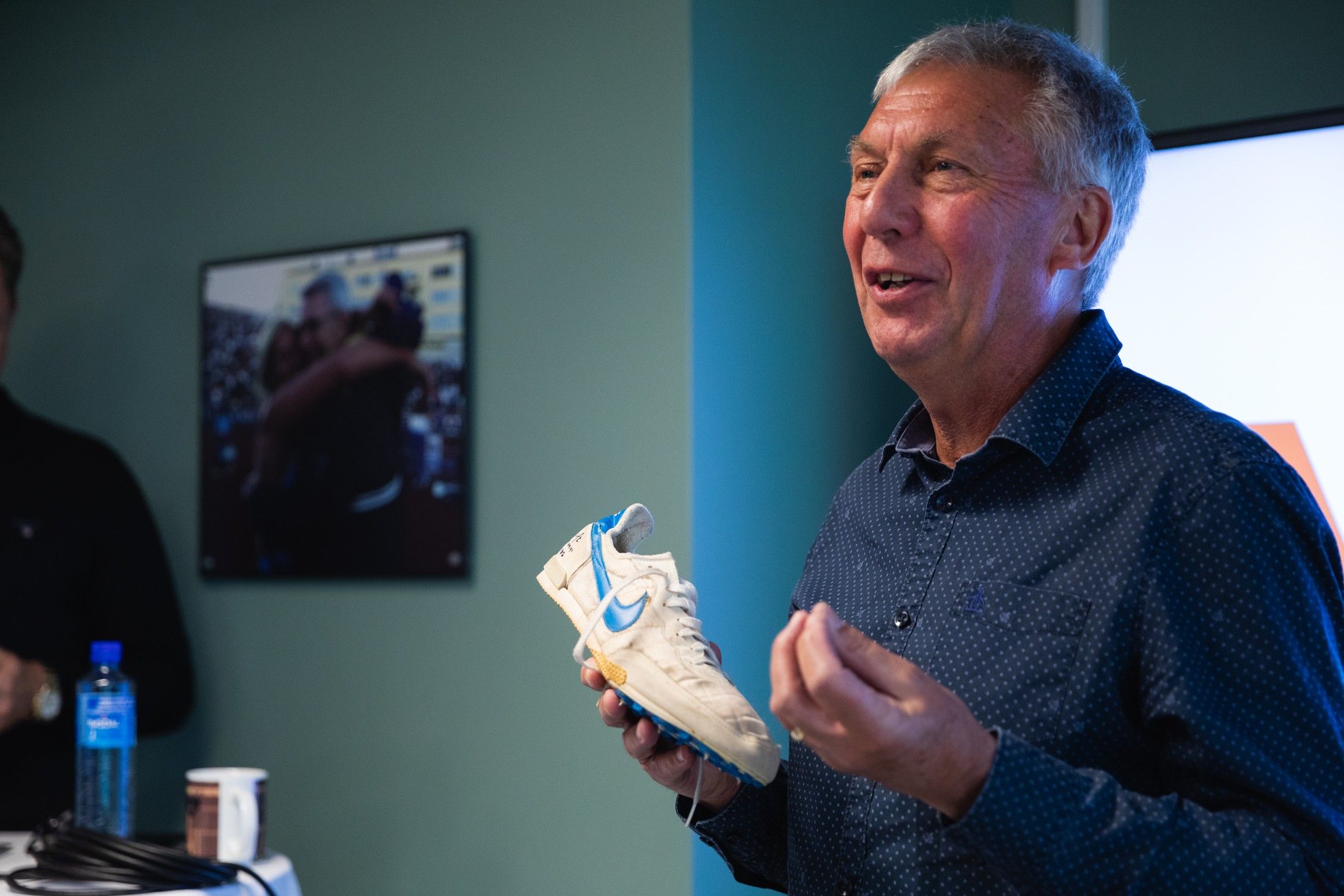 David Moorcroft and his world record shoe which he has donated to the World Athletics Heritage Collection (© André Hjorteseth)


Within a whisker of the 13-minute barrier
At the start of the 1982 meet, the 5000m world record stood at 13:06.20 to Henry Rono. The prolific world record machine was in the field alongside Moorcroft that night, but the Kenyan who owned five of the six fastest 5000m times in history was rendered a distant also-ran when the 29-year-old Briton pulled away from the field with just 800m gone.
Such was the lead that Moorcroft established, Ralph King of the USA presumed he was an over-zealous pacemaker who had dropped out long before the finish. As he outsprinted Moorcroft's British compatriot Nick Rose to cross the line in a respectable 13:20.85, King celebrated what he presumed was a victory. In fact, he had finished second, with Rose third, and Rono fourth in 13:25.14.
Moorcroft had been relentless, a man inspired. "He really is pouring it on," the late, great Ron Pickering said in his BBC TV commentary as the blue and white vested, clean-striding Moorcroft approached the line. "It's a tremendous run. He's well inside it (the world record). He's smashed it wide open."
Stunningly, the man from Coventry Godiva Harriers came within a whisker of smashing the 13-minute barrier, let alone the world record. His finishing time was given as 13:00.42 but was later amended to 13:00.41 after the photo finish picture had been examined.


"It was hard to grasp"
It was as breath-taking a performance as any of the myriad world record runs achieved in the preceding three years by Sebastian Coe and Steve Ovett, the dashing British middle-distance duo whose deeds – together with those of the emerging Steve Cram – had left Moorcroft in the relative shadows as a 1500m-man and miler.
It came as a surprise to no-one more than Moorcroft himself. Seventh in the Olympic 1500m final in Montreal back in 1976 and winner of the Commonwealth 1500m title in Edmonton in 1978, a stomach bug had scuppered his bid to make his mark over 5000m at the Moscow Olympics in 1980. He exited at the semifinal stage in the Russian capital.
In 1981 Moorcroft could only finish 13th in the Golden 5000m at Gateshead, a quasi-world title race, clocking 13:37.51. Victory in Lausanne and in the European Cup Final race in Zagreb pointed towards a breakthrough of sorts, but Moorcroft still lined up at the Bislett Stadium that night in July 1982 with a lifetime best of 13:20.51.
No wonder, in the midst of the hysteria that followed, he stole away from the meeting hotel to spend some time alone sitting next to a moonlit lake trying to come to terms with the quantum leap he had taken – a midnight scene evocatively depicted in the opening chapter of Running Commentary, the autobiography Moorcroft penned with the assistance of the peerless Sunday Times athletics correspondent, the late, greatly missed, Cliff Temple.
"It was hard to grasp," Moorcroft recalled. "What was a world record-holder supposed to feel? It was so unexpected that I had never even considered it, and only now had I managed to break away from the distractions which had followed me since I crossed the line in Bislett Stadium.
"Everyone meant well; they wanted to know how I had taken six seconds off the world 5000m record, running on my own. Yet how could I tell them when I did not even know myself?"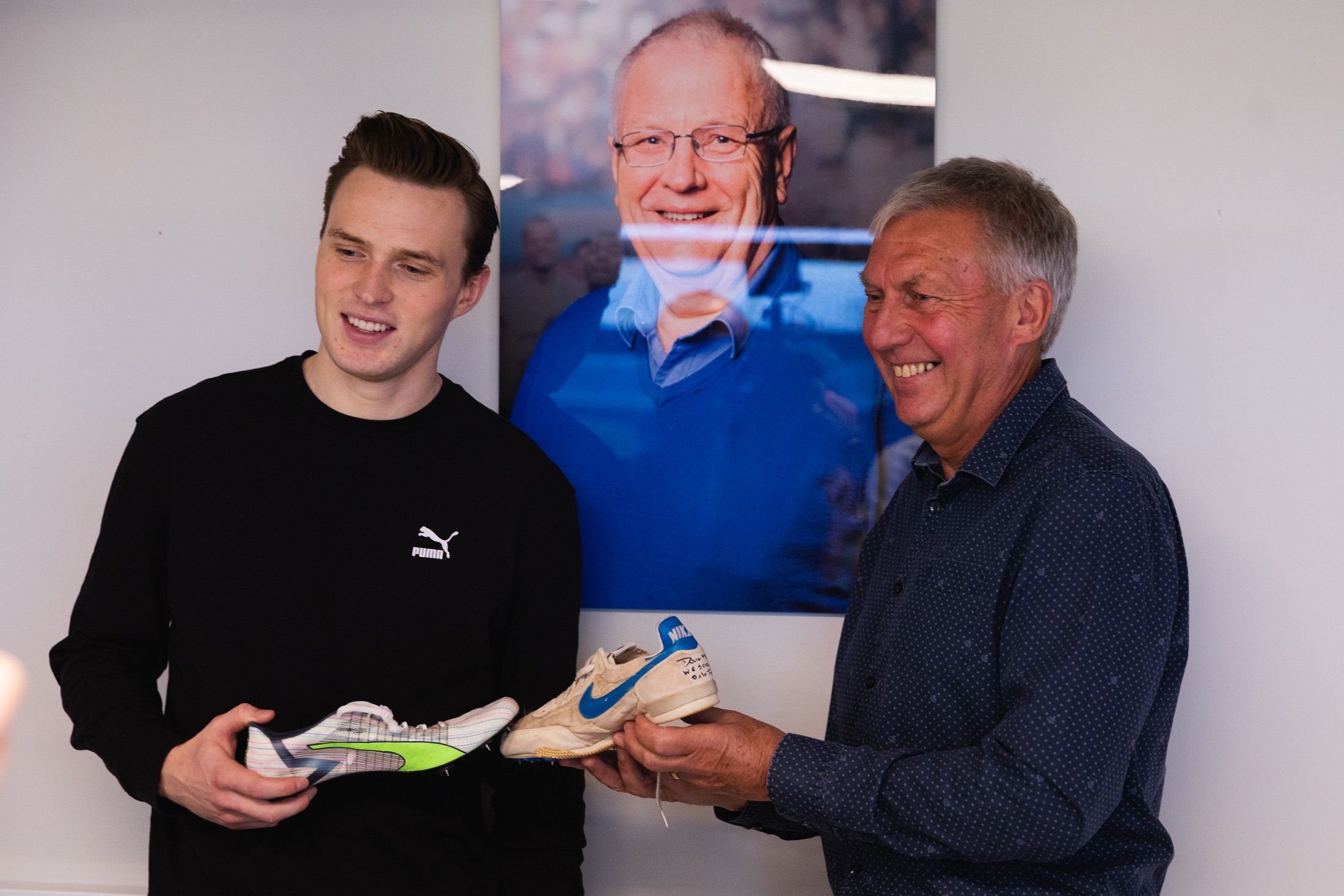 Karsten Warholm and David Moorcroft with a picture of Svein Arne Hansen at the Bislett Stadium (© André Hjorteseth)


Fighting to overcome disappointment
It was perhaps the steely determination forged within the engagingly equable Moorcroft after countless years of battling to overcome setbacks – injuries, illnesses, frustratingly disappointing performances – that ultimately propelled this seemingly modest soul to a super-human feat.
As a student, Moorcroft failed the English 11-plus and O level examinations, yet ended up with a university honours degree. As a running novice, he finished last in the Coventry schools' cross country race, and then 206th in his first race at national level, the English youths' cross country race, yet by 1982 he was a veteran of two Olympic Games and a double major championship medal winner, having taken European 1500m bronze behind Steve Ovett and Eamonn Coghlan, as well as Commonwealth 1500m gold ahead of Filbert Bayi in 1978.
He had become accustomed to fighting to overcome disappointment, and to better himself. And, in early in 1982, he underwent a sea change in attitude in the training he followed under the inspirational direction of John Anderson, the fiery Scottish coach who guided Liz McColgan to world 10,000m gold in 1991, and who gained wider celebrity in Britain as the referee in the Gladiators television show.
As Moorcroft reflected in Running Commentary: "Never have I felt so masochistic and aggressive in training. For a span of between three and six months, for some reason I was not a particularly pleasant person. I felt very frustrated at that time, but the change which came over me was both quite uncharacteristic and, in retrospect, puzzling.
"I was taking everything out of myself in training. I was putting 101% effort into every run, then going back for more.
"At last, I had no physical ailments. I had a good winter behind me. I was running brilliantly in training. And I was 29 years old. I had to face up to the fact that this was the moment of truth…"


Confidence booster
The first test of the new-found Moorcroft mettle came in the Golden Mile in Oslo on 25 June. The showpiece four-lap race in the Norwegian capital held painful memories. Back in 1979, when Coe followed up his stunning 1:42.33 world 800m record with a new global four-lap mark of 3:48.95 (the second of his epic spree of three world records in 41 days), Moorcroft had trailed in a dejected ninth in 3:54.35, a personal best nonetheless.
Three years on, Moorcroft finished third behind the US duo Steve Scott and Sydney Maree in 3:49.34 – a mighty five seconds improvement, and a significant confidence booster for the 5000m back at Bislett two weeks later.
His target was the British record held by his good friend Brendan Foster: 13:14.6. He was on course for that with a 4:11.1 opening mile but when he went through 3000m in 7:50.2, a full 10 seconds ahead of schedule, he suddenly realised he was on 13 minute pace. Only when he reached the bell in 12:02, however, did he fully comprehend the reality that the world record was within his grasp.
Writing in The Sunday Times the following weekend, Temple commented: "Moorcroft proved in Oslo that it is still possible to step out into unknown territory and reach out for the limits, without needing to keep behind a pacemaker with a key in his back.
"Earlier in the day Moorcroft had been gnawed by uncertainty as to how to run the race, haunted by past tactical errors, slight but magnified in his own perfectionist mind to gigantic proportions.
"He knew he was in excellent form and that night he was like a bottle of champagne waiting to pop. And at last he was virtually free of injury. It took an operation on both calves last autumn to relieve real pain which, for six years, had one way or another prevented him turning in the kind of performance to shake the world."


European 3000m record
Sadly, the shadow of injury and illness was to return and blight most of the rest of Moorcroft's running career.
He followed up his world record run with a thrilling 3000m win on home soil at Crystal Palace, outsprinting Maree in 7:32.29, a European record and the second fastest clocking of all-time, with the likes of Scott, Ovett and John Walker trailing distantly behind.
Exhausted by the time he reached the European Championships in Athens that summer, after being pressured by the British Amateur Athletics Board into running more races than he wanted, Moorcroft took 5000m bronze behind West Germany's Thomas Wessinghage and East German Werner Schildhauer, but recovered to take 5000m gold at the Commonwealth Games in Brisbane.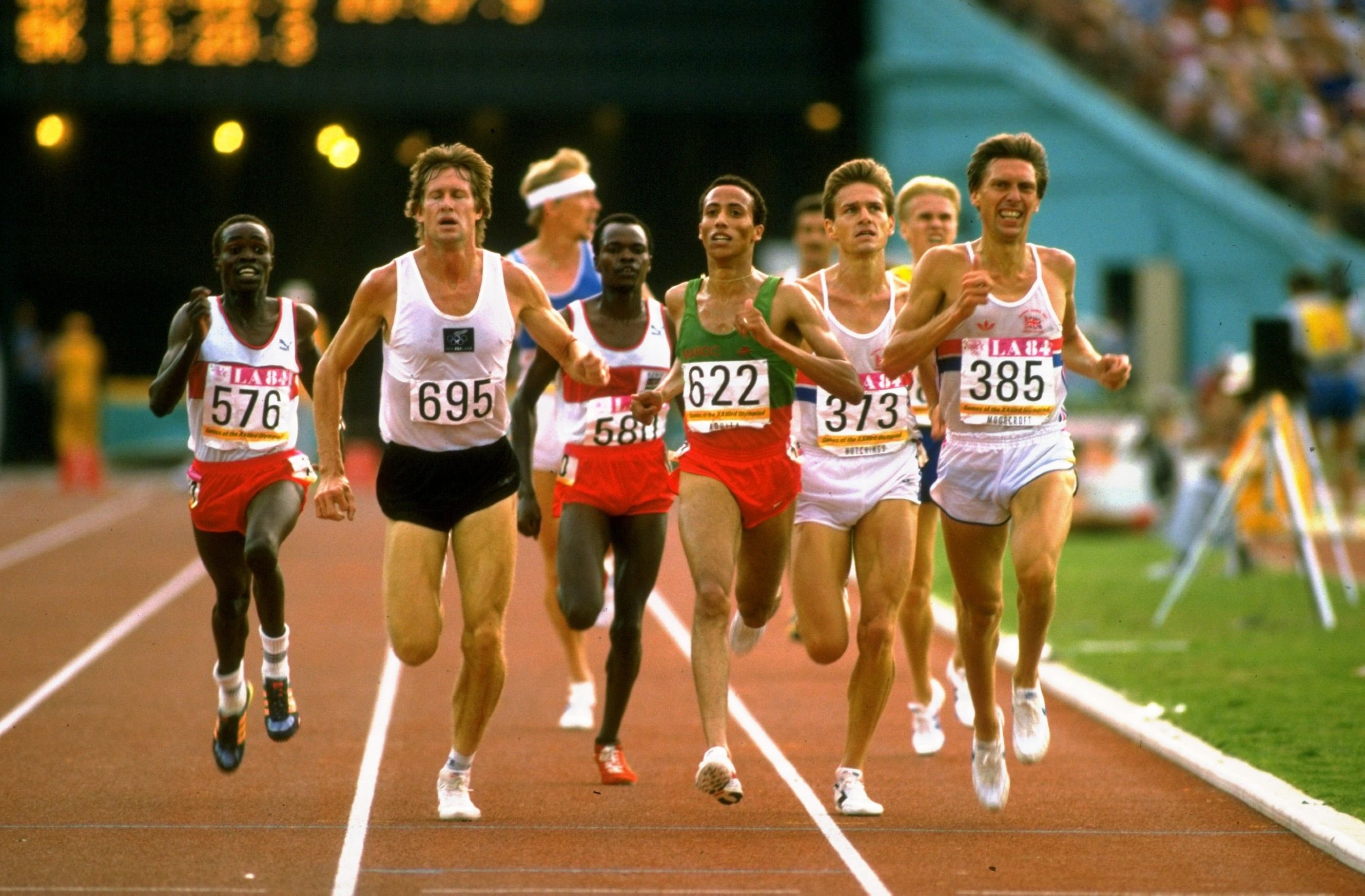 David Moorcroft competes in the 5000m semifinals at the 1984 LA Olympic Games (© Getty Images)

The world record-holder reached the 5000m final at the Los Angeles Olympics in 1984 but, sorely hampered by pelvic and groin injuries, laboured across the line a distant 14th and last in 14:16.61 as Said Aouita took gold in 13:05.59, an Olympic record.
In 1985 the Moroccan shaved 0.01 off Moorcroft's world record in Oslo and two years later became the first man to crack 13 minutes, clocking 12:58.39 in Rome.
After finally hanging up his spikes, Moorcroft distinguished himself as a television commentator and administrator. As chief executive, he transformed the ailing British Athletics Federation into the thriving UK Athletics.
And now, at 68 – happily married for 46 years to the ever-supportive Linda, father to Paul and Lucy, and grandfather of four – 'old' Dave Moorcroft can still be found pounding out a regular 5000m as a world record-breaker turned parkrunner.
Simon Turnbull for World Athletics Heritage