Abdi Bile celebrates his 1500m win at the 1987 World Championships in Rome (© Allsport / Getty Images)
Late in the afternoon of 6 September 1987, there was a frisson of anticipation among the 80,000 souls basking in the Roman sunshine in the Stadio Olimpico as the finalists for the men's 1500m prepared to get to their marks at the second World Athletics Championships.
Among them was a tall, thin, thinly moustachioed figure with the race number 810 pinned to an unfamiliar singlet of broad light blue and white stripes.
Not that the focus of global attention, at that point at least, was on Abdi Bile – the Somali runner who, 35 years on, generously donated his national uniform from that auspicious occasion to the vast array of World Championships-winning singlets that were on display at the Museum of World Athletics (MOWA) Track and Field Heritage Exhibition in Oregon during July.
In fact, Bile joined Bernard Lagat, the only man to win the 1500m & 5000m at the same world championships, in Eugene on 23 June to open the MOWA exhibit.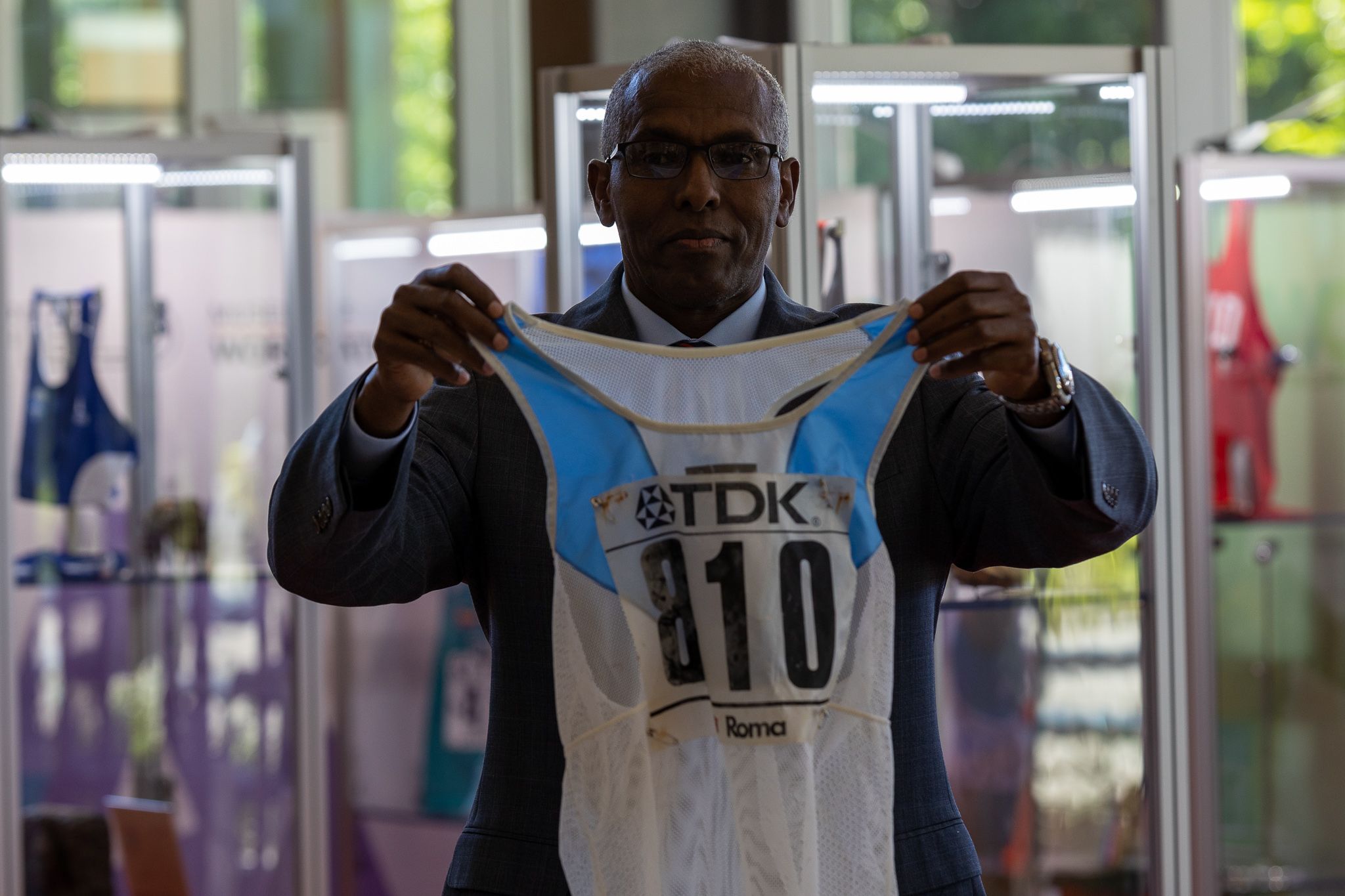 Abdi Bile with his vest at the MOWA Track & Field Heritage Exhibition Oregon22 in Eugene (© World Athletics Championships Oregon22)
"I know I can go faster"
For 10 years the cream of Britain's middle distance runners had exercised a stranglehold on the 1500m and the mile at global level. Between them, Sebastian Coe, Steve Ovett and Steve Cram had won two Olympics, one World Championships and two World Cups at 1500m.
They had subjected the world record books to a drastic course of revision, setting a combined tally of 11 global marks at 1500m and the mile.
Only one of them was heading to the start line in the Roman amphitheatre where Herb Elliott had battled to Olympic 1500m victory in world record time in 1960. Cram, born in the year of the great Australian's Roman conquest, lined up as the defending champion and favourite.
On the ITV commentary deck high up in the main stand, Alan Parry noted: "Steve Cram has brought a book with him to Rome about Herb Elliott, who 27 years ago to this day won the Olympic title on this very track.
"Well, Cram goes in with the big advantage of having a reputation that the rest of the field really fear. But, against that, there's the pressure of being expected to win. For the others, really, any medal will be a bonus."
Sitting alongside Parry, the great New Zealander John Walker concurred.
"Cram will have to start the definite favourite here," said the former mile world record-holder and 1976 Olympic 1500m champion. "The fact that he is world record-holder in the mile will make a big difference. That's worth 5m in a race like this."
After a slow opening 500m, Cram moved to the front with a 1m advantage. He stayed there and started upping the pace as he passed the bell, making his bid to retain the title he had claimed at the inaugural World Athletics Championships in Helsinki four years previously.
Ominously for the tall, lanky Briton, the slender Spaniard Jose Luis Gonzalez and the smooth-striding Bile went with him.
At the start of the season Gonzalez had succeeded in piercing Cram's shield of invincibility when the Briton was pressurised, very much against his will, into running for his country in the Europa Cup 1500m race in Prague – at a time when the reigning world champion felt wholly unprepared for the cut and thrust of international competition.
Bile had beaten both of them in the semifinal, looking in impressive shape as he surged to a championship record of 3:35.67.
The Somalian, a student of marketing management at George Mason University in the United States, had been a familiar face on the European circuit for a couple of years, usually finishing second, third and fourth in his races, but had stepped up a notch in 1987.
Four weeks before the World Championships, the 24-year-old had improved his 1500m PB with an eye-catching 3:31.71 win in Cologne. "I know I can go faster," he said in a trackside television interview. "I felt fresh at the end of the race. I think I can go close to the world record."
"I couldn't believe how easy it was"
Invited to give his tip for the 1500m gold medal in Rome, Bile replied without hesitation: "I say I want to take it… If you ask me that question, I say I want to take it."
Some 330m from home in the Stadio Olimpico, that hinger was clear for all the world to see as Bile swept past Gonzalez into Cram's slipstream.
Down the back straight, the Briton tried desperately to drop him, arms pumping piston-fashion. Bile, in contrast, looked like he was running on castors.
He glided past with 130m to go, only shifting into top gear and getting his long levers into full extension in the home straight.
As the distraught Cram faded to a jog, eventually crossing the line eighth, Bile finished a clear winner in 3:36.80. Gonzalez took the silver in 3:38.03 and the fast-finishing Jim Spivey of the US the bronze in 3:38.82.
Bile had covered the final 800m in a stunning 1:46.8, the last lap in 51.4 and the closing 200m in 25.8.
"I couldn't believe how easy it was," he told the British regional newspaper The Newcastle Journal. "Cram is such a strong runner. I thought he would attack with 800m to go.
"I was waiting all the time to go with him. I was surprised he left it so late."
As Bile took his victory lap, clutching the Somali flag, a white star on a blue background, the watching world was asking from whence this shining new stellar entity of middle distance had come.
The answer was via four years on the track programme at George Mason University in Fairfax, Virginia – near the Blue Ridge Mountains that famously inspired Stan Laurel and Oliver Hardy into song – and, before that, from a homeland on the Horn of Africa riven by drought and famine.


Abdi Bile celebrates after winning the 1500m at the 1987 World Championships in Rome (© Allsport / Getty Images)
Talented football player
Bile was born on 28 December 1962, at Las Anod in the north of Somalia.
One of 14 children (seven boys and seven girls), he was raised by his uncle, Mohammed Abdi, a colonel in the Somali police force.
As a high school student in the country's capital, Mogadishu, he emerged as a talented football player, gaining selection for Somalia's youth XI. He took up running simply to improve his fitness for his first sporting love, and reluctantly so.
As Bile told Paul Gains in an interview for Athletics Today magazine: "I didn't like running at first. I found it very difficult and boring but, after time passed, I got better and better at it, and it became more fun."
After completing his high school education in 1981, Bile worked as an assistant in the pathology department of a veterinary institution in Mogadishu. Frequent injuries restricted his training but in 1982 he clocked 1:50 for 800m and 3:45 for 1500m on the dirt track of the National Stadium in the Somali capital.
Later that season he represented his country for the first time at the African Championships in Cairo, failing to qualify for the 1500m final, but his performances convinced George Mason's head coach John Cook to offer him a scholarship. He moved to Virginia in 1983, speaking only rudimentary English.
The following year Bile made his Olympic debut in Los Angeles. He finished fourth in his heat, which was won by Cram, qualifying for the semifinals.
In that race, he was in contention for the fourth automatic qualifying spot for the final, behind Spain's Jose Abascal, Steve Scott of the US and defending champion Coe, before finishing sixth – and suffering a disqualification for having bumped Brazil's Agberto Guimaraes off the track with 600m to go.
Coe went on to win the gold ahead of Cram and Abascal, Ovett failing to finish because of breathing difficulties.
As for Bile, he won the NCAA 1500m title in 1985 but found it difficult making an impact on the European circuit after a long, tiring US collegiate campaign. His breakthrough came in 1987, when he arrived fresh in Europe after an achilles tendon injury had ruled him out of most of the collegiate season.
He was also fuelled with motivation when, having found some form, he was bumped out of the Dream Mile in Oslo - and a pre-World Championships clash with Cram - and shunted into the Bislett Games 1500m race instead. "It was disappointing to tell me that at the last minute," Bile told Gains. "I knew Cram was running and I wanted to do well."
After meeting and beating Cram in Rome, Bile attacked Said Aouita's 1500m world record of 3:29.46 in Brussels. He was thwarted by the wind and rain, winning in 3:31.80, more than five seconds clear of runner-up Spivey.
Dogged by injury
It was a taste of the frustration that was to dog much of the rest of Bile's international track career. He missed the Olympics of 1988 and 1992 and the 1991 World Championships because of injury.
In 1989 he might have broken Aouita's surviving 1500m world record at the Golden Gala meet in Pescara had he not been pushed out into lane eight while trying to get past the tailing off pacemaker, Britain's Tony Morell, with 300m to go. Having reached the bell in 2:35.8, a 53.6 last lap would have sufficed.
As it was, Bile did well to battle back to the front and win in 3:31.20, a national record, which he improved later in the year to 3:30.55 in Rieti.
On the subject of battles, there was a memorably bruising one with Coe at the World Cup meeting in Barcelona. In his farewell race at 1500m, the future World Athletics President had to halt his stride as the world champion cut into the lead off the final bend. Bile won by 0.23 in 3:35.36.
Not until 1993, at the age of 30, did Bile make his second global final. He took bronze in the world 1500m final in Stuttgart, behind the Algerian Noureddine Morceli and Spain's Fermin Cacho.
He also reached the Olympic 1500m final in Atlanta in 1996, finishing sixth behind Morceli, Cacho and Kenyans Stephen Kipkorir, Laban Rotich and William Tanui.
It was a noble finish to a track career in which Bile set Somali records at nine distances.
In his post-racing career, Bile, who has remained in the USA recently moving to Minneapolis, became a US citizen, though he had a spell as head coach of the United Arab Emirates. His eldest son, Ahmed, ran 3:37 for 1500m and broke four minutes for the mile.
Now 59, he has remained the same grounded soul who took on and beat the world in Rome 37 years ago.
"Abdi is a humble person," his old coach John Cook once remarked in an interview with The Newcastle Journal. "He's always been a gentleman and winning the world title didn't change him.
"He's his own man and he makes his own decisions but he's not a glamour-hawk. He keeps things in perspective."
Simon Turnbull for World Athletics Heritage