Nigeria's Tima Seikeseye Godbless on her way to a national U20 100m record in Cali (© Oscar Munoz Badilla)
A thrilling men's decathlon continued towards the business end of the competition, while there were a plethora of exciting qualifications on both the track and infield during the second morning of action at the World Athletics U20 Championships Cali 22 on Tuesday (2).
Two national U20 records were set in the opening round of the women's 100m, Nigeria's Tima Seikeseye Godbless scorching to 11.09 (0.1m/s) and N'Ketia Seedo of the Netherlands speeding to 11.16 (0.0m/s).
Eighteen-year-old Godbless – a bronze medal winner with the Nigerian 4x100m team at last year's World U20 Championships in Nairobi – caused a surprise by staking a strong claim for the global title up for grabs on Wednesday evening, while 19-year-old 2019 European U20 silver medallist Seedo is also now a potential medallist.
US champion Shawnti Jackson – the daughter of 2005 world 400m hurdles champion Bershawn Jackson – eased to an equal PB of 11.28 (-0.9m/s) and Great Britain's European U18 champion Nia Wedderburn-Goodison, 17, also registered her fastest time with 11.36 (0.0m/s).
Other notable names to impress include South Africa's 17-year-old Viwe Jingqi (11.36) and defending champion Tina Clayton of Jamaica. The 17-year-old Clayton dipped below 11 seconds last month, breaking the Jamaican U20 record with her world U20-leading time of 10.96 – a mark that puts her fifth on the world U20 all-time list, and she qualified with 11.38 in Cali.
Her teammate and fellow world 4x100m relay gold medallist from Nairobi, Serena Cole, clocked 11.39, while the USA's 16-year-old Mia Brahe-Pedersen was timed at 11.45.
Spain's Elena Guiu and Great Britain's European U20 champion Joy Eze also progressed with an 11.46 personal best and an 11.47 season's best, respectively.
"I was scared then I walked on to the field and told myself 'what are you here for?'," said Godbless. "I relaxed and it paid off, as you can see."
Emmanuel maintains lead
In the sixth event of the decathlon, the 110m hurdles, Gabriel Emmanuel of the Netherlands extended his overall lead with an impressive 13.83 (0.7m/s) personal best in the first heat – the fourth of the competition so far for the 18-year-old – to amass 5273 points. That saw him enjoy a comfortable lead from pre-event favourite Jacob Thelander of Sweden.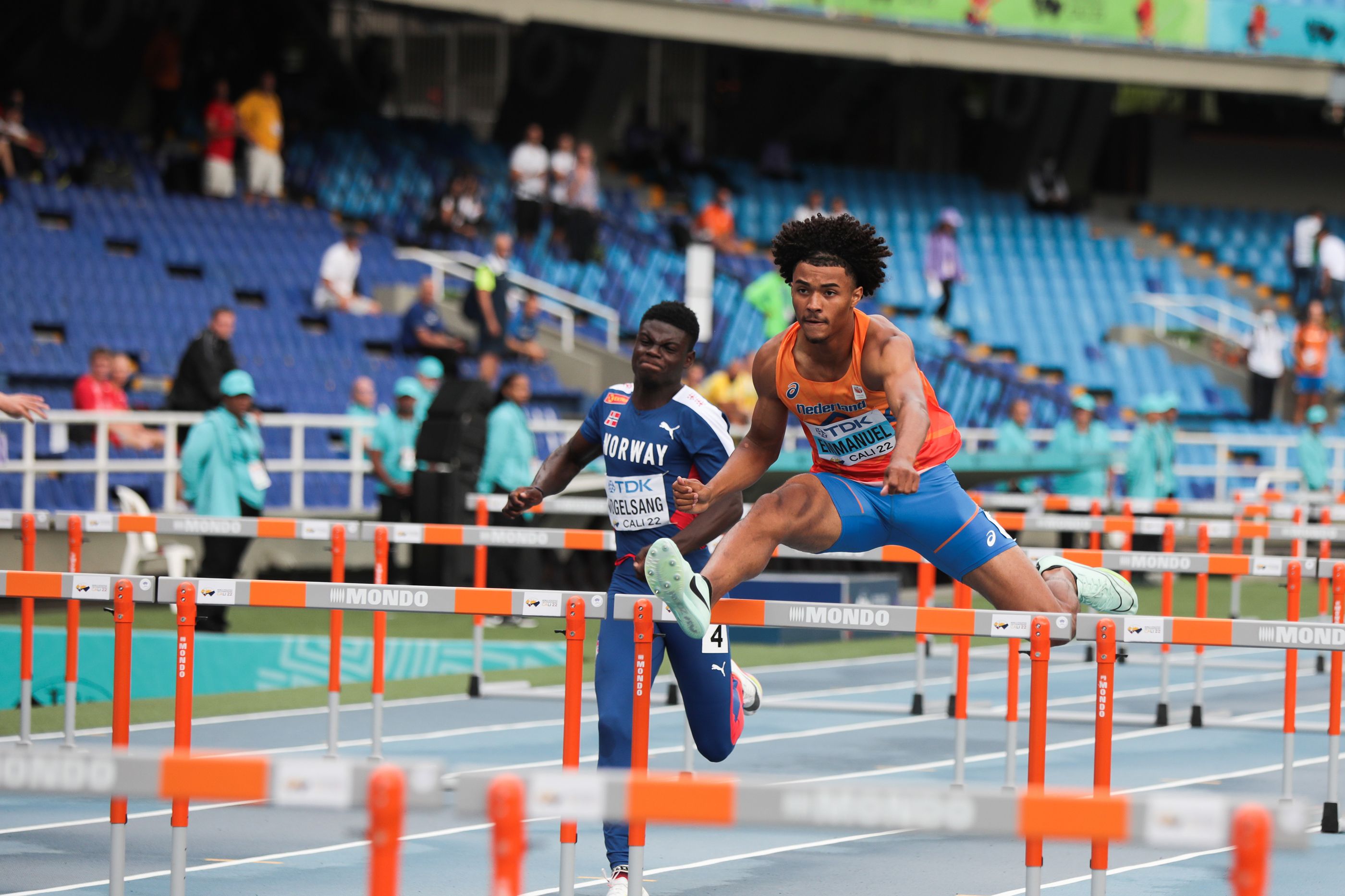 Gabriel Emmanuel in action in the decathlon 110m hurdles in Cali (© Marta Gorczynska)
Nineteen-year-old Thelander clocked 14.83 (0.4m/s) in the fourth heat to take his points score to 5062, while Canada's Nate Paris, 18, equalled his best with 14.80 (0.4m/s) to hold on to the bronze medal position with 5019 points from Belgium's 18-year-old Elie Bacari, who recorded a 13.96 (0.1m/s) lifetime best in the same heat as Thelander.
Slovenia's 19-year-old Jan Duhovnik registered a 14.71 (0.4m/s) personal best to remain in fifth place with 4893 points, and Pol Ferrer of Spain, 19, stayed in sixth following a 14.68 (0.4m/s) lifetime best.
Next up for the multi-eventers was the discus throw and Emmanuel maintained his lead with a 47.46m effort over Thelander's 40.89m – the Dutch athlete accumulating 818 points to top his score up to 6091 with two events remaining, as Thelander remained in the silver medal position with a 5745 score.
Duhovnik, meanwhile, moved from fifth to third place overall after a 46.89m best effort to score 5699 so far, with Ferrer behind in 5598 after a 42.05m lifetime best. Paris maintained his fifth-place position with a 35.58m personal best to take him to 5594 points.
The eighth event of their 10 disciplines arrived with the pole vault to close the morning session, and Emmanuel's 3.70m clearance was enough to hold on to the gold medal position – 6626 points to Thelander's 6476 score, after a 4.40m lifetime best vault.
Thelander's compatriot, Elliot Duvert, 19, moved from sixth to third place with a 6438 score, following a fine 4.90m PB, which amassed 880 points, while Norway's Abraham Sandvin Vogelsang moved from seventh to fourth position after a 4.60m season's best leap to progress to 6346 points. Duhovnik meanwhile, slipped from the bronze medal spot to fifth with an equal personal best of 3.90m to collate a 6289 score.
From a hospital bed to the fastest one lap for Pillay
South Africa's 19-year-old Lythe Pillay was the fastest in the men's 400m heats ahead of Wednesday afternoon's semifinals. In a year in which he has suffered illness and injury, he ran a 46.02 season's best and was followed by Bahrain's Arab U20 Championships winner Yusuf Ali Abbas, who clocked 46.21.
"It was a good race coming off covid and injury this year," said Pillay, who finished fourth in the 400m at last year's World U20 Championships. "I got covid in February and was hospitalised for quite a while. I took two or three weeks off training completely, so I started doing light jogs but I was out of breath. At that point, it was two weeks until the national champs, so I had to do something to defend my national title, which luckily I was able to do.
"Then two weeks later, my right quad strained during an event. Luckily, it was just a light strain – I'm just thankful to have recovered. I went through this competition last year so I have a bit more experience and I know what to expect, how to control myself and prepare mentally."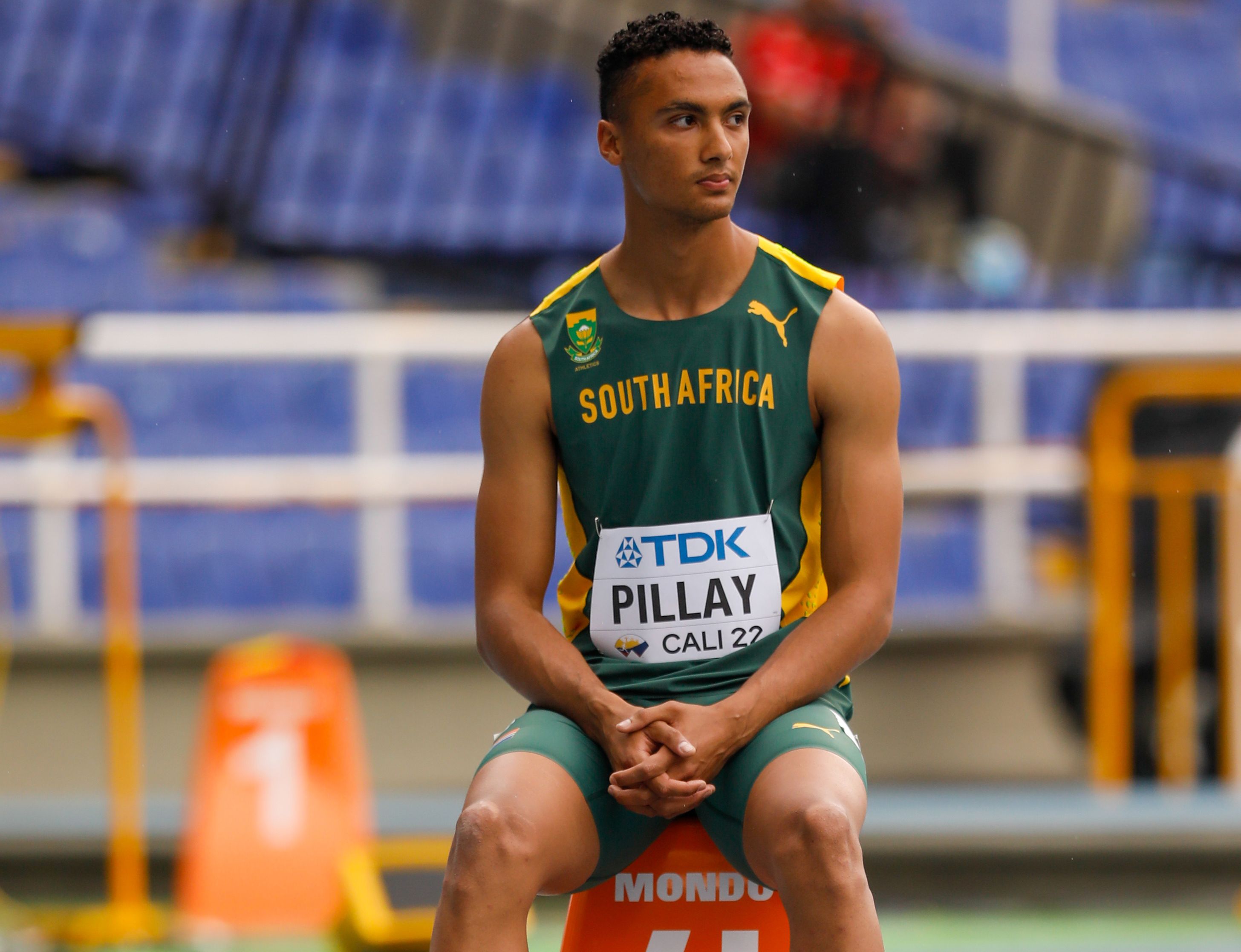 South Africa's Lythe Pillay at the World Athletics U20 Championships Cali 22 (© Oscar Munoz Badilla)
Other names to progress include Jamaica's 18-year-old Delano Kennedy with a 46.24 personal best and US champion Steven McElroy with 46.38.
Tadeas Placek of the Czech Republic recorded a 46.56 lifetime best and Spain's 18-year-old Angel Gonzalez was timed at 46.65. Jamaica's U20 champion Shaemar Uter ran 46.66, while others to move forward include Japan's Masataka Tomoda (46.68) and USA's Ashton Schwartzman (46.76).
European U20 silver medallist Juho Alasaari of Finland, who has progressed by 11 centimetres this year to 5.53m, was on the list of qualifiers for Thursday afternoon's pole vault final with a 5.20m clearance.
Also clearing the same height to progress were 19-year-old European U20 champion Anthony Ammirati of France, who went to seventh on the world U20 all-time list last year by vaulting a 5.72m lifetime best, plus the USA's Garrett Brown and Spain's Ander Martinez de Rituerto with a lifetime best.
Great Britain's European U20 silver medallist Yemi Mary John was the quickest qualifier for Wednesday afternoon's women's 400m semifinals with a 52.42 equal lifetime best, and there was a national U20 record for Spain's Berta Segura, the 19-year-old European 4x400m relay silver medallist clocking 52.50.
India's 17-year-old Rupal registered the same time in a separate heat, while her teammate Priya Habbathanahalli Mohan, a Nairobi mixed 4x400m bronze medallist, was timed at 52.56.
Others to progress include Kenya's 17-year-old Damaris Mutunga with a 52.60 lifetime best and Zenab Moussa Ali Mahamat of Bahrain, who clocked a 52.87 personal best.
More notable names to qualify were 18-year-old Mekenze Kelley of the USA, who crossed the line in 53.39, plus Canada's Nairobi sixth-place finisher Ella Clayton (53.69) and Dejanea Oakley of Jamaica (53.70).
Easy work in qualification for Raats and Cavo
South Africa's Brian Raats entered the high jump competition as the outstanding favourite courtesy of a fine 2.26m lifetime best this season and the 18-year-old came out on top in qualifying, with a 2.08m clearance enough to progress to Friday afternoon's final.
Among those joining him will be Italy's Edoardo Stronati, France's Martin Lefevre, Igor Kosolapov of Kazakstan, Jamaica's Brandon Pottinger, Po-Tin Yeh of Chinese Tapei and Bulgaria's Bozhidar Saraboyukov, who all also cleared 2.08m.
Italy's 17-year-old Mattia Furlani, the European U18 high jump and long jump champion, cleared 2.04m to also progress, a day after he qualified for the long jump final.
Italy's Ludivica Cavo was the sole athlete to eclipse the 58-second barrier in the women's 400m hurdles, with the 18-year-old setting an impressive 57.77 lifetime best in the heats.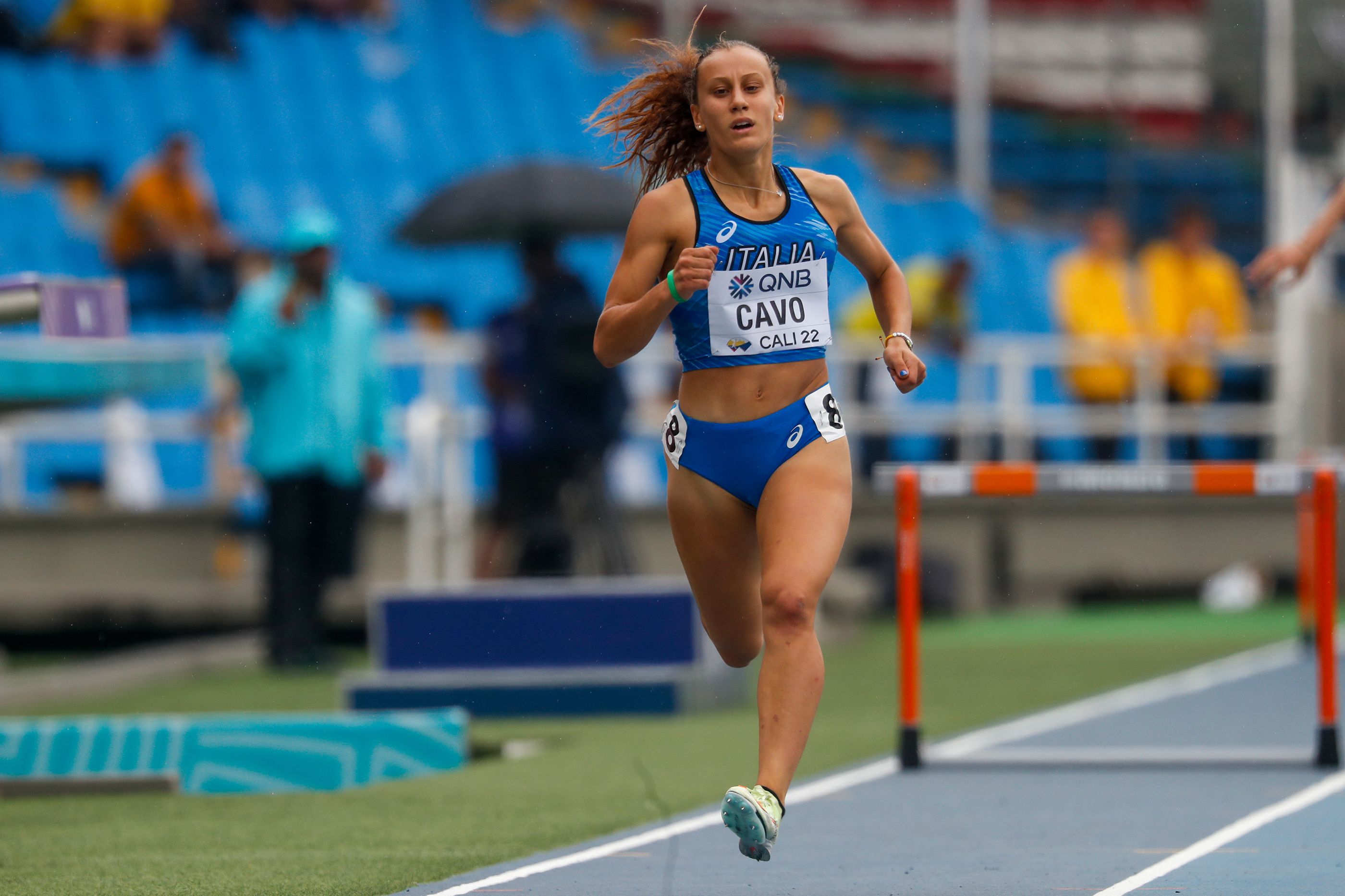 Italy's Ludivica Cavo in the 400m hurdles heats at the World Athletics U20 Championships Cali 22 (© Oscar Munoz Badilla)
Nine other athletes went below the 59-second mark, with the Virgin Island's Michelle Smith the second-quickest with 58.35 for the 16-year-old, ahead of US champion Akala Garrett, 17, who clocked 58.40.
Other athletes to progress to Wednesday afternoon's semifinals include Garrett's compatriot Michaela Rose, the 19-year-old who juggles the event with the 800m discipline, and South Africa's Anje Nel.
Croatia's 17-year-old Klara Koscak, fifth in the heptathlon in Nairobi, registered a 58.84 national U20 record, while Australia's Isabella Guthrie and Japan's Moe Matsuoka also qualified with 58.89 and 58.90, respectively.
The fastest in the field with a 57.29 lifetime best this summer, Alessia Seramondi of Italy, ran 59.03 to continue her campaign in Cali.
The men's hammer throw qualification was led by Finland's 17-year-old Max Lampinen who unleashed a 75.32m effort, as Greece's Ioannis Korakidis, 19, also surpassed the 75-metre mark with 75.07m.
European U18 champion Iosif Kesidis of Cyprus registered a 74.99m personal best, the 16-year-old also reaching Thursday afternoon's final in the process.
Slovenia's Jan Embersic with 74.89m, Ayubkhon Fayozov of Uzbekistan with a 74.62m lifetime best and Hungary's Miklos Cseko with 74.07m also caught the eye.
Nicola Sutton for World Athletics