Letsile Tebogo breaks the championship record to win his 100m heat at the World Athletics U20 Championships Cali 22 (© Marta Gorczynska)
A blistering men's 100m championship record together with a series of superb national records highlighted the first morning of action at the World Athletics U20 Championships Cali 22 on Monday (1).
As predicted, the star performer in the men's 100m, Letsile Tebogo of Botswana, stamped his authority on the event, blasting to a 10.00 (-0.6m/s) championship record in his heat - signalling his intent for glittering glory in Cali.
Following a spectacular 9.94 world U20 record in the heats of the World Athletics Championships Oregon22 a fortnight ago, the 19-year-old 100m victor and 200m silver medallist at the U20 event in Nairobi last year looks set to retain his title in the shorter distance in fine fashion.


He wasn't the only athlete to impress. Muhd Azeem Fahmi of Malaysia smashed his 10.28 lifetime best with a 10.09 (0.8m/s) surprise clocking to qualify second quickest - the 18-year-old breaking the national record in the process.
Elsewhere, 16-year-old Puripol Boonson of Thailand was timed at 10.20 (-0.9m/s), while Japan's Hiroki Yanagita, 18, ran 10.24 (0.8m/s) and Nairobi 4x100m relay silver medallist Sandrey Davison of Jamaica, 19, clocked 10.25 (1.7m/s).
"This was my first time competing at world level. I'm so excited and a bit nervous," said Fahmi. "I'm so grateful I managed to do my best. My plan was just to qualify through the rounds for the final, but I did not expect to get the national record! From Malaysia, it actually takes three days to get here, but I'm just so happy I arrived and was able to compete so well."
Other notable names to progress include Italy's 18-year-old Alessio Faggin, who ran a 10.25 (0.2m/s) personal best, and Nairobi silver medallist and 4x100m winner Benjamin Richardson of South Africa - the 18-year-old registering 10.33. And there was an Argentinian U20 record for 17-year-old Tomas Mondino, who registered 10.34.


Cheruiyot inspired to follow in famous footsteps
Kenya's Reynold Kipkorir Cheruiyot made an impression in the men's 1500m to win his heat by over four seconds in 3:40.96 from Luxembourg's Vivien Henz (3:45.04), who has broken his lifetime best four times this year.
With a fine 3:34.02 PB set in Heusden, Belgium, earlier this month, the 18-year-old Cheruiyot finished a close fourth in the Kenyan Trials for July's World Athletics Championships in Oregon and judging by his current form, looks set to capture the metric mile gold in Cali.
His 17-year-old teammate Daniel Kimaiyo took the first heat with 3:42.69, having clocked a 3:36.09 personal best at the Kenyan Trials. Ethiopian pair Adihana Kasaye and Ermias Girma also qualified for Wednesday afternoon's final with 3:43.06 and 3:45.40, respectively. Kasaye, the 18-year-old African Championships bronze medallist, and 17-year-old Girma, a 1:44.36 800m runner, should join a thrilling battle for the medals.
"The heat was good, I did not face any challenges," said Cheruiyot. "It was just too slow and I wanted to feel smooth, so I pushed the pace. I love sharing the same name as Timothy Cheruiyot (the 2019 world 1500m champion and Olympic silver medallist from Kenya), that guy is a great inspiration."
Cuba's 18-year-old Alejandro Parada was an unexpected leader in the men's long jump qualification, courtesy of a 7.95m (0.1m/s) lifetime best, while European U18 high jump and long jump champion Mattia Furlani leapt 7.85m (0.8m/s).
Furlani needed just one jump to qualify for the final, as did defending champion Erwan Konate of France, who leapt 7.80m (0.8m/s), setting up an exciting head-to-head for the final.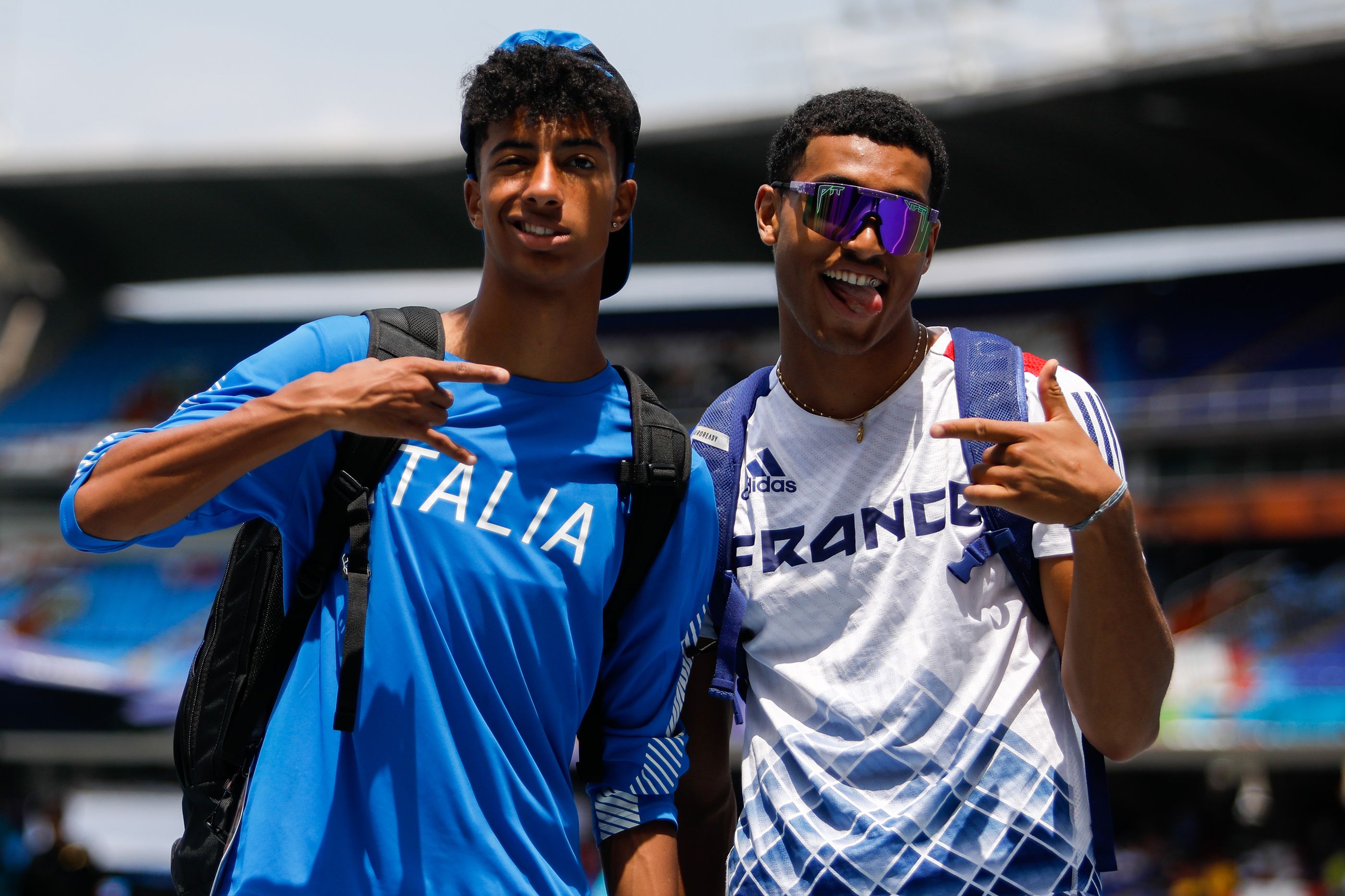 Mattia Furlani and Erwan Konate at the World Athletics U20 Championships Cali 22 (© Oscar Munoz Badilla)
There was a national U20 record for Ireland's Reece Ademola, who reached 7.76m (-0.2), while the USA's world leader with 8.17m, Johnny Brackins, registered 7.69m (0.6m/s) to join them in Tuesday afternoon's final.
Having captured global javelin gold in 2021 at the age of 17, Serbia's Adriana Vilagos ignited her global title defence with a fine 58.87m to comfortably lead the women's javelin qualification round.
Holder of the world U18 best, the 18-year-old Vilagos has since thrown a national U20 record of 62.76m this year and has won eight of her 10 competitions this season.
Japan's U20 champion Momoko Tsuji registered 56.07m in the second round, while South Africa's McKyla van der Westhuizen, the African Championships silver medallist, reached 54.92m to take the third automatic qualification spot for Tuesday afternoon's final.
"I was tired today," said Vilagos. "It is a seven-hour difference between here and my country, so it's kind of weird. I am happy I could throw well on my first throw but technically, I didn't do well. I was not focused enough and I hope that tomorrow in the final, I will do better. If I get over 60m tomorrow, I will be happy."
Nasreddinova and De Klerk top shot qualification
Malika Nasreddinova of Uzbekistan unleashed a 16.13m lifetime best throw to lead the women's shot put qualification.
The 18-year-old improved her 15.55m best from May to assert her intentions ahead of tomorrow afternoon's final, while the pre-event favourite Mine de Klerk, the winner in Nairobi, began her title defence with a strong 16.11m display to lead the way in the group A qualification pool.
Having set an area U20 record of 17.55m in February, 19-year-old De Klerk leads the season top list with her 17.19m from April's Hayward Premiere at Hayward Field, and the Nairobi discus silver medallist is set to double up again in Cali.



Meanwhile, Treneese Hamilton of Commonwealth of Dominica threw a 15.89m national U20 record and Turkey's 2021 world U20 silver medallist and 17.46m thrower Pinar Akyol registered 15.77m, the 18-year-old qualifying with the fourth-farthest throw of the morning.
The men's decathlon got off to a scintillating start with no less than 16 athletes setting personal bests in the opening 100m event.
The fastest of all was Canada's Nate Paris, 18, who scorched to 10.56 (0.9m/s) in the second heat to collect 961 points, as Belgium's Elie Bacari, 18, followed him home in a 10.69 lifetime best.
Spain's 19-year-old Pol Ferrer – who recently improved by more than 400 points to win the Spanish U20 title with 7623 – clocked a 10.76 personal best for 915 points, while decathlon favourite with 7823 points this season, Jacob Thelander, finished fourth in a 10.90 personal best, which in turn began the 19-year-old Swede's campaign with 883 points.
Elsewhere in the third heat, Gabriel Emmanuel of the Netherlands was timed at a 10.68 lifetime best ahead of Slovenia's Jan Duhovnik who ran a 10.91 best. And in the opening heat, Germany's Tyrel Prenz clocked a 11.14 personal best ahead of Norway's 7535 decathlete Abraham Sandvin Vogelsang, who ran a 11.25 lifetime best.
Barely an hour later, the decathletes returned to the stadium to tackle the long jump, as Thelander emerged the event leader after the second discipline courtesy of a superb 7.53m lifetime best (-0.9m/s) on his third attempt for 942 points.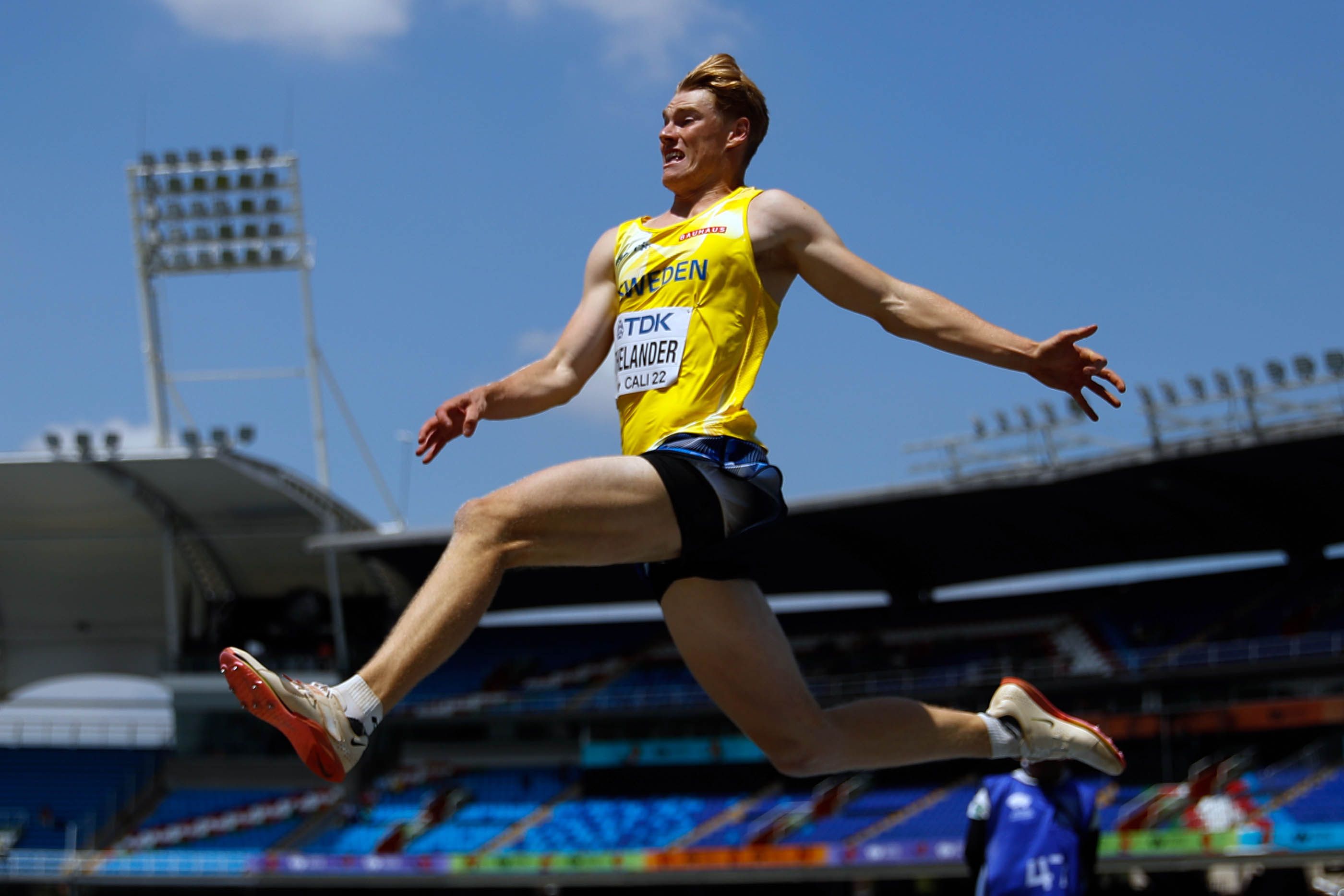 Jacob Thelander in the decathlon long jump at the World Athletics U20 Championships Cali 22 (© Oscar Munoz Badilla)
Duhovnik leapt a strong 7.34m (1.3m/s) personal best for 896 points, while Emmanuel registered a 7.30m (-0.6m/s) lifetime best in to collect 886 points and Sweden's Elliot Duvert jumped a 7.25m personal best to make his mark in the competition.
The third event for the decathletes during the first morning session was the shot put. With an impressive 15.09m effort, it was Emmanuel who emerged the overall leader at the end of the opening session with 2614 points.
With a 12.53m best, Thelander ended the morning in the silver medal position with 1464 points, whilst Duhobnik's 13.03m put leaves him in third with 2464 points.
Close behind, Ferrier sits in fourth with 2417, with Britain's 17-year-old Sammy Ball and Paris in fifth and sixth at 2391 and 2390 points, respectively.
Back on the track, Ethiopia's pre-race favourite Sembo Almayew asserted her dominance from the outset in taking the first heat of the women's 3000m steeplechase by over 17 seconds.
The 17-year-old runner-up at the Paris Diamond League then finished fifth in the opening round in Oregon, and after her 9:52.65 opening display in Cali, few would bet against her capturing the world U20 title.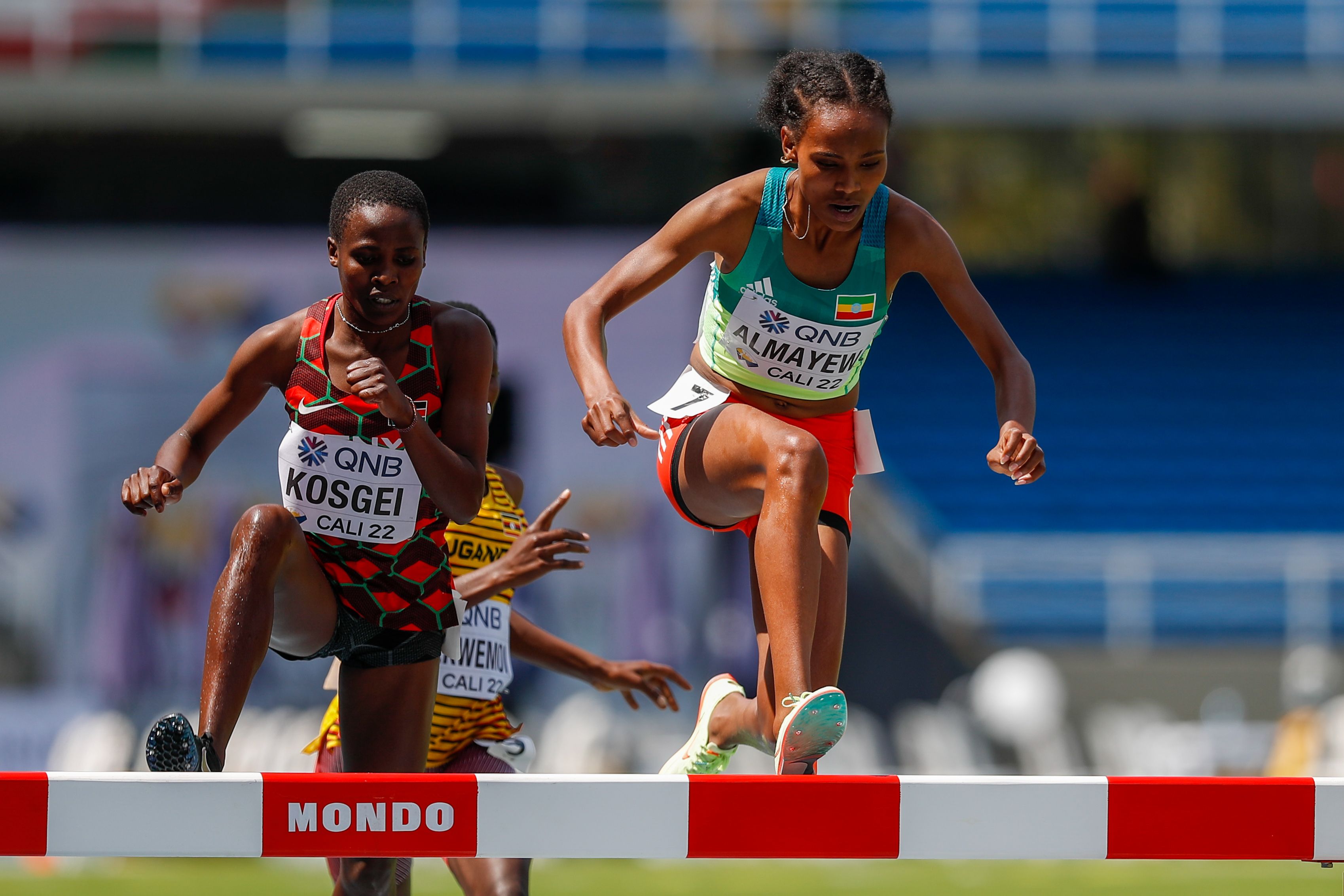 Sembo Almayew in the 3000m steeplechase heats at the World Athletics U20 Championships Cali 22 (© Oscar Munoz Badilla)
Last year's world U20 bronze medallist Faith Cherotich of Kenya qualified quickest for Thursday afternoon's final with 9:38.18, taking the second heat ahead of Almayew's 17-year-old teammate Meseret Yeshaneh, who clocked 9:41.99.
Kenya's Pamela Kosgei clocked 10.09.89, while Loice Chekwemoi of Uganda was timed at a 10.10.82 personal best.
"I arrived only yesterday after a really long travel experience, but I actually felt pretty good," said Almayew. "It was a 36-hour journey from Ethiopia with two long stops, so we were pretty tired upon arrival. I also had a pretty nagging tooth pain all day, which was difficult. But thanks to God, I am feeling better today and feeling ready."
The top four fastest qualifiers for the women's 800m came from the third heat, with 18-year-old US champion Juliette Whittaker leading the way with a 2:04.92 win.
Turkey's 16-year-old Dilek Kocak clocked 2:05.37, while Australia's Hayley Kitching, 17, registered 2:05.48 ahead of Latvia's Invida Maurina, the 18-year-old running a 2:05.65 lifetime best to reach Tuesday afternoon's semifinals.
Other notable names to progress include Kenya's 19-year-old Nelly Chepchirchir (2:06.66), European U20 champion and 2:00.28 runner Audrey Werro of Switzerland (2:09.49), Britain's Abigail Ives (2:07.35), USA's Roisin Willis (2:09.68), Ksanet Alem of Ethiopia (2:05.77) and Slovenia's Veronika Sadek (2:07.10).
"I felt pretty good. We went out a little faster than I was expecting," said Whittaker. "I was looking around at the last 100m, so I didn't want to push it if I didn't need to. It's an incredible feeling to represent with the USA on my jersey, it has been a dream of mine for a while. So that was my main goal going into this year, I really wanted to make these world championships."
Nicola Sutton for World Athletics