Estonian high jumper Karmen Bruus at the World Athletics Championships Oregon22 (© Getty Images)
Karmen Bruus breathes as she stands on Hayward Field's long jump runway. She's about to attempt her second jump at the height of 1.96m, which will match the Estonian record and the world U18 best.
It's a measurement that she has yet to scale, not even in training. On a stage she is competing at for the first time — the World Athletics Championships.
Yet, nerves are the last thing on the 17-year-old's mind as she begins her run up. She speeds up as she approaches the high jump bar, takes off from her right foot and glides over it.
After clearing the bar, Bruus sat on the high jump cushion with her hands on her head.
"I was shocked about what I just did," Bruus said.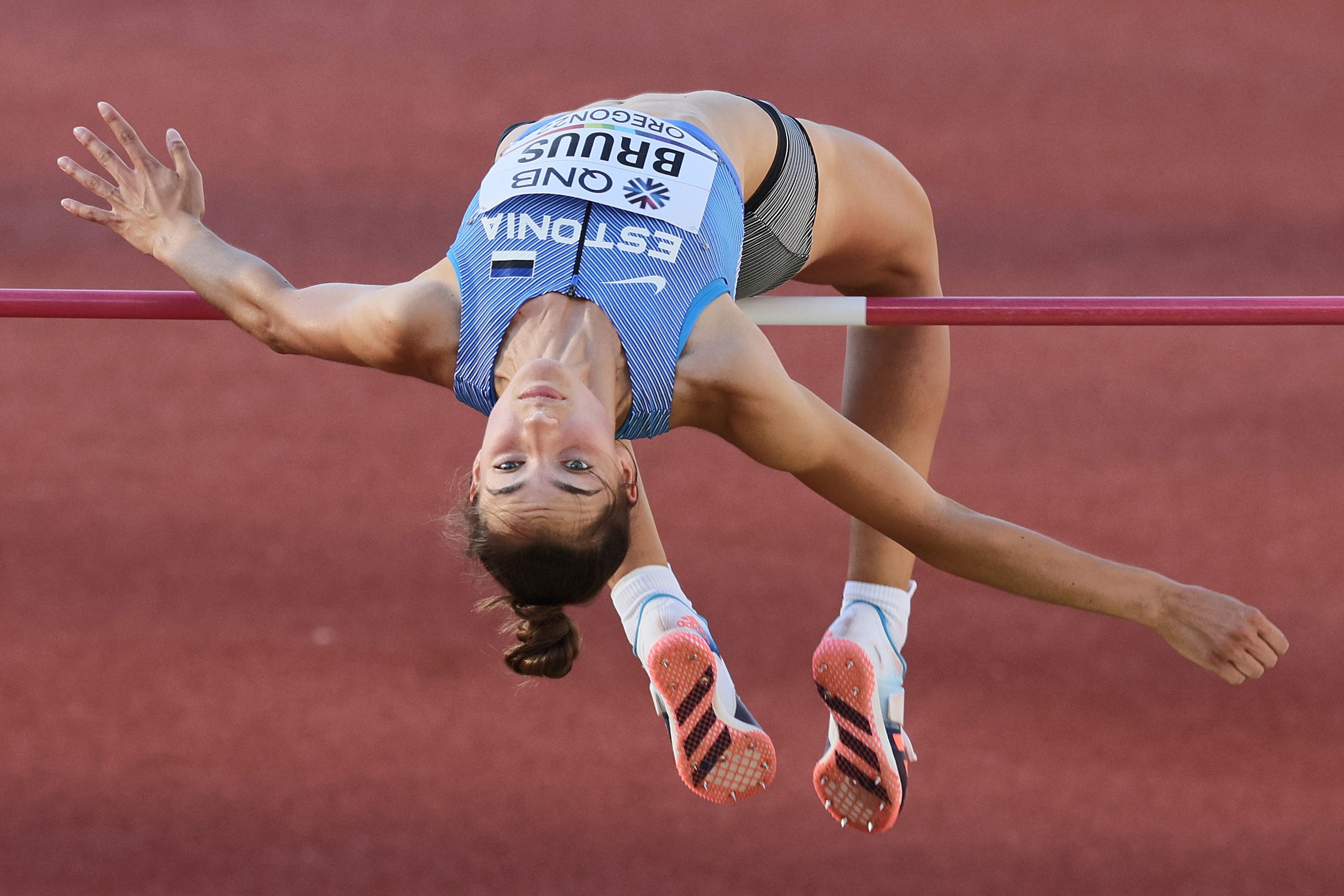 Karmen Bruus competes in the high jump final at the World Athletics Championships Oregon22 (© Getty Images)
Bruus continued on to the fifth round of jumps at 1.98m, trying to break those two records. Unable to clear that height on her three attempts, she ended her competition in seventh place.
Still, it was a great success. Bruus had come to the World Athletics Championships Oregon22 to compete at a high level and enjoy herself before going to Cali, Colombia, for the World Athletics Championships Cali 22, where she'll have a chance to win a medal and break those records.
At 17, Bruus has already matched Anna Iljustsenko's national senior record, as well as the world U18 best. To reach those marks, she's had to learn how to balance long training sessions each day, while taking high school classes. And she's had to overcome a feature that she has no control over – her height.
In the high jump, taller athletes can have an easier time getting over the bar because they're at a higher take off point. Bruus, who is 1.77m tall, is shorter than most high jumpers. In fact, she said she was the shortest in the World Championships field.
To compensate for this, she and her coach Mehis Viru have worked hard to master a run-up that is predicated on speed.
"We had to find something that connects her speed and her good jumping ability," Viru said. "We tried different ways of high jump techniques and different run-ups, and it seems we have found something that really works."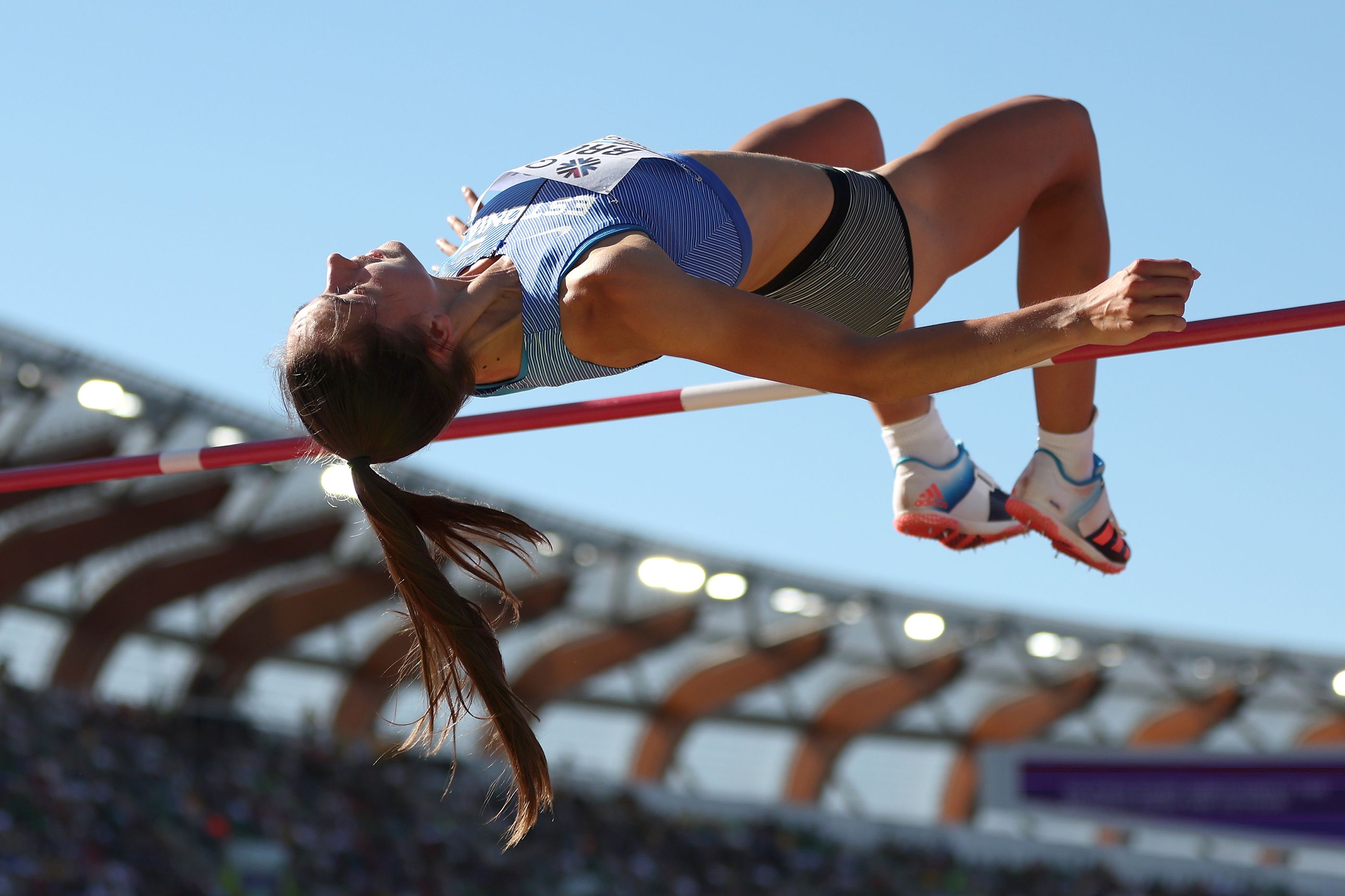 Karmen Bruus in high jump action in Oregon (© Getty Images)
At the World Championships, Viru watched as Bruus went through the qualification round and final. He was surprised that she seemed mostly unfazed by the emotional and mental toll that can come with competing on the global stage for the first time, in a country 5000 miles away from her home, against athletes who were jumping heights she had yet to scale.
In fact, Bruus had to jump a personal best of 1.93m just to qualify for the final.
But competing at the World Championships is a goal that Bruus had been working toward for the past seven years, since she first took up track and field.
At first, Viru's wife, Kersti, took on the role of coaching Bruus, and now the two share that responsibility. Kersti guided Bruus as she tried out a slew of disciplines, both in track and in field, searching for her niche. Last year, high jump became her focus, and Viru helped her specialise in it.
Throughout that seven-year journey, Bruus has had to balance arduous training sessions with schoolwork. She rarely finds time to relax, but competing at a high level in athletics is something she would never give up.
"After school, I have to study and then I have to go to training and then I have little time to eat and then I go to sleep," Bruus said. "I wouldn't change anything for this. Competing and athletics — it's my home and I love it."
That dedication and time commitment helped her to reach the World Championships stage. It helped to calm her nerves because she had prepared for the competition. And it will help her as she continues to test the limits of high jump.
When Bruus began to compete on the global stage this season, neither the Estonian record nor the world U18 best were her goals. But they'll surely be on her mind when she competes in Cali – a venue that is even farther from Estonia than Eugene, Oregon.
But she won't be fazed by the moment. Instead, she'll focus on her training sessions with coach Viru and the speed of her run up that helps her hoist her body over the high jump bar.
Aaron Heisen for World Athletics