South Africa celebrate their world U20 4x100m record in Nairobi (© Dan Vernon)
After five days of intense and exciting competition at the 18th edition of the World U20 Championships in Nairobi, the event came to a climax with Jamaica and South Africa setting world U20 records in the women's and men's 4x100m, while Botswana and Nigeria ran world leads to win 4x400m gold on Sunday (22).
True to their status as powerhouses in the relays, the Jamaican quartet of Serena Cole, Tina Clayton, Kerrica Hill and Tia Clayton ran a smoldering race to smash the previous world U20 record of 43.27 set by Germany four years ago to take their 12th women's 4x100m medal in World U20 Championships history and fifth 4x100m gold with a world record of 42.94.



Winner of the women's 200m title, Christine Mboma, anchored the Namibian team to their first ever podium finish in the relays at the championships, a silver medal won with a national U20 record of 43.76, while Nigeria settled for bronze with a season's best of 43.90. That made them the country's first women's 4x100m medallists at the World U20 Championships since the first edition in 1986 where Tina Iheagwam, Caroline Nwajei, Falilat Ogunkoya and Mary Onyali also won bronze.
Women's 100m gold medallist Tina Clayton, who was delighted to finally share the podium with her twin sister Tia, said: "Well, it was a really great race. I did an interview after my semifinal race in the 100m and I had told you guys that I know my team will come here and do their best and I think they came out to do their best.
"It feels very great for Tia to win a medal because she didn't have a chance to win a medal in the 100m. She was on the anchor, and you know that when you're on the anchor in a relay race, all depends on you, but she came out here and executed well."
Pleased with her third silver of the championships, Namibia's Beatrice Masilingi said: "A fantastic silver for the team which we achieved in a new national record. We were not in a strong position so credit to the team. We have had a good run in Nairobi."


South Africa run 38.51
Toeing the path of their senior team that struck gold in the 4x100m at the World Athletics Relays in Poland back in May, the South African squad comprising Mihlali Xhotyeni, 200m men's bronze medallist Sinesipho Dambile, Letlhogonolo Moleyane and 100m silver medalist Benjamin Richardson stormed to gold in Nairobi with a world U20 record of 38.51, finishing ahead of Jamaica who set an area U20 record of 38.61, while Poland also set an area record of 38.90 to win the bronze.
Richardson, who ran a fantastic anchor leg for South Africa, said afterwards: "It feels very good to win the gold. We worked for it, and it feels like a very great achievement. I'm happy for me and my team doing it together; we're all fast and together we got to a world record. Knowing Jamaica, I kept to my top speed on the last leg. Our performance here shows South Africa is getting good in the relays and individual events."
The Polish team of Dominik Lucznski, Patryk Krupa, Jakub Pietrusa and Oliwer Wdowik were ecstatic at their podium finish. Speaking for the team, second leg runner Krupa said: "We didn't expect this before the championships, so we are very happy. We are bronze medallists, wow. We run like a family, maybe that's the secret to Poland's improvement in the relays. This is a new European record. It was good performance, not perfect but we're really happy."


Botswana blaze to gold
Botswana was the team to beat in the men's 4x400m, with their major arsenal being 400m gold winner and championship record-holder Anthony Pesela. Combining forces with Busang Collen Kebinatshipi, Oreeditse Masede and Phenyo Bongani Majama, the quartet raced to a world U20 lead of 3:05.22. After anchor-leg runner Majama crossed the line in first place, he was joined on the track by the rest of his teammates with all four of them doing some pushups, imitating Isaac Makwala's iconic post-race reaction at the London World Championships in 2017 where he ran a solo 200m.
Taking silver was Jamaica with a season's best of 3:05.76. Host team Kenya beat Nigeria to bronze with their time of 3:05.94.



"It's really a great feeling" Pesela said on winning his second gold of the competition. "I want to thank my boys for qualifying for the final because I was resting for my 400m individual race. We did the pushups because Makwala is our role model, so we follow in his footsteps."


A treble of titles for

Uko

Having already won two gold medals in the women's 400m and mixed 4x400m respectively, Nigeria's emerging star in the quartermile Imaobong Nse Uko inspired her 4x400m teammates to a world U20 lead of 3:31.46 after putting the squad in pole position for gold, building on the good start from Opeyemi Oke and overtaking Jamaica's Aalliyah Francis to hand the baton to Ella Onojuvwevwo in first position.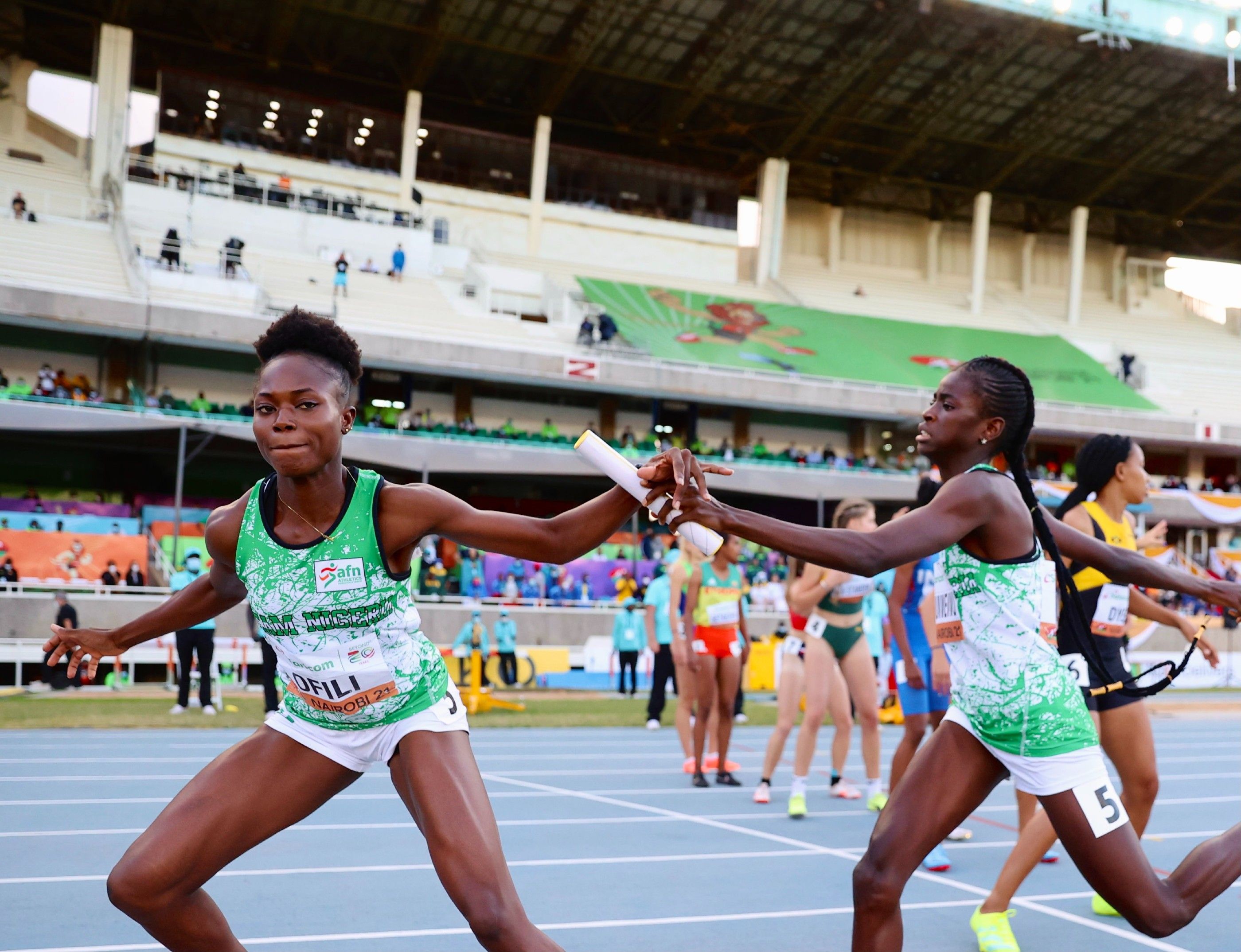 LSU freshman Favour Ofili, who had just helped the 4x100m team to bronze less than an hour before, consolidated on the lead and anchored the team to gold, her third medal of the competition as Jamaica posted a season's best of 3:36.57 for silver, an improvement from their third-place finish in Tampere three years ago. Italy's squad of Alessandra Iezzi, Federica Pansini, Angelica Ghergo and Alexandra Almici were the surprise bronze winners, having returned a time of 3:37.18 to cross the line ahead of India.
Ofili said: "I think it's God's grace and the individual determination of each of us to win something here, that's what brought us together to win the gold."
"We never expected this because the other countries are very strong and faster, so we are so happy," said Italy's Federica Pansini. "Our season started in January so it's been a long season for us, but it's the best season ever for us. We wanted to make our country proud after not winning a medal in the event at the Olympics in Tokyo, so we hope we did that here."


Hurdles wins for

Salminen and Akcam

In the women's 400m hurdles final, all top five finishers set personal bests with Finland's indoor U20 champion Heidi Salminen setting the pace with a lifetime best of 56.94. She was followed by Frenchwoman Ludivine Aubert, who clocked 57.16, while Canadian Savannah Sutherland, who is set to join the University of Michigan in November, clocked a new best of 57.27.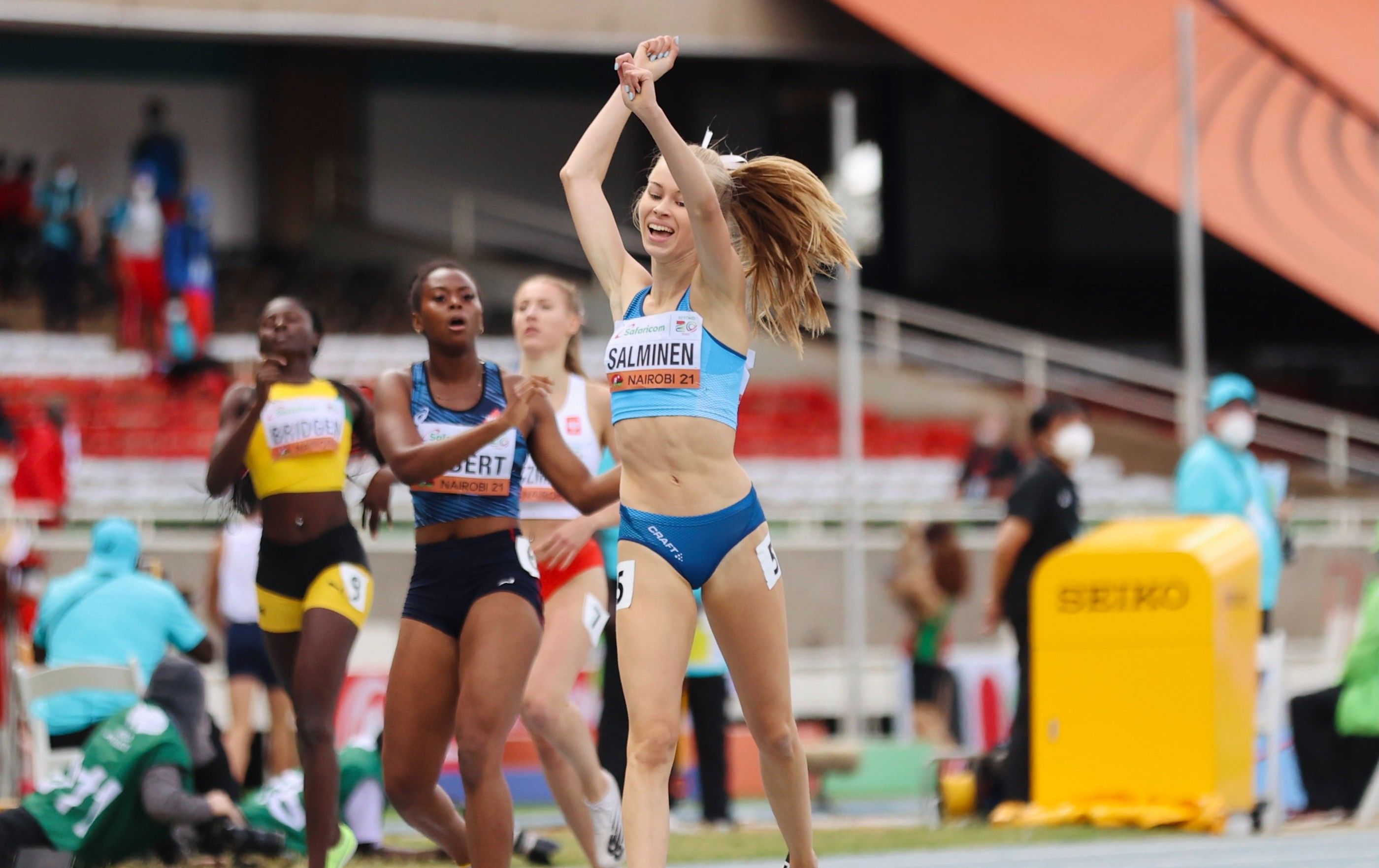 In the men's final, the European U20 champion upgraded to world U20 champion. In the semifinal on Saturday, Turkey's Berke Akcam became the first ever U20 athlete and second overall from his country to dip under 50 seconds in the 400m hurdles when he ran an U20 record of 49.73, the fastest time in the semis. He followed that up with a strong showing in the final on Sunday which was so charged that the top four finishers all ran lifetime bests.
Berke, who initially led the race, slugged it out with Sweden's Oskar Edlund, the European U20 silver medallist. The latter would go on to win the race but was eventually disqualified.
Berke was upgraded to gold after setting his second national record in as many days, an impressive time of 49.38. Authorised neutral athlete Dennis Novoseltev took the silver with a personal best of 49.62, while Jamaica's No.1 U20 athlete Devontie Archer also set a lifetime best, taking the bronze in 49.78. Though he finished just outside the podium, Nigeria's Ezekiel Nathaniel's efforts were rewarded with a personal best of 49.89, his third personal best recorded at the championships.
Yemi Olus for World Athletics