Patryk Dobek anchors Poland to victory in the 2x2x400m at the World Athletics Relays Silesia21 (© Getty Images)
Sprinter or middle-distance runner? It's a question many have asked Poland's Patryk Dobek this year, one he now also has to ask himself.
But the truth is, with less than three months until the Tokyo Olympics, the 27-year-old still doesn't really know. Dobek could well line up in Tokyo in the 400m hurdles, just as he did at the last Games in Rio, but he could just as easily take his shot over 800m.
On the opening night of the World Athletics Relays Silesia 21 on Saturday (1), the Pole proved his versatility in the realms of speed and endurance by helping his nation to victory in an event that combines elements of both.
Competing in the mixed 2x2x400m alongside Joanna Jozwik, Dobek anchored Poland home in front in 3:40.92, getting the hosts off to the perfect start. It was the second time in two months that Dobek had reason to celebrate on home soil, having shaken up the established order by taking 800m gold at the European Indoor Championships in Torun in early March.
But how did Dobek – who for the past eight years has specialised in the 400m hurdles – come to move up the distances?
"In the winter, for the indoor season it was going to be 400m or 800m and I decided 800 because it was a little easy," he says. "Twenty-five seconds per 200, for me, coming from 400 hurdles, it's easy."
In many ways, the indoor season proved far easier than even he expected.
Only a handful of athletes in history have been able to transition from world-class over one lap events to the 800m, but when Dobek clocked 1:47.23 in Torun in early February it was clear he was well equipped to take on double the distance.
A week later at the Polish Indoor Championships , he outkicked reigning world indoor 800m champion Adam Kszczot to take gold, catapulting him into contention for the European Indoor Championships on the same track in Torun.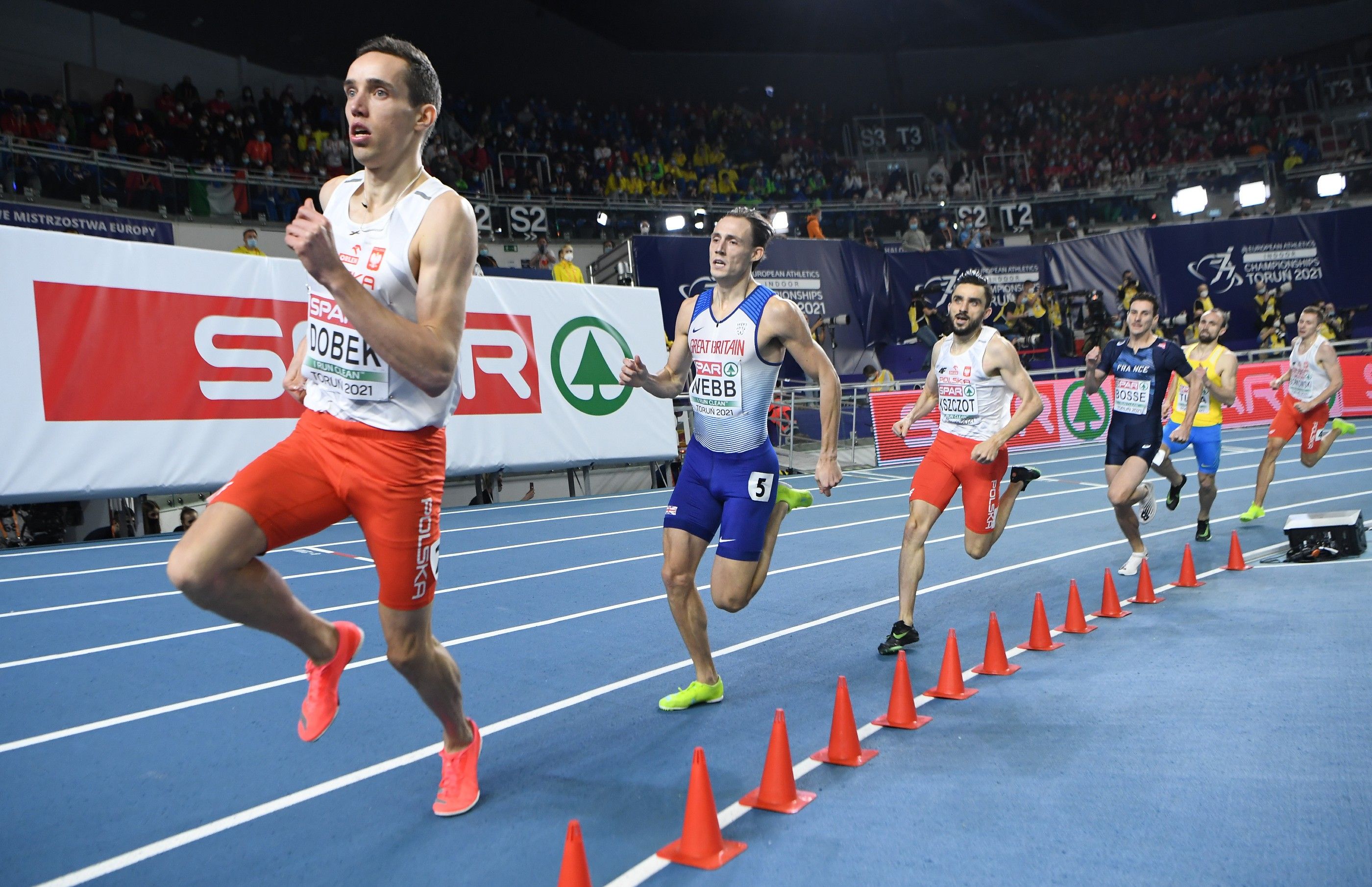 Patryk Dobek on his way to 800m gold at the European Indoor Championships in Torun (© Getty Images)

Still, very few believed he could topple Europe's best as a bona fide newbie in the four-lap indoor event. But his coach, Zbigniew Krol, was one of them.
"He told me every time, 'you can do it, you are prepared,'" says Dobek of the man who took over his coaching last November. "He's the ex-coach of Adam Kszczot, so he knows about 800 indoors."
His workload didn't change too much through the winter, Dobek typically training six days a week and logging about 50km in total, but his coach added more long reps.
After making the 800m final in Torun, he was given a simple instruction by his coach.
"He told me to wait and then with 300 metres left, to move to the front," he says. "I felt very fresh, and watched Adam Kszczot, (Amel) Tuka, everybody, I saw them go outside and I decided now or nothing," he says. "Step by step, I attacked."
Dobek had hung at the back of the field through the first 400m, passed in a pedestrian 54.28, and during the third lap he found a passage to the front that was as brave as it was bold. With 300 metres left he spotted a gap on the inside and bolted past Kszczot and Tuka to move into third, then, as they approached the bell, he spotted a similar gap on the inside of race leader Jamie Webb.
Dobek didn't need a second invitation and he darted to the front, and once the 48.40-second 400m hurdler had command off a slow pace, he was never going to be passed. Somehow, in a distance at which he had zero recorded results until 2021, he had become the European indoor champion.
"This year is most extreme for me," he said on Saturday, shortly after his success in Silesia. "I have a good coach, he has changed my mind and he's very strong and focused – for training and competition."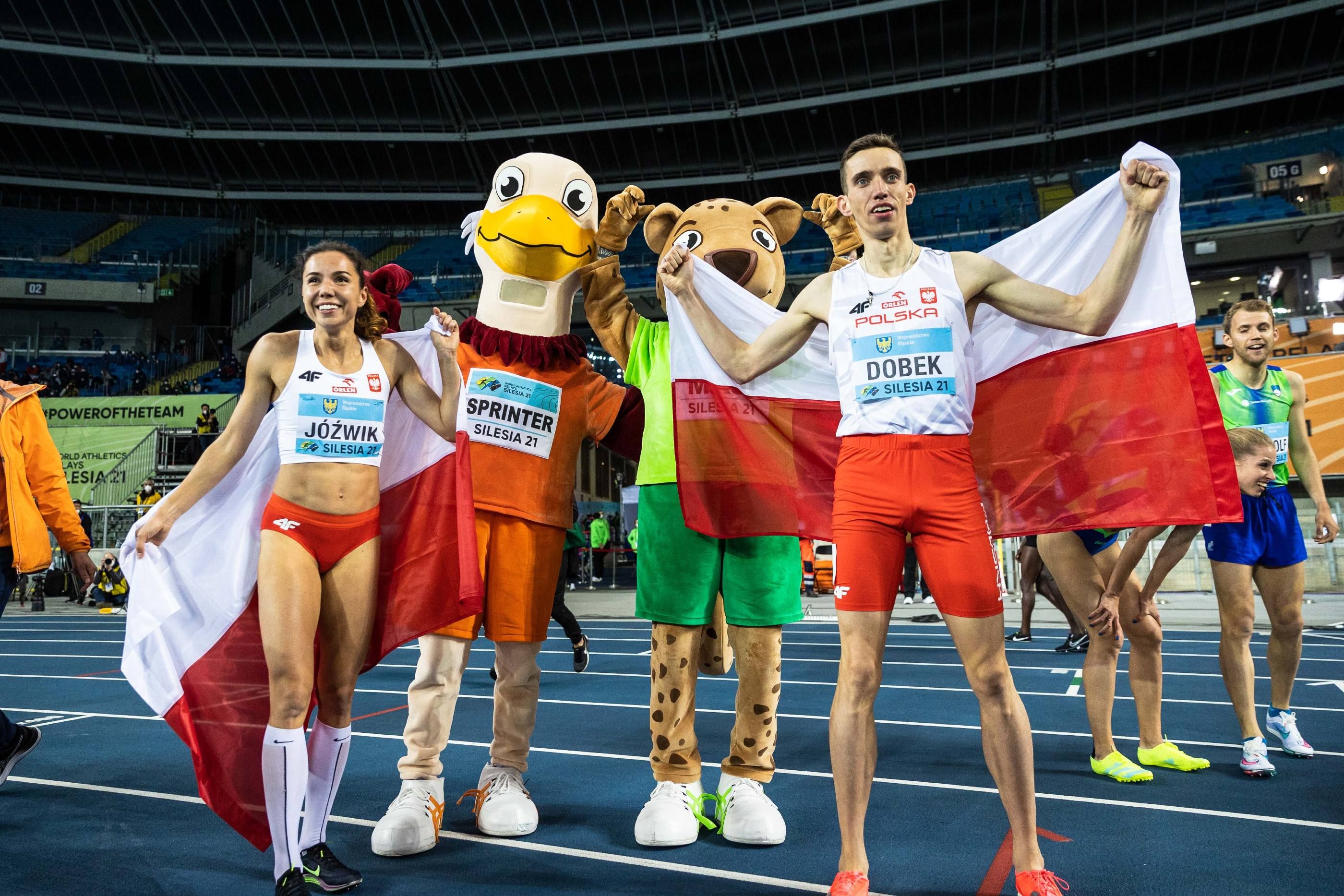 Joanna Jozwik and Patryk Dobek celebrate their 2x2x400m win at the World Athletics Relays Silesia 21 (© Dan Vernon)

Dobek had prior experience in the 2x2x400m, having been part of the Polish team that finished fourth at the 2019 World Relays in Yokohama. That night he went out far too hard on the first leg, which made for a gruesome second leg after less than a minute's recovery.
"The second lap was terrible, extreme," he says. "But this time I felt a little different, with more power."
Dobek coasted behind Kenya's Ferguson Cheruiyot Rotich through his opening leg, resisting the temptation to empty the tank to get to the front and instead saving it for his final effort. After teammate Jozwik broke away from Kenya's Naomi Korir on the third leg, it left him with a commanding lead, and Dobek made no mistakes, carrying his nation to victory.
But what next?
Dobek will return to Poland's Olympic training centre in Zakopane for the next three weeks before his next event, the European Athletics Team Championships Super League at the same venue on 29-30 May.
"I'll try 400 hurdles there," he says.
But Dobek is not yet settled on that as his race distance for the summer. What distance has he actually been training for these past few months?
"Eight-hundred…or maybe 600," he says with a laugh.
The thing is, he has made sure to continue doing plenty of hurdle work these past few months, ensuring his options will stay open as he eyes success on an even bigger stage.
"I'll try the 800 too and then I'll decide with my coach which distance," he says.
Cathal Dennehy for World Athletics