Virginia Elizabeth Villalba at the World Athletics Relays Silesia 21 (© Dan Vernon)
Saturday night in Chorzow, heat three of the women's 4x100m, and four Ecuadorian sprinters are huddled together in the mixed zone, looking out at the blue track.
Angela Gabriela Tenorio, Gabriela Anahi Suarez, Virginia Elizabeth Villalba and Marizol Landazuri are nervous. They had come to the World Athletics Relays Silesia 21 with a specific mission: finish in the top eight and qualify for the Olympics, something no Ecuadorian relay team, male or female, had ever done.
By this point the four had done everything they could. Their fate was out of their hands. That made the nerves even worse.
Minutes earlier, they had rocketed around the track and brought the baton home in 43.86, a national record. But, crucially, they finished third, just outside the automatic qualification spots. Their whole summer, and their entire Olympic dream, hinged on what happened next down on the track.
In the final heat, France crossed the line first in 43.51, with Switzerland second in 43.71. The Ecuadorians waited, looking up at the big screen, hoping, praying, that the third and fourth-place finishers wouldn't be quicker than 43.86.
When Denmark's time – 44.25 – flashed up, they erupted in unison, their delighted screams carrying to every corner of the stadium. Finally, they had done it. They were going to the Olympics.
"We are one big heart, we are one country," says Tenorio. "We are representing millions of Ecuadorian people. Every time we step in a lane, we think about them, about our family, about our team."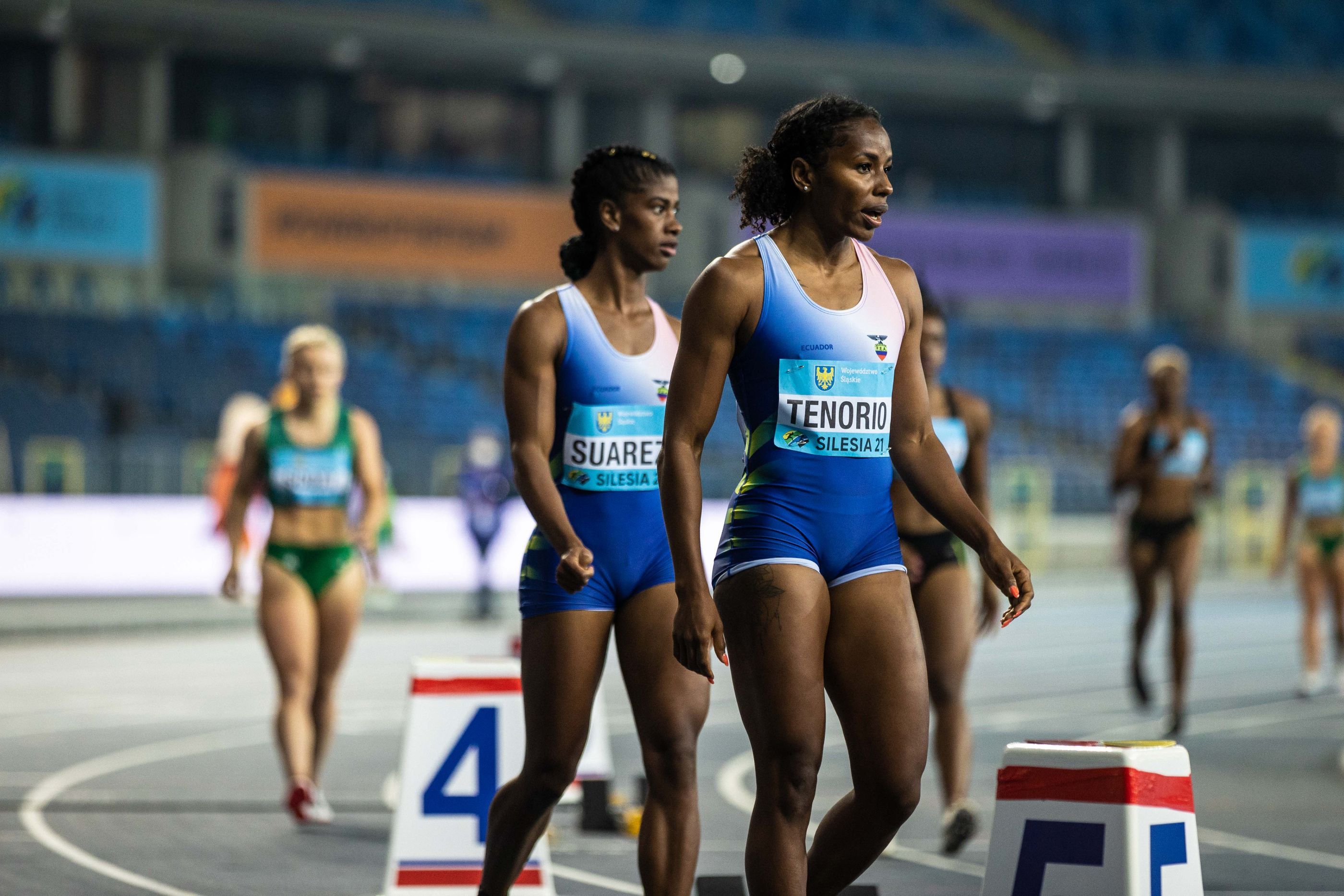 Ecuador's Gabriela Anahi Suarez and Angela Gabriela Tenorio (© Dan Vernon)


For teammate Yuliana Angulo, who was drafted in for the final on Sunday (2), the desire within their ranks made a big difference in the breakthrough.
"I believe the reason why we have achieved such an amazing result is because we truly wanted it," she says. "For me, it's very emotional to be part of the team."
Angulo – who is better known as a long jumper, having set the Ecuadorian record of 6.60m in 2019 – ran the third leg in Sunday evening's final and handed off to Landazuri, who brought the team home fifth in 44.43. Just 13 minutes later, Tenorio, Villalba, Landazuri and Suarez were back on the track for the 4x200m, where they finished third behind Poland and Ireland in 1:36.86.
For Manuel Bravo Calderon, president of the Ecuadorian athletics federation and team leader in Silesia, the weekend was a landmark one for his nation's sporting future.
"We have (had) a million messages about this moment," he says. "It's an amazing result for South America and for my country."
The core group of the 4x100m squad – Tenorio, Villalba, Suarez and Landazuri – typically train together in Ecuador under the guidance of renowned coach Nelson Gutierrez, but for the last two months they have been based in Portugal.
"That was so they could concentrate before this event," says Calderon. "We have these problems with Covid, and travel from Ecuador (takes) a very, very long time."
Calderon believes the trailblazing performances of Tenorio in recent years have had a major impact not only on her teammates, but across the entire spectrum of Ecuadorian athletics.
"Angela is a leader, and it's very important because in this moment Angela is inspiring others with her performances," he says.
Tenorio, 25, won 100m bronze and 200m silver at the 2013 World Athletics U18 Championships in Donetsk, with 100m silver and 200m bronze following at the 2014 World U20 Championships in Eugene. In 2015 she set a stunning South American U20 record of 10.99 to win silver at the Pan American Games in Toronto. She went on to compete over 100m and 200m at the Rio Olympics and at many other major championships in the years since, but making it back to an Olympics as part of a team is a dream that long inspired her.
"This is the fourth World Relays for us," she says. "We have a couple of new girls but the main difference this time around is that we will step on the podium in the 4x200m and we have clinched an Olympic qualifier, and have also qualified for Oregon in the 4x100m."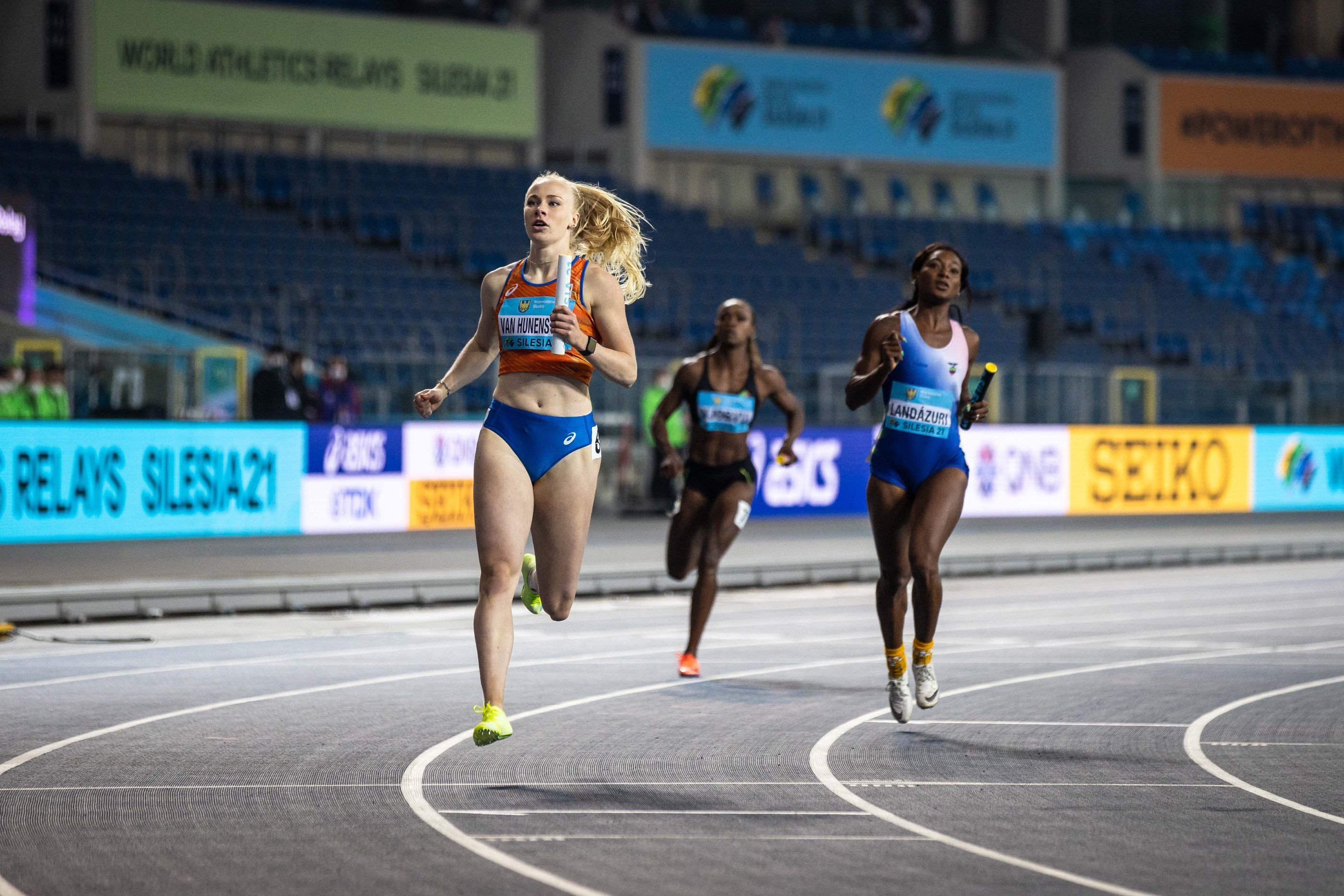 Marije van Hunenstijn of the Netherlands and Ecuador's Marizol Landazuri (© Dan Vernon)


The average age of the quartet that set the national record on Saturday is 24, suggesting there should be scope for improvement in the years ahead as they look to become a regular fixture at major championships.
"We are very proud of the team work we have done to achieve this target, despite the fact that we hardly ever train together for relay exchanges," says Tenorio. "We are a new team."
Angulo believes their success in Silesia will be just the beginning.
"We are now going to train harder and focus more on relays in order to be competitive in Tokyo," she says. "I live in Spain, my teammates live in Ecuador and some of us have recently been in the United States so we haven't had many opportunities to practise. It will be my very first Games. On a personal level, my family is really proud and on a team level, it's another step towards bigger achievements."
For Calderon, the storm of publicity that accompanied the team's achievement – which included congratulations from the president – is an opportunity to inspire a new generation of talent in Ecuadorian athletics.
"It's a very important moment for the sport in my country," he says.
For Tenorio, the path to Tokyo is very much alive and well as an individual, but to know she will be there with the teammates she had that rollercoaster journey with in Silesia makes it all the sweeter.
"We will do our very best at the Games," she says. "There may be four of us, but we compete as one."
Cathal Dennehy for World Athletics