Keely Hodgkinson (© Getty Images)
Keely Hodgkinson might be motivated most by medals, but the 20-year-old knows that running records – and relishing rivalries – will help her to get to them.
"From my career, I want to get as many medals as I can – I think that's how you become one of the greatest ever," says the British 800m standout. "Records are really nice, but they don't always last, so I think medals are where you can really make a difference and write your name in the history book."
Her campaign on both fronts has started strongly. Now the British record-holder both indoors and outdoors, the 1:55.88 that Hodgkinson ran in Tokyo secured her Olympic silver on her global championship debut and improved a national mark that had been set by double 2004 Olympic champion Kelly Holmes in 1995. Her next aim, fresh from a 1:57.20 indoors in Birmingham, is to get gold at the World Athletics Indoor Championships Belgrade 22, where she has been selected for the 800m and the 4x400m.
"My favourite thing to do is compete at championships, when there's a bit of pressure and more at stake," adds the British 400m silver medallist. "I like to go out there and do what I know I can do and come away with medals. That's the goal."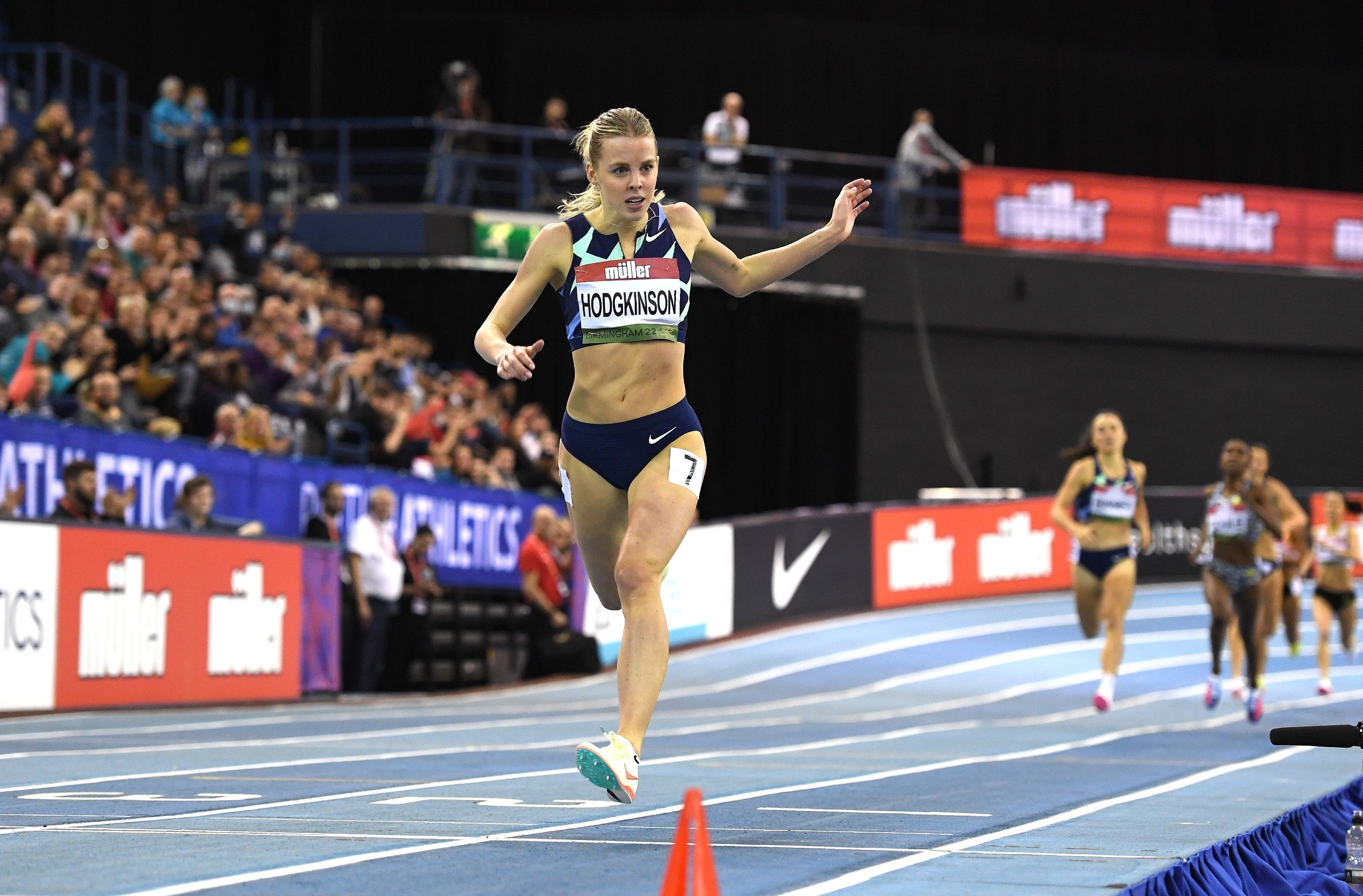 Hodgkinson runs 1:57.20 to win the 800m at the World Indoor Tour Gold meeting in Birmingham (© Getty Images)

Enjoyment is key and there's no weight of expectation, as Hodgkinson instead embraces it. The support from her team, which includes coach Trevor Painter and world medallist Jenny Meadows in a relationship she describes as "like a second family", is hugely important. Particularly after a winter that was interrupted by injury.
After recovering from an achilles issue before Christmas, Hodgkinson went on a training camp in South Africa and tore her quad. No longer able to open her 2022 season at the World Athletics Indoor Tour Gold meeting in Karlsruhe as originally planned, Hodgkinson refocused on the Müller Indoor Grand Prix in Birmingham. Once there, she became the sixth-fastest ever indoor women's 800m runner, and had it not been for the injuries and missed training, Meadows believes her charge could have been in "world record territory".
Turning 20 last week (3), Hodgkinson was coincidentally born on the exact date that the world indoor record of 1:55.82 was set. Should she win gold in Belgrade later this month, Hodgkinson – at 20 years and 17 days – would become the youngest women's 800m champion in World Indoor Championships history.
"She was still in brilliant shape (in Birmingham)," Meadows told the Telegraph. "But honestly, I cannot tell you where she looked like she was going to be – it's actually quite scary."
There is no fear from Hodgkinson when it comes to facing her rivals, however, and the depth in her event both internationally and domestically has spurred Hodgkinson on. She won last year's British outdoor title ahead of Jemma Reekie and Laura Muir to claim her first global championship team place at any level, and once at the Olympic Games she finished second to her fellow 19-year-old Athing Mu, who earlier in the year had superseded Hodgkinson as the world indoor U20 800m record-holder.


Hodgkinson and her rivals
How Hodgkinson stacks up against the women she's set to face in Belgrade.


Keely Hodgkinson



Halimah Nakaayi



Natoya Goule



Catriona Bisset

Country: Great Britain & NI

Country: Uganda

Country: Jamaica

Country: Australia

Born: 3 Mar 2002

Born: 16 Oct 1994

Born: 30 Mar 1991

Born: 1 Mar 1994

Outdoor PB: 1:55.88 NR (2021)

Outdoor PB: 1:58.03 NR (2021)

Outdoor PB: 1:56.15 NR (2018)

Outdoor PB: 1:58.09 AR (2021)

Indoor PB: 1:57.20 NR (2022)

Indoor PB: 1:58.58 NR (2022)

Indoor PB: 1:58.46 NR (2022)

Indoor PB: 1:59.46 AR (2022)

Major achievements:
Olympic silver (2021), Diamond League champion (2021), European indoor champion (2021)

Major achievements:
World champion (2019), All-African Games bronze (2019)

Major achievements:
Pan American Games champion (2019), NACAC Championships silver (2018), Commonwealth Games bronze (2018), NCAA champion (2013)

Major achievements:
Oceanian champion (2019), World University Games champion (2019)

Now, the Briton is joined at the top of the indoor season list by Jamaican record-holder Natoya Goule, Uganda's world champion Halimah Nakaayi and Australia's Oceanian record-holder Catriona Bisset, who have all dipped under two minutes for the four-lap event.
"It keeps you on your toes," Hodgkinson smiles. "When you see other people (running well) – it's good, it's going to push me on: 'I know I can do that'.
"I like having those head-to-heads. We've had a few times when we have finished neck and neck, me and Natoya, and I get on with her really well, as well. So, it's fun to race her and see what others can do."
Hodgkinson won their sole clash so far in 2022 in Birmingham, while in 2021 their head-to-head record stood 4-2 in Goule's favour but Hodgkinson's advantage came on the biggest stages – at the Olympic Games and the Wanda Diamond League final, where Hodgkinson claimed the overall title.
"I definitely got a lot of confidence from last year," Hodgkinson explains. "I don't really feel any pressure, I just feel like I want to go out there and do my best in every race. I want to be consistent in the bigger races, racing the bigger girls, and just stamp my authority down.
"I expect more of myself now," she adds. "I want to be more consistent in Diamond League races – I didn't actually win one Diamond League, apart from the only one that mattered!"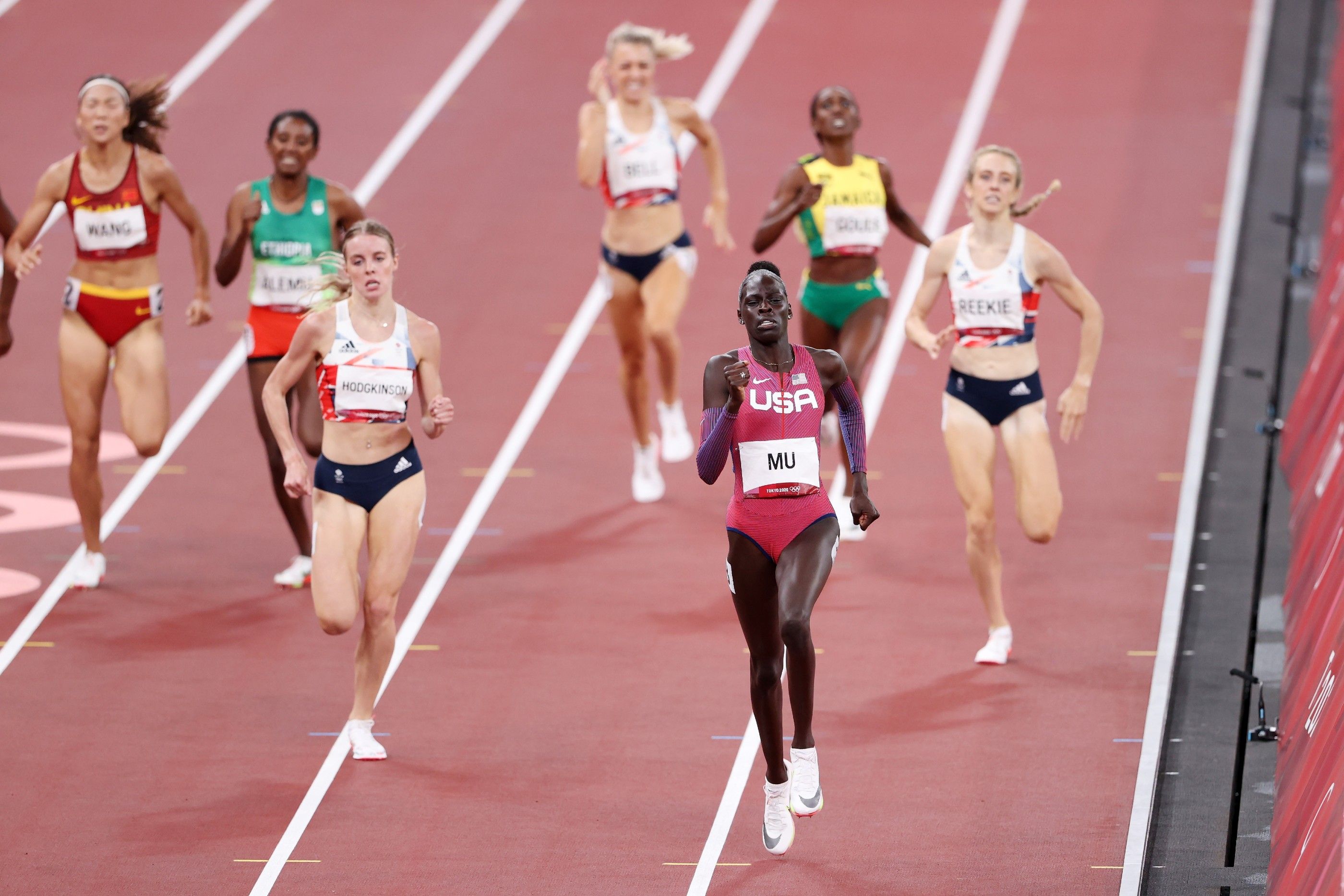 The Tokyo Olympic Games women's 800m final (© Getty Images)

But that's not her only goal for the outdoor season, where she also has the World Athletics Championships Oregon22, the European Championships in Munich and the Commonwealth Games on home soil in Birmingham to target.
"The Worlds and the Commonwealths are the priority for the summer and the Europeans, we'll see," she says. "If I'm fit and healthy, then why not? I'm happy to do the relays in the summer as well, if I feel ok."
And the outdoor season will again give her the chance to take on her US rival, Mu.
"Hopefully it stems for a good competitive 10-15 years ahead and faster times on the horizon," Hodgkinson said after finishing second behind her fellow teenager Mu in Tokyo.
A medal-filled 10-15 years, if Hodgkinson has her way.
Jess Whittington for World Athletics