Ethiopian distance runner Berihu Aregawi (© Getty Images)
The Kidane Mihret Church in the Kotobe neighbourhood in Addis Ababa is busy most afternoons. Ethiopian Orthodox Christians in the area often come to pray or give money and food to homeless who congregate around the church's gates. Many wear gabi – a traditional white homemade cotton cloth – draped over their heads and shoulders.
Nearly every afternoon Berihu Aregawi can be seen walking, often in his orange and blue tracksuit, to his afternoon training session.
Kidane Mihret sits neatly at an important crossroads to get to the Yeka Forest in Addis Ababa, a small runner's oasis reachable by a quick 15-minute walk from a bustling neighbourhood. Between 4-6pm dozens of Ethiopian athletes go to the forest to do their famous zig-zag jogs through eucalyptus trees, a tradition that's well sedimented in the soil, with clearly-trodden paths.
Over the course of the past eight years, Aregawi has seldom missed one of these sessions. He made this daily journey long before he followed up a fourth-place finish at the Olympics with a Wanda Diamond League victory in Zurich in 2021. It was true leading up to his world 5km record on the final day of 2021 when he ran 12:49 in Barcelona. It was true before running his world indoor lead of 7:26.20 over 3000m in Karlsruhe. And it will continue to be true as the 20-year-old prepares for the World Athletics Indoor Championships Belgrade 22, and competitions moving forward.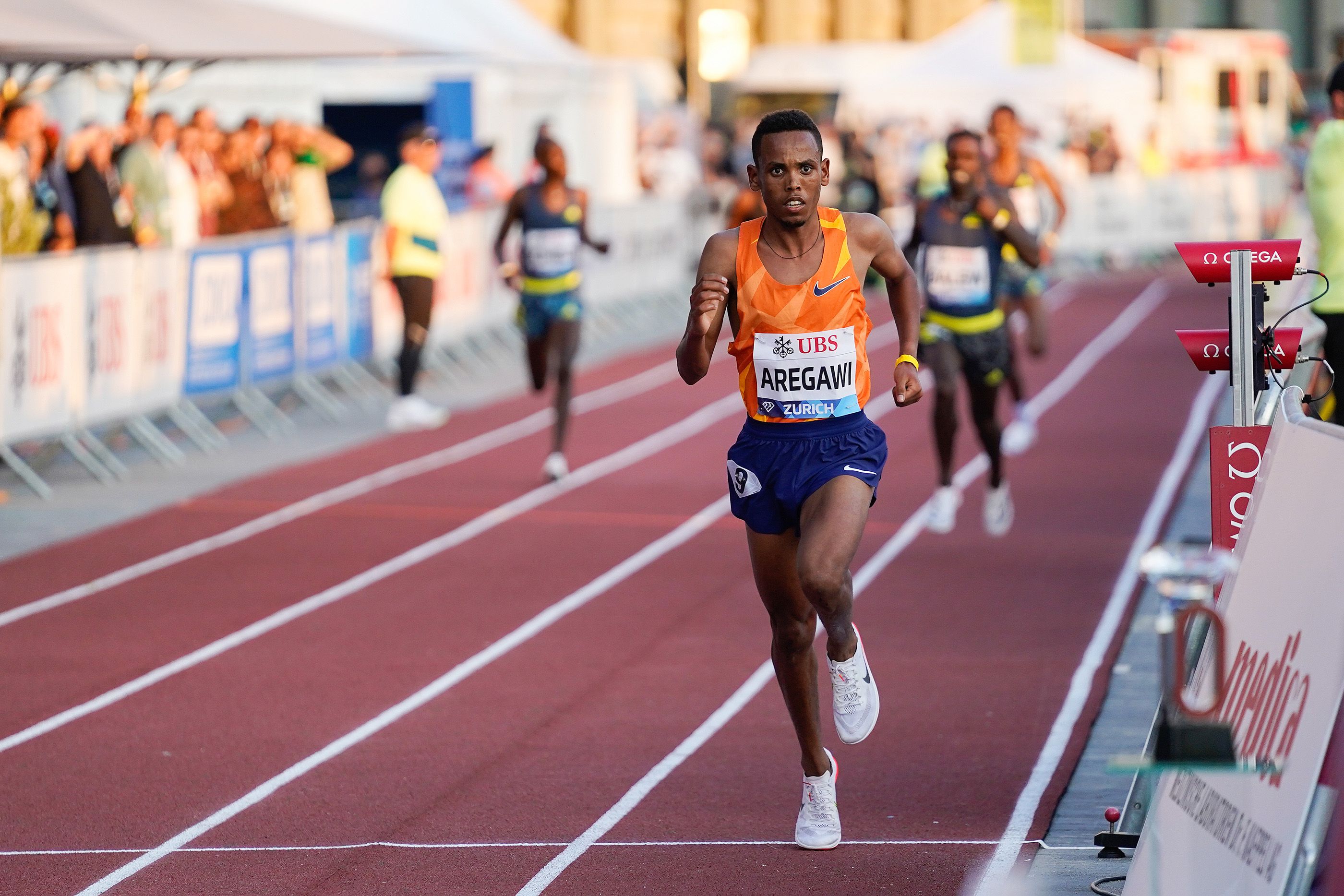 Berihu Aregawi wins the 5000m at the Wanda Diamond League final in Zurich (© Matt Quine)
Many Ethiopian athletes pursue long distance running to change their lives, and as soon as they come into some money, they start making investments to accrue more wealth and status. Aregawi is in no rush to do so.
"Not yet, not yet," he commonly refrains, when asked about buying a home, a car, or even a television. "I don't do much outside of training besides resting, but I do like to watch training videos and running content on YouTube."
Aregawi uses his phone and has been inspired, amid a lot of running content, by the well-known Spartan lifestyle Eliud Kipchoge has become famous for. He's watched many of the short documentaries where understanding English is not a prerequisite for getting a sense of the humility that some of the world's top athletes share.
He also studies racing tactics by his Ethiopian role models, Kenenisa Bekele, Haile Gebreselassie, and, notably, Hagos Gebrhiwet.
Like Aregawi, Gebrhiwet is also from the Tigray region of Ethiopia – the northern most state in Ethiopia that has been embroiled in a civil war since November 2020. Aregawi grew up with five younger sisters and one younger brother in the countryside and began running in local competitions, much to the chagrin of his father, who viewed the pursuit as too risky of an endeavour. Sceptical of the athletic profession, Aregawi's father wanted him to take a more traditional path and ensure he could help to take care of the family. But once he was offered a club position in Addis, his father's mind gradually changed.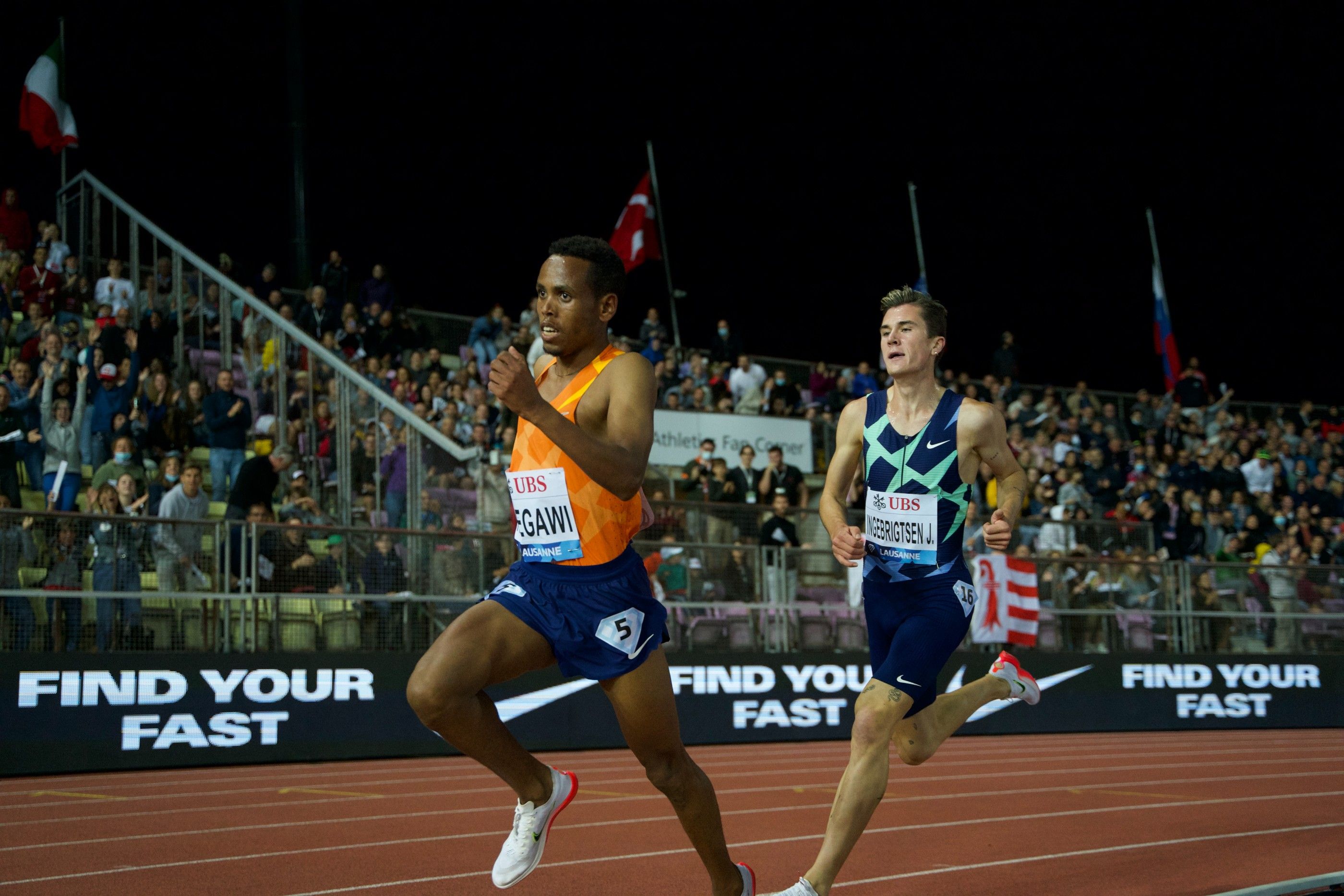 Berihu Aregawi and Jakob Ingebrigtsen at the Wanda Diamond League meeting in Lausanne (© Matt Quine)
"When I was starting out I really wanted to be like Hagos," Aregawi said, "He was really the first from my region and it's easier to identify with someone that comes from the same place you come from."
Not too long later, he became Gebrhiwet's training partner, "Training with Hagos on the national team has given me big steps in my training. He's also been a really good friend to me, and always offered me help when I have adversity."
After training for two years in Addis Ababa, Aregawi was selected for his first national team in 2018, when he competed at the World U20 Championships in Tampere, Finland. Aregawi finished third in the 10,000m, behind Rhonex Kipruto of Kenya and Jacob Kiplimo of Uganda.
"To represent Ethiopia for the first time and come in third was a really big deal," he remembers of his first international trip. Finland in July could not have been more different to Ethiopia at that time of year. Ethiopia's geographical position means the sun rises and sets at about the same time throughout the year, and July and August are characterised by heavy, sometimes torrential, rains. Mid-July in Tampere, by contrast, was sunny, temperate, and had only a few hours of darkness each day.
After his first podium finish in Tampere, Aregawi signed his first contract and returned to Ethiopia with the goal of representing the country at the Olympics. His incremental improvement has evidently been working, but until this past year, his progression has been overshadowed by some of his Olympic teammates, like Selemon Barega, who won the Olympic 10,000m title.
While many Olympians began to tire on the Wanda Diamond League circuit, Aregawi appeared to gain steam, culminating in a victory at the final 5000m held for the first time on the track built around Zurich's city centre.
Since winning the Diamond League title, Aregawi has made some more changes relating to his training, returning to regular training with his club, Ethiopia Electric, and coach Melaku. His training partners are not big names, yet, but he's enjoying working with Solomon Berihu and Haftam Abadi, two of several members of his club. Other changes in lifestyle can remain on the backburner.
"It's important to stay humble and patient," Aregawi said. "I don't want to rush into the next stage of life because I still have big goals I haven't accomplished."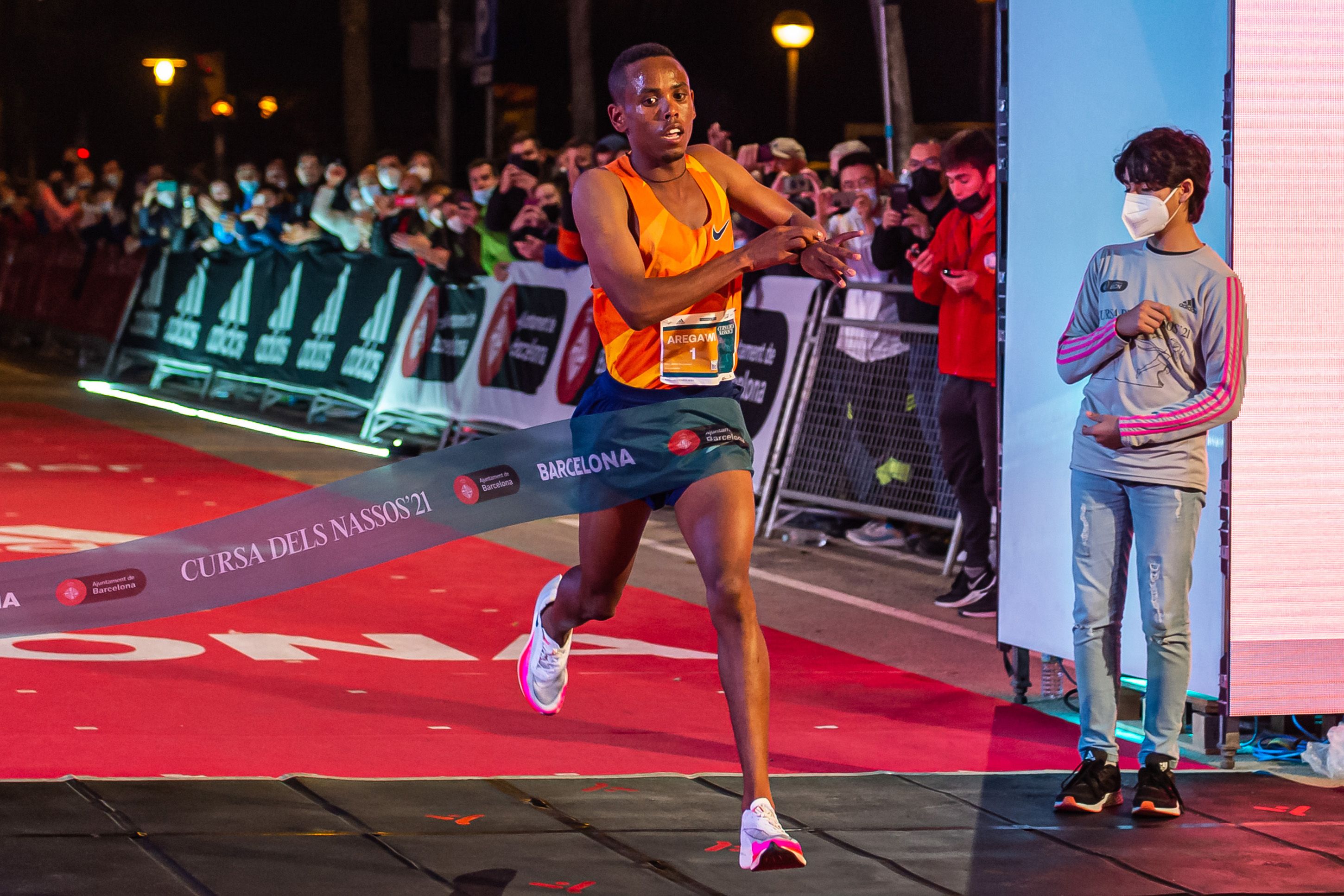 Berihu Aregawi breaks the world 5km record in Barcelona (© Xavi Ballart)
The changes appeared to have worked. In November, he thought he broke Joshua Cheptegei's world 5km record when it appeared he finished under 12:50 in Lille, France, but the official results showed 12:52. One month later, on New Year's Eve, he ran 12:49 in Barcelona to claim the record alongside Ejegayehu Taye, another Ethiopian rising distance talent.
Then, in January 2022, Aregawi claimed the world's top indoor time over 3000m in Karlsruhe, Germany, running the second half of his race completely alone. His time of 7:26.20 puts him fifth on the world indoor all-time list and gives him the top time heading into the World Indoor Championships.
Due to the conflict in Tigray, Aregawi has had minimal contact with his family members over the past two years. With phone and internet mostly disabled in Tigray, Aregawi has been running, and excelling, looking forward to a time when he can share his success his family.
Until then, when asked about lavish celebrations, Aregawi's response is one of caution and gradualness. "Not yet, not yet," he continues to say – an odd refrain beckoning for slowness from one of the world's fastest runners.
Hannah Borenstein for World Athletics