Mondo Duplantis at the 2018 World Indoor Championships in Birmingham (© AFP / Getty Images)
Olympic pole vault champion Mondo Duplantis will seek his first world title at the World Athletics Indoor Championships Belgrade 22 at the same venue where he cleared 6.19m a week ago to set his third world record, and he will be looking for the landmark height of 6.20m.
In the wake of his achievement at the Stark Arena, where he also set his world-leading mark of 6.10m last year, the 22-year-old Swede commented: "I don't think this is the highest that I'm ever going to jump. There's going to be a lot more to come.
"This is a really good place to jump for championships and I'm going to try and put something else higher."
It also sounded as if, in clearing that height, Duplantis – now based in Sweden having spent most of his life based in the United States – had won some kind of mental battle which perhaps augurs well for his further progress. "I think I've tried 6.19m 50 times," he said. "It's been a long time coming."
So the man who set two world records in the space of a week in 2020 by clearing 6.17m in Torun and then 6.18m in Glasgow is now teeing up a similar double-whammy.
But this event, which will be one of the high points – literally and metaphorically – of the World Indoor Championships in Belgrade, will be about more than Duplantis, brilliant as he is.
Such is the quality of the competition that it involves three other men who have cleared 6.00m or better, and none is in better form than the man who took silver behind Duplantis in Tokyo last summer, Chris Nilsen.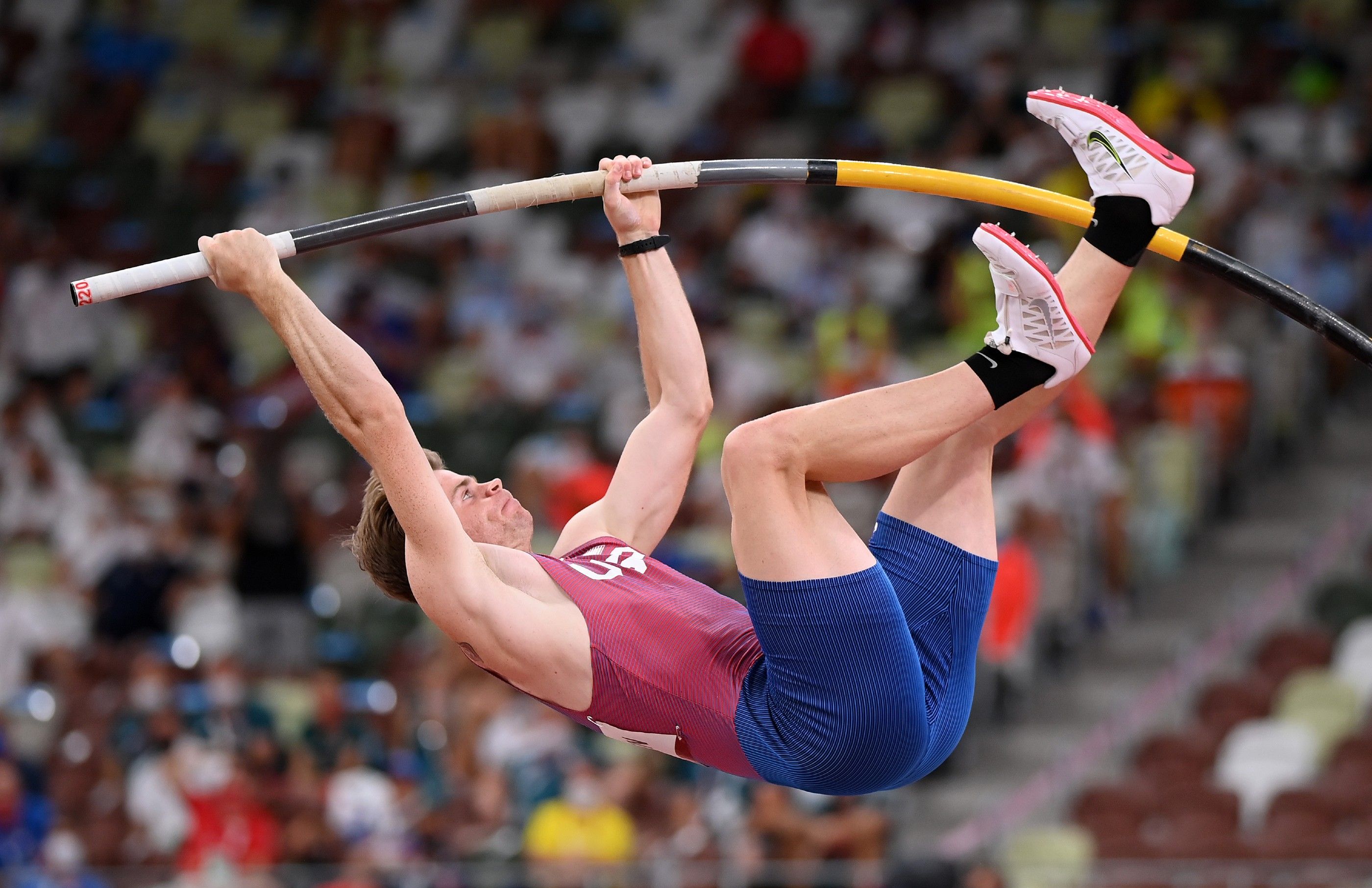 Two days before Duplantis's latest world record, the 24-year-old from Kansas City, Missouri, set a North American indoor record of 6.05m in Rouen and he knows what it feels like to beat Duplantis, having defeated him in NCAA competition and whose NCAA indoor collegiate record he bettered in February 2020 when he jumped 5.93m.
In terms of providing serious opposition to Duplantis, Nilsen has taken up the US banner from the vaulter who beat the Swede to the world outdoor title in Doha three years ago, Sam Kendricks, who was prevented from seeking a second Olympic medal last summer after a last-minute positive test for Covid-19.
Duplantis is not the only Olympic champion in the field. Since winning the Rio 2016 title on home soil – with an Olympic record and personal best of 6.03m – Thiago Braz has been a more peripheral presence in many competitions. But the 28-year-old from Sao Paolo got himself together again last summer to take bronze at the Tokyo 2020 Games.
He has cleared 5.91m this season and is a strong medal contender.
As is the fourth 6.00m performer, Nilsen's compatriot KC Lightfoot, who annexed his NCAA indoor collegiate record when he secured that height in February last year.
Lightfoot is another highly competitive athlete and has a season's best of 5.95m, set in Dortmund last month.
While the medals look likely to be contested by this quartet, that is no certainty given the depth of quality of this field, where the lowest personal best on show is 5.81m.
Others to keep a careful eye on are Valentin Lavillenie, younger brother of former world record-holder Renaud, whose career highlight so far occurred in Torun last year when he won European indoor silver with an indoor personal best of 5.80m.
Belgium's Ben Broeders has been a consistently competitive presence in recent seasons, Menno Vloon of Netherlands has a best of 5.96m and has cleared 5.91m this year, and Australia's 2018 Commonwealth champion Kurtis Marschall is another vaulter who should never be ruled out of contention.
Mike Rowbottom for World Athletics