Beatrice Chebet wins the senior women's race in Bathurst (© AFP / Getty Images)
The prey became the hunter in a dramatic senior women's race at the World Athletics Cross Country Championships Bathurst 23, which resulted in Kenya's Beatrice Chebet winning after overpowering pre-race Ethiopian favourite Letesenbet Gidey, who fell and was disqualified metres from the finish.
Gidey, 24, arrived in Bathurst as the world's leading women's distance runner and looked set to clinch gold after shadowing Chebet, running on her shoulder and overtaking her on the final lap.
But the Kenyan sensed the Ethiopian trophy hunter was weakening and produced a dazzling final kick to break Gidey in the home straight.
When Chebet overtook her, Gidey fell in the dust and never recovered. An Ethiopian supporter jumped the fence and dashed on to the course to assist Gidey, thereby leading to her dramatic disqualification for outside assistance.
Chebet, the U20 world cross country champion in 2019, won senior gold in 33:48, Ethiopia's Tsigie Gebreselama clinched silver in 33:56 and Kenya scored another medal when Agnes Jebet Ngetich seized bronze with 34:00.
Chebet, 22, said she knew it was time to pounce on Gidey with the finish line looming so close.
"I didn't expect to win but she was slowing," Chebet said. "I saw my chance and I decided to kick. I felt she didn't have any more. I knew she couldn't threaten me. I knew I had the potential to go on and win. I was still feeling strong. I knew I could do it."
Chebet said she was not bothered by Gidey shadowing her so closely and that the bravery she showed to win had given her a massive confidence boost.
"This win has given me strength and courage and potential," Chebet said. "I am very happy to win, it was not easy. I have won this race as a junior and now as a senior. It was a matter of endurance and believing in myself."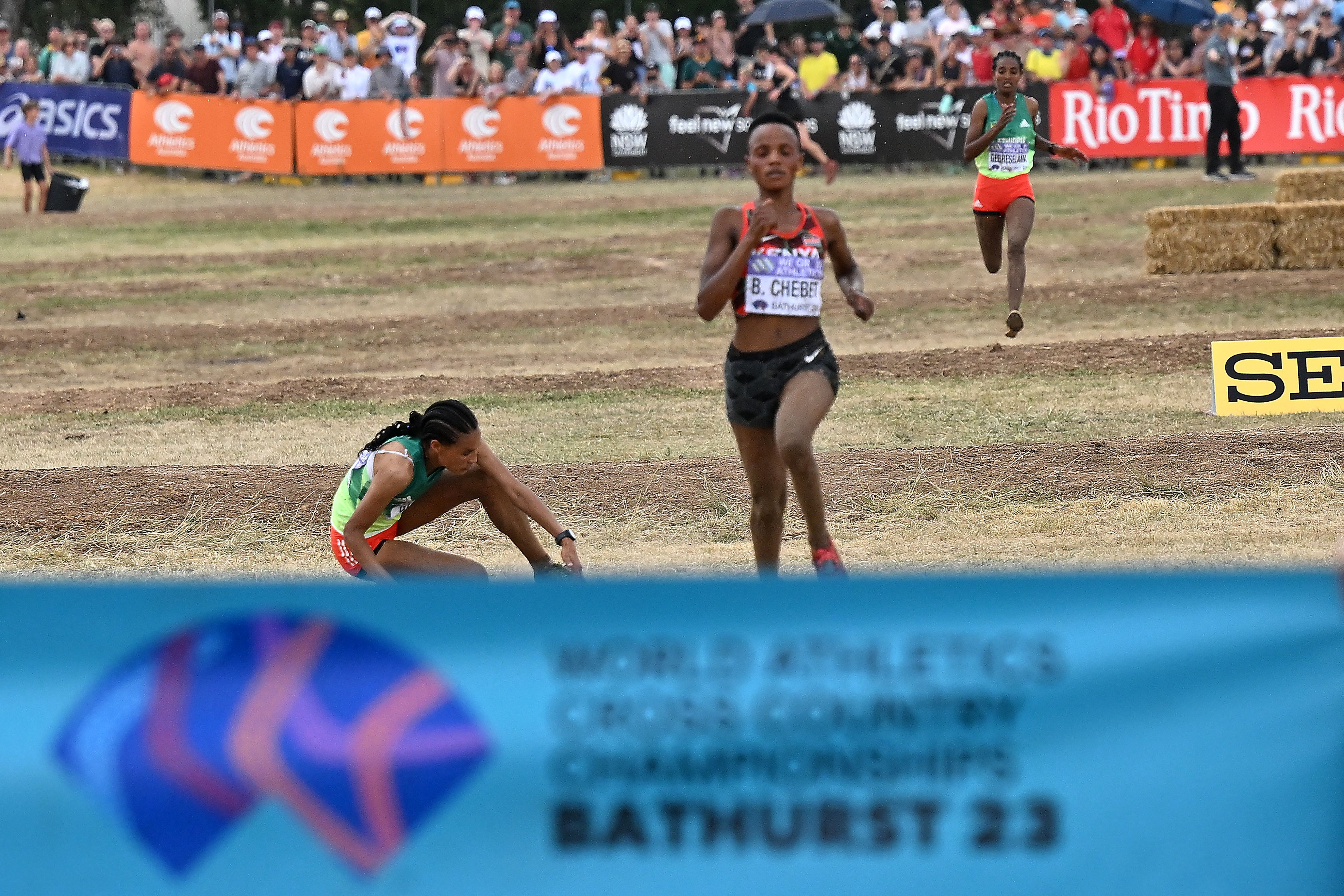 Beatrice Chebet overtakes a fallen Letesenbet Gidey to win the senior women's title (© AFP / Getty Images)
Chebet came to Bathurst with good form. She was the 2022 world 5000m silver medallist and African, Commonwealth and Diamond League 5000m champion.
She said she is now looking forward to adding to her personal medal tally at the World Athletics Championships in Budapest in August.
After the frantic opening pace and style of the U20 women's race, the senior women started at a more orderly clip.
The earlier intense heat and high temperatures had also eased about five degrees to 31C and a breeze fanned the 90 starters from 28 countries as they strategically negotiated the rugged course.
The tempo predictably lifted after the third turn of the five-lap race and the field began to stretch out and thin, with the Kenyan team coming to the fore to take the lead.
At around the 30-minute mark, Gidey made her move after running in Chebet's slipstream. She glided past Chebet in the vineyard area of the course and looked to have the victory comfortably in hand. But Chebet was not to be denied and seized her last-minute chance to become a world champion.
The result matched the recent history of the women's race as over the last 14 years, Kenyan women had won all seven consecutive championships dating back to 2009. Kenya won its first women's individual title in 1994 and, in all, Kenyan women had won eight individual titles in the history of the event before Bathurst.
Silver medallist Gebreselama, 22, who was stepping up in class after being the Aarhus 2019 U20 bronze medallist and the world U20 3000m bronze medallist, suggested it was just a matter of time before she achieved her career goal of winning gold.
"I am so happy that I managed to be in second position," Gebreselama said. "When I was at home I was training well. My expectation was to win the gold medal but am still happy even though I didn't win. I'm looking forward to winning a gold medal in another race as that is my dream."
Ngetich, meanwhile, was delighted to claim a medal and the 22-year-old was happy with her breakthrough bronze. "I didn't expect I would come third because it was my first time running for the senior team and my first time running 10km," Ngetich said. "I want to say thank you to those who pray for me and to those who cheer for me."
In the team event, Kenya scored gold with 16 points, Ethiopia went home with another silver after scoring 25 points and Uganda collected the bronze with 41 points.
The team medals followed history and form as Kenyan and Ethiopian women have held a duopoly over the event since 1995, winning every women's team title – Ethiopia (12) and Kenya (9) – coming into Bathurst.
Since 2003, women from Kenya (8) and Ethiopia (5) had also won every silver team medal.
Louise Evans for World Athletics
SENIOR WOMEN'S MEDALLISTS
🥇
Beatrice Chebet 🇰🇪 KEN
33:48
🥈
Tsigie Gebreselama 🇪🇹 ETH
33:56
🥉
Agnes Jebet Ngetich 🇰🇪 KEN
34:00
Full results