Qatar's Mutaz Barshim competes in the high jump final at the World Athletics Championships Oregon22 (© Getty Images)
As he strutted off the high jump mat, Mutaz Essa Barshim flapped his arms like a bird.
It was a fitting celebration, as the Qatari athlete elegantly flew over the bar on each of his attempts on Monday (18) at the World Athletics Championships Oregon22.
In fact, Barshim cleared the bar on his first chance through to the winning height of 2.37m, a world lead. He then attempted to clear the bar at 2.41m but fell short. While that attempt ruined a flawless performance, Barshim had already clinched his third consecutive World Championships gold, the most of any high jumper.
"Three world golds in a row is something that has never been done before. I came here to secure that," Barshim said. "I know I put a lot of hard work to be where I am."
Barshim outlasted Korea's Woo Sanghyeok, who cleared 2.35m to equal his own outdoor national record, and Ukrainian Andriy Protsenko (2.33m) to continue his reign at the top of the high jump competition.
While his jumps seemed effortless, that's not always how the 2022 season had been for Barshim. After sharing gold at the Tokyo Olympic Games with his friend Gianmarco Tamberi, he struggled to find a rhythm and competed in only two events before the World Championships — failing to surpass the 2.30m mark in either.
While he was unable to string together strong performances, he felt healthy leading up to the competition and it showed in his performance.
"Defending my Doha title and being recovered after injury is the most amazing thing that could happen to me," Barshim said. "Sometimes it's difficult to show jumps and techniques that people like and expect to see from me."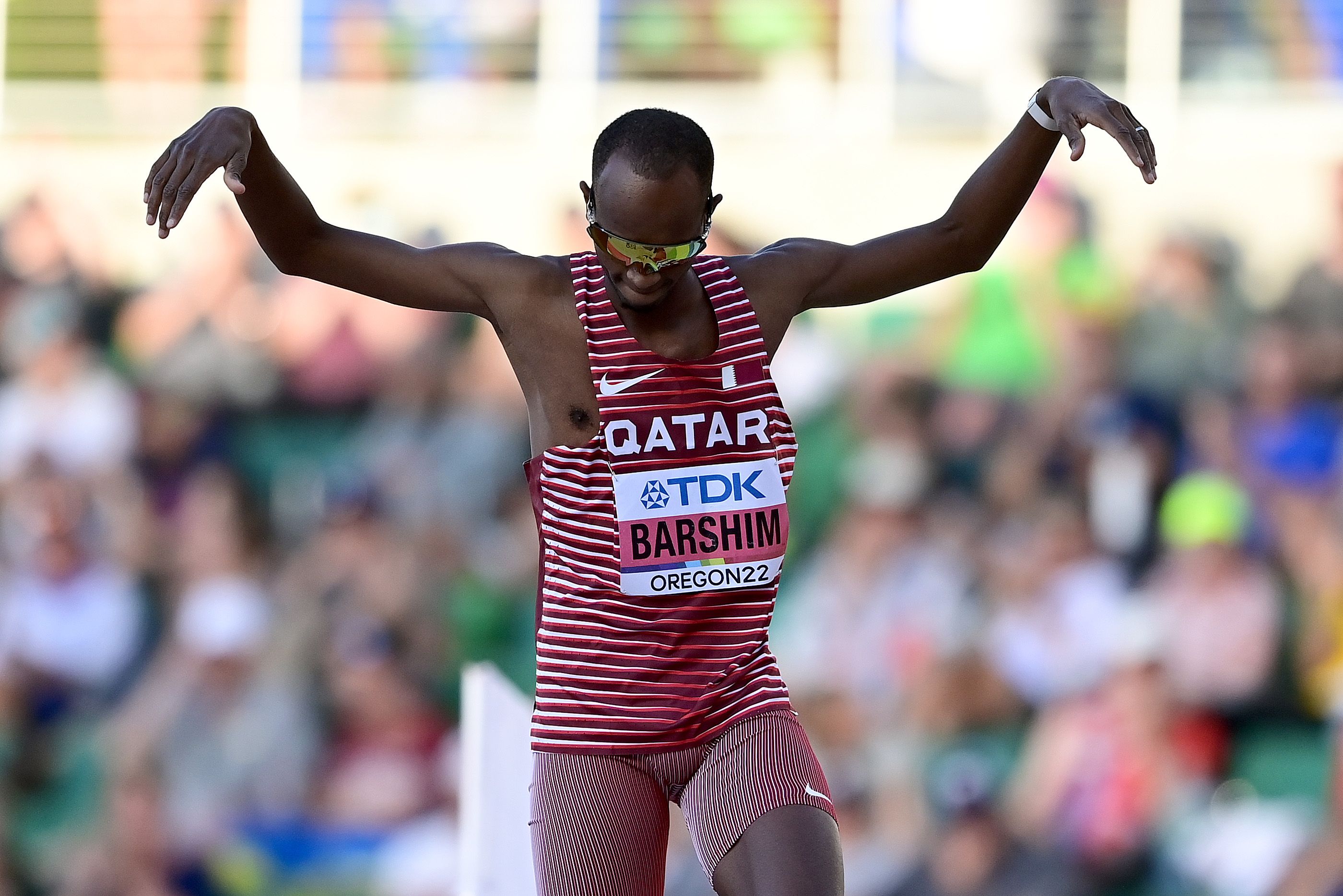 Mutaz Barshim celebrates his win in Oregon (© Getty Images)
Woo broke on to the scene by setting a national record of 2.35m at the Olympic Games, where he finished fourth. His greatness continued through the indoor season as he won at the World Athletics Indoor Championships in Belgrade. He then jumped 2.30m and topped Barshim at the Wanda Diamond League meeting in Doha in May.
On Monday, however, Barhsim got the better of him. After failing his first attempt at 2.37m, Woo elected to pass on the height and save his energy to best Barshim at 2.39m. While the strategy proved unsuccessful, Woo's silver medal gave his nation its first appearance on the podium.
"I am very excited to come out with a medal," Woo said. "I enjoyed the competition, and I am happy for Barshim to get another gold. I believe I can jump even higher next time."
After failing his third attempt at 2.37m, Protsenko walked off the mat to applause from the Hayward Field crowd. Winning the bronze medal showed that the Ukrainian still had something left in the tank.
"I'm like a wine: the older, the better," Protsenko said.
Entering the World Championships, the 34-year-old's season's best stood at 2.26m. He stuck it out through a season of uncertainties. Three months ago, Protsenko was unsure if he would make it to Oregon safely, let alone win a medal.
"I managed to take my family from Ukraine and occupied territory," Protsenko said. "But I left everything in my hometown of Kherson. I took only one bag. That's all I have."
In the qualifying rounds, Protsenko matched Barshim, scaling the bar at 2.28m. On Monday, he improved on that mark, leaping 2.33m on his first attempt — a jump that moved him into the bronze medal position above Tamberi.
After sharing the podium with Barshim in Tokyo, Italy's Tamberi struggled with injuries and was unable to surpass the 2.30m mark.
His 2022 season of up-and-downs culminated with a fourth-place finish at the World Championships.
"In the end, I am glad I found a way to jump high today, even with the pain," Tamberi said. "I struggled a lot in qualification, and today it was very difficult for me to find the correct jump."
Despite the pain, Tamberi stood in the bronze medal position approaching the 2.33m mark, before Protsenko overtook him. After missing his first attempt, Tamberi leaped over the bar on his second to set a season's best. He was unable to produce a successful jump at 2.35m and settled for fourth.
Shelby McEwen used the momentum he garnered from winning the US Championship in June for Monday's final. Similar to the US Championships, McEwen outlasted fellow US high jumper JuVaughn Harrison, who didn't make it past the 2.27m mark.
McEwen, however, fell short of a medal. After failing to clear the bar at 2.33m on his first two attempts, he elected to pass his third. He had one chance to jump over 2.35m and failed to do so, ending his World Championships competition in fifth place.
Aaron Heisen for World Athletics
MEN'S HIGH JUMP MEDALLISTS
🥇
Mutaz Essa Barshim 🇶🇦 QAT
2.37m WL
🥈
Woo Sanghyeok 🇰🇷 KOR
2.35m =NR
🥉
Andriy Protsenko 🇺🇦 UKR
2.33m SB
Full results