Athing Mu, Donavan Brazier and Marco Arop (© Getty Images)
Men's 800m
Timetable | world rankings | 2022 world list | world all-time list | how it works
The men's 800m final at the Tokyo Olympics was a tactical test, and should the event go the same way at the World Athletics Championships Oregon22, then a number of athletes have the ability to break through and get the gold. Get ready for a compelling clash.
Kenya's Emmanuel Korir used his 400m speed to help him to the Olympic title last August, kicking off the final bend and holding off his compatriot Ferguson Rotich and Poland's Patryk Dobek to win in 1:45.06. He has not been able to control races in the same way so far this year, but did win the Kenyan 400m trial race and will be aiming to peak at Hayward Field, where he won the 2017 NCAA title.
While Korir's win in Tokyo was a fourth consecutive Olympic men's 800m title for Kenya, the past four world titles have been won by athletes from four different nations. With a wildcard for Oregon as the 2021 Wanda Diamond League winner, Korir – along with his teammates Emmanuel Wanyonyi, Wycliffe Kinyamal and Noah Kibet – will hope to follow in the footsteps of world record-holder David Rudisha, who gained world gold in 2011 and 2015.
Commonwealth champion Kinyamal won the competitive Kenyan trials race in 1:43.55 ahead of world U20 champion Wanyonyi, who at the age of 17 would have been eligible to defend his title at the World Athletics Championships Cali 22 but has decided to focus on senior competition. And he has shown that he's well up for the task, having won all five of his other races this year, including at the Diamond League in Rabat and World Athletics Continental Tour Gold meetings in Nairobi and Ostrava.
Should he make the final in Oregon then Wanyonyi – who turns 18 on 1 August – wouldn't be the youngest to achieve the feat, but he could become the youngest men's world 800m medallist or champion, with Mohammed Aman the current youngest having won the 2013 title at the age of 19 years and 215 days. The youngest overall men's champion is Ismael Kirui who won the 1993 world 5000m title at 18 years and 177 days.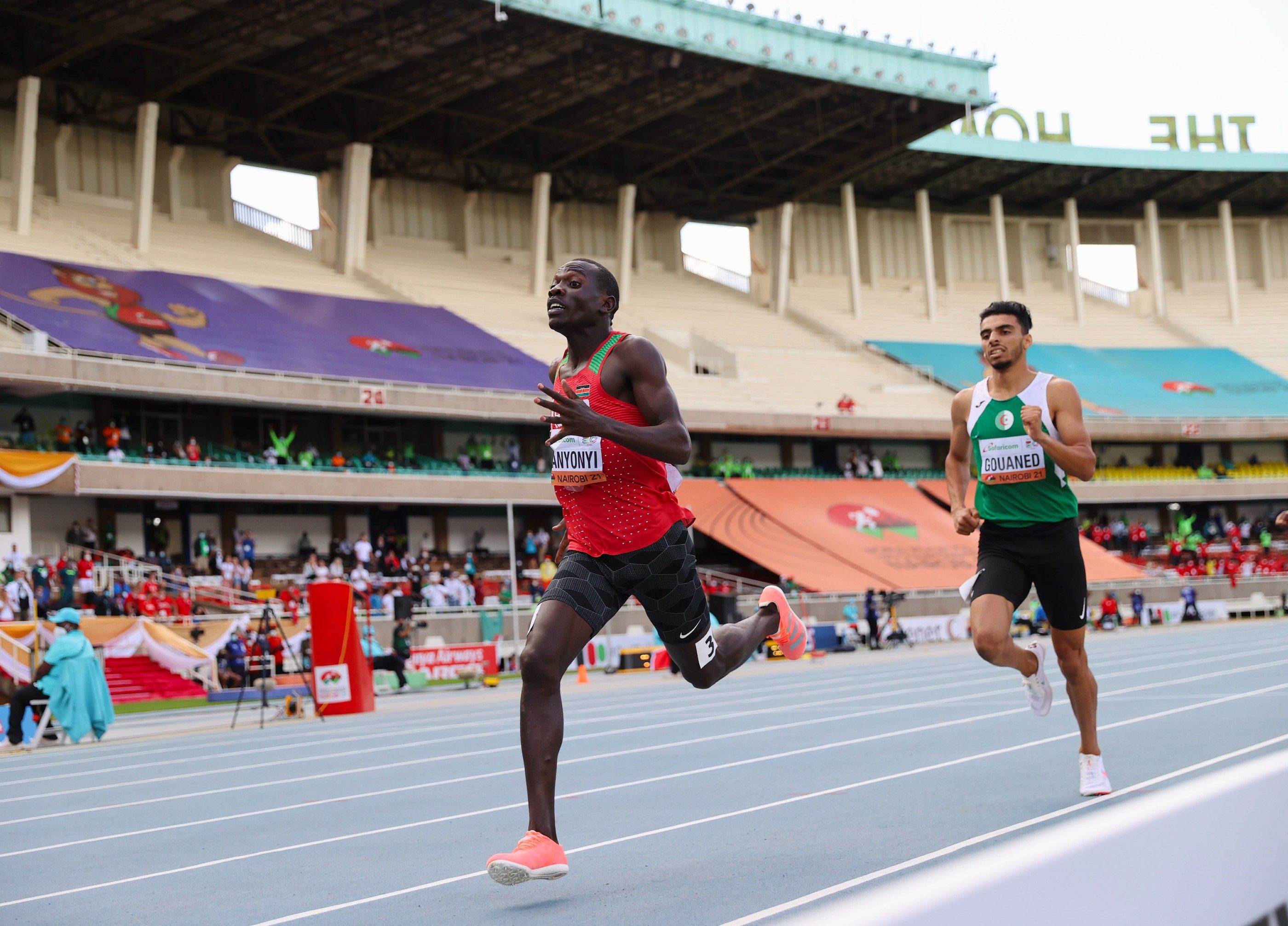 Emmanuel Wanyonyi on his way to a championship record in the 800m in Nairobi (© Dan Vernon)

Kibet, also just 18, is only a few months older than Wanyonyi, but has already gained two medals from the two global championships he has contested over the past 12 months, earning world U20 bronze last year and world indoor silver back in March.
In a race held in challenging conditions at the Wanda Diamond League meeting in Doha, Kibet won in 1:49.08, beating a high-quality field. He went on to finish fourth in Ostrava in a season's best of 1:44.89.
Like Korir, USA's Donavan Brazier has a wildcard entry as the 2019 champion in Doha, and despite dealing with injury this season he is determined to defend his title on home soil in Oregon. The 25-year-old, who won his world title in a championship and area record of 1:42.34, finished sixth at the Diamond League meeting in Doha in May and then won his heat at the US Championships.
The host nation's team will include another major medallist in Bryce Hoppel, the 2019 world fourth-place finisher who claimed world indoor bronze in March and won the US Championships in a season's best of 1:44.60 ahead of Jonah Koech and Brandon Miller.
Performances this season are led by Britain's Max Burgin, who broke the European U20 800m record with 1:44.14 in Ostrava in May 2021 but was then sidelined with injury until this year's meeting in the Czech city. He finished third there on his comeback but then ran a world-leading PB of 1:43.52 to win in Turku two weeks later.
Canada's Pan American Games winner Marco Arop won at the Diamond League in Birmingham and then ran his second-quickest ever time with 1:43.61 in Edmonton a week ago, putting him third on this season's top list. Just behind him are Morocco's Moad Zahafi, who won the NCAA title at Hayward Field last month and ran a PB of 1:43.69 in April, and Algeria's Djamel Sejati, who matched that time in June and won the Mediterranean Games title on home soil at the start of this month. Sejati's compatriot Yassine Hethat finished second at the Mediterranean Games and also competes, as does the fast-finishing Stockholm Diamond League winner Slimane Moula.
Benjamin Robert of France exited in the heats of the Tokyo Olympics but has improved his PB by 0.78 this year and is one to watch following that 1:43.75 win at the Paris Diamond League and runner-up finishes in Birmingham and Stockholm.
Australia's Olympic fourth-place finisher Peter Bol is also in PB form and improved the Oceanian record to 1:44.00 when finishing second to Robert in Paris.
Former 400m hurdles specialist Dobek also returns to the global stage after his bronze in Tokyo, as does Dutch Olympic 4x400m silver medallist Tony van Diepen.
Women's 800m
Timetable | world rankings | 2022 world list | world all-time list | how it works
In Tokyo last August, Athing Mu became the second US woman to win an Olympic 800m title. Now, on home soil at the World Athletics Championships Oregon22, she has the chance to become her nation's first ever winner in the event.
Mu won a brilliant battle between teenage talents to gain Olympic gold last year, running a national record of 1:55.21 to edge her fellow 19-year-old Keely Hodgkinson with a British record of 1:55.88.
They have both since turned 20 and are ready to renew their rivalry, which continues to motivate them both to aim for even greater achievements.
"A lot of times I get asked, what are my next goals?" Mu said following her Female Rising Star win at the World Athletics Awards 2021. "And I think about the world record and all those types of things. I think the 800m is moving in a new direction, especially with Keely and I being super young and super competitive with one another. I am just excited because I know when you have good athletes in one race all shooting for the same thing, running with the same determination and everything, we can go pretty far. I definitely believe that in the 800m, we're going to make some history in that event over the coming years."
Oregon offers the next major stage on which to do it.
Eugene's Hayward Field – venue for the World Championships – is where Mu ran her 400m PB of 49.57 to win the NCAA title last year. She then claimed her first US title there in the 800m and later in the season improved her PB and US record to win the Wanda Diamond League race on the same track in 1:55.04. Returning to Eugene last month, she retained her US title in 1:57.16, narrowly holding off two-time world bronze medallist Ajee Wilson (1:57.23).
But Hodgkinson also has experience of winning at Hayward Field – she triumphed at the Diamond League meeting there in May but was denied a clash with Mu on that occasion as her US rival was a late withdrawal due to contracting Covid-19.
Things also haven't gone completely to plan for Hodgkinson this year and she was unable to compete at the World Indoor Championships in March through injury. She rebounded with Diamond League wins in Birmingham, Eugene and Oslo and has shown great consistency, running 1:57.72 in Eugene and then 1:57.71 in Oslo. But it was her runner-up finish in Stockholm – the final Diamond League meeting before the World Championships – which further reinforced that it won't just be a two-way clash for the world crown in Oregon.
There, in the historic Olympic Stadium, another rising star launched herself into medal contention. In only her second full 800m season, Kenya's 22-year-old Mary Moraa – the 2017 world U18 400m silver medallist – went close to the 1:57.45 PB she had set at the Kenyan trials six days earlier and won in 1:57.68 to Hodgkinson's 1:58.18. The day after her 800m trial win, she took the Kenyan 400m trial race in a national record of 50.84 but has decided to focus on the two-lap event in Oregon.
When it comes to senior major championships, Moraa doesn't have the same level of experience as some of her rivals, including Wilson who won world outdoor bronze in 2017 and 2019 and has three world indoor medals, including the title she won in Belgrade in March – her first senior global gold.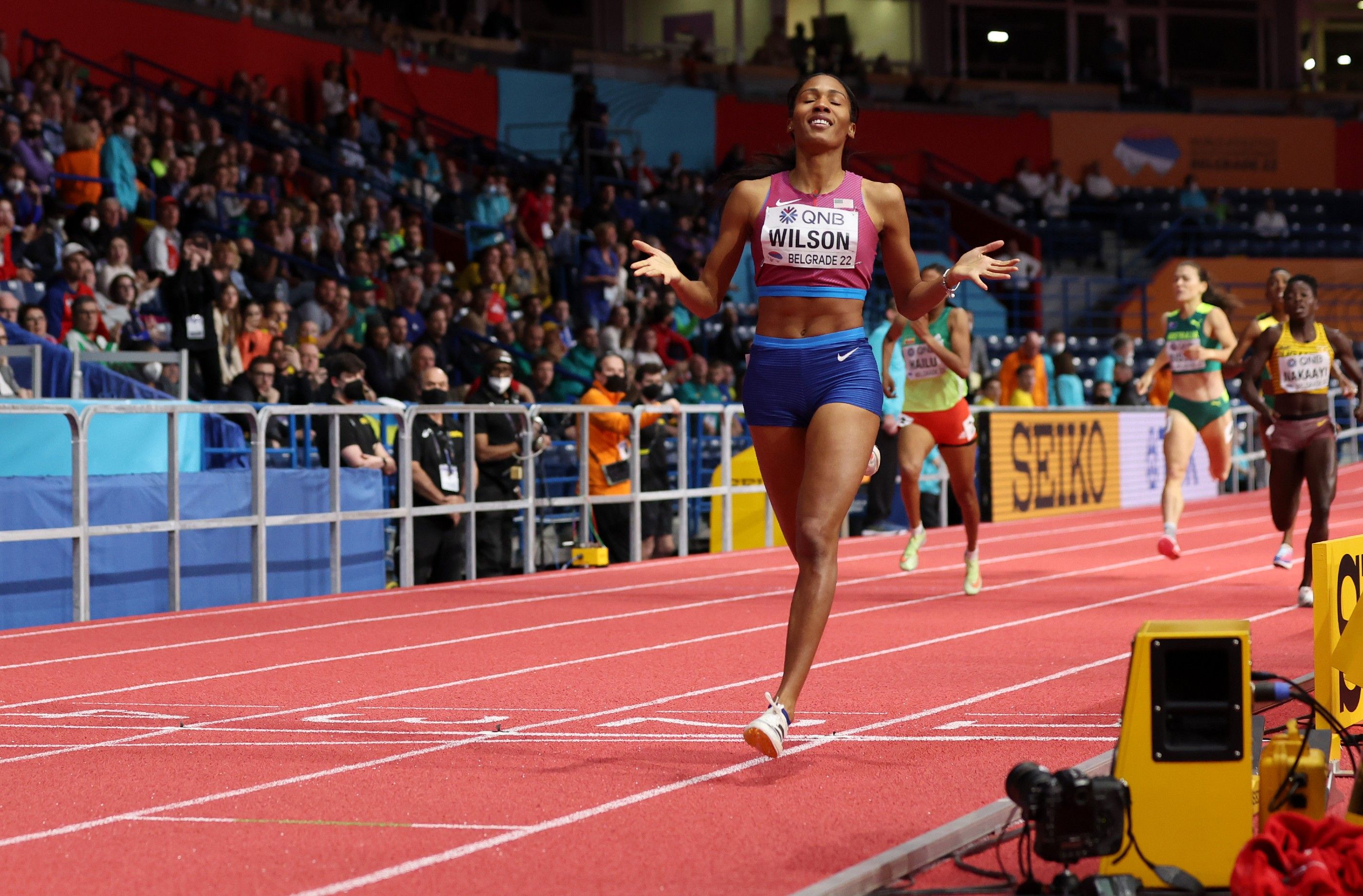 Ajee Wilson celebrates her world indoor 800m win in Belgrade (© Getty Images)

Wilson is No.2 this season with her 1:57.23 from the US Championships, Mu heading that top list with the 1:57.01 she ran to win in Rome. Then it's Moraa, Hodgkinson and Raevyn Rogers, who ran 1:57.96 for third place at the US Championships and has an even stronger connection to Hayward Field.
The 25-year-old studied Spanish and art at the University of Oregon and when the reimagined Hayward Field was completed, she was one of the five track and field legends to feature on its tower. A world silver medallist behind Uganda's Halimah Nakaayi and ahead of Wilson at the 2019 event in Doha, Rogers went on to claim Olympic bronze behind Mu and Hodgkinson in Tokyo.
A total of 14 entered athletes have dipped under 1:59 in the event this season, including 20-year-olds Diribe Welteji of Ethiopia and Prudence Sekgodiso of South Africa, plus Britain's Jemma Reekie, Renelle Lamote of France, Australia's Catriona Bisset and defending champion Nakaayi, who will all want to make their mark in the final.
The 2018 world U20 800m champion Welteji ran a PB of 1:58.28 to win at the World Athletics Continental Tour Gold meeting in Chorzow, while Sekgodiso is also in PB form and ran 1:58.41 to win in Nairobi in May.
Nakaayi was a surprise winner in Doha three years ago and was unable to make the final in Tokyo, but she set a national record of 1:58.03 earlier that season and in March she battled to bronze at the World Indoor Championships.
Others to keep an eye on include Jamaica's Natoya Goule, Cuba's Rose Mary Almanza, Ethiopia's Hirut Meshesha and Italy's Elena Bello.
Jess Whittington for World Athletics