USA quartet wins the mixed 4x400m relay in a world record time at the World Athletics Championships Doha 2019 (© Getty Images)
Women's 4x400m
Timetable | 2022 world list | world all-time list | how it works
On the heels of their seventh successive Olympic victory, the US women's 4x400m team won't want to relinquish their dominance of the four-lap relay on home soil at the World Athletics Championships Oregon22.
The USA has won six of the past seven world titles in this discipline. And, such is their dominance, they could field a team made entirely of non-specialist 400m runners and still win by a comfortable margin.
Indeed, their team at last year's Tokyo Olympics included Olympic 400m hurdles champion Sydney McLaughlin, world 400m hurdles champion Dalilah Muhammad and Olympic 800m champion Athing Mu. All three could once again be drafted in for relay duty in Oregon, while legendary sprinter Allyson Felix, who joined that trio in the women's 4x400m at the Tokyo Olympics, will be utilised in the mixed event.
US 200m champion Abby Steiner, who has produced a couple of sub-49-second splits for the University of Kentucky this year, could also theoretically be used for the 4x400m, so too could US 400m champion Talitha Diggs, who is a sub-50-second sprinter at her best.
In short: regardless of who the US ends up using for the relay, their team will still start as favourite.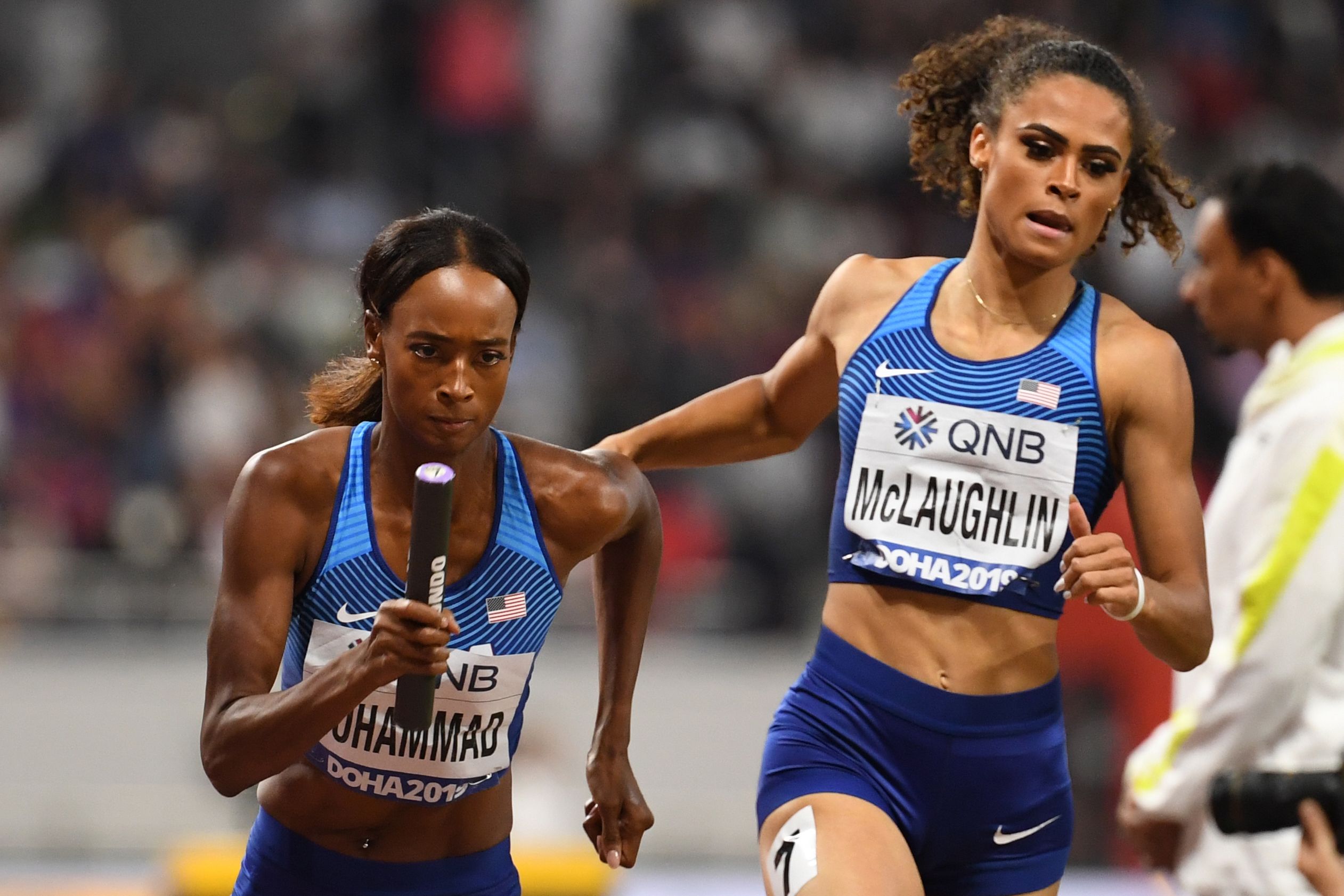 Dalilah Muhammad and Sydney McLaughlin in the 4x400m in Doha (© AFP / Getty Images)
They're not unbeatable, though, especially as anything can – and will – happen in a relay.
Jamaica was the last nation to defeat the USA in this event at an outdoor global championships, winning the 2015 title. Stephenie Ann McPherson, who was part of that victorious quartet seven years ago, will be in Oregon and will be buoyed from anchoring Jamaica to gold at this year's World Indoor Championships in Belgrade.
She'll be joined on the Jamaican team by Olympic fifth-place finisher Candice McLeod and NCAA Championships runner-up Charokee Young, both of whom are sub-50-second sprinters at their best.
Of the four global relay contests held over the past three years – the 2019 World Championships, 2021 World Relays, 2021 Olympic Games and 2022 World Indoors – Poland is the only nation to have reached the women's 4x400m podium on every occasion.
Silver medallists in Doha and Tokyo, Poland will no doubt once again be a factor in Oregon, especially as Natalia Kaczmarek (50.16) and Anna Kielbasinska (50.28) have both been in PB form this year. Add in relay stalwarts Justyna Swiety-Ersetic and Iga Baumgart-Witan, and it's hard to see them not making the podium.
Great Britain & Northern Ireland are often a factor in major championships relays, and they'll no doubt feature in the final in Oregon, led by UK champion Victoria Ohuruogu, younger sister of 2008 Olympic champion Christine.
Canada finished a surprising fourth in Tokyo last year, just 0.60 shy of bronze medallists Jamaica. Their depth is only slightly down on what it was 12 months ago, so with the right line-up they could once again feature.
World indoor silver medallists Netherlands will have Olympic 400m hurdles bronze medallist Femke Bol in their armoury, along with 50.80 performer Lieke Klaver. They placed sixth in Tokyo last year and will be keen to improve on that.
The Bahamas has also entered a team with two-time Olympic champion Shaunae Miller-Uibo on their roster. Their first task, however, will be advancing to the finals.
Other likely finalists include World Relays winners Cuba and Olympic finalists Belgium.
Men's 4x400m
Timetable | 2022 world list | world all-time list | how it works
No other nation can match the depth of the USA in the men's 400m.
Unsurprisingly, they have won seven of the past eight world titles and eight of the past 10 Olympic gold medals in this discipline.
But however great their depth appears on paper, sometimes when it comes to the 4x400m relay the contest is a lot closer than expected.
Take the Olympic final last year, for example. The US quartet featured four men who are capable of running close to – or even below – 44 seconds flat for 400m. And they duly won in 2:55.70. But the Netherlands – whose national record is slower than the slowest PB of the US 4x400m team and with just one man on the team that had broken 45.5 seconds that year – finished second in 2:57.18. That translates to roughly a third of a second difference per runner.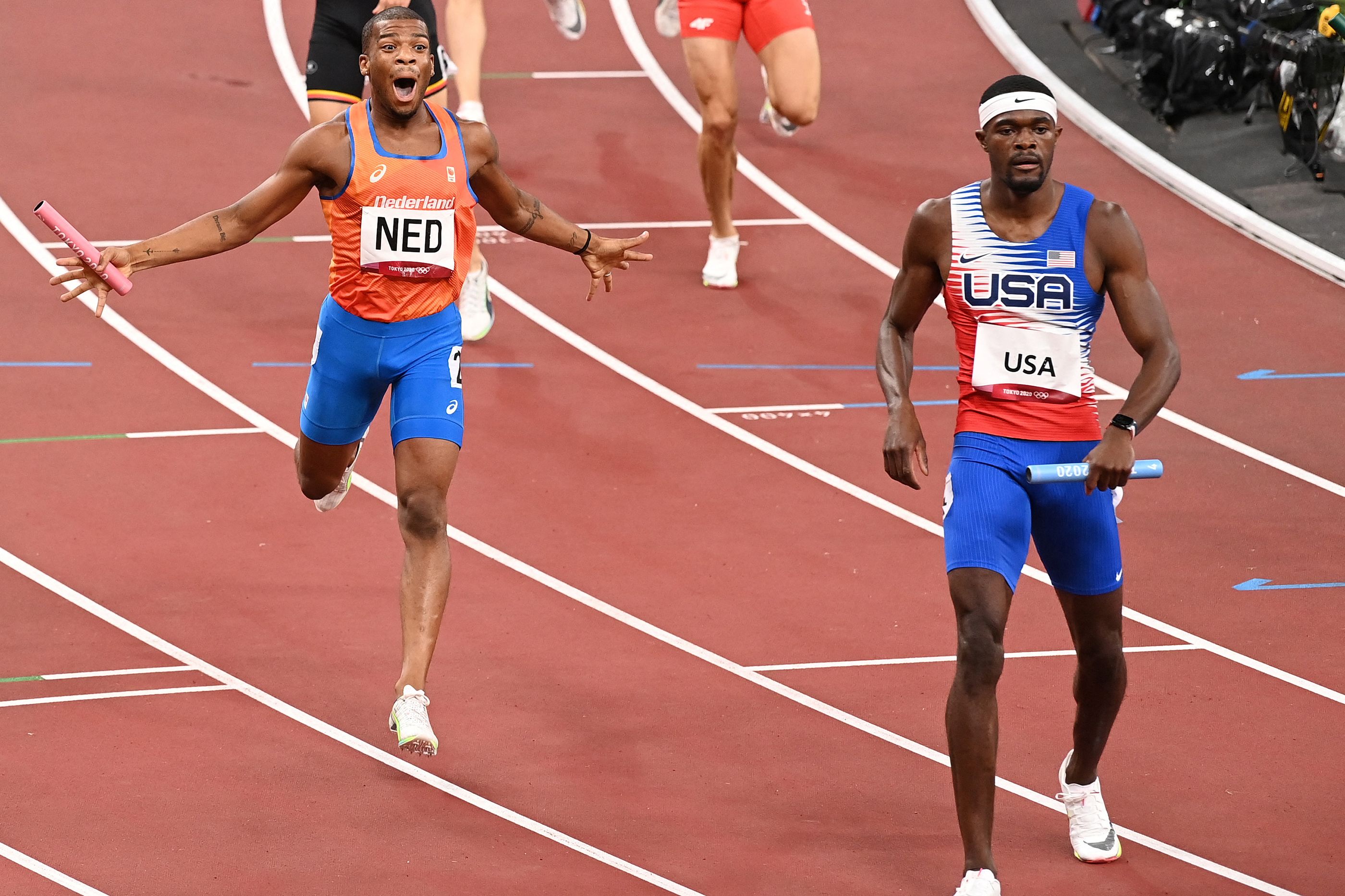 Ramsey Angela celebrates 4x400m silver at the Tokyo Olympics (© AFP / Getty Images)
Whether the Netherlands will be able to reproduce that kind of magic in Oregon – on the USA's home turf – is another matter entirely. Indeed, make no mistake that the USA will be heavily favoured to win this title yet again.
But, as ever, several teams will be doing their darnedest to beat them.
Olympic bronze medallists Botswana and fourth-place finishers Belgium also finished inside 2:58 in Tokyo, and they'll likely feature prominently in the final in Oregon.
Jamaica has the talent and depth to replicate their silver medal from Doha three years ago. Trinidad and Tobago, who famously beat the USA in this event at the 2017 World Championships, will also be in the medal hunt, led by world indoor 400m champion Jereem Richards.
Provided their leading men aren't too tired from the mixed relay and the individual 400m, the Dominican Republic could also be a factor in the men's 4x400m.
World 400m record-holder Wayde van Niekerk, meanwhile, has been named in the South African 4x400m team and they'll have hopes of reaching the final in Oregon.
Mixed 4x400m
Timetable | 2022 world list | world all-time list | how it works
On paper, the mixed 4x400m would play into the hands of the nations with the greatest 400m depth.
In reality, though, it also gives nations with just a couple of leading one-lapping men and women to be competitive on the global stage. And no nation illustrates this better than the Dominican Republic.
Just three women in the country have bettered 53 seconds this year, while four of their men have gone inside 46 seconds. But that pool includes Olympic silver medallist Marileidy Paulino, who has a 49.20 PB and holds the world lead at 49.49; 50.38 performer Fiordaliza Cofil; IberoAmerican champion Lidio Feliz, who has set a PB of 44.64 this year; and versatile sprinter Alexander Ogando, who has a best of 44.68.
It's easy to see why the Dominican Republic claimed Olympic silver last year, finishing 0.01 ahead of the USA. And, if anything, all members of their squad are stronger and faster this year, so expect them to feature in the medal hunt once more.
But the USA won't want to surrender their title, especially not on home soil. They won the inaugural world title in the mixed 4x400m in Doha, clocking a world record of 3:09.34 and winning by more than two seconds. They boast six of the nine fastest men's 400m runners in the world this year – including world leader Michael Norman – while sprint superstar Allyson Felix is also included in their mixed 4x400m relay pool.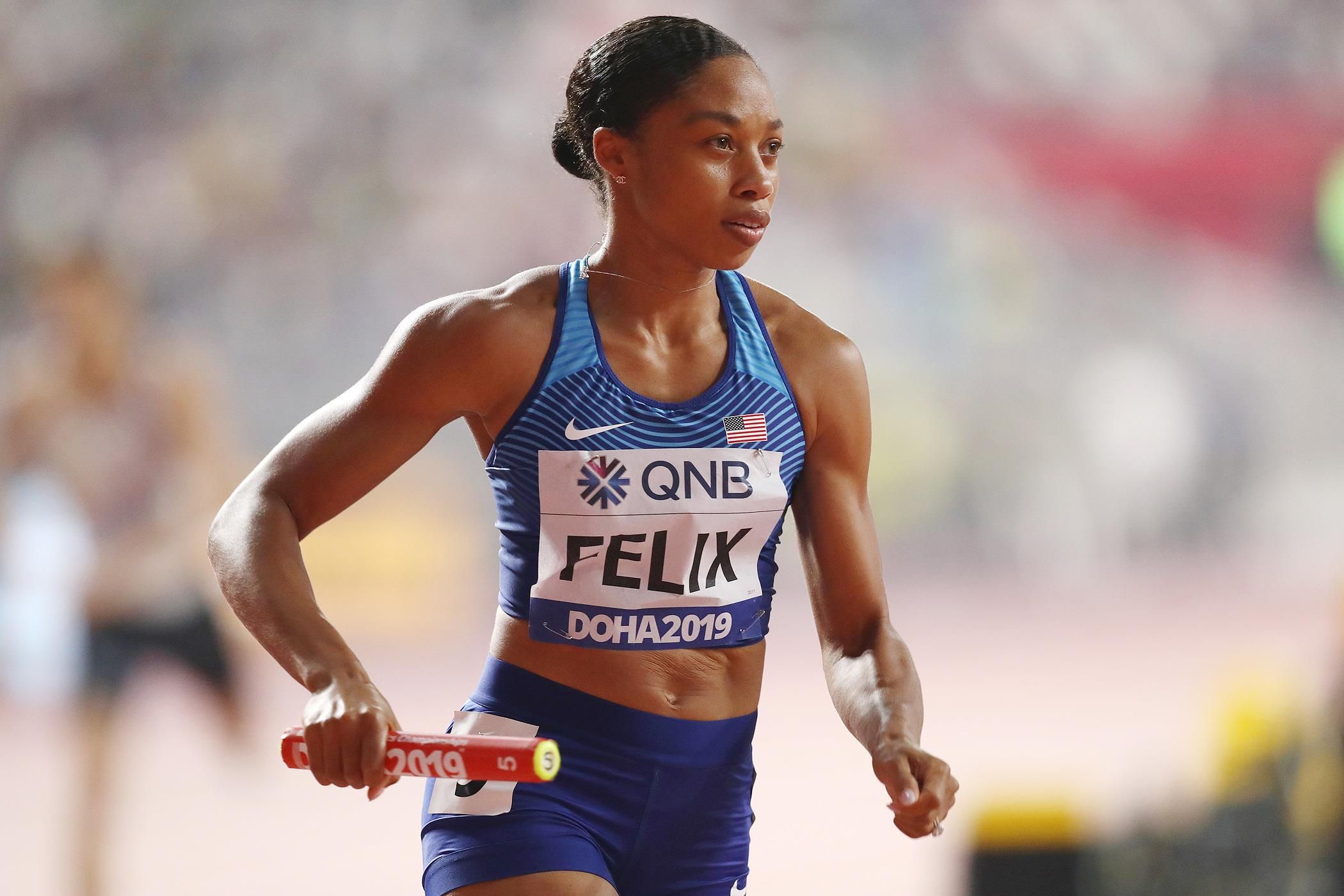 Allyson Felix in the mixed 4x400m at the World Athletics Championships Doha 2019 (© Getty Images)
It will likely take a world record to win in Oregon, especially as Poland – who won the Olympic title last year in a European record of 3:09.87, just half a second shy of the world record – will be out in force. With a potential gold medal on the line, expect them to put forward their strongest possible team for the final.
Jamaica took silver in Doha three years ago, but finished back in seventh in Tokyo, albeit without several of their one-lap stars. Should they go with their best 400m sprinters, the Caribbean nation has the talent and ability to challenge for a medal.
The Netherlands has turned their fortunes around in all 4x400m events in recent years, and they finished fourth in the mixed relay in Tokyo, just 0.14 shy of a medal. The likes of Femke Bol, Liemarvin Bonevacia, Lieke Klaver and Ramsey Angela could once again team up to produce a pretty formidable foursome.
Great Britain & Northern Ireland didn't qualify a team for the men's 4x400m, so their leading men will be able to channel all of their energy into the mixed relay, bolstered by their top 400m women.
The Belgian team, often powered by at least 50% Borlees, should also feature prominently. They placed fifth in Tokyo in the mixed event, while their men's team went on to win the world indoor title earlier this year and their women's squad also continues to improve.
Italy and Brazil, who occupied the top two places in this event at the World Relays last year, should also be a factor.
Jon Mulkeen for World Athletics