Nia Ali on her way to winning the 100m hurdles at the World Athletics Championships Doha 2019 (© Getty Images)
Despite all she has already achieved in the sport, Nia Ali feels that in a way, she is just getting started.
"It sounds crazy, but I feel like I am having a late development, if that makes sense," says the three-time world sprint hurdles gold medallist.
"I was NCAA champion back in 2011, but I have learned so much since then. I'm still learning a lot now.
"It has been my best year so far in terms of how I've approached training and how I have been able to stay the course with everything. It's been falling into place."
In a season that offers her the chance to defend her world 100m hurdles title on home soil at the World Athletics Championships Oregon22, that certainly bodes well. After winning back-to-back world indoor 60m hurdles titles in 2014 and 2016, Ali glided to her first global outdoor gold in Doha in 2019. Following that race she was joined on the track by her then four-year-old son Titus and one-year-old daughter Yuri, and later hailed the performances of her fellow mothers, including Shelly-Ann Fraser-Pryce and Allyson Felix, as providing her with inspiration.



Ali and her partner Andre De Grasse – Canada's Olympic 200m champion – have since welcomed their son Kenzo into the world, and being a source of inspiration herself is among the 33-year-old's main motivators.
"I know it means so much more now, because I see people who reach out to me about being inspired and motivated – moms from all walks of life," she explains. "That's really what motivates me the most – that's why I do it. Not just for the athlete who is trying to come back, but the everyday mom who is just trying to get herself through postpartum and get to work.
"I am just trying to come back stronger than ever, so everyone around me can be motivated."
She is succeeding in that respect.
In 2016, following her second world indoor title win, Ali explained how pregnancy had previously been considered as marking the end of an elite career. But she has shown that is far from the case. Rather than it being detrimental, Ali believes motherhood has helped her to become a better athlete.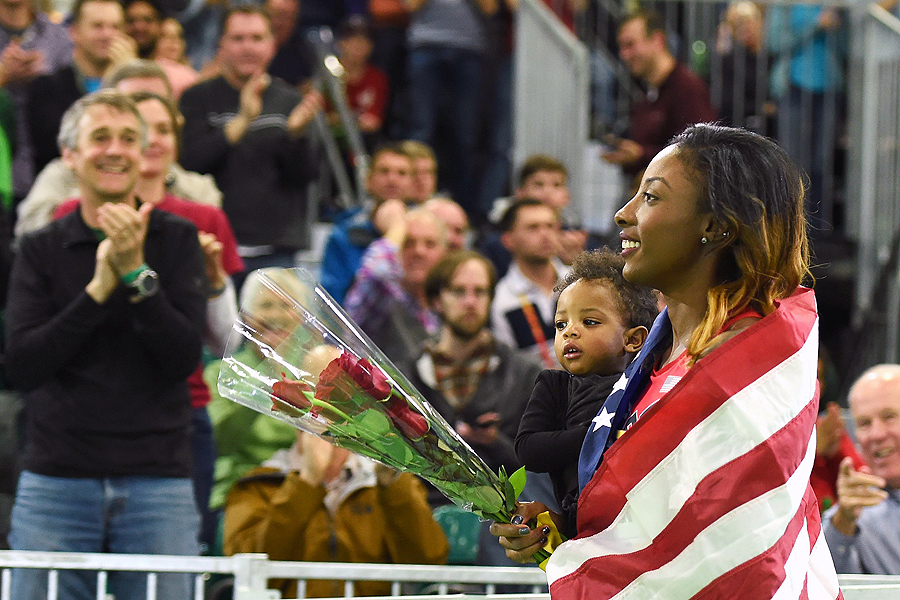 Nia Ali after winning the 60m hurdles at the IAAF World Indoor Championships Portland 2016 (© AFP / Getty Images)

"As I am growing as a parent, it helps me grow as an athlete," she says. "Being able to manage a household, it just gives me a whole new perspective at training and the way I go there – I'm able to compartmentalise now so much better, I am able to build on the lessons I learned as a parent and bring them to the track. It has been an amazing journey and I'm blessed to still be out there."
On those lessons learned, she adds: "It's a lot to do with perseverance and patience. The range (in her children's ages) – seven years to newborn, and how newborn always changes. New toys, new activities, the way you raise a child, the way you parent. The methods that people use, they change, so I'm always learning and finding something new.
"I take that over to training – constantly asking questions, constantly being a student and studying the sport and myself: how can I grow? Also with patience – having to be able to take that deep breath so often, every day! I am able to dial back in immediately after I make a mistake in training and figure out what needs to be done right there at the time. Focus on that and let it go."
The innocence of children also helps to remind her of her passion for the sport.
"They don't look at it as work, because they do it for fun!" she laughs. "So, they are like 'oh, you're going to work? No, you're going to track practice!' And I'm like 'yes, but it's work!' So when we come home they're jumping on us and we're like, we've got to try to recover, please get off my legs!
"Seeing how natural it is just reminds you that innately, this is you – you have all of this. All this fearlessness. My daughter will jump from the top of the slide in the playground and I'm like, at one point, I used to do that! Now I think about everything. It reminds you to be fearless – this is still you. This is your DNA – you have this courage, you have this strength to attack it. From that mindset, sometimes it really does help."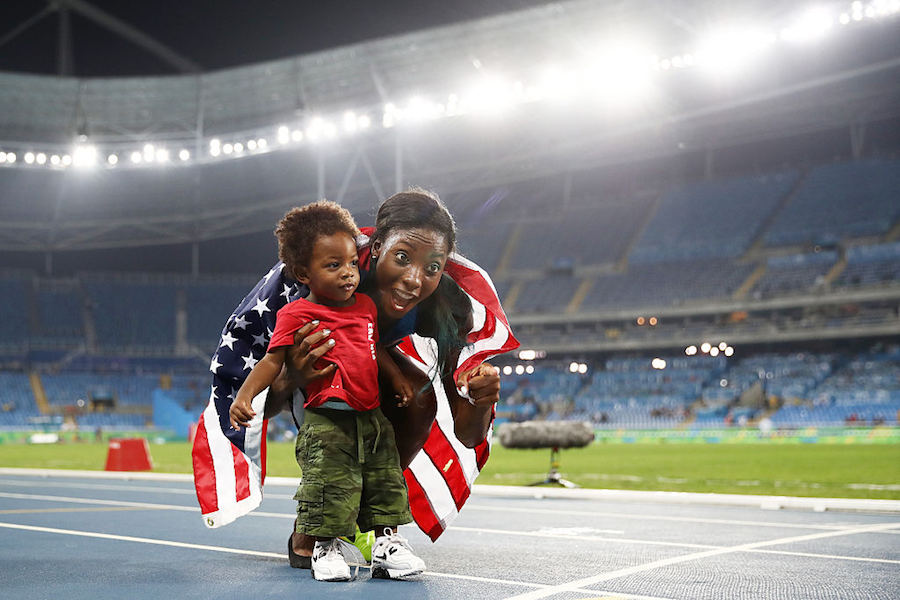 Nia Ali and son Titus Maximus celebrate in Rio

She has taken that attitude into this year. Ali's wind-aided 12.59 (3.7m/s) in Florida in March is her fastest ever 100m hurdles season opener in any conditions, while in her next meeting – the Tom Jones Memorial Invitational in April – she clocked a wind-legal 12.59. Never before had she run so fast at that stage of her season. She went on to claim top three spots in the World Athletics Continental Tour Gold events in Ostrava and Hengelo, as well as at the Wanda Diamond League meeting in Rome.
Next up is the USATF Championships, taking place 23-26 June at Hayward Field. Demonstrative of the strides being made, USATF has announced that through a partnership with &Mother – a non-profit organisation co-founded by multiple world 800m medallist Alysia Montano – an onsite childcare pilot for athletes and coaches will be on offer at the event.
For Ali, the national event is another step towards next month's World Athletics Championships at the same venue. As she has a wild card entry as a defending champion, USA can send four athletes in her event – an exciting prospect, particularly for a championships on home soil.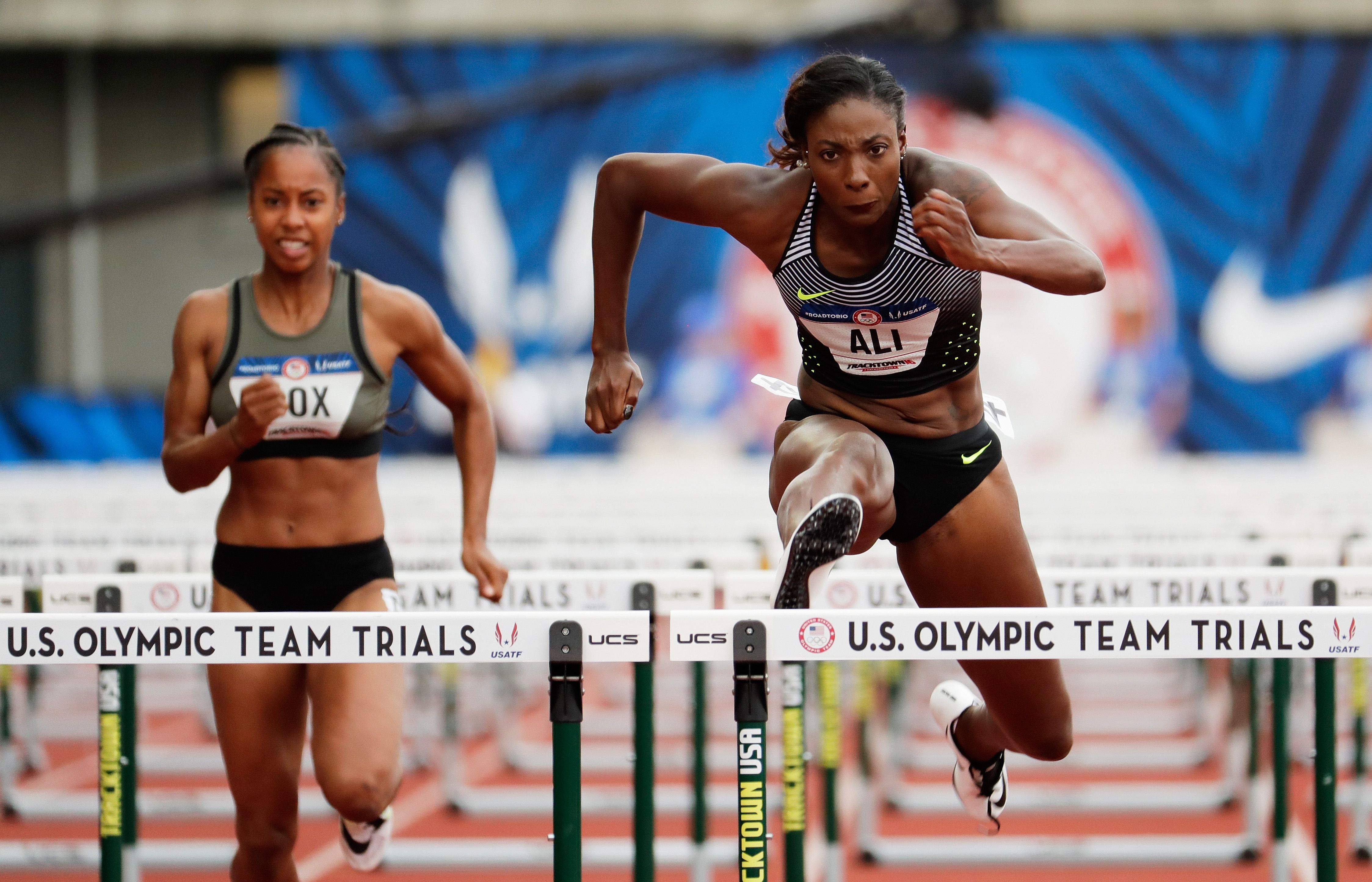 Nia Ali in action at the 2016 US Trials in Eugene (© Getty Images)

"I've only ever been (at a major championships) on home soil once before and that was World Indoors in Portland. So, to be back in Eugene and have that same energy, have my family there – they travel all the time for me but now they can come directly," says multiple national medallist Ali, who secured Olympic silver as part of a US top three at the 2016 Games in Rio.
"I'm excited, I'm anxious – everything. I want to just be able to channel all that energy into something positive and put on a great show for everybody."
And that won't stop in Oregon.
"Watching my competitors run last year and run spectacular times and have a great season, that is always motivating and it excites me to get back out there," she adds.
"I know I'm older but I don't feel it, so I want to continue to build on that and god willing I'm around through Paris (2024 Olympics) and trying to reach some more goals."
Jess Whittington for World Athletics