Tamirat Tola, Lonah Salpeter and Rosemary Wanjiru (© Getty Images / Dan Vernon)
Men's marathon
Timetable | world rankings | 2023 world list | world all-time list | how it works
In Oregon last year, Tamirat Tola ran his way into the World Championships history books with the fastest ever winning time in the men's marathon: 2:05:36. Thirteen months on, the 31-year-old Ethiopian has the chance to add his name to the select band of marathon men to manage a successful title defence.
Only three have achieved the feat thus far: Spain's Abel Anton (1997, 1999), Jaouad Gharib of Morocco (2003, 2005) and the Kenyan whose championship record Tola broke in Oregon, Abel Kirui (2009, 2011).
Tola was a class apart in 2022, the 2016 Olympic 10,000m bronze medallist showing his track pedigree as he blitzed the final 10km circuit in 28:31 to finish a decisive 1:08 clear of compatriot Mosinet Gerenew, also the silver medallist in Doha in 2019.
Tola, who was the marathon runner-up at the 2017 World Championships, has maintained his form this year, finishing third at the London Marathon in April in 2:04:59, behind Kelvin Kuptum (2:01:25) and Geoffrey Kamworor (2:04:23).
Neither of those two Kenyans will be on the start line in Budapest, but the defending champion will face two rivals from Kenya who have run faster than him in 2023. Timothy Kiplagat stands third on the world list with the 2:03:50 he clocked as runner-up to Belgium's Bashir Abdi in Rotterdam in April. Abdi, the bronze medallist in Eugene, will be absent in Budapest but Kiplagat will be joined on the Kenyan team by Joshua Belet, runner-up at the Hamburg Marathon in April in 2:04:33. The third Kenyan in the field is Titus Kipruto, fourth at this year's Tokyo Marathon in 2:05:32, who set a PB of 2:04:54 as runner-up in Amsterdam last year.
Ethiopians have finished first and second at the last two World Championships and Tola will have notable support in Budapest. Milkesa Mengesha, the 2019 world U20 cross-country champion, won the Daegu Marathon in April and clocked a best of 2:05:29 in Valencia last December. Chalu Deso won in Tokyo in March in 2:05:22. Leul Gebresilasie finished second and fourth at the last two London Marathons and has a best of 2:05:12. Tsegaye Getachew placed third in Tokyo in April in 2:05:25.
Not that the race looks like being an exclusive battle between the two established East African giants of distance running.
Abdi Nageeye of the Netherlands was runner-up to Eliud Kipchoge in the 2021 Olympic marathon in Sapporo. The 34-year-old finished third in New York last November and in Rotterdam in April.
Tanzania's Alphonce Felix Simbu is a seasoned major championship marathon campaigner. The 31-year-old earned world bronze in London in 2017 and Commonwealth silver in Birmingham last year. He also finished fifth and seventh in the last two Olympic marathons.
Commonwealth champion Victor Kaplangat is joined on the Ugandan team by Stephen Kissa, who set a national record of 2:04:48 in Hamburg last year. Morocco's Mohamed Reda El Aarby placed second in New York in 2021 and fourth last year.
There are a host of other sub-2:06 performers in the field: Israel's European bronze medallist Gashu Ayale, Kaan Kigen Ozbilen of Turkey, Eritreans Goitom Kifle and Oqbe Kibrom, plus the Japanese duo Kenya Sonota and Ichitaka Yamashita.
Ayale's Israeli teammate Marum Terifi is the second-highest placed runner from last year's race on the entry list. He finished 11th in Oregon and then took silver at the European Championships in Munich.
Veteran Spaniard Ayam Lamdassem was sixth in Munich but fifth at global level in the Olympic marathon in 2021. Another 41-year-old on the start line will be the remarkable Ser-od Bat-Ochir. The Mongolian is unlikely to be troubling the medal contenders but will be contesting his 11th successive World Championships marathon – his 16th successive global championship marathon, having also contested the past five Olympic marathons.
Bat-Ochir made his world debut in Paris back in 2003 and boasts a highest placing of 19th in Daegu in 2011. He finished 26th in Oregon last year, his second-best global performance. His appearance in Budapest will match Portuguese race walker Joao Viera's tally of 11 – two shy of Spanish race walker Jesus Angel Garcia's record.
Women's marathon
Timetable | world rankings | 2023 world list | world all-time list | how it works
In Oregon last year Gotytom Gebreslase won in the fastest ever time in a women's championship marathon, 2:18:11, but the Ethiopian will have to beat two of the six fastest women of all time if she is to successfully defend her title in Budapest.
The 2011 world U18 3000m champion was unable to keep up with one of them on the rolling hills of Boston in April, finishing 10th in her only marathon of the year in 2:24:34 – eight places and 2:44 behind compatriot Amane Beriso Shankule, who was runner-up to two-time world champion Hellen Obiri.
At 31, the formerly injury-plagued Beriso produced a stunning performance in Valencia in December last year, upsetting world 10,000m champion Letesenbet Gidey's world record attempt with a victory in 2:14:58, putting her third on the world all-time list behind Kenyans Brigid Kosgei (2:14:04) and Ruth Chepngetich (2:14:18).
Gebreslase will also have to contend with Rosemary Wanjiru, who moved above Gidey to sixth on the world all-time list with a winning time of 2:16:28 in Tokyo in March. The 28-year-old Kenyan, fourth in the world 10,000m final in Doha in 2019, clocked one of the fastest marathon debuts in history, 2:18:00, as runner-up to Ethiopia's Tigist Assefa in Berlin last year.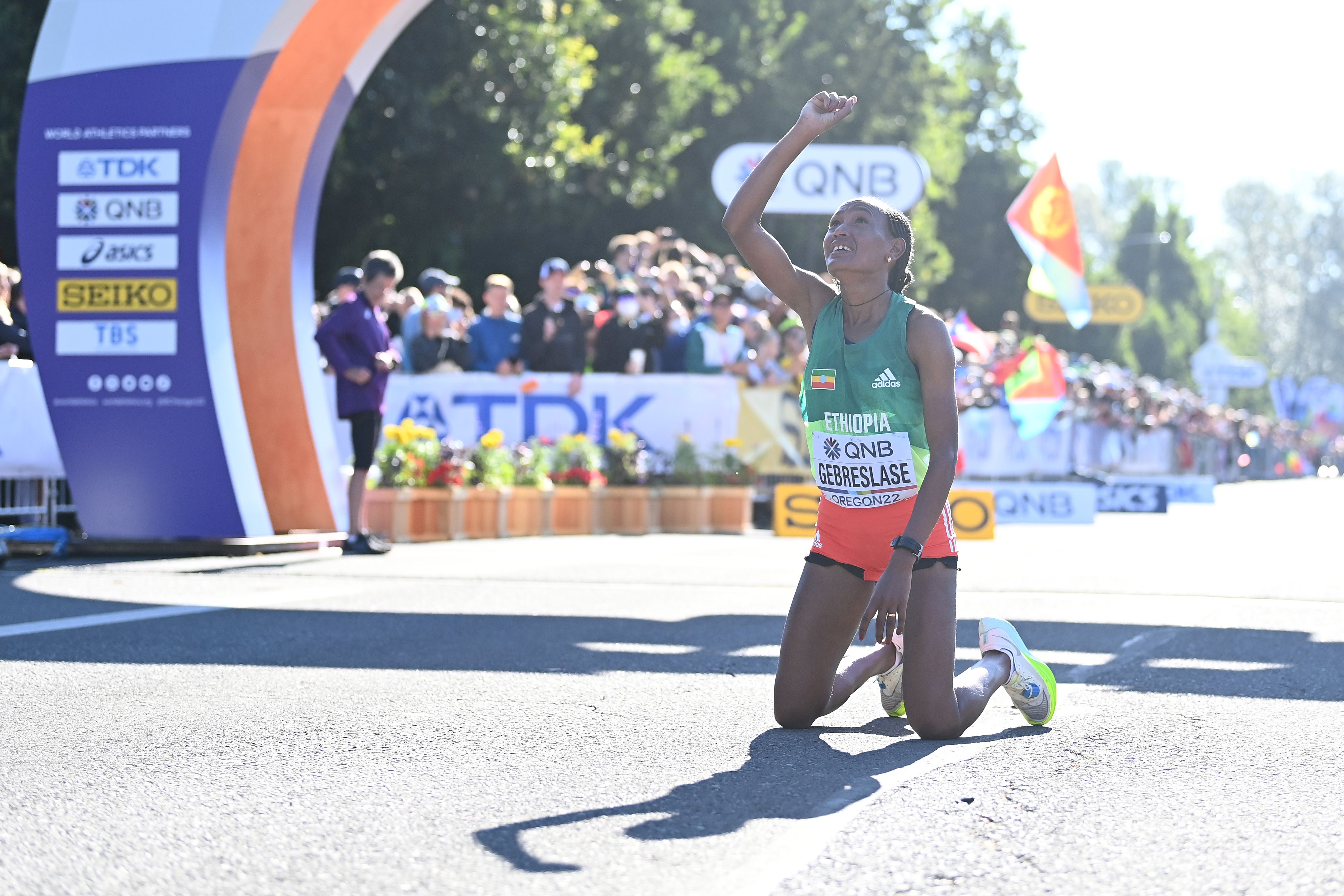 Gotytom Gebreslase celebrates her marathon win at the World Athletics Championships Oregon22 (© Getty Images)
In addition to Gebreslase, five other finishers from the top 10 in Oregon last year will be on the start line: bronze medallist Lonah Salpeter from Israel and fourth-placed Nazret Weldu of Eritrea, plus Keira D'Amato of the US (eighth), Japan's Mizuki Matsuda (ninth) and Mexico's Citiali Moscote (10th).
The loaded field also includes the second-fastest woman of 2023, Ethiopia's Tsehay Gemechu, the runner-up to Wanjiru in Tokyo in 2:16:56, who finished fourth in the 5000m in Doha in 2019, and Bahrain's 2017 marathon world champion Rose Chelimo.
The Ethiopian challenge will be strengthened by world 10km record-holder Yalemzerf Yehualaw, who ran 2:17:23 on her marathon debut last year then won in London later in 2022 before finishing fifth at this year's edition of the race. Wanjiru, meanwhile, is joined on the Kenyan team by 2014 world half marathon bronze medallist Selly Kaptich, who was third in Berlin in 2019, and Shyline Jepkorir, a winner in Enschede in April in 2:22:45.
At 36, the veteran Kaptich is four years younger than Australia's two-time Commonwealth medallist Lisa Weightman, who showed her enduring class with 2:23:15 for fourth place in Osaka in February.
Another notable entrant is Poland's Aleksandra Lisowska, who broke away in the final 2km to win the European title in Munich 12 months ago.
Simon Turnbull for World Athletics