Haruka Kitaguchi in the javelin at the World Athletics Championships Budapest 23 (© Getty Images)
For Haruka Kitaguchi, there is no shortage of motivational fuel as she looks to the road ahead in the aftermath of her dramatic last ditch golden throw in the women's javelin final at the World Athletics Championships Budapest 23.
Struggling all night to find the rhythm and technique that took her to a world lead of 67.04m at the Silesia Diamond League meeting on 16 July, the 25-year-old Japanese thrower unleashed a mighty sixth round effort of 66.73m to propel herself from fourth to first.
In doing so, the beaming Kataguchi earned a place in the track and field history books as the first Asian athlete to claim the women's javelin crown, snatching the gold from the inspired 32-year-old Colombian Flor Denis Ruiz Hurtado, who led from round one with a 65.47m area record.
In an explosion of joy, the native of Asahikawa in Hokkaido province rushed to the perimeter fence to embrace her coach David Sekerak, a Czech javelin guru clad in a Japanese backroom team polo shirt.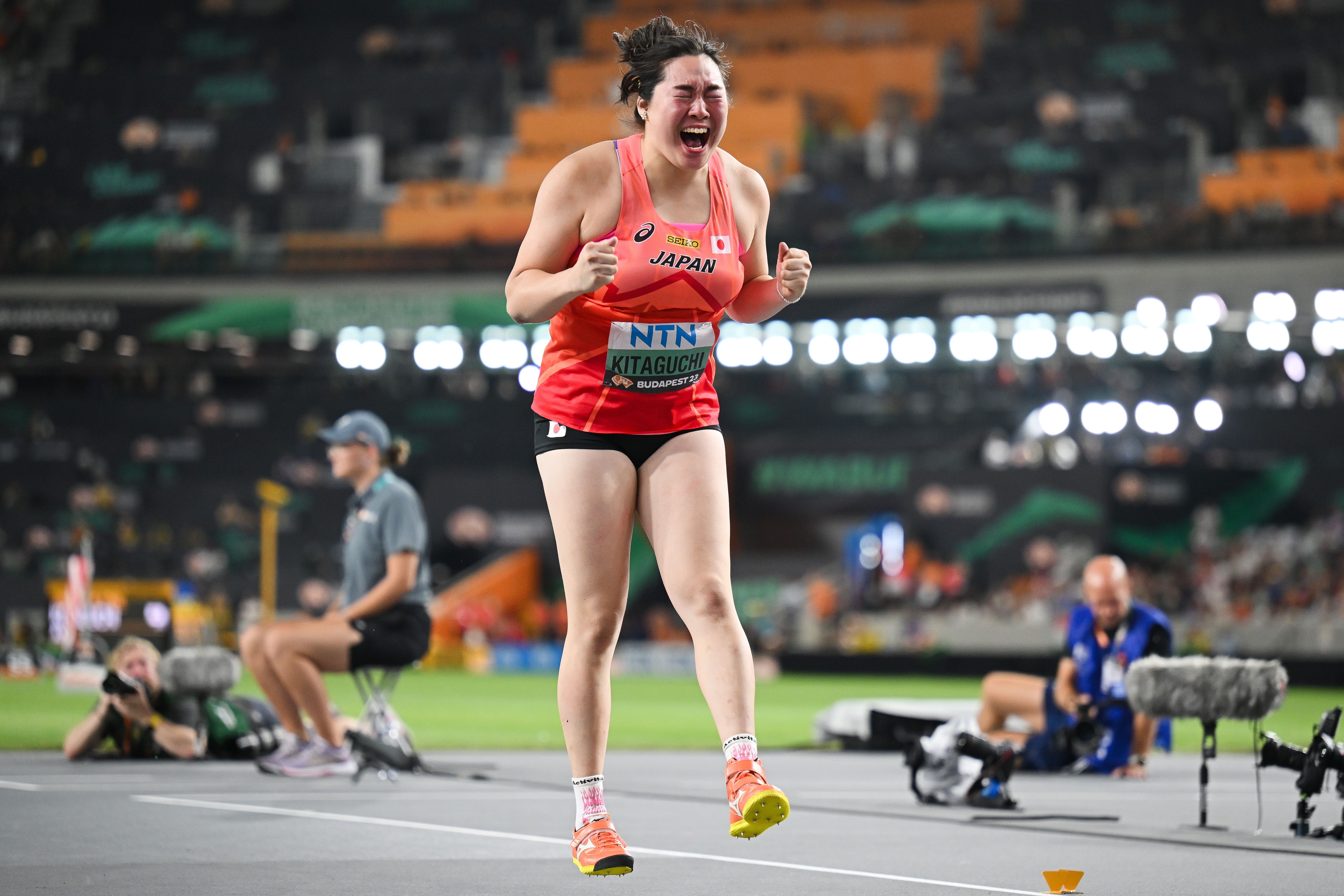 Haruka Kitaguchi celebrates her javelin win at the World Athletics Championships Budapest 23 (© Getty Images)
Kitaguchi continues to make history for her homeland. The rapidly rising daughter from the Land of the Rising Sun acquired bronze last year in Oregon a medal first for Japan in the women's throws – and in Budapest she had the golden touch.
"I was very nervous coming here, even in the qualifying round," she confesses. "It was my first time throwing at the World Championships as number one. It was a big pressure for me."
The pressure level is likely to rise several notches when the new golden girl of Japanese sport comes to defend her world title. The 2025 World Athletics Championships will be held in Tokyo, which has become her base when she returns home.
Kitaguchi competed in the Olympic Stadium there in 2021, but without any spectators in attendance and when she was still finding her feet on the senior stage, making the final but finishing 12th and last with 55.42m.
It will be different for her in 2025. And, before then, on the Olympic stage in Paris next year.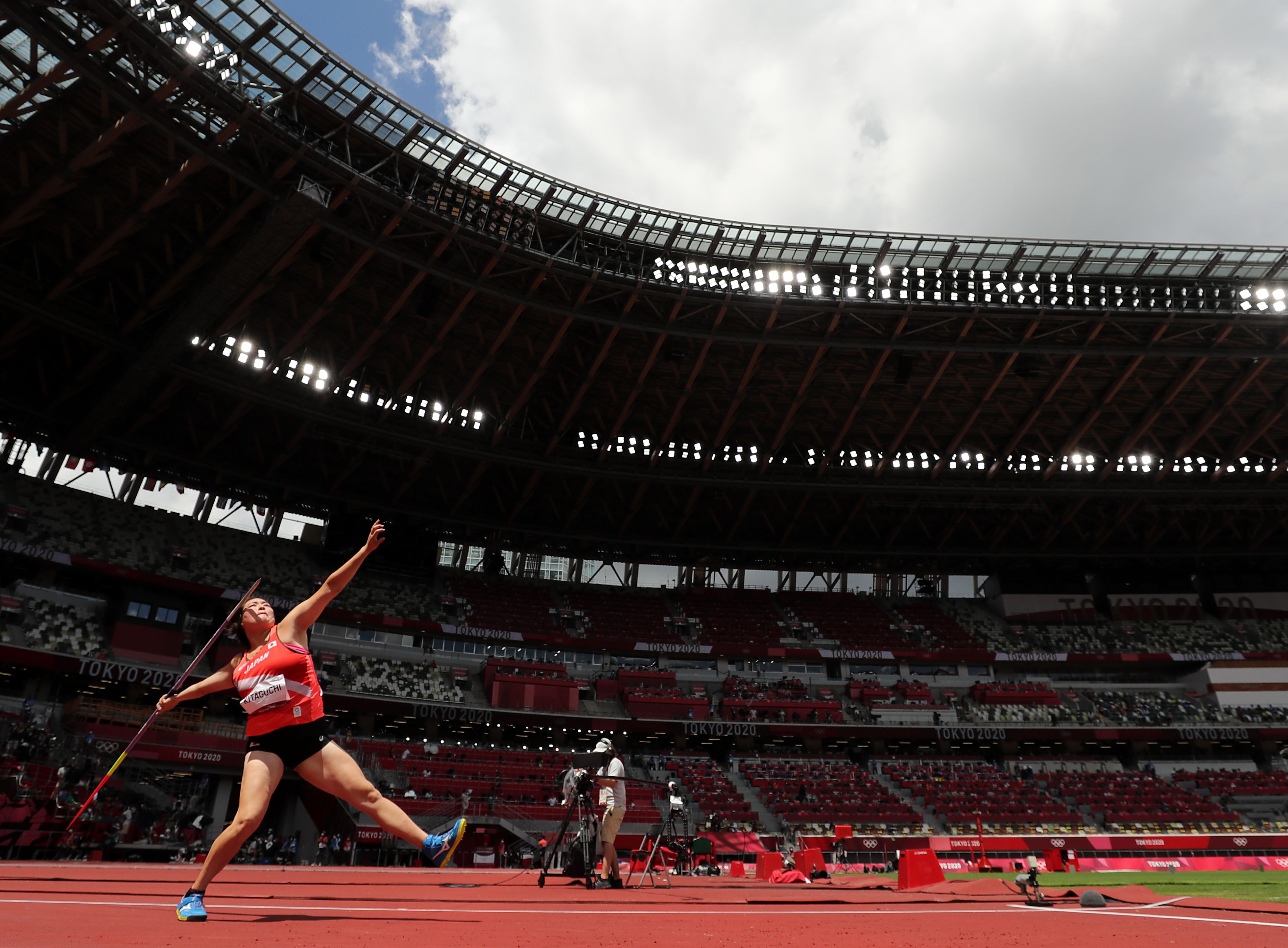 Haruka Kitaguchi competes at the Olympic Games in Tokyo (© Getty Images)
Women's javelin in the Olympics stretches all the way back to Los Angeles in 1932, when the legendary Mildred 'Babe' Didrikson took the inaugural crown. Only one Asian thrower has so far won a medal: China's Liu Shiying, the gold medallist in Tokyo. She finished sixth in the final in Budapest.
So, more history beckons down the line for the burgeoning Kitaguchi.
For the time being, though – as she prepares to finish her world title-winning season with appearances in the Brussels Diamond League on 8 September, the World Athletics Continental Tour Gold meeting in Zagreb two days later and the Diamond League Final in Eugene on 17 September – the one-time world U18 champion can bask in the afterglow of her last chance saloon heroics on the banks of the Danube.
"The key thing to winning this title was just to believe it," she reflects. "I usually do not make big changes in my technique when things aren't going quite right in a competition - I just try running a bit faster and throwing a bit higher.
"If I compare last year and this one, my goal in Eugene was just to get into the final. This time, my goal was a medal and even higher - I wanted the gold.
"I just told myself, 'I want the gold.' So, I tried as hard as I could."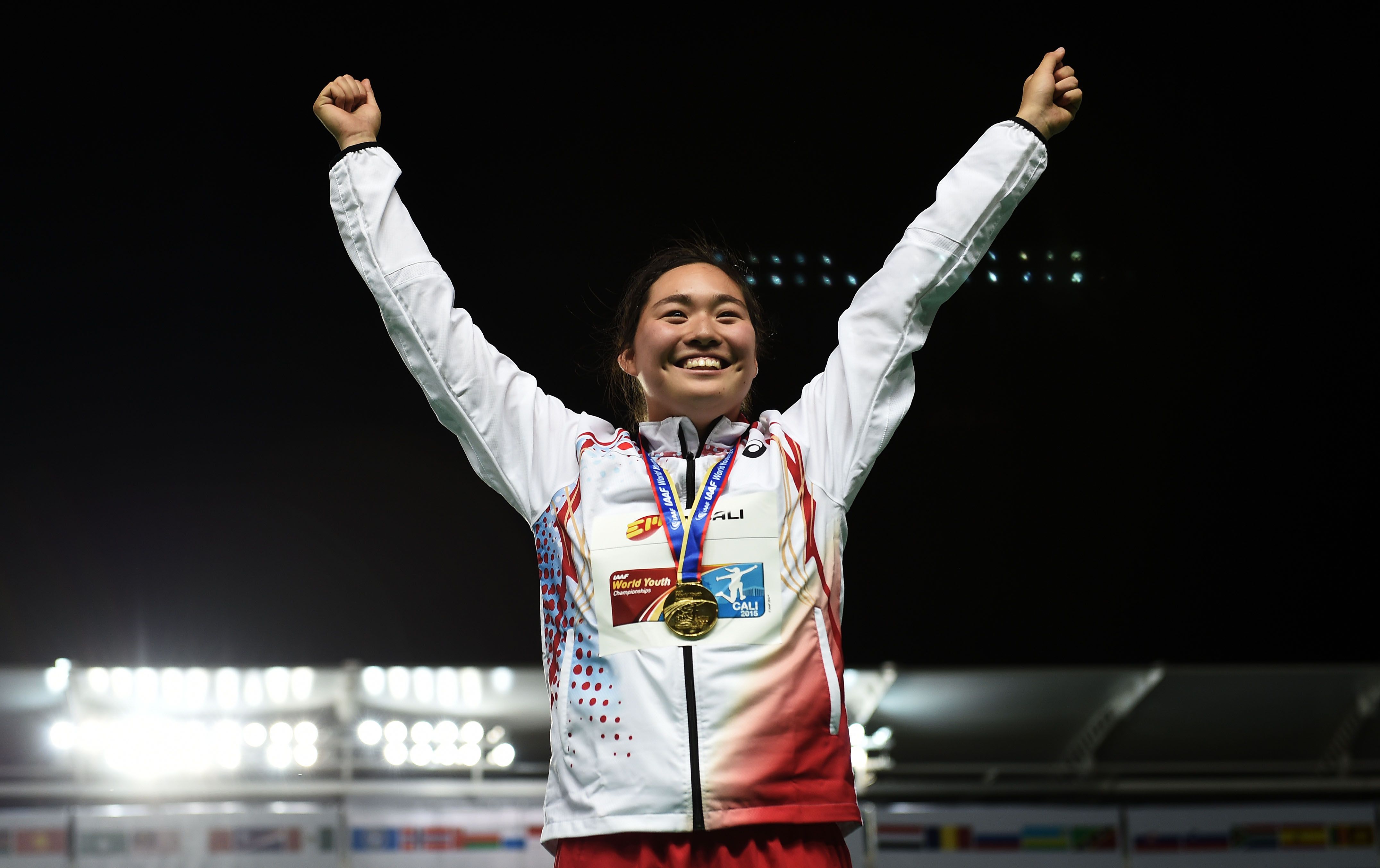 Haruka Kitaguchi celebrates her world U18 title win in Cali in 2015 (© Getty Images)
A surprise winner of the world U18 title in Cali in 2015, Kitaguchi stepped up to star status in her homeland last year when she became the first Japanese athlete to win a medal in the women's throws at the World Athletics Championships, landing bronze with a mark of 63.27m behind defending champion Kelsey-Lee Barber of Australia and Kara Winger of the USA.
It was the first tangible sign of major progress since moving to Czechia in 2019 to train under Sekerak, whom she first met at a throws conference in Kourtane in November of the previous year.
Her adopted home now for much of the year is Domazlice, a small town in the in the west of Czechia, population 11,000 – some 37,183,000 fewer than Tokyo.
"David is the national U23 coach in the Czech Republic," says Kitaguchi. "I have been training with him for four years now and I have been getting better and better, so it's fine there in Domazlice.
"I have learned to speak Czech. A little bit. So, I communicate with David in Czech. I speak Japanese, English and now Czech."
Kitaguchi giggles at herself. Blessed with an engagingly sunny disposition, her conversation in English is punctuated with regular laughter.
Introduced to the crowd before the final, she was all smiles, blowing kisses to the camera and the crowd – in stark contrast to the next woman up, Barber, who had her business face on.
As the final unfolded, Kitaguchi was hugely animated, pulling a range of anguished expressions and making gestures with her arms, replicating nosediving and flatlining throws.
Mention the Asian record and she guffaws. "Yeah, I want to get it," she says of the 67.98m that Lyu Huihui threw in Shenyang in 2019. "But it's far."
She chuckles again but the manner in which Kitaguchi has muscled in on what was formerly Chinese territory is probably no laughing matter down Beijing way.
Before the young woman from Asahikawa started to fulfil her youthful talent, prior to 2022, Chinese throwers occupied the top six places in the Asian all-time list in the women's javelin.
"Javelin throw is not a very popular event in Japan," Kitaguchi says, "but I think it is becoming more and more popular. Before, nobody knew about this event, but now that I have got bronze and then gold, I think it will be more popular.
"I spend a lot of time in the Czech Republic, so I hope also the Czech people were cheering for me in the final in Budapest.
"David was very nervous in the stands and tried to motivate me, more or less screaming at me. But I think everything just came together in the last attempt.
"It was great. At the beginning of the competition, I felt like crying, but at the end I just felt the happiness."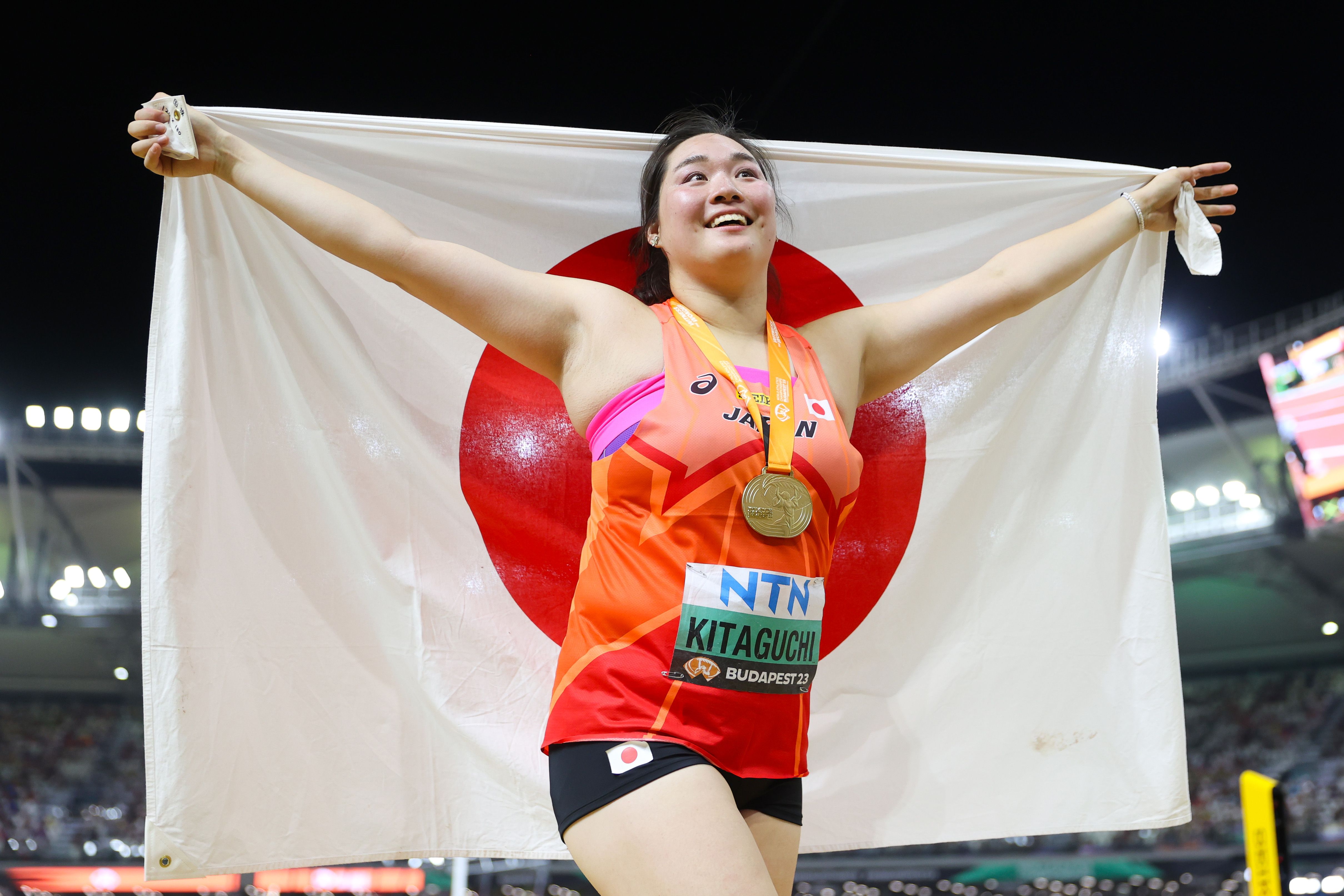 Haruka Kitaguchi celebrates her javelin win at the World Athletics Championships Budapest 23 (© Getty Images)
Sekerak was a more than decent javelin exponent himself, on the fringes of the international scene with a best of 74.50m from 2006.
He has not been the only positive Czech influence on Kitaguchi.
Asked which javelin thrower she admires the most, and whose performances she has studied, the new world champion replies: "Barbora Spotakova. I love Barbora Spotakova.
"I love that I am in the Czech Republic, her country. I have met her many times."
Indeed, the pair have met in the competitive arena nine times - at what has proven to be the tail end of Spotakova's marathon career as the queen of women's javelin.
The first time was at the Golden Spike meeting in Ostrava in 2021. Spotakova, a month shy of her 40th birthday, finished fourth. Kitaguchi, 23, was sixth.
In eight subsequent meetings, Kitaguchi has come out on top on every occasion.
Drawn in the same qualifying pool in Tokyo, the young Japanese thrower finished fourth ranked, making the Olympic final.
Their most recent clash came back in Ostrava in May this year.
Spotakova – who announced her retirement in September last year, after her brilliant bronze medal performance at the European Championships in Munich – dusted down her old spear and, by now a sprightly 42, finished fifth with 57.23m. Kitaguchi won with 63.72m.
Unlike Kitaguchi, Spotakova was no teenage protege in the javelin. She made her first appearance on the global stage as a multi-eventer.
At the World U20 Championships in Santiago, Chile, in 2000, she finished fourth in a competition won by a 17-year-old Carolina Kluft.
As a javelin specialist, Spotakova went on to become the best ever, capturing three world titles, two Olympic golds and setting the enduring world record of 72.28m in Stuttgart in 2008.
At 25, Kitaguchi now has a global title under her belt. Spotakava was 26 when she won her first – at the 2007 World Championships on Japanese turf in Osaka.
Kitaguchi has a head start, then, if she is to catch up with the legend that is her Czech idol. There is plenty of opportunity to look forward to in the years ahead.
Simon Turnbull for World Athletics