Shericka Jackson wins the 200m at the World Athletics Championships Budapest 23 (© Getty Images)
With a bullet start, powerful pick-up, brilliant bend and utterly scintillating home straight, Jamaica's Shericka Jackson sprinted deeper into the history books at the World Athletics Championships Budapest 23 on Friday night (25), sizzling to her second straight world 200m title in 21.41, the second-fastest time in history.
The men's race saw USA's Noah Lyles claim his third straight world 200m title which, when added to his 100m crown a few days earlier, confirmed his status as the undisputed current king of the sprinting domain.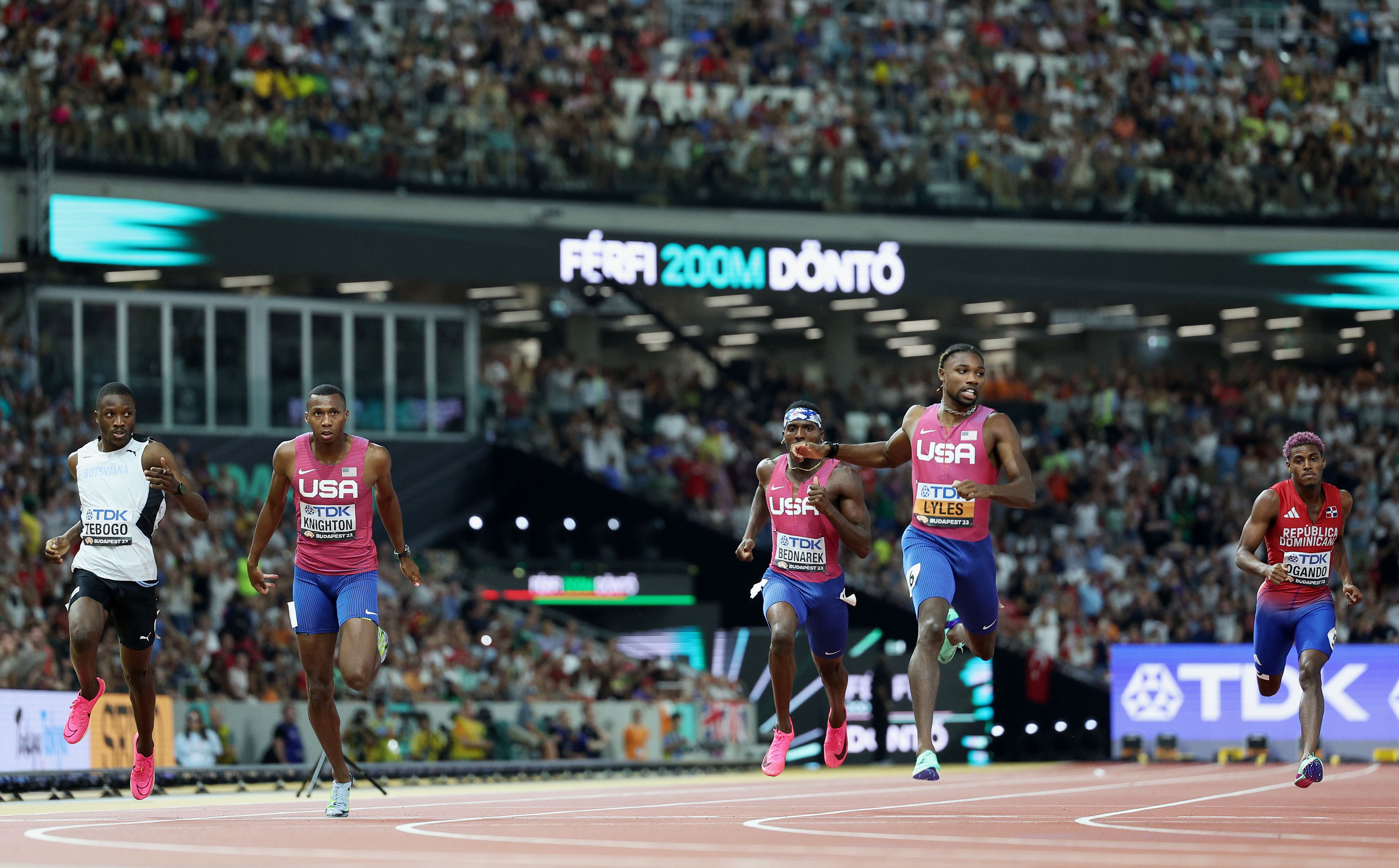 Noah Lyles wins the 200m at the World Athletics Championships Budapest 23 (© Getty Images)
In the field events, both finals played out in remarkably similar circumstances, the women's triple jump and javelin led all the way via a first-round effort before a last-gasp, sixth-round act of heroics by Venezuela's Yulimar Rojas and Japan's Haruka Kitaguchi.
On the track, 29-year-old Jackson left her rivals in what is, in sprinting terms, a different postal code, turning in the most dominant performance of her career, the winning margin of 0.40 bigger than the 0.36 the Jamaican won by in Oregon last year, when she clocked 21.45.
The run solidified her place in second on the world all-time 200m list, behind only Florence Griffith-Joyner's world record of 21.34, and Jackson's unimpressed reaction when seeing the time was likely related to the fact she had not eclipsed that mark. USA's Gabby Thomas came through strongly for second in 21.81, with 100m champion Sha'Carri Richardson making it a championship to remember by taking bronze in a PB of 21.92.
"When I crossed the line and saw the time, I was like, 'ah, I'm close,'" said Jackson. "I wrote two times on my bib today and the slow time was 21.40, and I ran 21.41. It's a personal best, so I am grateful. I was super exhausted, I'm not feeling 100%."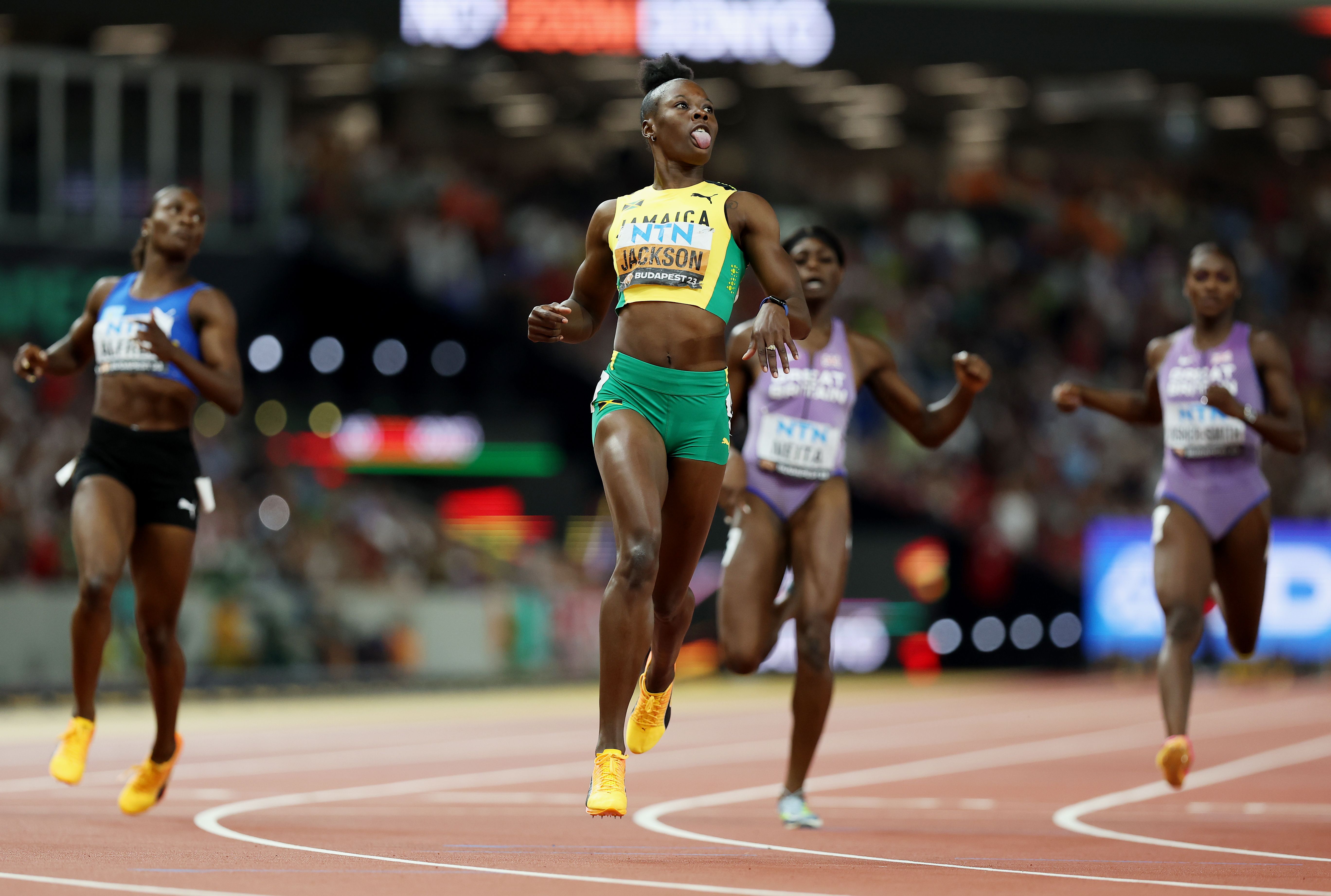 Shericka Jackson secures the 200m title at the World Athletics Championships Budapest 23 (© Getty Images)
In the men's event, Lyles' US teammate Erriyon Knighton used a powerful finish to snatch second in 19.75, with Botswana's Letsile Tebogo winning his second medal of the week – bronze in 19.81.
They say the sign of a great champion is having the ability to win while below your best and, by now, there is little doubt that Rojas is exactly that. The 27-year-old won her fourth world triple jump title in a competition in which she faced disaster and emerged, yet again, with triumph.
She very nearly didn't get a medal at all, having fouled her first attempt and then jumped just 14.33m and 14.26m, which left her tied for eighth as the competition neared the halfway mark. Rojas was forced to watch as Italy's Ottavia Cestonaro attempted to produce something better and knock her out. But she didn't, and an athlete like Rojas was never going to waste an opportunity like that.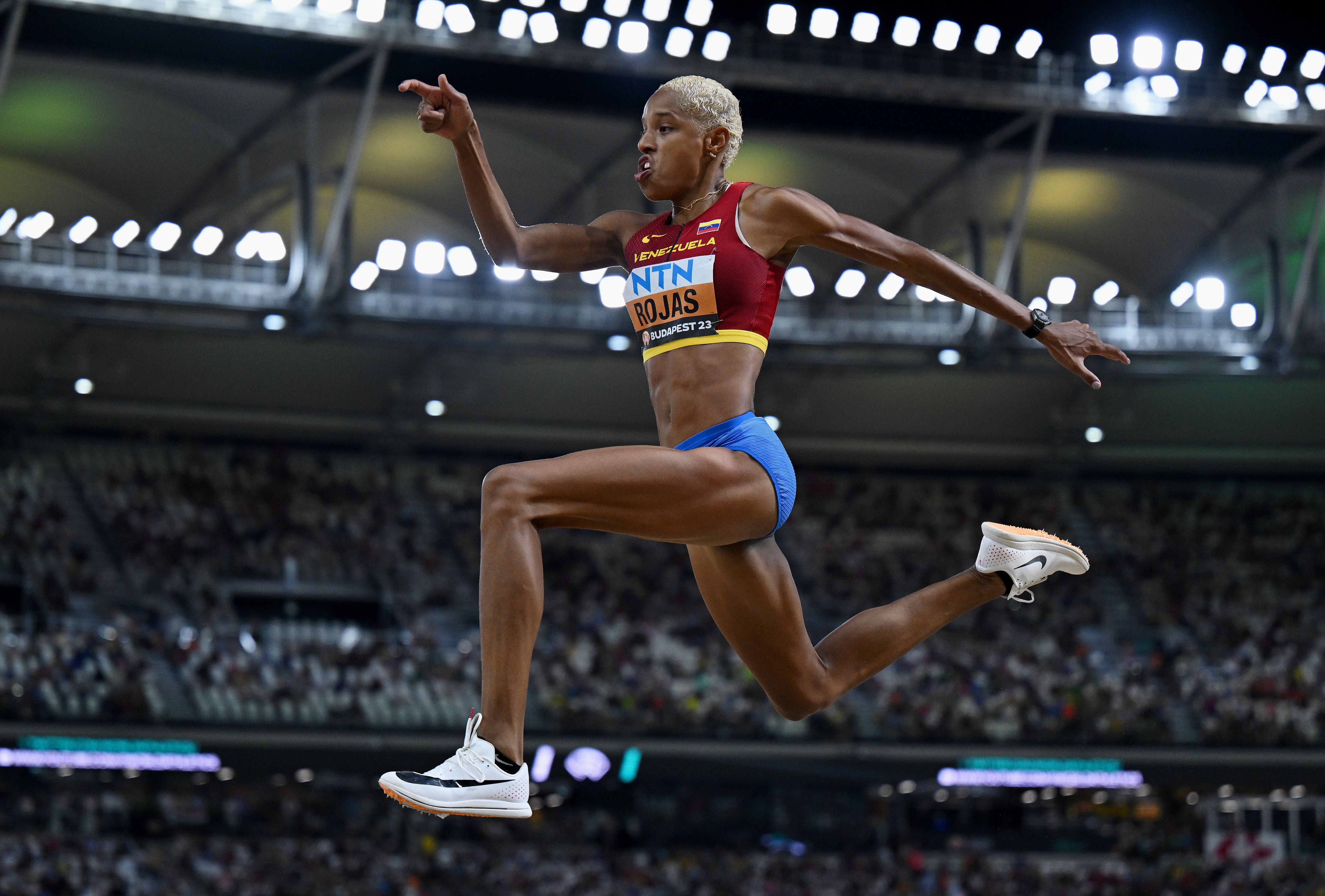 Yulimar Rojas at the World Athletics Championships Budapest 23 (© Getty Images)
The history books will show that Rojas had 8cm to spare over silver medallist Maryna Bekh-Romanchuk, whose opening effort of 15.00m was good enough for gold until the final round. But then up stepped Rojas, the queen of the runway, to win back her throne. It wasn't the biggest jump of her dazzling career, but it might have been the biggest-pressure jump, Rojas landing in the sand and knowing, inherently, it was likely enough. Then it flashed up, 15.08m, and she lay down on the track, luxuriating in the feeling of her fifth global outdoor title, her eighth overall.
Bekh-Romanchuk claimed silver with her 15.00m while Cuba's Leyanis Perez Hernandez took bronze with 14.96m, Jamaica's Shanieka Ricketts just behind in fourth with 14.93m and Dominica's Thea LaFond fifth with a national record of 14.90m.
In the women's javelin, Kitaguchi followed the lead of Rojas, the Japanese star launching the spear 66.73m to claim gold with her last attempt. The lead had been held throughout by Colombia's Flor Denis Ruiz Hurtado, who threw a South American record of 65.47m in the opening round which, until Kitaguchi took to the runway in the sixth round, was more than two metres clear of her closest competitor.
Australia's Mackenzie Little also found her best in the final round to get on the podium, throwing 63.38m for bronze, with Ruiz Hurtado taking silver and Kitaguchi – with that magnificent heave in the final round - claiming gold. The 25-year-old had finished 12th in the Olympic final two years ago and won bronze in last year's world final, her first global senior title coming eight years after she won the world U18 title.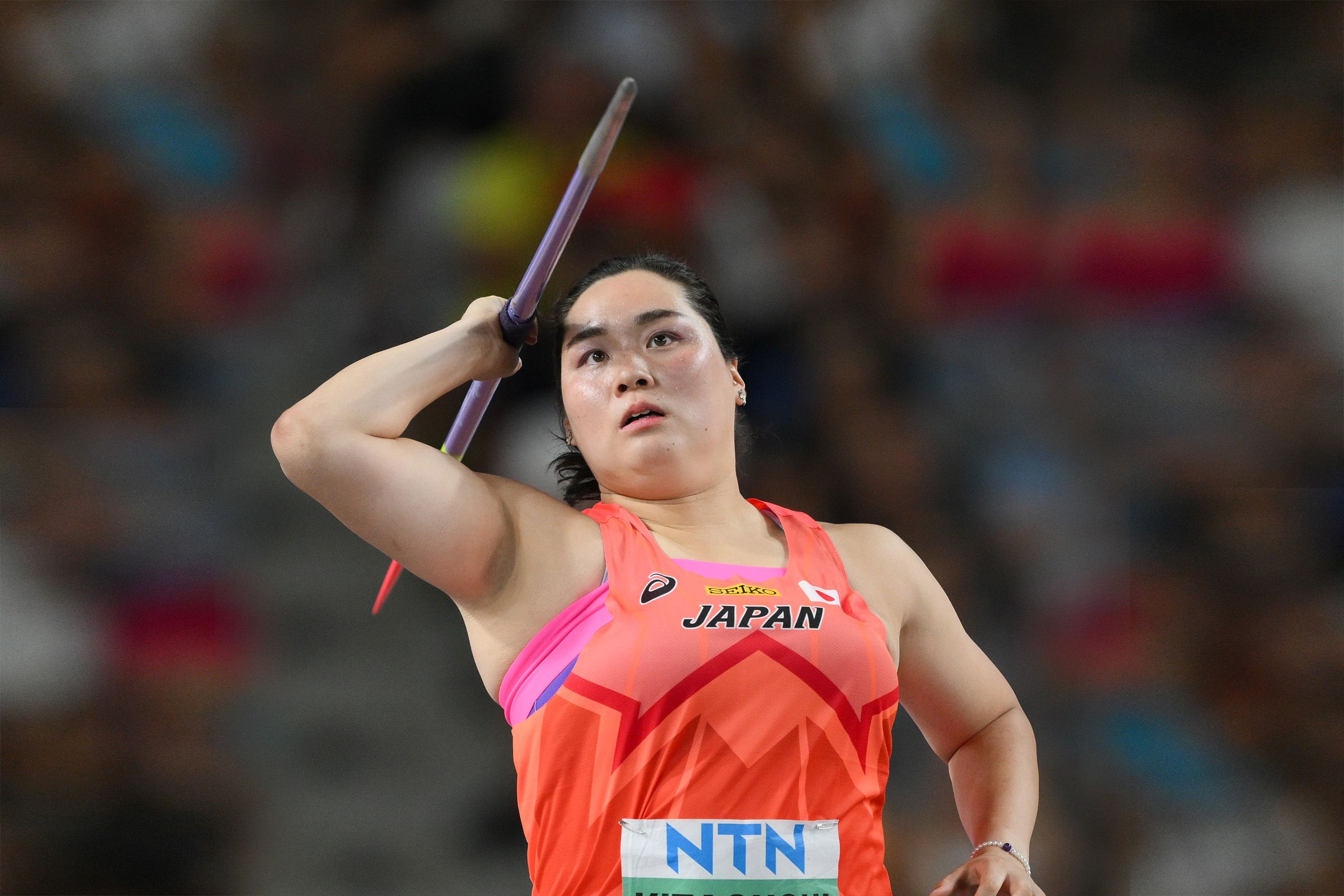 Haruka Kitaguchi in the javelin at the World Athletics Championships Budapest 23 (© Getty Images)
Meanwhile at the halfway point in the decathlon, Germany's Leo Neugebauer leads the way on 4640 points ahead of Canadian duo Pierce LePage (4610) and Damian Warner (4578), the latter looking well positioned to add a first world title to his Olympic victory in Tokyo two years ago. Warner opened his day with 10.32 for 100m, then turned in season's bests in the long jump (7.77m), shot put (15.03m) and high jump (2.05m) before clocking 47.86 for 400m.
Neugebauer topped two of the five events, with his results including a PB of 8.00m in the long jump and 17.04m in the shot put.
It was a day that claimed many high-profile casualties, with France's Kevin Mayer, Australia's Ashley Moloney and Germany's Niklas Kaul among those who will not be back for day two. Mayer stopped after the long jump, having aggravated an achilles tendon injury. Kaul injured his foot in the high jump and did not return for the 400m, while Moloney called a halt after the shot put.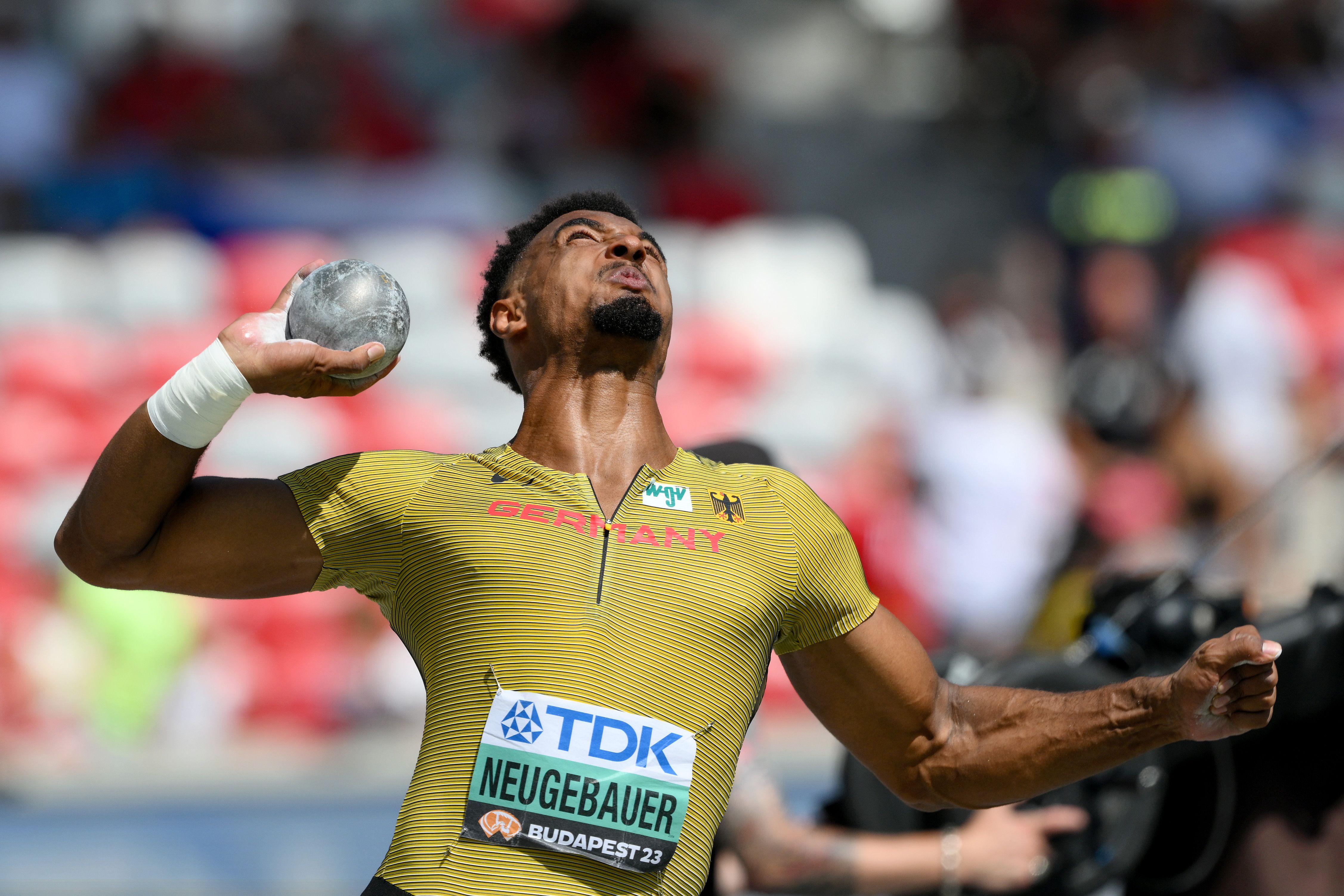 Leo Neugebauer at the World Athletics Championships Budapest 23 (© Getty Images)
Elsewhere, the women's 800m final everyone wanted is about to become a reality after medal favourites Athing Mu of USA, Keely Hodgkinson of Britain and Mary Moraa of Kenya all coasted through their semifinals. But it wasn't without drama, Mu tangling with a competitor with 300 metres to run and very nearly crashing to the track.
The defending Olympic and world champion managed to stay on her feet and soon charged back into contention, looking comfortable as she came home second behind Moraa, who took victory in 1:58.48. Hodgkinson led every step of the way to win her heat in 1:58.48, while her teammate Jemma Reekie announced herself as a medal contender by taking the other semifinal in 2:00.28.
The biggest shock of the men's 4x100m heats was that Canada – winners in Oregon last year, and joint world leaders heading into Budapest – failed to qualify for the final. They were one of several teams hampered by the 200m finals being held on the same evening; Canada's star runner Andre De Grasse, for example, was absent from the relay team, and they ultimately paid the price, finishing sixth in their heat.
USA sped to a world-leading 37.67 to win the first heat in a close finish from Jamaica (37.68) and Japan (37.71). Fourth-place France advanced on time (37.98). That world lead was short lived as Italy's quartet won the second heat in 37.65 - just 0.15 off the national record they set to win the Olympic title two years ago. South Africa was second (37.72) and Great Britain third (38.01). Brazil grabbed the last qualifying spot in 38.19, just 0.01 ahead of Nigeria.
The women's 4x100m heats saw a strong US quartet of Tamari Davis, Twanisha Terry, Tamara Clark and Melissa Jefferson overcome an error on the second exchange – during which they came close to breaking the zone – to take victory in 41.59 ahead of Ivory Coast, who set an African record of 41.90. Jamaica's quartet of Briana Williams, Elaine Thompson-Herah, Shashalee Forbes and Shelly-Ann Fraser-Pryce were similarly impressive when winning the second heat in 41.70 to beat Great Britain and Northern Ireland (42.33).
Earlier in the day, India's Neeraj Chopra led the way in the men's javelin qualification, launching 88.77m. Two others hit the automatic mark of 83.00m: Pakistan's Arshad Nadeem threw 86.79, with Czech Republic's Jakub Vadlejch throwing 83.50m. Former world champions Julius Yego of Kenya and Anderson Peters of Grenada were the biggest casualties, both maxing out with just over 78 metres from their three attempts.
The women's high jump saw favourites Nicola Olyslagers of Australia and Yaroslava Mahuchikh of Ukraine advance to the final with ease, 1.92m clearances good enough for both, while Ukraine's Yuliya Levchenko was one of those who bowed out, edged on countback for the final qualifier place with a best of 1.89m.
Cathal Dennehy for World Athletics
Want to keep up to date during the World Championships with real-time results and statistics, the latest highlights and exclusive competitions? Then join Inside Track today for free!