Sifan Hassan wins the 5000m at the Tokyo 2020 Olympic Games (© Getty Images)
On Sunday, Sifan Hassan confirmed that she would be attempting an unprecedented Olympic treble in Tokyo. On Monday (2) she completed the first part of that mission by winning the 5000m title in impressive style.
After claiming world 1500m and 10,000m titles in Doha two years ago, the Dutch 28-year-old decided to try to go one better on the Olympic stage, adding the 5000m into the mix. Despite running, and falling, in the 1500m heats earlier on in the day, she returned to the track 12 hours later to clock 14:36.79 after timing her winning kick to perfection.
Such was the manner of her final surge, Kenya's two-time world champion and now two-time Olympic silver medallist Hellen Obiri could not respond but she held on to cross the finish line in 14:38.36 for her second successive Olympic runner-up finish.
Just behind her was Ethiopia's world-leader Gudaf Tsegay, running 14:38.87 for bronze, with Kenya's Agnes Tirop fourth (14:39.62) and Ethiopia's Ejgayehu Taye fifth (14:41.24).
"I can't believe it," beamed Hassan. "I used all my energy this morning and I was kind of tired. I couldn't believe what happened. I felt terrible (after her 1500m fall) and I never thought I was going to be Olympic champion.
"I was so scared I wasn't going to do it."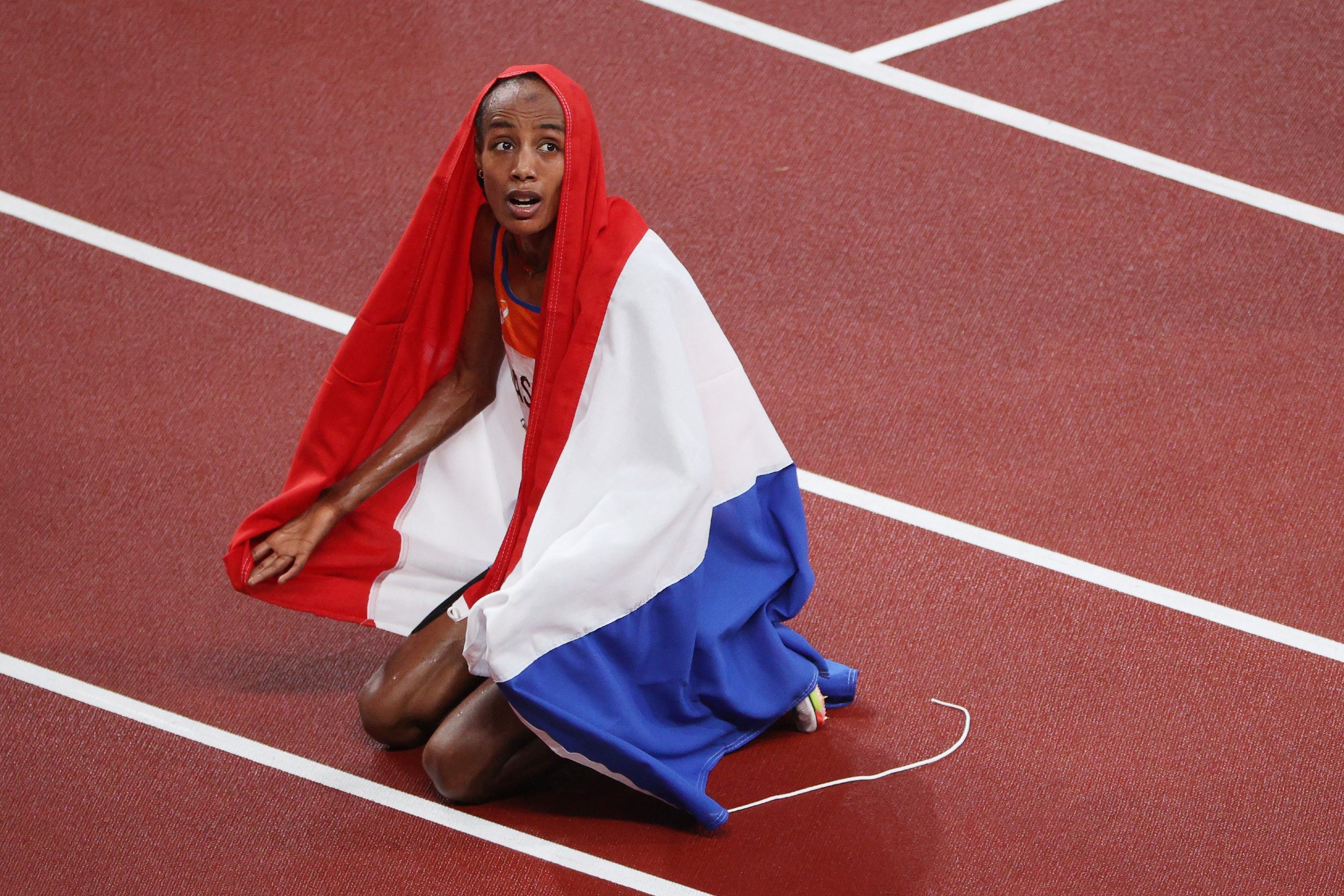 The final may have featured five of the world's 10 fastest ever 5000m women, but the start was conservative, and it was Japan's Ririka Hironaka who took the early lead. The heavy rain to have fallen earlier in the evening had stopped, but conditions remained warm and humid as the race got under way.
Hironaka was to the fore through the first kilometre, passed in 3:00.7, just ahead of world indoor 1500m record-holder Tsegay, Obiri and Tirop. Hassan was sitting comfortably in 10th, showing no signs of the fall she had suffered in her 1500m heat, which she went on to win in 4:05.17.
Obiri, on the hunt for her first Olympic gold after world title wins indoors, outdoors and in cross country, added some pace before Taye took over at the front and led through 2000m with 6:00.3 on the clock.
Obiri and Taye continued to control proceedings over the next two kilometres, passing the 3000m mark in 8:59.9 and 4000m in 11:57.1, when a lead group of seven athletes started to break away. Hassan was at the back of the pack, behind Taye and Obiri, Tirop, Tsegay, Turkey's Yasemin Can and Ethiopia's Senbere Teferi. Again it was Taye and Obiri shoulder-to-shoulder with two laps to go, as Hassan sat in sixth.
Tsegay went wide to join Obiri at the front at the bell, with Hassan in fifth. Making a move with 300m to go, Hassan used some of the speed which has seen her clock 3:51.95 for 1500m to run the fastest ever last lap in a women's Olympic 5000m final. Part of a 2:04.69 final 800m, Hassan clocked a 57.09 last 400m and 27.7 for her final 200m. Although Obiri fought off the final bend, Hassan was well away and after a few glances over her shoulder she was dominant down the home straight, spreading her arms wide in celebration as she crossed the finish line.
Receiving the Netherlands flag for her victory lap, Hassan draped it over her body as she knelt down and then curled up in a ball on the track, the first part of her treble attempt ticked off.
"I know that Sifan is good over the final 400m and I tried to hold her, but there was nothing I could do. I tried my best," said Obiri, who was pleased with her second Olympic silver. "To be No.2, it is quite amazing because it is a big achievement."
Behind the top five, Teferi was sixth in 14:45.11, while Italy's European under-23 champion Nadia Battocletti came through for seventh, clocking a PB of 14:46.29. Can finished eighth in 14:46.49, while Hironaka broke the Japanese record with 14:52.84 in ninth and Israel's Selamawit Teferi rounded out the top 10 in 14:54.39.
Hassan next returns to the track for the 1500m semifinals on 4 August, with the final on 6 August and the 10,000m final one day later.
Jess Whittington for World Athletics
WOMEN'S 5000m MEDALLISTS
🥇
Sifan Hassan 🇳🇱 NED
14:36.79
🥈
Hellen Obiri 🇰🇪 KEN
14:38.36
🥉
Gudaf Tsegay 🇪🇹 ETH
14:38.87
Full results