Mondo Duplantis in the Olympic pole vault final in Tokyo (© Getty Images)
The thing is that Mondo Duplantis makes it look so easy. He has risen to conquer the world with seeming effortlessness, master of all he surveys in the pole vault world at the age of 21.
On Tuesday (3) it took just five jumps, and a lifetime of preparation, for him to become the Olympic champion.
But that was only the first act of the audacious plan he plotted out for his Games debut.
With the gold medal secure after a first-time clearance at 6.02m, Duplantis lifted the bar to a world record height of 6.19m, his ambitions running far beyond mere victory.
For just a moment it seemed that he had cleared the bar at the first attempt. He was well above it and falling back to earth when he grazed it with his chest and it clattered down after him.
His second attempt was aborted when he did not plant the pole to his liking.
The third attempt was somewhere in between the other two, and it's just as well that he has left himself something to achieve in future, given he has at least 10 years left in the sport.
"The world record would have been nice and I felt like I was close but I won the Olympics so I'm not going to sit here and complain about it too much," he said.


"Oh my god how did he miss that?"@dreasduplantis and @antoine_dupl live reaction to @mondohoss600's attempt at a 6.19m world pole vault record.

Join us live for #Tokyo2020 on https://t.co/G8W3jF2IDw pic.twitter.com/qC8xggTUxn

— World Athletics (@WorldAthletics) August 3, 2021

The future that seem pre-ordained when Duplantis emerged as a teenaged pole vault prodigy, taught by his father Greg in the backyard as soon as he could run, came to pass on a humid night in Tokyo, as the Swedish superstar completed his takeover of his discipline.
Despite his youth, Duplantis has barely lost a competition for two years, since Sam Kendricks – who was missing from the final in Tokyo due to a positive Covid-19 result – got the best of him at the 2019 World Athletics Championships in Doha.
Just months later Duplantis moved to a level that no-one else in history has known, setting successive world records of 6.17m and 6.18m indoors in February last year.
In the outdoor season he made sure he became the undisputed king of the pole vault, with the highest outdoor clearance in history, 6.15m, at the Wanda Diamond League meeting in Rome.
This year he has been more circumspect, ticking over with 6.10m clearances indoors and outdoors, while timing his run for the Olympic Games.
But from the moment he took his first jump tonight it was clear that he was dialed in for a great performance.
He sailed over the opening height, 5.55m, with at least half a metre to spare, skipped the next height, then made first time clearances at 5.80m, 5.92m, 5.97m and 6.02m.
The only moment of pressure applied by a competitor came at 5.97m when the USA's Chris Nilsen was the first to clear the height. But Duplantis immediately dispelled any potential threat with his own first-time clearance to maintain his lead.
Nilsen then made three attempts at 6.02m but could not clear it and had to content himself with the silver medal and a PB.
"I had a couple of good jumps at six metres, and I was happy to walk away with that, but at the end of the day Mondo was going to do everything in his power to win that gold and I don't think anybody was going to stop him," Nilsen said.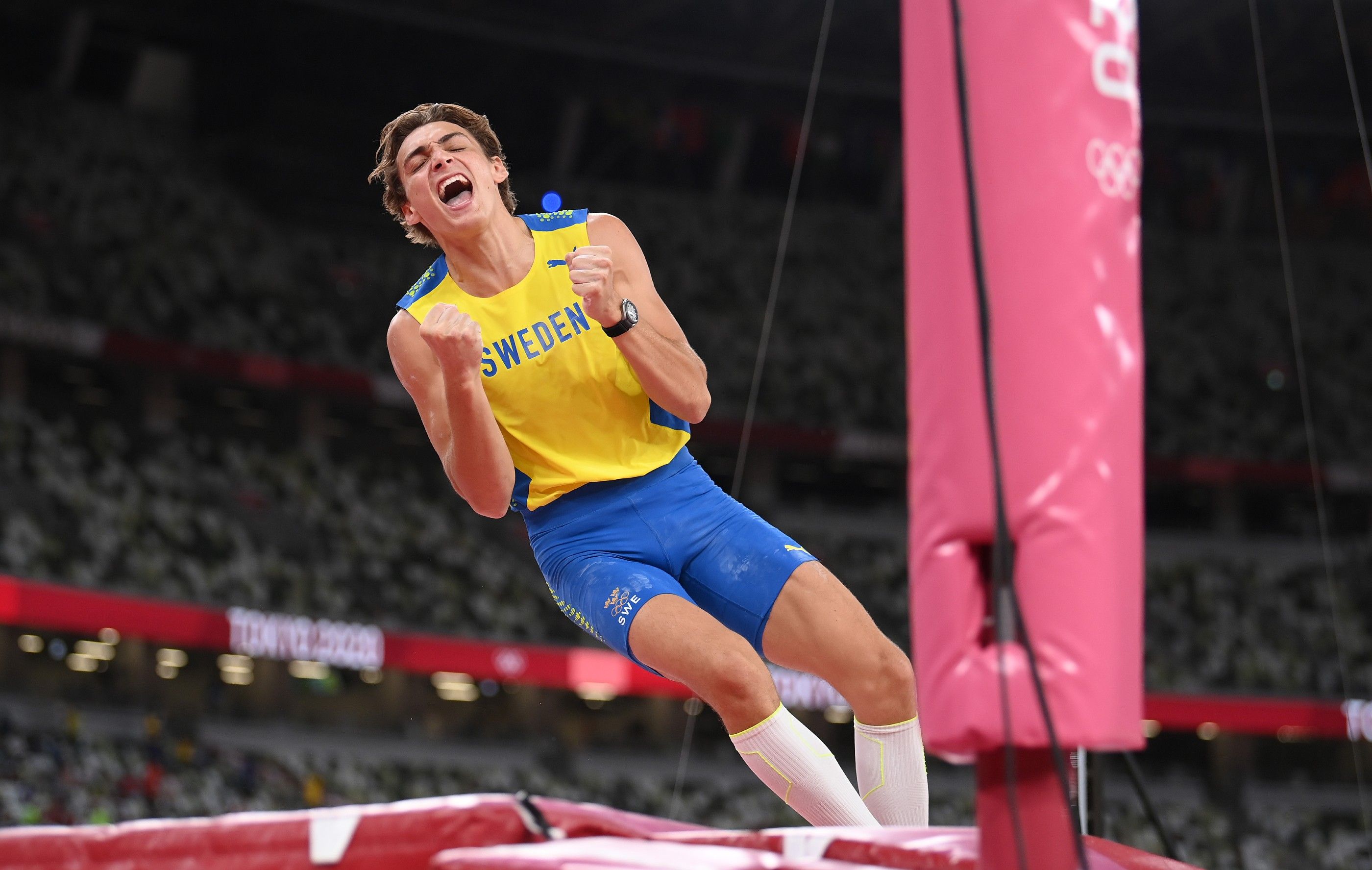 The Rio Olympic champion Thiago Braz of Brazil claimed the bronze medal with a first-time clearance at 5.87m, and still holds the Olympic record of 6.03m from the last Games five years ago.
Former world record-holder and 2012 Olympic champion Renaud Lavillenie, who injured his ankle just weeks before the Games, finished in eighth place with a best jump of 5.70m.
But this night was all about Mondo, the young man raised and trained by his parents Greg and Helena to become the best pole vaulter in history.
"It's a surreal feeling – it's something that I have wanted for so long and I finally did it," he said.
"Ever since I was a little kid I loved this sport so much and I always believed that it would take me to some great places and the fact that I'm actually here at the Olympics and I've got the Olympic gold – this sport has given me so much. I can never repay it."
Nicole Jeffery for World Athletics
MEN'S POLE VAULT MEDALLISTS
🥇
Mondo Duplantis 🇸🇪 SWE
6.02m
🥈
Chris Nilsen 🇺🇸 USA
5.97m PB
🥉
Thiago Braz 🇧🇷 BRA
5.87m
Full results