Discus winner Daniel Stahl at the Tokyo Olympics (© Getty Images)
Daniel Stahl continued his dominance of the men's discus with a convincing victory at Tokyo's Olympic Stadium on Saturday (31) to capture the first field event title at the Tokyo 2020 Games in what was also the 1000th athletics final in Olympic history.
The 28-year-old Swede took command with a second-round launch of 68.90m, the fourth farthest throw in Olympic history.
Lukas Weisshaidinger of Austria gave him a scare early on with a 67.07m throw in the third round but his biggest challenge ultimately came from compatriot and training partner Simon Pettersson who unleashed a 67.39m effort in the fifth round to secure an unlikely gold and silver finish for Sweden – and their first two Olympic medals ever in the event.
"There was a lot of hard work and fun on the way," said Stahl, who has led the world in the event each year since 2016. "I am extremely proud."
Stahl didn't reach the final in Rio five years ago, but improved his consistency markedly each year since, taking world silver in 2017 and European silver in 2018 before taking the world title in 2019. Stahl lost just twice in 19 competitions in 2020 and just once in 13 competitions this year.
"My training partner Simon has been working hard," Stahl said. "I am also very proud of our coach (Vesteinn Hafsteinsson) for believing in us, and having faith."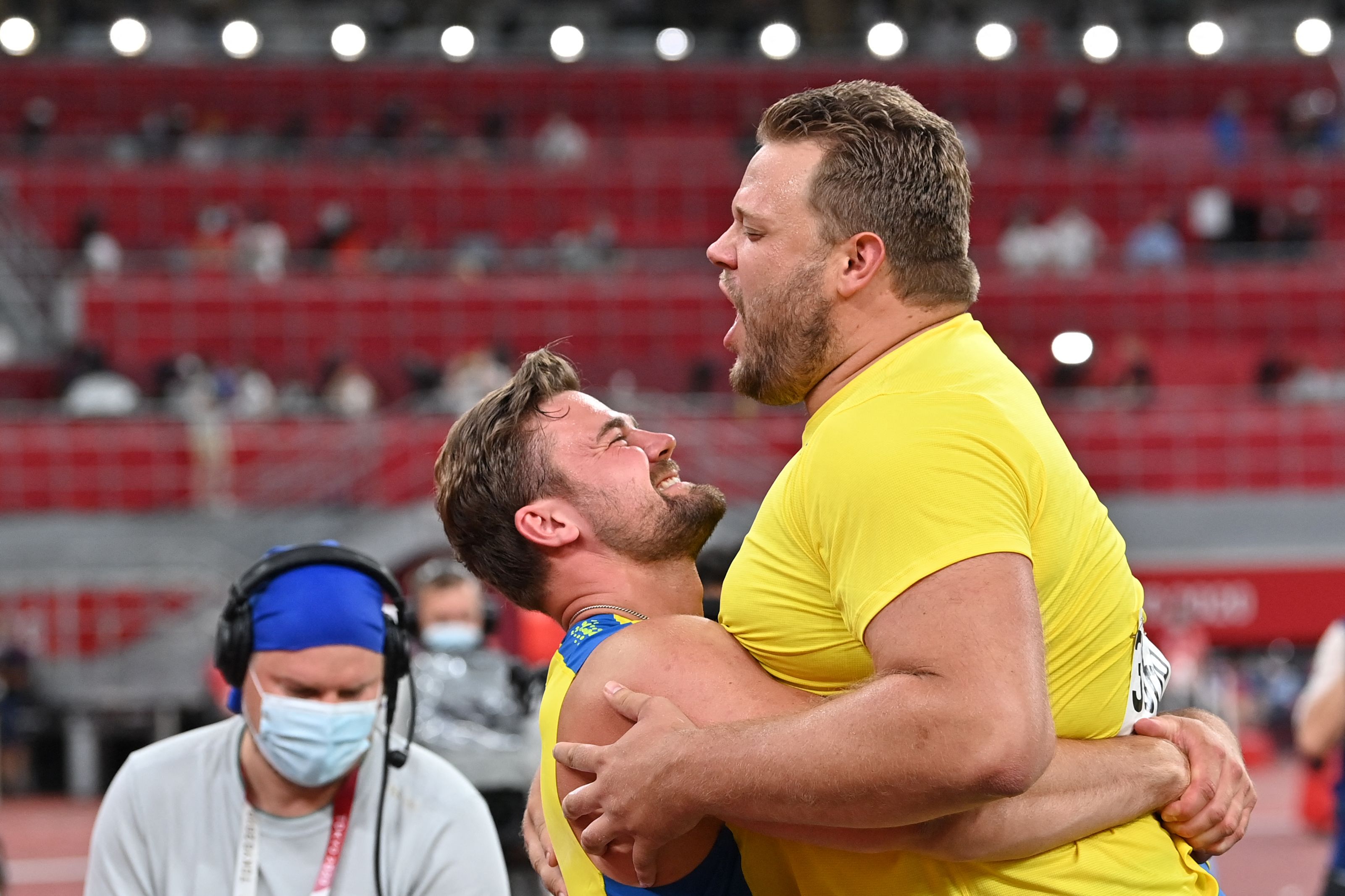 Matt Denny of Australia opened with a 65.76m throw to lead after the opening round, but was overtaken by Weisshaidinger who opened the second round with a 66.65m effort. But it wasn't long before Stahl wrestled the lead away with his winning toss just a few minutes later, turning the competition into a battle for minor medals.
Weisshaidinger remained consistent, improving to 67.07m in the third round and throwing nearly as far – 66.86m – in the fourth.
Further back, pre-Games medal favourite Kristjan Ceh of Slovenia struggled early, fouling on his first attempt, reaching just 62.95m with his second and foot fouling his third after a mediocre throw, but stayed alive after sitting in eighth position after the first three rounds.
He was a calm figure when he returned to the circle to throw first in round four, before unleashing a 66.05m effort to move into fourth. He continued to improve, throwing 66.62m to overtake Pettersson for the bronze medal position by just four centimetres.
But the 22-year-old's podium ambitions were short-lived.
Pettersson bounced back brilliantly, unleashing a 67.39m throw to move into second, giving Sweden a firm hold on positions one and two.
Behind him and Weisshaidinger, Denny kept up the pressure, improving his lifetime best in the final round to 67.02m to finish fourth, just five centimetres back. Ceh, throwing next, couldn't respond, reaching 66.37m to take fifth in his first Olympic Games.
That secured the bronze for Weisshaidinger, the first-ever Olympic medal in athletics from an Austrian man.
After Stahl and Pettersson concluded a 50-metre backstraight victory dash, Weissheidinger, wrapped in his national flag, knelt next to the throwing circle to kiss the ring.
Further back, 2017 world champion Andrius Gudzius finished sixth with 64.11m. Mauricio Ortega, the first Olympic finalist in the event from Colombia, was seventh with 64.08m.
Germany's Daniel Jasinski, the 2016 bronze medallist, was 10th with 62.44m.
Bob Ramsak for World Athletics
MEN'S DISCUS MEDALLISTS
🥇
Daniel Stahl 🇸🇪 SWE
68.90m
🥈
Simon Pettersson 🇸🇪 SWE
67.39m
🥉
Lukas Weisshaidinger 🇦🇹 AUT
67.07m
Full results