Steven Gardiner celebrates his Olympic 400m win at the Tokyo 2020 Games (© Getty Images)
From world champion to Olympic gold medallist, Steven Gardiner is the undisputed king of the men's 400m.
Running a perfectly timed and composed race, Gardiner sprinted away from the rest of the field over the final 50 meters to win gold at the Tokyo Olympic Games on Thursday night (5).
The tall 25-year-old crossed in 43.85 to become the first man from The Bahamas to win an individual Olympic gold in any sport.
"I'm cherishing this moment," Gardiner said, before shaking his head and uttering the words he's longed to hear attached to his name. "Olympic champion."
Gardiner finished comfortably ahead of Anthony Zambrano, who took silver in 44.08 to become the first Colombian man to win an Olympic athletics medal. Former champion Kirani James of Grenada earned bronze in 44.19, securing his record third medal in the 400m.
In an event they used to thoroughly dominate, USA athletes were shut out of the medals completely. Teammates Michael Cherry and Michael Norman settled for fourth and fifth, respectively, in 44.21 and 44.31.
Gardiner claimed the 400m world title in Doha in 2019, two years after taking silver at the World Championships in London. He was in top form this year heading into Tokyo, winning all five of the 400m races in which he finished.
With no clear favourite going into Thursday's final, Gardiner stamped his authority on the race with a dominant performance that left no doubt who is the world's best.
Running in lane seven, Gardiner stayed close with Norman, James and other leaders down the backstraight, but was trailing slightly as they rounded the final turn.
With about 100 meters to go, Gardiner accelerated and was clearly in front by the 50-metre mark. With his usual upright running style and looking perfectly composed and relaxed, he pulled away with his long strides all the way to the line.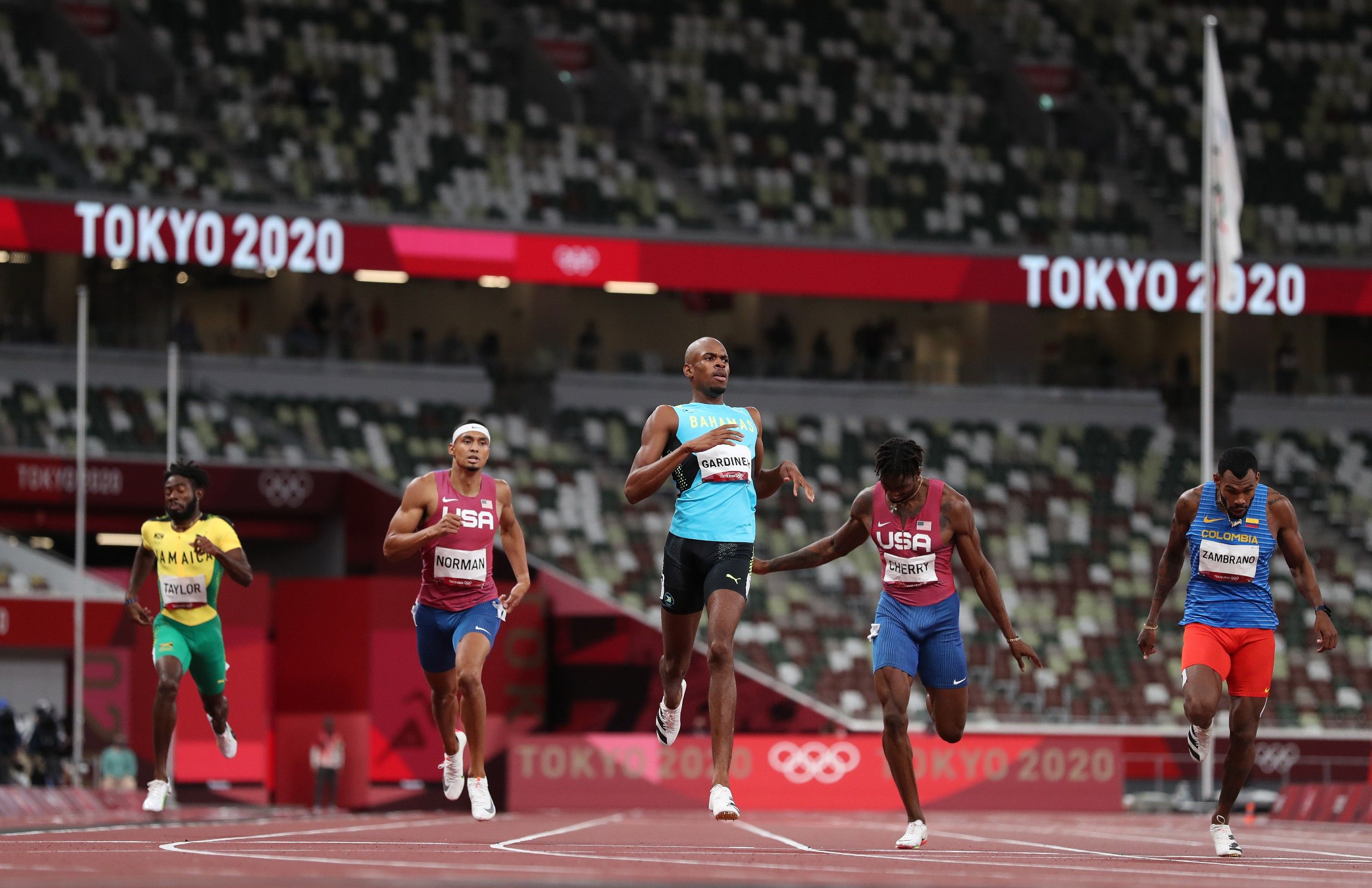 "When the gun went off, I stumbled a bit coming out," Gardiner said. "But I recovered, I kept it moving, and with 200m to go, I started to push a little bit. With 100m to go, I gave it all I've got.
"I kind of saw everybody coming up out of the corner of my eye, but I said: 'Okay, it's now or never', and I just held on. I came across the line and saw my name on the big screen and I was in first place."
Zambrano overtook James in the final stretch to finish second, replicating the same 1-2 order from Doha and making athletics history for his country.
"I want to show the world that Colombia belongs on the athletics stage," said Zambrano, who dedicated the silver to his mother on her birthday.
As Gardiner sat on the track with his shoes and a Bahamian flag lying beside him, James came over, picked up the flag and draped it around the new champion's shoulders.
James became the first man to win three Olympic medals in the 400m. He now has a full collection after his gold in 2012 and silver in 2016.
"I feel like Santa's come," said James, who also dedicated the medal to his mother, who died in 2019. "It's a great achievement. I am happy to come out and represent my country and make everyone proud. I am glad that I could do that again."
It capped a remarkable comeback by James, who was diagnosed with Graves' disease, an auto-immune condition, in 2017 and spent more than a year out of the sport.
The race dealt another setback for the United States, which was denied the gold medal in the 400m for the third Games in a row – something which has never happened before.
US runners won 400m gold in seven straight Games from 1984 to 2008 and swept the podium at five Olympics, most recently in 2008.
Then James triumphed in London in 2012 and South Africa's Wayde van Niekerk broke the world record to win in Rio in 2016. Van Niekerk failed to qualify for the final this time.
US champion Norman, 23, long pegged as the next great American quarter-miler, will have to wait again for another chance to make his global breakthrough, while Cherry ran a personal best to miss the podium by just 0.02.
Steve Wilson for World Athletics
MEN'S 400m MEDALLISTS
🥇
Steven Gardiner 🇧🇸 BAH
43.85
🥈
Anthony Jose Zambrano 🇨🇴 COL
44.08
🥉
Kirani James 🇬🇩 GRN
44.19
Full results