Athletes have pushed boundaries to create more marketing opportunities for women over the years (© Lucy Crookes)
In February of this year, Sydney McLaughlin-Levrone appeared in an ESPN 'This is SportsCenter' commercial in the United States. ESPN, the US cable sports channel that reaches around 76 million households, began this commercial series in 1994 with sports stars at the forefront. Tiger Woods, Michael Phelps, Roger Federer and Lebron James are a few athletes that have been profiled.
And now Olympic champion, world champion and world record-holder in the 400m hurdles, McLaughlin-Levrone, has been added to the series roster. This, for good reason, caught the attention of athletics fans. Seldom do track and field athletes make it into the mainstream in US media and it is even more rare that women have been given such opportunities. But after McLaughlin-Levrone's sensational performance at the World Athletics Championships Oregon22, and with this year's global event in Budapest on the horizon, her mainstream marketability has been realised in a big way.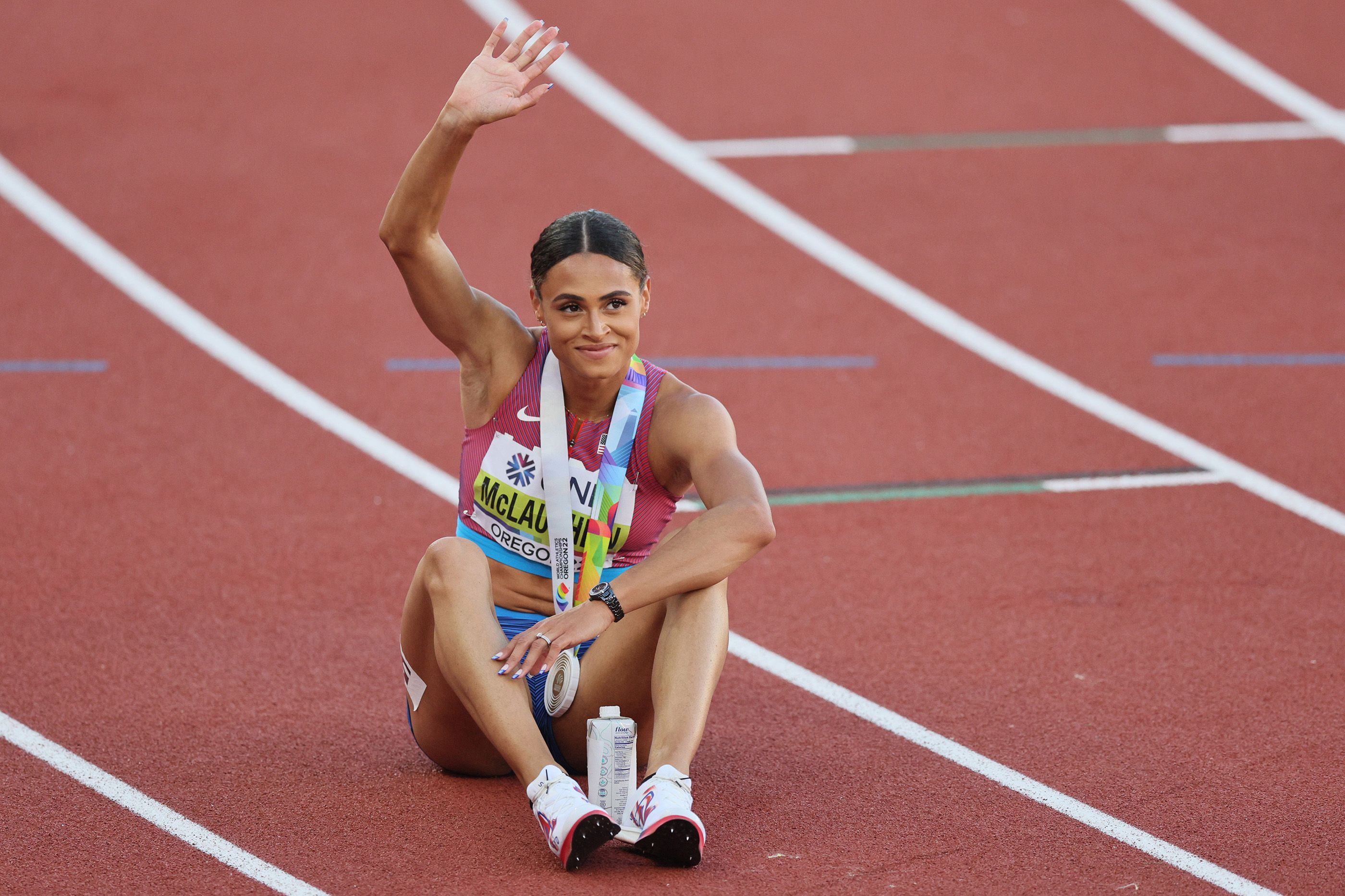 Sydney McLaughlin-Levrone after her world 400m hurdles record performance in Oregon (© Getty Images)
This, however, has not always been the case.
Since the first World Athletics Championships 40 years ago, a range of structural, institutional and cultural barriers that hamstrung marketing opportunities for women athletes have shifted, and it is worth looking back on the ways some athletes have pushed boundaries to create more marketing opportunities for women over the years.
Pre-
p
rofessional
e
ra
1935 – Babe Didrikson Zaharias
Long before the constraints of amateurism unraveled, Babe Didrikson Zaharias proved herself to be more than a sensational athlete, but a master entertainer. Born "Mildred" to Norwegian immigrants in Texas, the US athlete got the name "Babe" after hitting several homeruns in a baseball game during childhood.
Even as she continued to play a range of sports, she excelled in the sprints, jumps and field events in athletics. After winning two gold medals at the 1932 Los Angeles Olympics and setting four world records, she traveled on the vaudeville circuit. In 1933, she transcended sport when the car company Dodge featured her in an advertisement for the Dodge 6 Salon Brougham. Then, in 1935, she appeared as the first female athlete to be featured on a Wheaties Box.
1948 – Fanny Blankers-Koen
The following decade, Dutch athlete Fanny Blankers-Koen swept a record four track and field gold medals at the 1948 London Olympics. The mother-of-two nicknamed the "Flying Housewife" returned to the city of Amsterdam and was gifted a bicycle upon her return.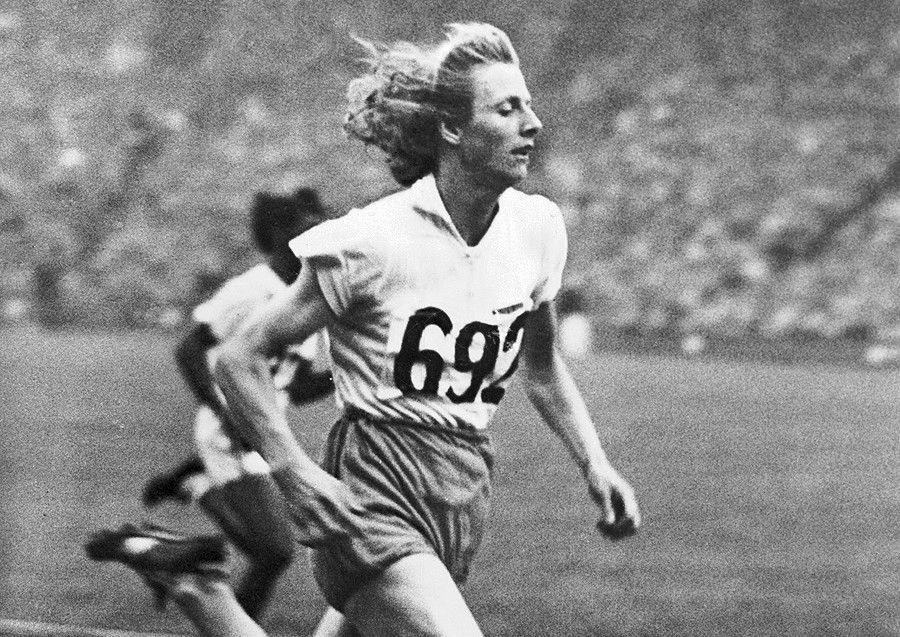 Fanny Blankers-Koen in the 200m at the 1948 Olympic Games in London (© Getty Images)
1952 – Marjorie Jackson-Nelson
Australian Marjorie Jackson-Nelson soon became famous for dethroning Blankers-Koen. Growing up in the New South Wales town of Lithgow, she earned the nickname "the Lithgow Flash" and won two Olympic golds at the 1952 Helsinki Games. Although she did not profit from burgeoning endorsement deals, she leveraged her fame to become active in politics and philanthropy. When her husband, Olympic cyclist Peter Nelson, died from Leukemia in 1977, she started a foundation in his honour. At the 1994 Commonwealth Games, she was the first woman appointed to the position of General Team Manager, and in 2001, she was appointed Governor of South Australia.
1960 – Wilma Rudolph
US sprinter Wilma Rudolph would go on to dominate in the 1960s, paving the way for black women to star in athletics. Rudolph was born in Tennessee, and attended her first Olympics as a Tennessee State Tigerbelle as the youngest member of the US 1956 Olympic track and field team. At the 1960 Rome Olympic Games, and the first televised worldwide, Rudolph went on to win three gold medals, and that catapulted her into stardom. Many consider her the first role model for black female athletes, and an early pioneer in marrying political ideals with sport.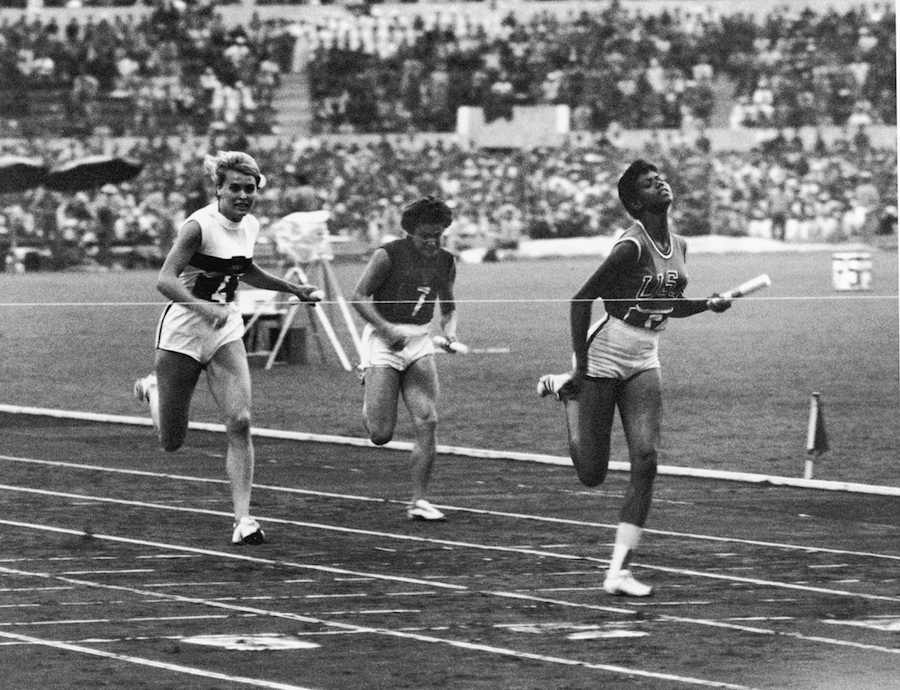 Wilma Rudolph in the 4x100m at the 1960 Olympic Games in Rome (© Getty Images)
Women going the distance
Until the 1980s, women track and field athletes were largely confined to the sprints, jumps and field events, as few were allowed to compete in the longer distances. This gradually changed in the coming decades after women like Katherine Switzer ran the Boston Marathon in 1967 in defiance of official rules.
1978/1983 – Grete Waitz
In the late 1970s, New York City Marathon organiser Fred Lebow brought Norwegian distance runner Grete Waitz to run the marathon. Waitz would go on to win every year through 1986, and collected the first ever World Championships victory at the first global competition in Helsinki in 1983. Waitz had a close partnership with Adidas for the majority of her career, and also helped pave the way in connecting major marathons to women athletes. In fact, Adidas went on to make Waitz her own shoe.
1984 – Joan Benoit Samuelson
The following year, US marathon runner Joan Benoit Samuelson won the Olympic marathon in her home country when the Games were staged in Los Angeles. In 1979, Samuelson had won the Boston Marathon wearing a Red Sox cap and her college singlet. Her win at the LA Games introduced the fact that women were newly allowed to run the full distance.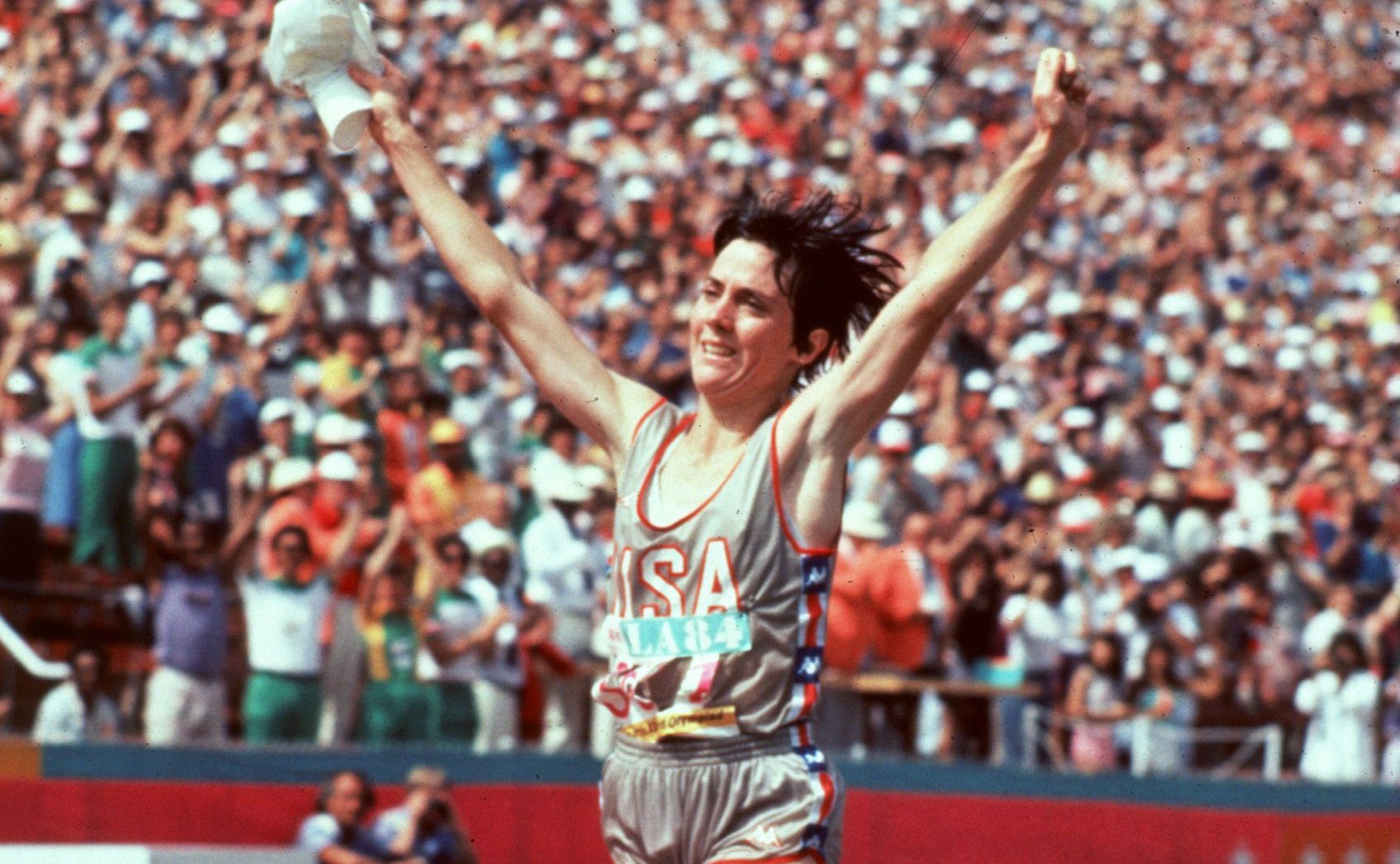 Joan Benoit Samuelson in LA in 1984 (© Allsport / Getty Images)
1988 – Florence Delorez Griffith Joyner
By the 1980s, all traces of amateurism had evaporated. Winning Olympic and world medals in several events in the 1980s and 1990s, Florence Delorez Griffith Joyner, better known as "Flo-Jo", opened opportunities in marketing and personality for track and field athletes worldwide. She quickly became known for not only winning, but winning in original and innovative speed suits. Flo-Jo graced the covers of magazines, signed a deal with a toy maker to make dolls her in likeness, designed an NBA basketball team uniform and more.
2000 – Cathy Freeman
By 2000, most top athletes had good shoe and apparel sponsorships, but as Cathy Freeman showed, athletes could be essential in releasing new innovative products. Freeman, the Aboriginal 400m runner, was famous for carrying both Aboriginal and Australian flags despite the former not being officially recognised. Moreover, at the Sydney Olympics in 2000, she wore and simultaneously marketed the swift suit Nike created with her in mind and would become the normal gear for speed skating.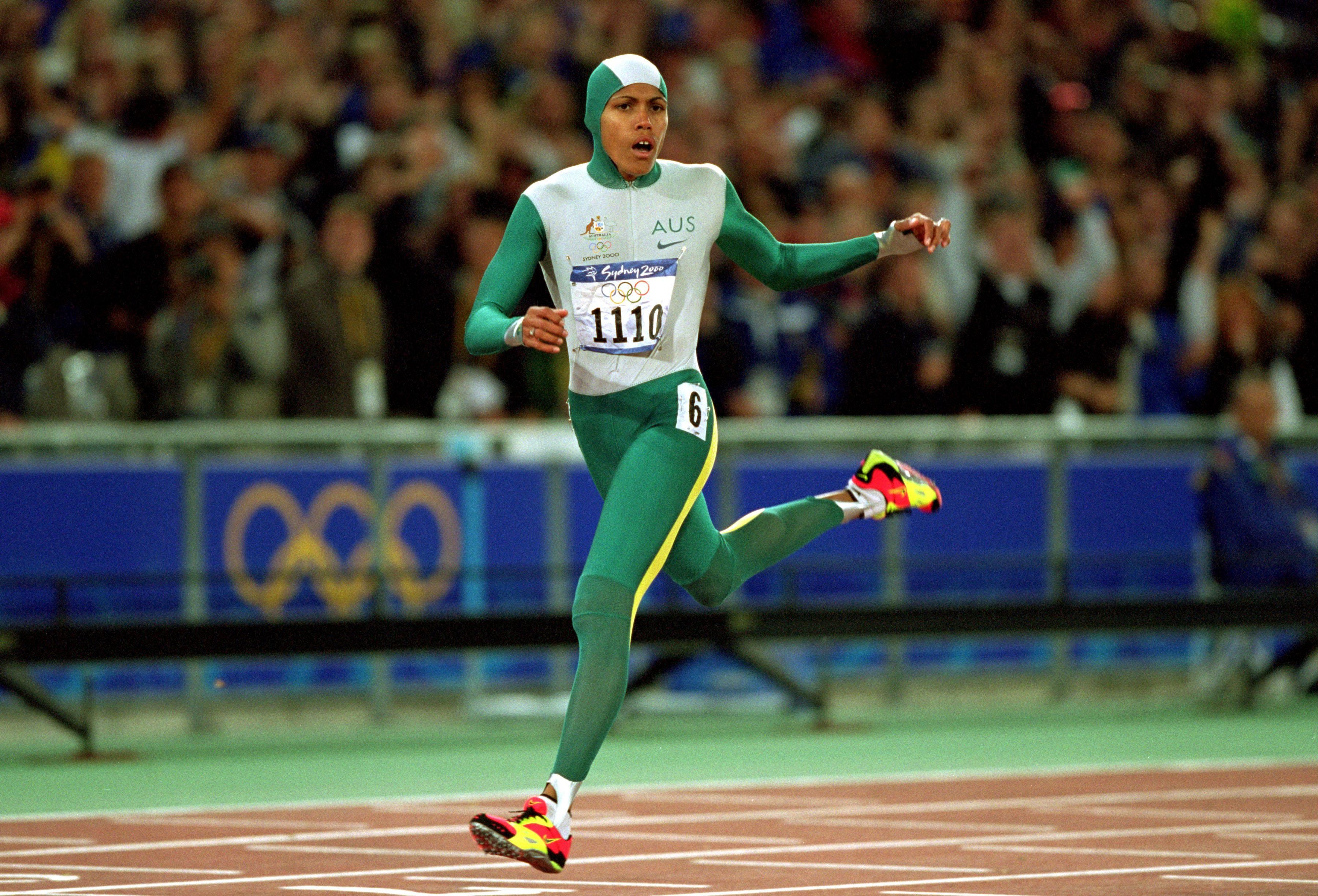 Cathy Freeman wins the 400m at the 2000 Olympic Games in Sydney (© Getty Images)
2012 – Jessica Ennis-Hill
As was the case with Freeman, being a hometown hero at one's Olympics – and delivering – would prove to enable some of the biggest paydays. Ahead of the 2012 London Olympics, British heptathlete Jessica Ennis-Hill was in many ways the women's face of the Games. Before she went on to win, she struck deals with Adidas, Powerade, Olay, and others. She was also featured on a Royal Mail postage stamp and had a post box on the corner of her hometown street in Sheffield painted gold.
2016 and beyond
In more recent years, a slew of iconic female athletes have found new marketing opportunities on the global stage, and within their countries, after global championship success.
In 2013, Bahamian sprinter Shaunae Miller-Uibo landed a deal with Bahamas Telecommunications Company. A few years later, ahead of the 2016 Games, Dutch sprinter Daphne Schippers landed endorsement deals with various Dutch companies like the dairy giant Campina and the country's railway system. Two years after Ethiopia's Almaz Ayana won the Olympic 10,000m title and broke the world record, she became the face of Aqua Safe in Ethiopia – a major drinking water company – and her image was plastered around Addis Ababa and on countless commercials.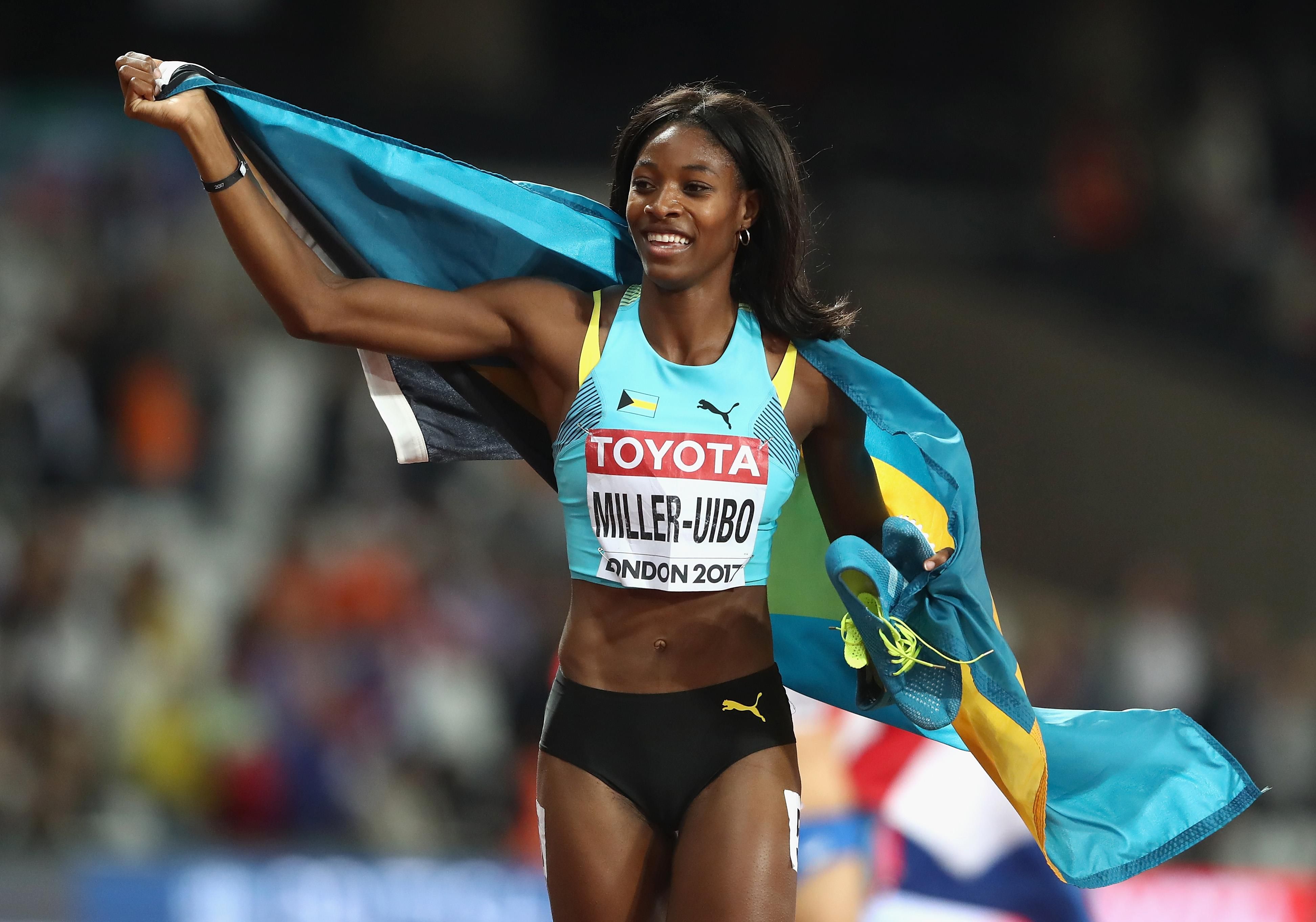 Shaunae Miller-Uibo celebrates her 200m medal at the London World Championships (© Getty Images)
Athletes like Allyson Felix have not only struck up incredibly lucrative endorsement deals but have gone as far as starting their own apparel company. After setting a world record and winning the World Championships 100m hurdles final in Oregon, Nigerian sprinter Tobi Amusan signed deals with Premium Trust Bank, Nigeria, and telecommunications giant GLO. Many have recently branched into the fashion world, with Dalilah Muhammad walking the runway for Louis Vuitton and Athing Mu appearing on the cover of Real Woman magazine.
There is still a long way to go. There could be more endorsements. Studies also show that black women and women of colour, especially in the United States, receive far less magazine coverage than white athletes. Around the world, male athletes still often get paid more for sponsorship deals regardless of sport or accolades. But seeing a black track and field sprinter on a SportsCenter commercial even just 10 years ago may have been unthinkable.
Although this list is by no means exhaustive, it gives a glimpse into the incremental but vital shifts made through the years.
Hannah Borenstein for World Athletics