Perina Lokure Nakang in action at the Kenyan trials in Nairobi (© Stafford Ondego)
Perina Lokure Nakang has found a new lease on life thanks to the World Athletics U20 refugee programme and now the 20-year-old is getting ready to take another big stride in her running career as part of the Athlete Refugee Team (ART) at the World Athletics Championships Budapest 23.
Nakang, who is now based in Kenya, has been able to pursue athletics and continue her education following support from the World Athletics programme, in partnership with the African Higher Education in Emergencies Network (AHEEN) and Youth Education and Sports (YES). Following the Athletics+Education model, it involves the Kakuma/Kalobeyei refugee camps and the All4Running Shoes4Africa Secondary School in Kapsabet, which are all part of the same programme.
Nakang's path to Budapest went via the Kenyan trials for the World Championships that took place in Nairobi. On 8 July, she watched Nelly Jepchirchir – who like Nakang is coached by 2007 world 800m gold medallist Janeth Jepkosgei ­– as she won the women's 1500m in a dominant 3:59.77. Brenda Chebet, who Jepkosgei also mentored in Kapsabet, finished second in 4:03.00.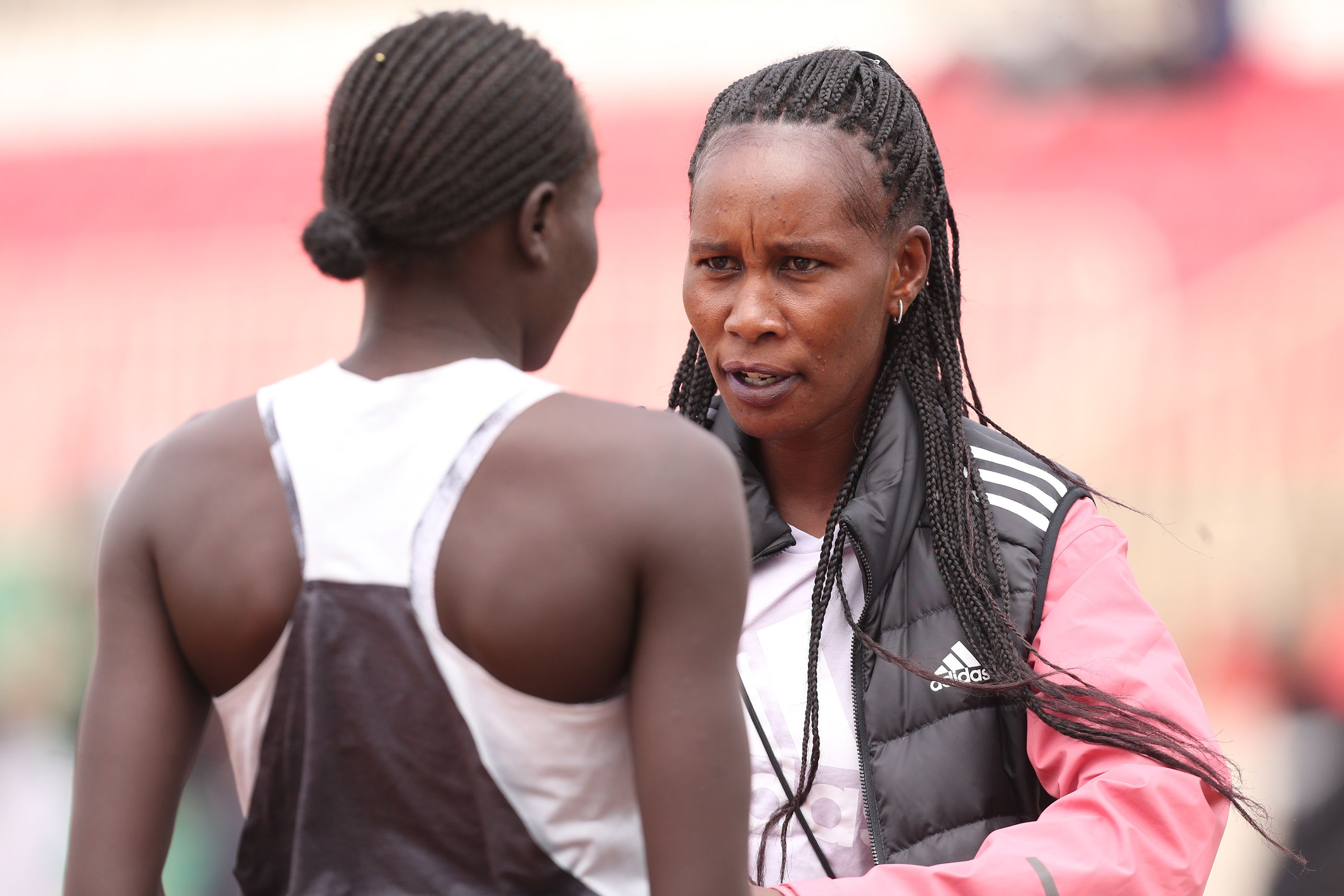 Perina Lokure Nakang with coach Janeth Jepkosgei (© Stafford Ondego)
It must have been a great morale boost for Nakang as she would shortly step on the track herself, lining up in lane three for the women's 800m final at the Nyayo National Stadium.
It was her second time competing on such a big stage. The Kenyan national trials has been described as a mini world championships, given the level of competition in the middle- and long-distance track events.
During the race, her coach watched keenly as Nakang stayed in close contact with the pack and only began to falter in the final 200m. She finished seventh in 2:15.66, a couple of seconds outside her PB.
"That was good. She still needs guidance and more experience tackling the middle-distance event to finish the last 200m more strongly," said Jepkosgei. "She used to be a sprinter before joining my camp, and that is why she has a good start but cannot hold the pace to the end. We are going to polish that as she prepares for Budapest."
Attention then turned to the men's 800m, featuring Emmanuel Wanyonyi, the 2021 world U20 champion and mixed relay gold medallist at this year's World Cross Country Championships. Nakang was keen to watch and witnessed Wanyonyi win in 1:44.09.
"I want to go out and do my best in Budapest," said Nakang, seemingly even more inspired by having seen athletes guided by her coach achieve their success in Nairobi. "I also want to work hard in my training and become a world champion one day.
"I want to be just like my coach in the future and be able to help other runners and my fellow refugees achieve their dreams, both in running and in education."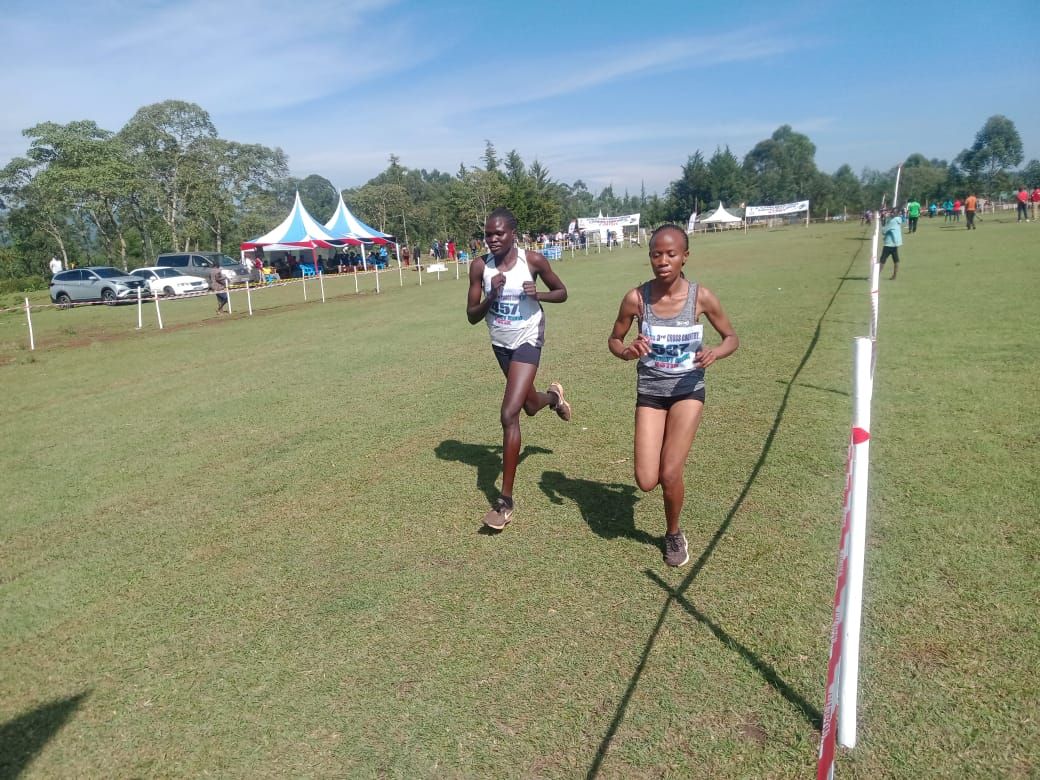 U20 ART athlete Perina Lokure Nakang (left) in cross country action
Nakang, whose names mean "first-born" and "hard-working", is now a form two student at the All4Running Shoes4Africa Secondary School. Staying true to those names, she could not have found herself in a better place than in a school named after her current coach and mentor. She can see and experience the fruits of hard work that enabled Jepkosgei to change her life and the community where she was born. It is no wonder Nakang hopes to be like her in future.
"I was born in South Sudan (in 2003). In 2010, I came to Kenya with my aunt after a war had broken out," Nakang explained. "My aunt asked my mother to let me accompany her because I was too young to survive the war conditions at home."
At the tender age of seven, Nakang and her aunt ended up at the Kakuma Refugee Camp in Northern Kenya, where life was complicated. But luckily for her, a coach at the camp recognised her sporting talent. Around seven years later, Nakang's mother and two younger siblings came to Kenya as refugees, settled in a different camp. It has been easier for Nakang to communicate with her close family on the phone while they are in Kenya, and it has also been good for her to know they are safe.
"I used to play football and run in the 100m at the camp. However, when Janeth came, she saw me running and told my coach at the refugee camp that she thought I would do better in the 800m," said Nakang, who refers to her coach by her first name - they are that close.
Arcade Arakaza is also a refugee and is the coach at the Kakuma camp – part of the Athletics+Education programme – who discovered Nakang's talent. Jepkosgei took Nakang under her care in 2022 and the 20-year-old is now based in Kapsabet while in school and occasionally in Eldoret, where Jepkosgei has a home.
"Life for me now in Kapsabet is much better than it was in South Sudan and at the Kakuma Refugee Camp," she added. "We train well, life is good, the weather is good, and I feel good."
Justin Lagat for World Athletics