Nadia Battocletti wins the 5000m at the European Team Championships (© Getty Images)
By 6:30am, Nadia Battocletti is typically out the door, logging her first run. There aren't many distance runners at her level who need to commit 10 hours a day to education, but the 23-year-old Italian is one of them – her classes in engineering and architecture at the University of Trento start at 8:30am and finish at 6:30pm.
It's a workload that requires a disciplined, monastic lifestyle and, after several years of that routine, Battocletti is ready for a change.
"Yes, really," she laughs. "I studied for five years in university so now I'm like, 'please stop,' so I can finally be a professional athlete."
Battocletti will finally get to make that leap next year, a few months before the Paris Olympics. While chatting about the path ahead at the World Athletics Road Running Championships Riga 23, she revealed something new is in the works for 2024.
"I have some news because at the European Championships in Rome I'll do 5000m, but in the Olympics I want to do the 1500m," she says. "There are a lot of (strong) competitors in 5000m."
Battocletti stunned many at the Tokyo Olympics in 2021 when, at the age of 21, she finished seventh in the 5000m final in 14:46.29. "I was really surprised," she says. "I wanted to say, 'Wow, is this really you?'"
Given her parents' background, perhaps it's no surprise she rose that high, that fast. Battocletti's father, Giuliano, was a world U20 bronze medallist over 5000m in 1994 and a 60-minute half marathon runner while her mother, Jawhara Saddougui, had an 800m PB of 2:01.
Her dad was 24 when Nadia was born so she grew up around the sport, running with him throughout her childhood and taking athletics up formally at the age of seven, juggling it with many sports like tennis and swimming. Giuliano remains her coach today, cycling alongside her for much of her training.
"It's precious for me because I really want my family to follow me all around the world," says Battocletti. "My father understands me and I understand him. A coach is not someone who just writes the training. It's people who understand you, who follow you, who allow you to be yourself – not only as an athlete, but as a person."
Given the demands on her time and energy, Battocletti's training volume is below that of many of her competitors. She typically logs 80-90km a week, while in winter the highest she'll go is to 110km. She also hits the gym once a week during the preparation phase, but not during competition season.
When not tied up at university, Battocletti will often go to Font Romeu in the French Pyrenees for altitude training, and it was there she laid down a strong block ahead of her Italian 5000m record at the Wanda Diamond League meeting in London in July, clocking 14:41.30 to take three seconds off Roberta Brunet's mark, which had stood for 27 years.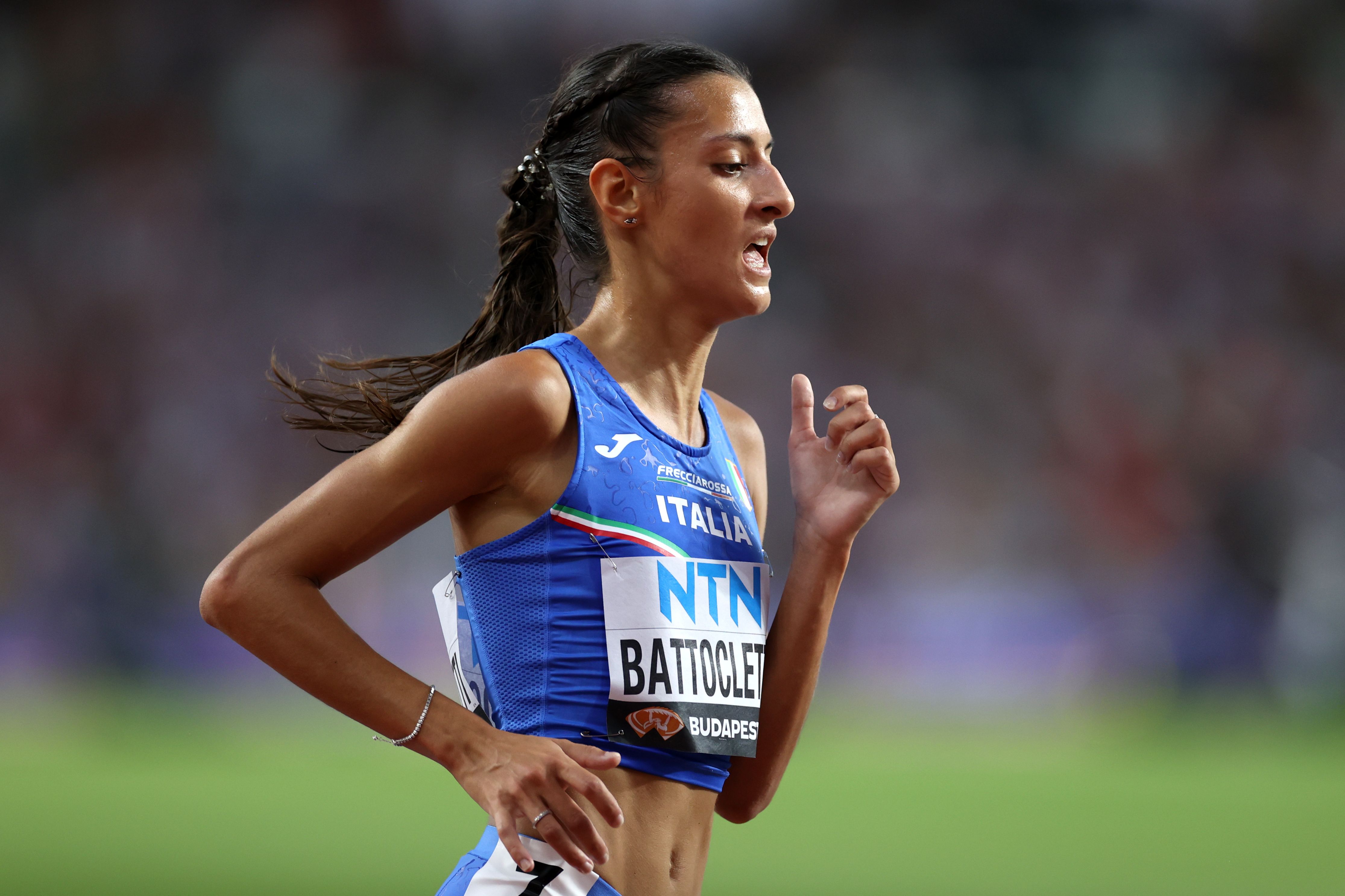 Nadia Battocletti in action at the World Athletics Championships Budapest 23 (© Getty Images)
Battocletti seemed ready to repeat, or perhaps even surpass, her Olympic finish at the World Athletics Championships in Budapest, her first appearance on that stage having missed last year's championships in Oregon due to shin splints. She advanced through the 5000m heats in seventh place, just missing the Italian record with 14:41.78, but three days later the tank was empty in the final, Battocletti finishing 16th in 15:27.86.
"Chiedo scusa a tutti," she said after the race – "I apologise to everyone."
Several weeks on, she still isn't sure what went wrong. "I don't know what happened. I talked with my coach, my family, my federation. I think it was hot, the heat was very fast and there was a mix of things that made me run so bad. I'm not happy about the final, but I think I'm mature because after this race I started to compete at 1500m, 10km."
Battocletti clocked a 1500m PB of 4:03.34 in Padua in early September before winning the Italian 10km title in Pescara the following week in 31:36. "Then I started to go here, to Riga, for my family, my sponsor, and that's a really precious thing for my season," she says.
Battocletti targeted the 5km at the inaugural edition of the championships, taking on a field loaded with quality. She launched herself into contention from the outset, running with the leaders through 4km, but was unable to match the leading quartet in the closing kilometre. As she puts it: "My brain talked to my legs, 'go go go, push, push, push,' but it was a bit tricky, a little difficult. I was so tired."
In a race won by Kenya's Beatrice Chebet in 14:35, Battocletti held on well to finish fifth in 14:45, coming up just shy of the European record. "It doesn't matter," she smiled. "Next time."
What did she make of the event overall?
"It's a little strange to do a championship at one mile and 5km, but I want this to continue in the future," she says. "I really appreciated the competition. It was a spectacular course, a really beautiful city and what I loved most was the crowd."
How does she reflect on her season?
"I can give it eight out of 10," she says. "I'm really happy because I improved in each discipline. The only bad thing for me was the final of the World Championships."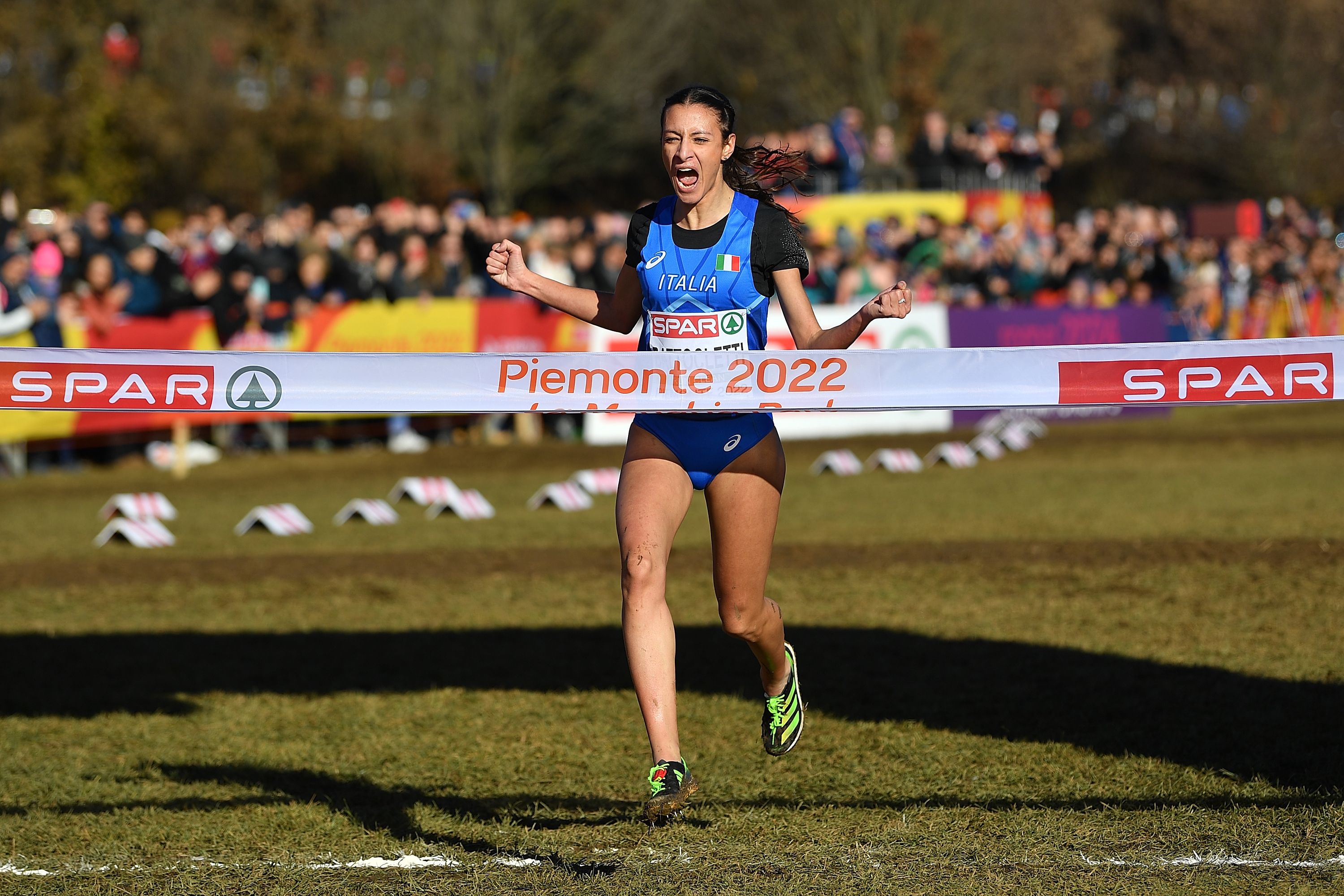 Nadia Battocletti wins at the 2022 European Cross Country Championships (© Getty Images)
Her year is not done yet. After taking a week off following the event in Riga – "to relax, to reset my mind" – she will now target the European Cross Country Championships in Brussels in December. Having grown up in the picturesque Trentino Alto Adige area of Italy, Battocletti has a rich pedigree in both mountain running and cross country in her teenage years.
This will be her first try in the senior category at the European Cross Country, having won U20 gold in 2018 and 2019 and U23 gold in 2021 and 2022. Given her history at the event, it will take a big performance to beat her.
At this time of year, as the days get shorter, Battocletti knows many of her runs on the road to Brussels will have to be done in darkness – either first thing in the morning or at night when her university classes are complete.
But by now she's well used to that, the early alarm clocks simply a part of her routine. Rise and run, rinse and repeat – day after day, until her dreams are realised.
Cathal Dennehy for World Athletics