Athletics coaches on the IOC'S WISH programme
When multiple Nigerian and African women's 100m champion Endurance Ojokolo-Akpeki failed to make the final of her individual event at the 2004 Olympics in Athens, she made a promise to one day coach an athlete who would surpass her achievements by reaching that stage at the Games.
More than a decade and a half later, her athlete Usheoritse Itsekiri came close at the Tokyo Olympics when he raced in the semifinals of the men's 100m. However, Ojokolo-Akpeki was not on the ground to provide the moral and emotional support needed because she wasn't on the team at the event. Her story is similar to that of many other female coaches who desire adequate representation at elite level.
With less than 500 days to the 2024 Olympics in Paris, the increase in the number of female athletes is set to propel the quadrennial Games towards gender equity. As such, the International Olympic Committee (IOC) has begun the process of replicating a similar feat of adequate representation and equity for female coaches by launching a four-year programme tagged WISH – the Women in Sport High-performance pathway programme – which is being supported by USD 1 million in Olympic Solidarity funding.
With statistics from the Tokyo Olympics indicating that the proportion of female coaches at the event was 13%, compared to the number of female athletes (48%), the need to bridge that gap and increase the representation of women coaches at elite levels has become a priority for the Olympic Movement, in collaboration with international sporting federations.
WISH is a four-year programme aimed at equipping 100 women for coaching at elite levels (Olympic, World Championship and continental teams) by 2024, and will have four cohorts participating within the current quadrennium, with each cohort running on a 21-month cycle.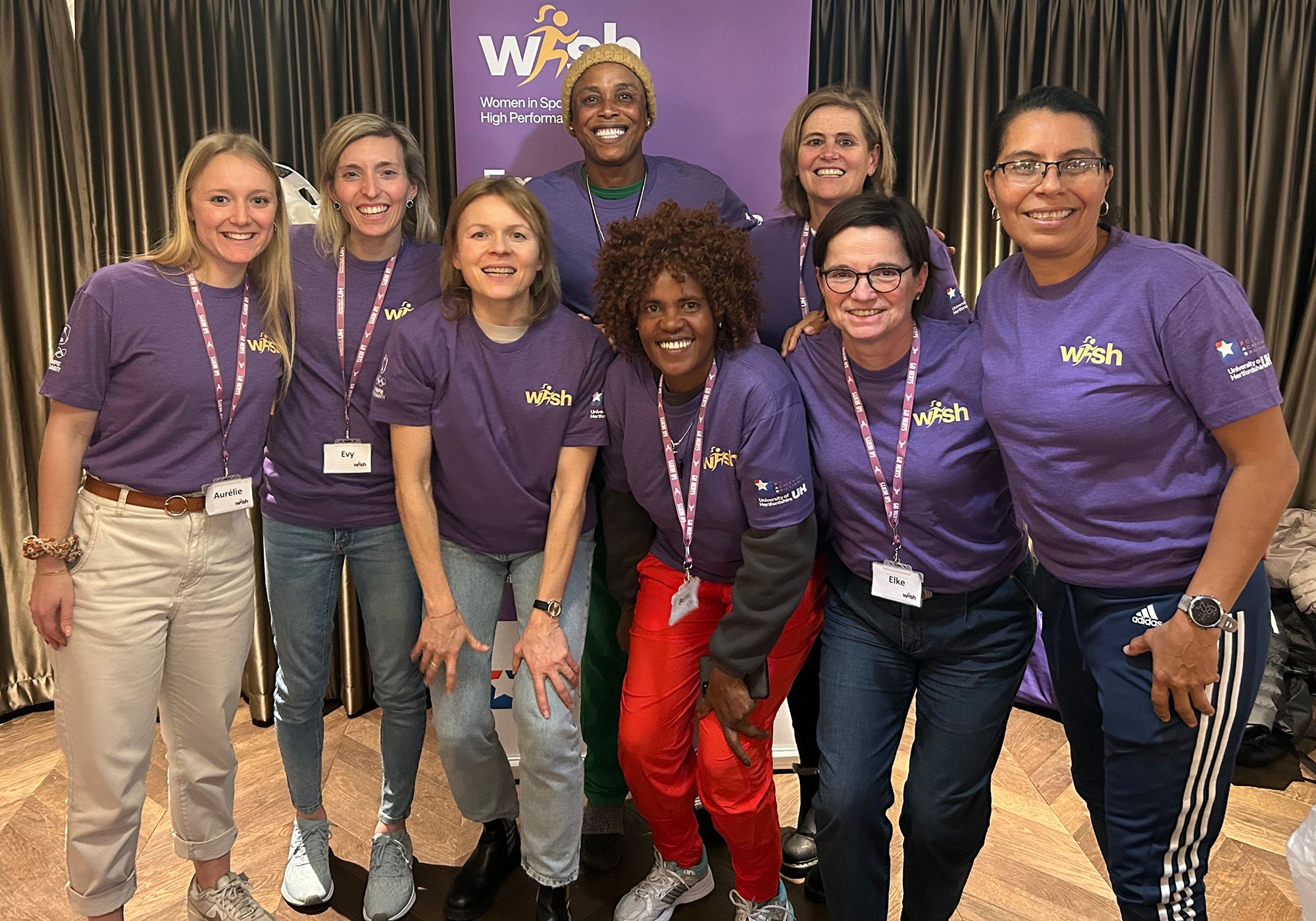 Athletics coaches on the IOC'S WISH programme
The IOC says: "The programme is designed to help female coaches develop their leadership skills, confidence and careers. Mentoring is also a very important part of the programme. Coaches benefit from one-to-one leadership mentoring plus ongoing support from a sport-specific mentor. Such expert advice and feedback on real-life challenges can be invaluable to any coach, let alone a woman striving to perform at the top of her game in a male-dominated environment."
So far, almost 100 coaches (including the pilot participants in 2019-2021) drawn from 17 sports across 53 countries have enrolled in the programme and were selected by their International Federations (IFs) and National Olympic Committees (NOCs) based on their individual achievements, potential and ambition.
Eight athletics coaches from eight different Member Federations are among them, highlighting World Athletics' pledge to improve gender equity and close the gender gap in athletics in line with the #WeGrowAthletics campaign, which has entered its third year.
Initially launched on International Women's Day 2021 with the ambition of eliminating gender bias in athletics, the campaign has already made notable strides in fulfilling or initiating all of the pledges made in the last 24 months.
One of the pledges, which was reiterated during this year's International Women's Day, states: "Increase the number of female coaches at our World Championships to at least 20% by the World Athletics Championships Tokyo 2025 by encouraging Member Federations to send more female coaches, and providing the learning pathway in countries where women are underrepresented at the coaching level.
"To help us achieve this, our Gender Leadership Taskforce is working with the IOC Female Coaching Leadership Programme – WISH – to enable eligible female coaches to be selected as part of their national team for the Paris 2024 Olympic Games. A total of eight candidates from athletics have been selected for the programme."
These eight coaches include Elke Bartschat (GER), Birtukan Ketsela Gebremariam (ETH), former sprinter Aurelie Gutschmidt (SUI), and another former athlete Aneta Lemiesz (POL), the 2000 world U20 400m silver medallist who now works with the Polish Athletics Federation. The group also features Siria Carmina Mata Plascencia (MEX); Noelle Morrissey (IRL), who is a former athlete and personal coach to Tokyo Olympic hurdler Sarah Lavin; Evy Pieters (BEL) and Ojokolo-Akpeki (NGR), whose athlete Itsekiri is a three-time Nigerian champion and bronze medallist from the 2019 African Games.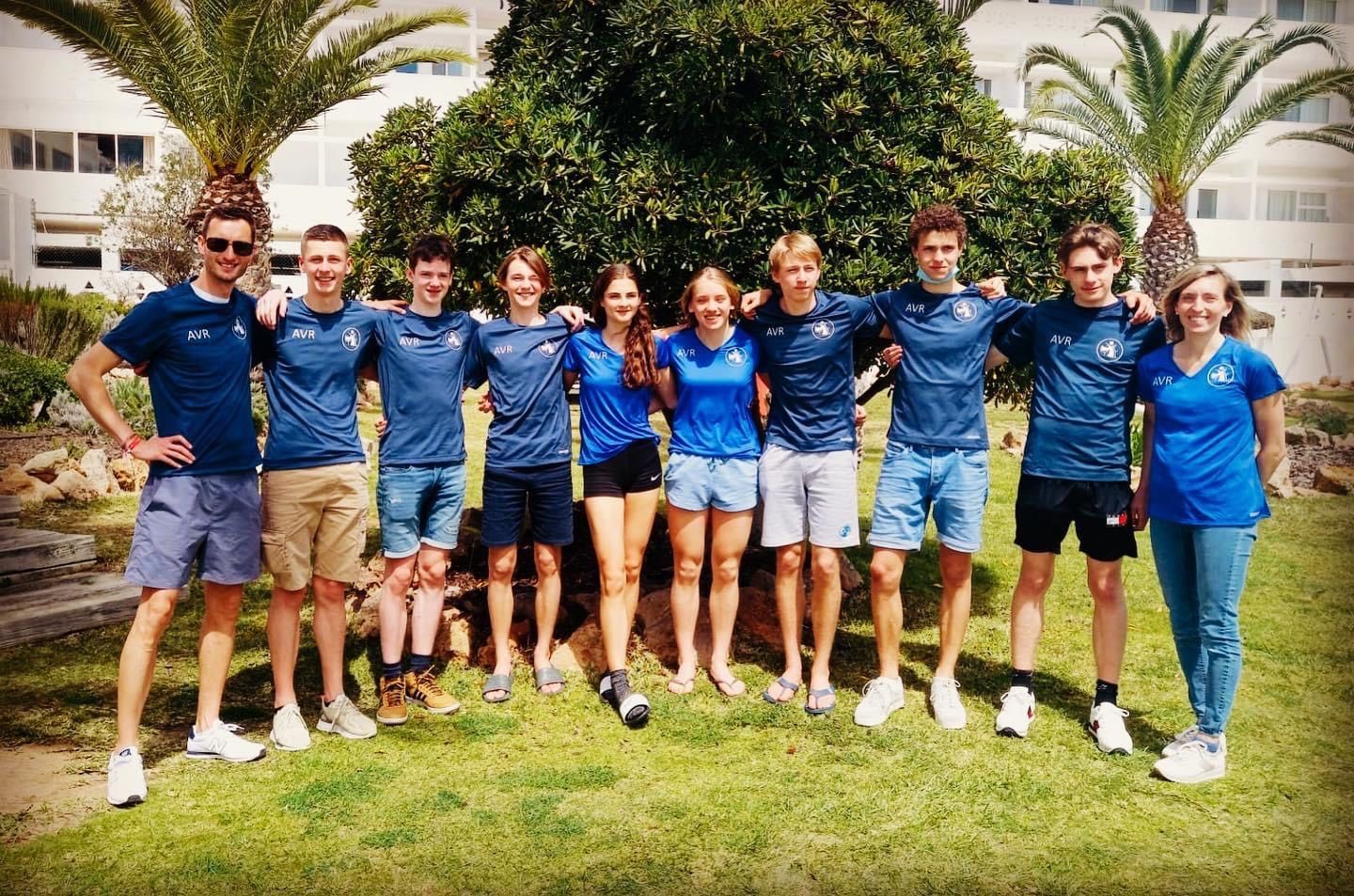 Evy Pieters (right) with a group of her athletes
Pieters, who currently coaches a group of 22 athletes alongside her husband, who is also a former athlete, says she was thrilled to have been shortlisted for the WISH programme.
"I was honoured they asked me, because I certainly have the ambition to develop myself as an athletics coach in the middle and longer distances," she explains.
"In Belgium, there aren't a lot of female high-performance coaches at the moment. In the last few years, we've been seeing some changes here. Tine Bex is another young and promising Belgian female coach in middle distance running. In the near future we hope to develop ourselves, so athletes will get the opportunity to choose to be coached by a man or woman."
In the last 10 years, Pieters has combined being both an athlete and coach. In February 2023, she finally completed the transition as she ran her last race at the European Champion Clubs Cup Cross Country in Oropesa del Mar in Spain. She believes WISH came at the right time and is grateful for the valuable insights she has garnered so far.
"In February, we had the opportunity to join the residential week at the University of Hertfordshire in the UK. The residential week was an amazing experience for me," she says. "The workshops run by the facilitators and the shared experiences of the 31 coaches in the programme make it so valuable. It was an awesome opportunity to gain new insights, that I definitely want to apply in my future coaching career.
"The WISH programme came at the right time for me. Now I get the support of a couple of specialised mentors who help me to develop myself in becoming a high-performance coach. It's something that's very useful because being a good athlete doesn't mean you will automatically become a good coach," she adds.
Ojokolo-Akpeki believes she's been transformed by the WISH programme.
"When I was called by the Nigerian Olympic Committee, I was so excited because I knew this was another opportunity for me to empower myself," she says. "It was like a dream come true. The one-week residential training felt like a lifetime of learning. What I gained in one week, some people spend a lifetime trying to achieve the same.
"The facilitators were really great and worked so hard to see the best come out of women; it broke something in me and brought out a new me," she adds. "Sometimes I can be timid and not challenge the status quo. The experience there has opened me up. The programme is not just about you as a coach but as a person, a wife, a mother, and a coach. There's so much I learned from there. I'm a different person. Anyone who gets this opportunity should take advantage of it. There is a lot to learn. The chains were broken. It was a great experience."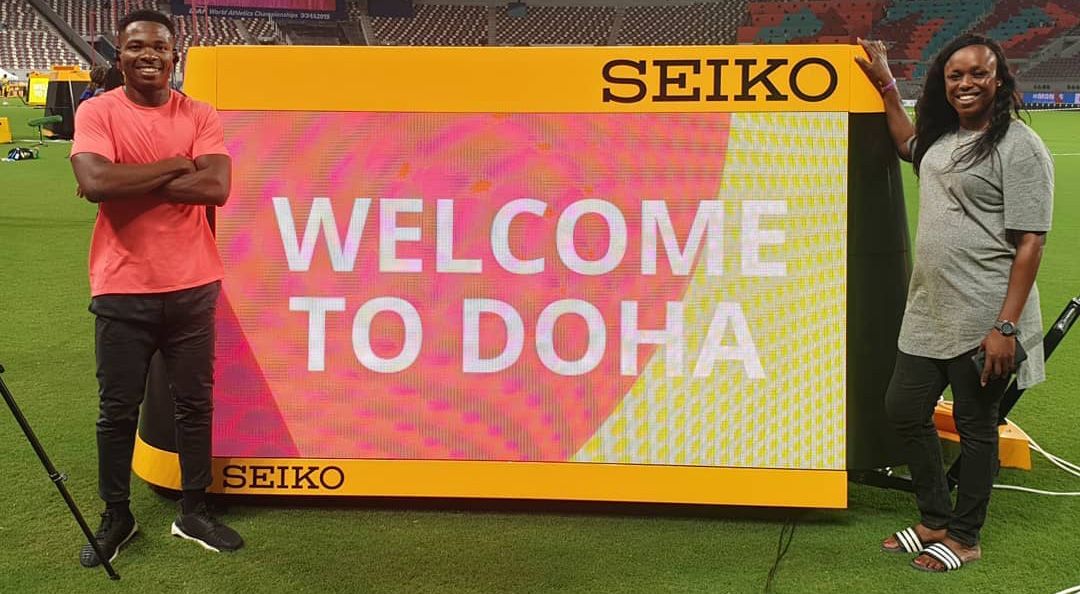 Usheoritse Itsekiri and coach Endurance Ojokolo-Akpeki at the 2019 World Championships in Doha
The multiple continental medallist and world and Olympic relay finalist has been on the Nigerian team as a sprints coach at a number of competitions. Explaining why she became a coach, she adds: "I got the confidence from the fact that I did not get to the Olympic finals (in her individual event) in my time, so I was like, this is something I can do; I can actually train someone to make the Olympic finals. We all know that once an athlete gets to the final, anything can happen.
"I believed it was something I could do, and I wanted to do it well. I haven't given up on that; we've been to one Olympics, we're going to get to another one and God willing, we're going to get to the finals. If I can get that, then I will know that I've really done well."
So, what advice can be passed on to other women who wish to get involved in coaching? "Just go for it!" says Pieters. "As a former athlete, I can assure you that there are a lot of female athletes who would love to be coached by women, but at the moment, there aren't many possibilities to be coached by one.
"Don't get me wrong. There are definitely some male coaches who are doing a great job coaching women, but women often have a different approach. So, if you have the ambition to develop yourself as a high-performance coach, surround yourself with people who believe in you and give it a go."
Yemi Olus-Galadima for World Athletics