World Athletics Women's Week
Forming part of the second year of our #WeGrowAthletics campaign, World Athletics continues to recognise the essential role women play in growing our sport and to celebrate the great role models we already have – all while breaking down barriers to female participation at all levels of athletics.
A new series of pledges has been announced for 2022, including:
#WeGrowAthletics by celebrating the women who make our sport through sharing inspiring stories of role models across all levels.
Launched on International Women's Day (8), as part of World Athletics Women's Week, this thread highlights some of the many stories shared that shine a light on the inspiring role models within athletics.
Updates by Jess Whittington
---
---
Saturday 12 March
Mira Rai: child soldier, ultra-runner, mentor
Nepali child soldier turned ultra-runner Mira Rai is now mentoring other young women in the hope that the sport can benefit them in the same way it has her.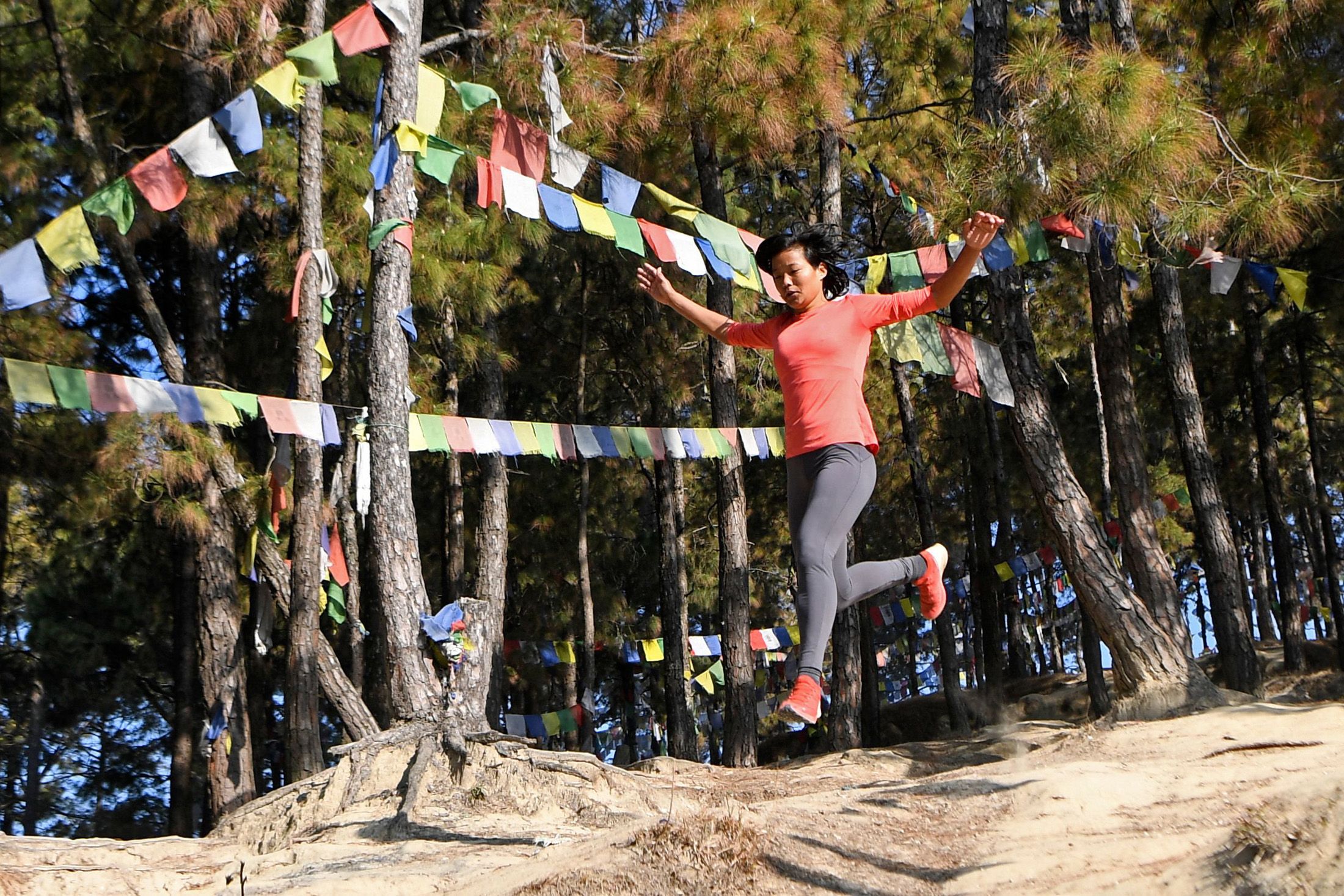 (© AFP / Getty Images)

Named the National Geographic People's Choice Adventurer of the Year in 2017 for championing women in sports, Rai began the Mira Rai Initiative that same year to train young women like her from impoverished backgrounds.
"I don't know where I would be if I wasn't lucky enough to find support," she told AFP. "This sport can change lives for others like it did for me. That's why I have to help."
The initiative, funded by the Hong Kong chapter of community group Asia Trail Girls, selects young girls with potential from all over Nepal for a nine-month programme in Kathmandu.
Saneh's leading role
Lebanese athlete, journalist, designer and illustrator Christel Saneh has spoken about using her creativity to inspire the next generation, as part of the IOC Young Leaders programme.
Launched in 2016, the programme is designed to empower young leaders to use the power of sport to make a positive difference in their communities.



In a video released on International Women's Day, Saneh shared insight into one of her recent projects.
"Growing up in Lebanon, I felt the need for Olympic education on so many levels," she said. "When we had the opportunity to apply for projects for the IOC Young Leaders, we decided to tackle the lack of Olympic education by focusing our audience on the next generation – the youth – and how to grab their attention is through play."
Saneh, who now also works with World Athletics and is helping to highlight some of the sport's trailblazers through her series of illustrated features, decided to create a board game focused on the Olympic values, excellence, friendship and respect as well as anti-doping awareness.
"If there is one thing that I learned from this project, it is that one thing that you do can impact a lot of other people and they would also be inspired to do the same thing," Saneh added. "The world of creativity is unstoppable and there are a million ways to do something and make a difference."
Discover Saneh's illustrated features
---
---
Friday 11 March
How she did it
International Women's Day marked the publication of How She Did It, a new book featuring interviews with 50 legendary distance runners. From US Olympian Molly Huddle and coach Sara Slattery, it's described as "the ultimate roadmap for female distance runners" as some of the sport's greats share stories, advice and secrets to success.
Pub day is here! On #InternationalWomensDay2022 we celebrate the achievements of amazing women in sport. We've come a long way & still have improvements to make in our home of women's distance running. Hoping this book helps the next generation of athletes run strong,fast &happy! pic.twitter.com/qL0TPQwfUg

— Molly Huddle (@MollyHuddle) March 8, 2022
"Frustrated by seeing young talent burn out before reaching their potential, professional distance runner Molly Huddle and college coach Sara Slattery have teamed up with trailblazing running legends and sports medicine professionals to create an essential guide to reach your running potential."
Featured athletes include Joan Benoit Samuelson, Paula Radcliffe, Deena Kastor, Emma Coburn, Raevyn Rogers and Molly Seidel.
"On International Women's Day, we celebrate the achievements of amazing women in sport," wrote Huddle. "We've come a long way and still have improvements to make in our home of women's distance running. Hoping this book helps the next generation of athletes run strong, fast and happy!"
Kosgei seeks education support
Kenya's world marathon record-holder Brigid Kosgei has voiced her hope to use her status and partnership with Stanbic Bank to ensure that more girls from her village have access to education.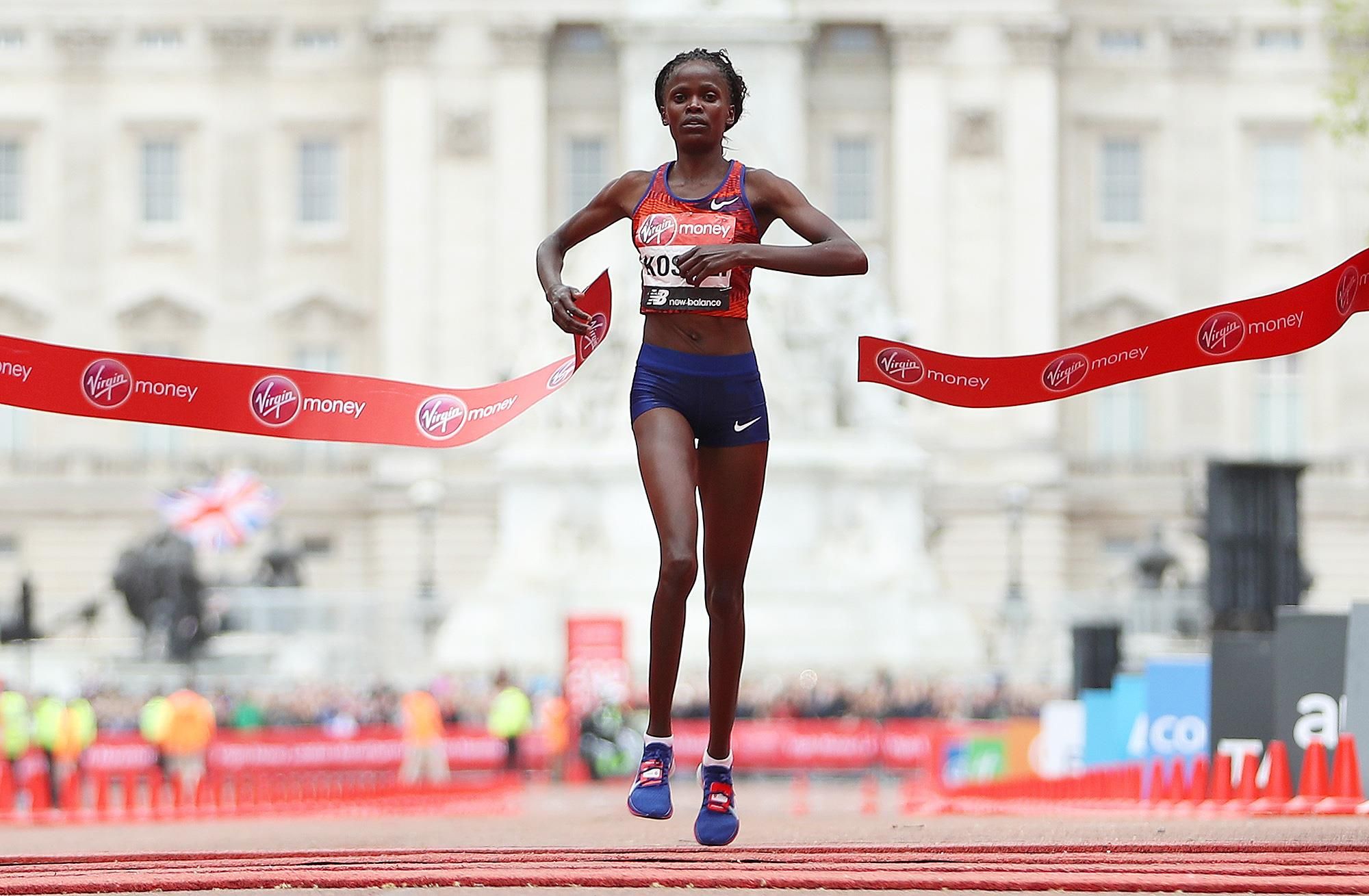 The 28-year-old explained how she had been unable to complete her own high school education because her family could not cover the fees and she now wishes to work with Stanbic to prevent others from being in a similar situation.
"I ran some race in Eldoret and a principal from a high school saw me and said he would pay for my fee from form one and two and part of form three. That is how I went to high school," she said, as reported by Capital FM Kenya. "But when he could no longer pay my fees, it became difficult for me because my mother who I was staying with was also not able to finance my education.
"I would like to work more with Stanbic through their programmes to see how we can ensure that more girls have access to education. I know that in the village most of the parents are not able to pay fees for their children."
---
---
Thursday 10 March
Nageotte and Bradshaw take to Twitter Spaces
In a #WeGrowAthletics special, Olympic pole vault medallists Katie Nageotte and Holly Bradshaw joined host Michelle Sammet on Twitter Spaces to talk Tokyo, friendship, mental health and how they grow athletics.
"Honestly, going in, I felt like absolute best-case scenario that would be us on the podium," said Nageotte, reflecting on last summer's Tokyo Olympics where she gained gold and Bradshaw bronze. "Holly has become one of my best friends, so, you want that. Naturally, I wanted to be No.1 and I wanted her to be No.2! But I would have taken it any way. It's very surreal because you dream about it, you picture it, you hope for it, but then when it actually happens, it almost seems too big to be a reality. It has taken a long time for it to really sink in."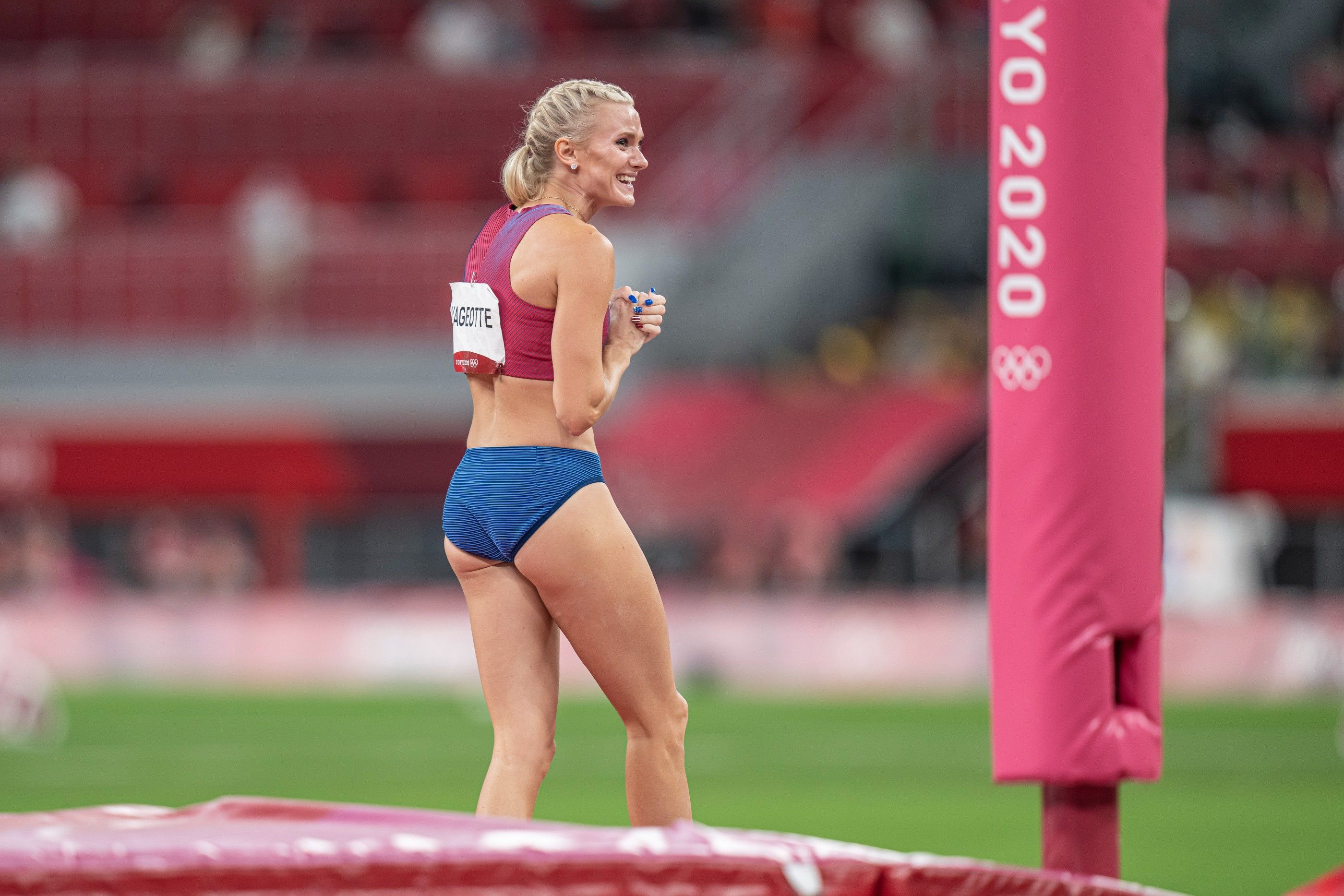 (© Christel Saneh)

Remembering the emotion, Bradshaw added: "I've stood on a podium before, but to have this other emotion of pure elation for someone else as well as yourself, especially a competitor, was something I've never experienced before.
"I don't think any moment will come close to it."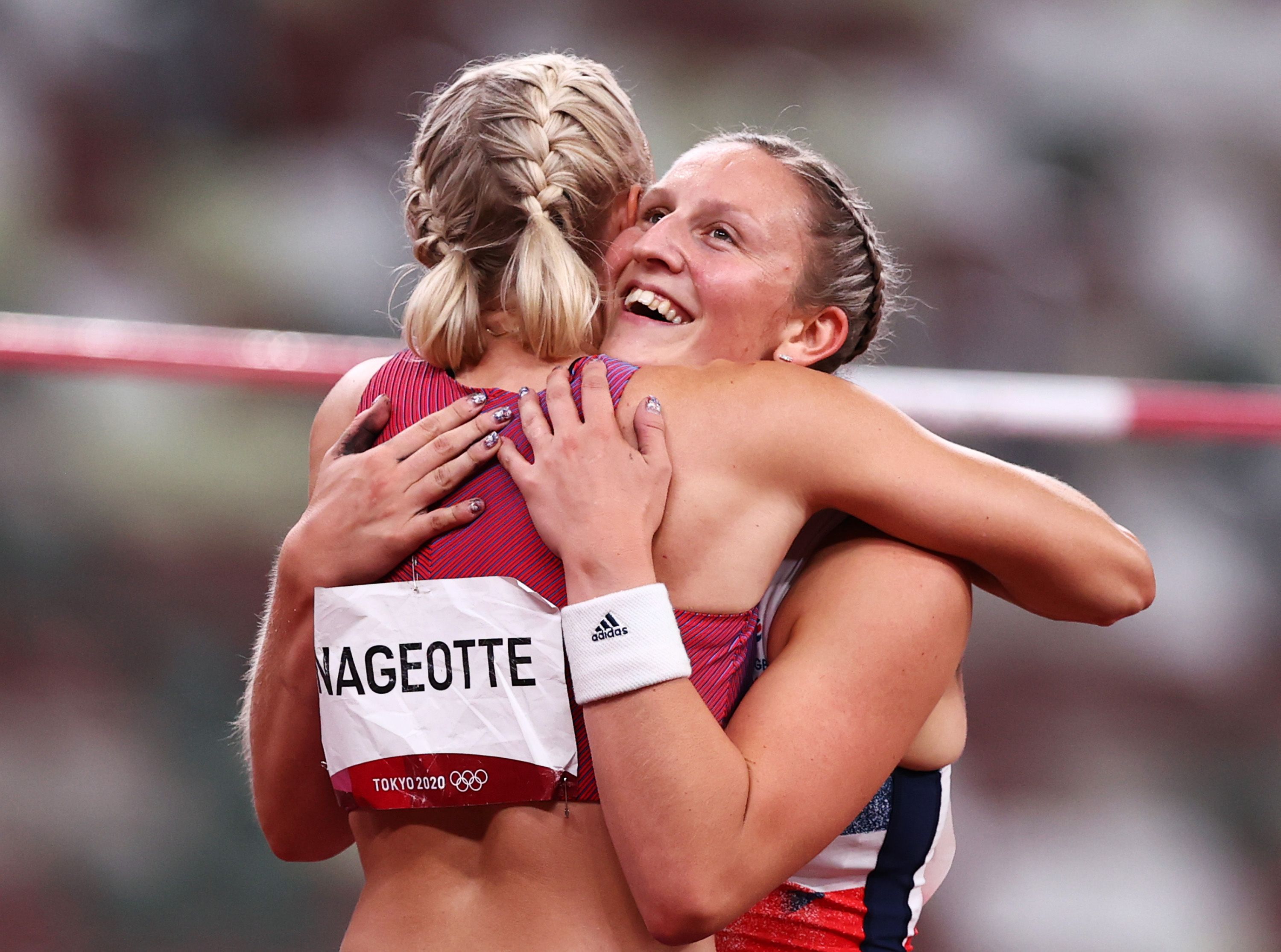 Having experienced such a high, Nageotte shared insight into the mental impact, including a discussion she had with two-time world decathlon champion Trey Hardee about a 'balloon and broken pump' analogy.
"I'm certainly not done. I don't want to be done, I'm fighting through it, but I will say there are days when I come to pole vault practice and I can't muster up an ounce of motivation, and it makes me really sad," Nageotte explained. "I was talking with Trey Hardee, telling him what I've been through, and he had this really great analogy where your motivation is kind of like this big balloon that's inflated, and then after you achieve something so big and you achieve what you wanted, it deflates. But the pump that you had before to blow it up is broken, so you have to find a new pump and a new way to blow it up.
"I'm trying to be pretty vocal about it. I do think other athletes have gone through it and are going through it and it's normal for these ebbs and flows, ups and downs, of motivation in sport. It's a process. A jump by jump, day by day thing."
Catch up with Olympic pole vault medallists @ktnago13 and @HollyBradshawPV as they talk #Tokyo2020, mental health and how #WeGrowAthletics by inspiring the next generation of girls in the sport.https://t.co/dCFmqp6jgm

— World Athletics (@WorldAthletics) March 10, 2022
Bradshaw agreed and when asked for advice for the next generation, she explained how enjoyment is key.
"I think a lot of younger athletes think they need to be super serious and there's of course a time and a place to be professional and serious," she said. "But the crux of it is, you need to enjoy and love what you are doing.
"I'm pretty sure that when a 13-year-old kid goes down to the athletics track, they are not thinking 'I want to make millions', they are thinking 'this is fun and I absolutely love it'. I think losing sight of that often goes terribly wrong."
Listen to their full 35-minute chat here
Diamond League legends
Six athletes, with 31 titles and over a decade of magnificent moments between them – for International Women's Day the Wanda Diamond League profiled some of the series' all-time greats.
Shot put star Valerie Adams, jumps ace Caterine Ibarguen and discus champion Sandra Perkovic each have six series wins, while Barbora Spotakova has secured five in the javelin, Allyson Felix four in the 200m and 400m, and Shelly-Ann Fraser-Pryce four in the 100m and 200m. They also have a whole host of meeting records to their names.



Read more and watch some of their top moments
---
---
Wednesday 9 March
Montag supports athletes to Play On
After identifying some of the barriers stopping young women from participating in sport, Australia's Oceanian 20km race walk record-holder Jemima Montag decided to do something about it. As part of the IOC Young Leaders programme, the 24-year-old has launched the Play On project.



"Once I had a grip on the barriers and why girls are dropping out of sport at twice the rate that young men are, I had to think about the solution," she said. "So I looked into my local government's inquiry into women and girls in sport and recreation, and took one of its suggestions on board - tackle the built environment and create the conditions for young women to enjoy physical activity.
"The key value of Play On is inclusivity," she added. "We need to understand that there are a whole range of different people who want to live their best life in different ways, and we can no longer assume that people will fit a cookie cutter mould of what an athlete should look like or be like. We need to create spaces that feel safe and exciting for all different sorts of people."
"I hope we stop being pioneers"
Ximena Restrepo continues to make history, 30 years on from her third-place finish in the 400m at the Barcelona Games to become the first Colombian woman to win an Olympic medal in any sport. Elected the first woman Vice President of World Athletics in 2019, she spoke with El País about striving to make such achievements the norm.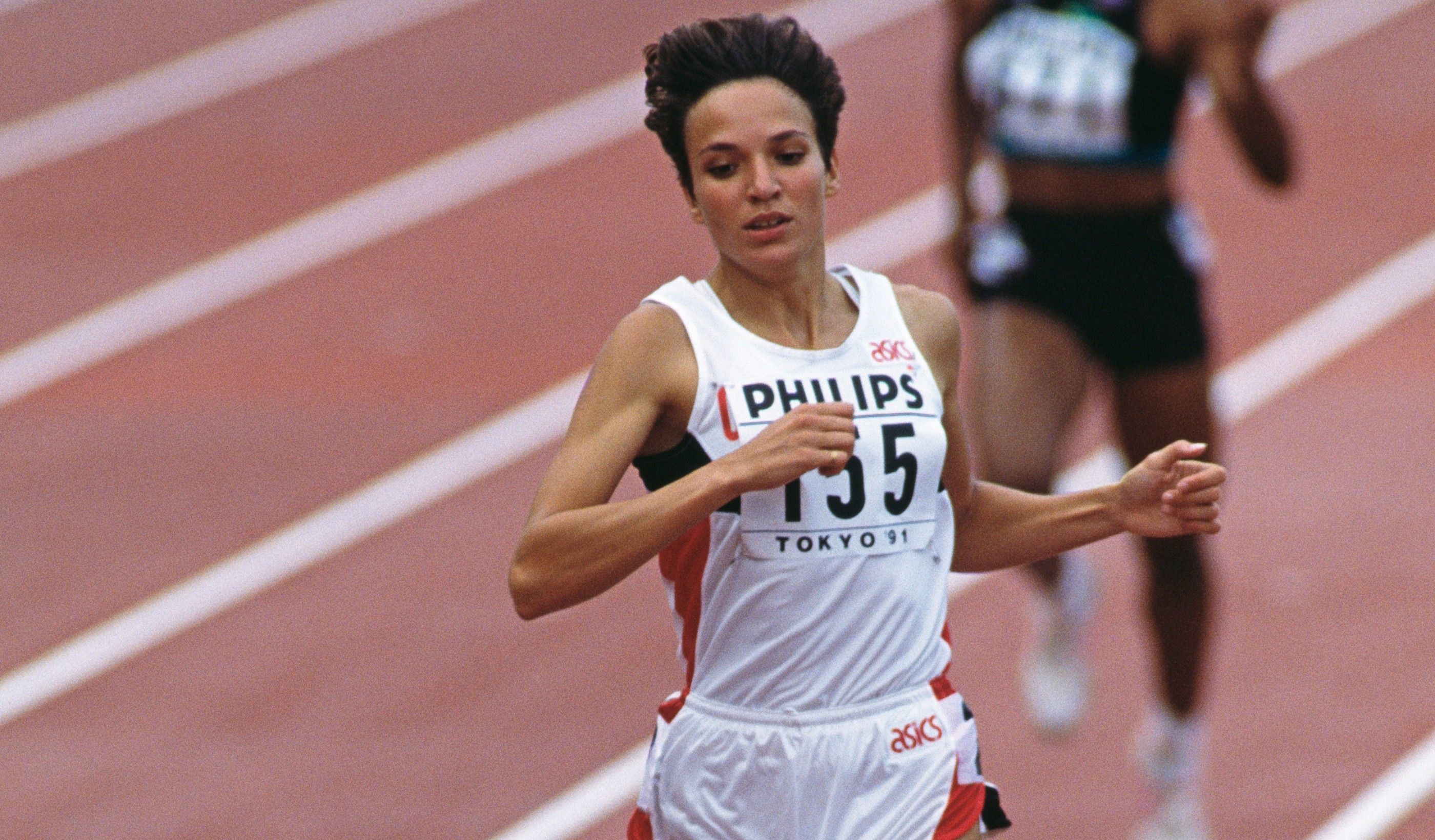 "I'm not that young but I'm not that old either," she said, "and it's hard to think that I was the first woman medallist in Colombia, the first woman vice president of an international federation.
"I hope that those moments will come when we will simply become a benchmark of normality and that being the first in something will remain in history, not something that is still so present in our society."
"It shows how far we've come"
Wendy Sly has a lifetime of experience in the sport, first as an athlete who went on to claim Olympic 3000m silver in 1984 and now as a non-executive director on the UK Athletics Board and managing director of AW.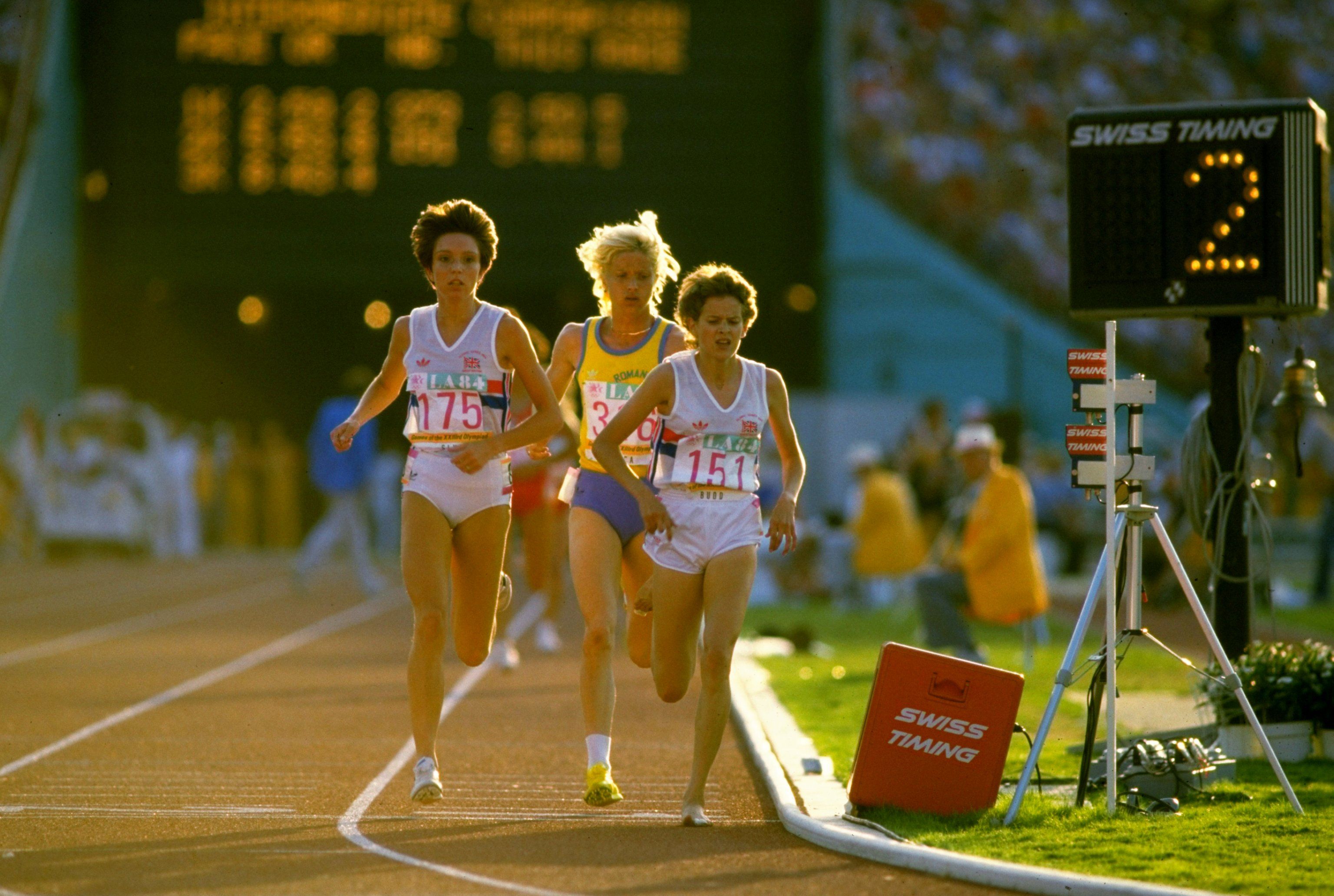 Sly with Maricica Puica and Zola Budd in the 1984 Olympic 3000m final (© Getty Images)

For International Women's Day, Sly spoke with UKA about her experiences in athletics and how she strives to break the bias.
"As a female athlete who grew up in an era where women weren't allowed to run the same distances at championships as the men, and certainly weren't offered the same opportunities, it shows how far we've come," she said.
In an interview with AW's Georgie Heath, Sly shared further insight into her journey. "It's crazy that I was part of the first Olympic women's 3000m ever and I also won the inaugural 10km World Championship in 1983. Looking at that now makes it even more special to see how far we have come," she explained.
"It was because of those trailblazers like Grete Waitz riding the roads in America that I wanted to race and win. Then Shirley Strong, Kathy Cook, Tessa Sanderson, Sue Hearnshaw and myself all walked away with medals in 1984 and showed that women could have a higher profile and compete at many and varied disciplines successfully.
"I proudly think that athletics has been ahead of other sports for a while now in terms of gender mix and diversity, but that doesn't mean we can't keep looking to build on this. It's not just in terms of athletes but also coaches and encouraging more women to get into it."
---
---
Tuesday 8 March
The women who make athletics
World Athletics goes behind the scenes at the World Athletics Race Walking Team Championships Muscat 22 to learn more about the women who make the sport.
Hear from chief international technical officer Zoe Eastwood-Bryson, Brazil's team coach Gianetti Oliveira de Sena Bonfim, TV director Clair Goodwin, volunteer Ghadeer Al Amri and 35km race walk champion Glenda Morejon.
"Strive for what you want to do, and follow your dreams."


If she believes it, she can be it
The fastest woman on Earth.

At Tokyo 2020, Elaine Thompson-Herah shook the world quicker than you could blink. She was crowned champion in every event in which she participated, taking home three gold medals. #IWD2022 | #BelieveitBeit | @fastelaine

— Olympics (@Olympics) March 8, 2022
Trailblazing team for Boston
The Boston Athletic Association has announced a team of eight women for the 126th Boston Marathon in April, when they will take part in honour of the original eight finishers from the first official women's field in 1972.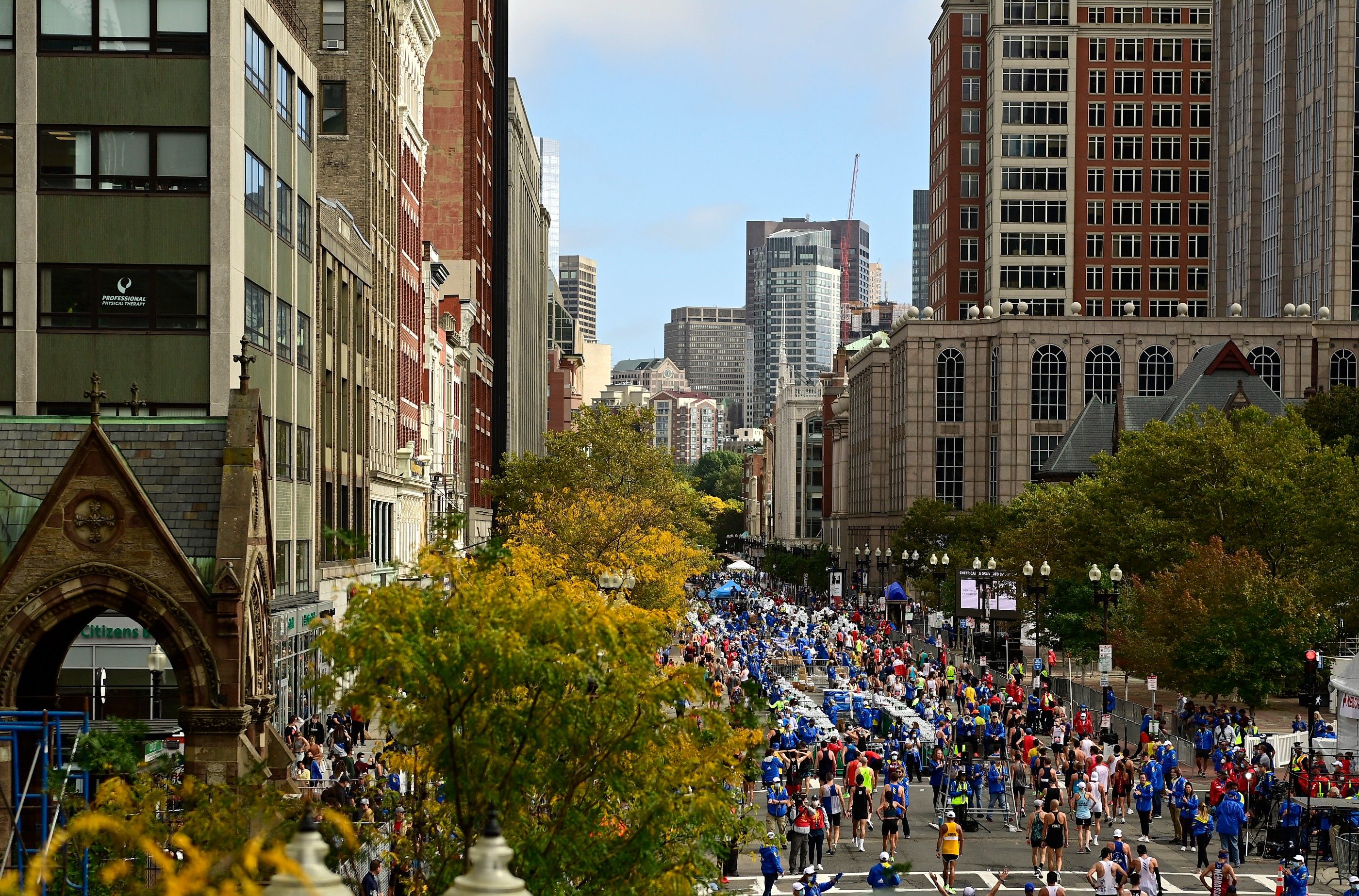 Each of the team members has made a powerful impact in areas from athletics to human rights. Among them is Valerie Rogosheske, one of the original eight finishers in 1972, who returns 50 years later. She will be joined by Mary Ngugi, Manuela Schar and Melissa Stockwell – who will be competing at the front of the field as part of the John Hancock Professional Athlete Team – as well as football stars Kristine Lilly and Sarah Fuller, Guinness world record-holding marathon runner Jocelyn Rivas and running activist Verna Volker.
"I am so looking forward to returning to Boston this year with my daughters to celebrate 50 years of women being welcomed into the marathon," said Rogosheske. "In 1972, the students at Wellesley yelled: 'Right on, sista!' On the 25th anniversary the students looked like my daughters, and this year they could be my granddaughters! I celebrate the progress through the generations as women claim their places on the start line."
The next generation
Helping to develop the next generation of coaches was among the topics discussed by Germany's national team head coach Annett Stein as she joined Sky Sports News to talk about women in the sport.
"Among other things, we have set up a traineeship, with which young competitive athletes are to be steered into the coaching profession in the long term. There is already a large proportion of female applicants," Stein explained.
On the enjoyment of coaching, she added: "It is a wonderful job. We work with people who have a special talent and are passionate about the sport – that gives a lot of pleasure."
"Something has to change"
Joan Chelimo wrote for Spikes about Tirop's Angels: an organisation founded by Kenyan athletes and the late Agnes Tirop's family, standing in unity against gender-based violence.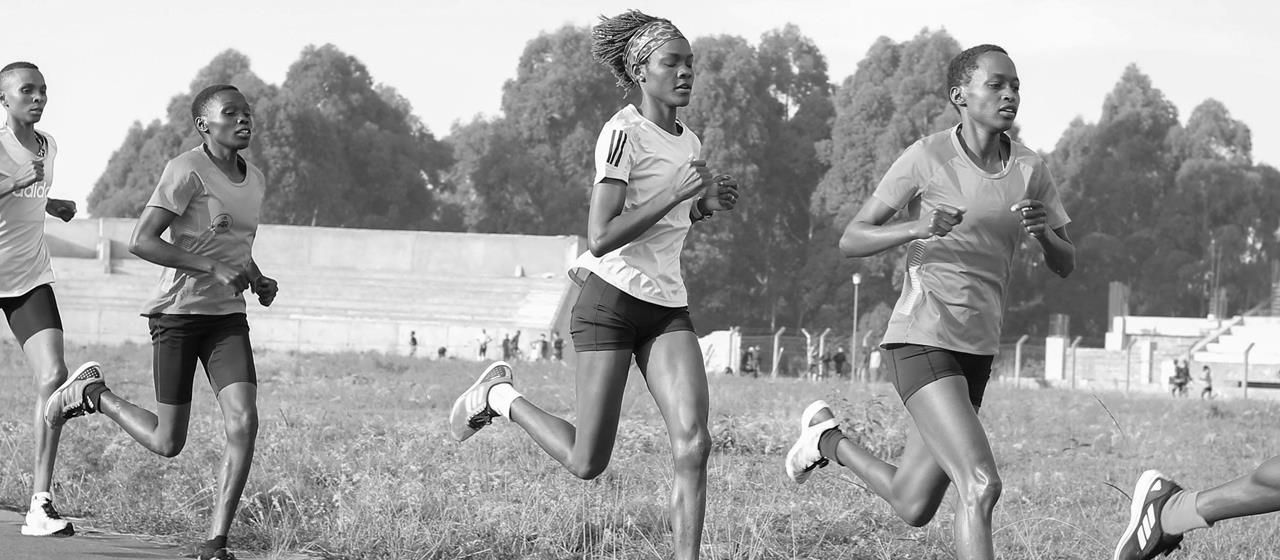 (© Geofrey Chemisto / @Chemistophotography)

"This is a wake-up call. Something has to change," said Chelimo.
"We knew we had to come up with something strong to remember Agnes, to ensure her death led to some meaningful change. That's why we started Tirop's Angels. We want to celebrate Agnes's life and we want women athletes to be given access to safe places so that if they are violated, they can still train and feel secure. We want to educate women about their rights because many don't know them.
"We want many others to join us, because we all have a role to play in this.
"So many people talk about Kenyans running fast on the world stage, but few people talk about what Kenyan women have to go through on their way to the top. Over time, in the next five years, we believe we will change our society.
"That way, Agnes Tirop can be remembered for all the right reasons."
Celebrating Canada's top female athletes
From Viktoria Brown to Regan Yee, Canadian Running magazine has profiled some of the nation's top athletes from the past 12 months.
"In the past year, our Canadian women have stood on the top of podiums, shattered records and inspired the nation," wrote Brittany Hambleton.
Equal and together
#atletica "Uguali e Insieme" - 8 marzo, la campagna per la parità di genere

🥇🥇 L'Atletica Italiana aderisce all'iniziativa Rai per la #GiornataInternazionaleDellaDonna con gli ori olimpici Antonella Palmisano e Fausto Desalu#8marzo #UgualiEInsieme pic.twitter.com/FOYokXQQQB

— Atletica Italiana (@atleticaitalia) March 8, 2022
WCH Oregon22 celebrates women in athletics
The local organising committee (LOC) for the World Athletics Championships Oregon22 has pledged to honour women in sport as part of a 'Women in the Spotlight' initiative centered on 18 July.
The fourth day of competition will showcase key moments for a range of women's events, including the women's marathon, heptathlon, triple jump final and 1500m final. The in-stadium event presentation will be devoted to honouring women in track and field and will also include specific programming highlighting historic moments and heroes as well as the accomplishments of current superstars.
As a result of World Athletics' pledges last year, a review of World Athletics Series events scheduling will see WCH Oregon22 end with the women's 4x400m relay for the first time in event history.
10 stories of courage, dreams and inspiration
🚨 En este HILO:

🔟 historias de valentía, de sueños, de inspiración.

🔟 historias de mujer.

En BeAthletics Women, #WeGrowAthletics #8M #IgualesEnElDeporte #WeCallItIgualdad https://t.co/Z8AH84tN5l

— atletismoRFEA (@atletismoRFEA) March 8, 2022
Jamaican athletes, breaking barriers
The Jamaica Gleaner marked International Women's Day by sharing the stories of eight inspiring Jamaican sportswomen, with four of those from the sport of athletics.
Five-time Olympic champion Elaine Thompson-Herah, nine-time world champion Shelly-Ann Fraser-Pryce, multiple Olympic and world medallist Shericka Jackson and double 2018 world U20 champion Briana Williams all star in the series, with their sprint successes in the spotlight.
---
---
Monday 7 March
Felix, a TIME woman of the year
Allyson Felix was already a nine-time Olympic medallist. In 2021 the US sprinter added to her legend, winning two more medals in Tokyo to become the most decorated woman in Olympic track and field history. She did so wearing shoes by Saysh, her own lifestyle brand 'for, and by, women'.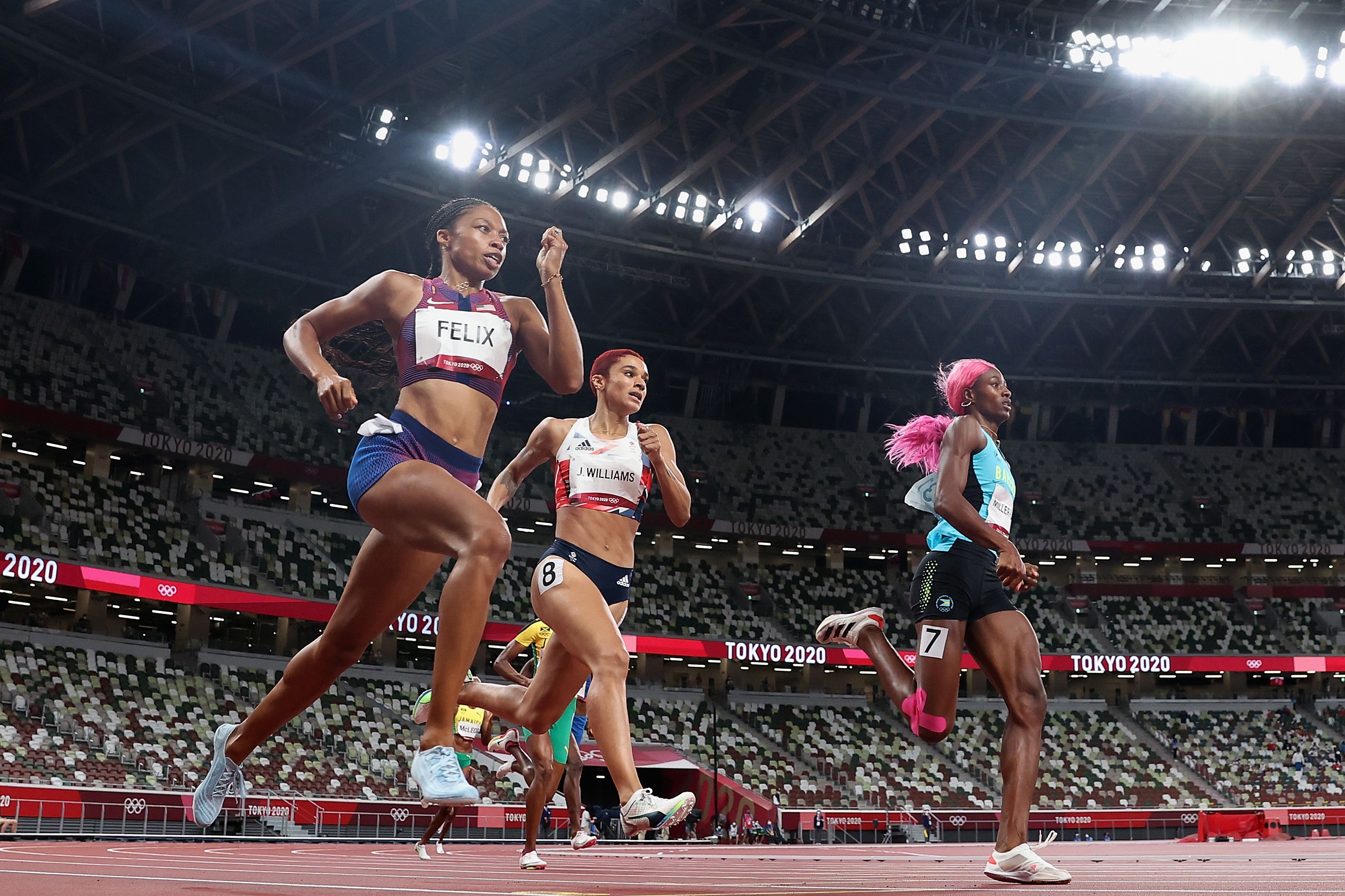 It was motherhood that helped Felix to find her voice and, recognised as one of TIME magazine's Women of the Year, she continues to blaze a trail.
"When you speak your truth, things happen," Felix told TIME. "You draw power from one another."
Closing the research gap
A new programme at Stanford University has been launched to address the gender gap in sports science research, with an aim to inform and empower.
The Stanford Female Athlete Science and Translational Research (FASTR) programme's pilot study, Erin Strout of Women's Running explains, is focused on educating high school distance runners about the female athlete triad and bone stress injuries. Based on the research, five educational videos will be created by FASTR, and they will be delivered by athletes sharing their own experiences.
"If we talk about this as researchers, it might not have as much impact as it would have coming from role models," US trail running champion and lead researcher Megan Roche told Women's Running. "We want to make sure it's scientifically backed information and have top athletes translate what that means to them. It's a good combination to hear from athletes who have gone through some of these trials and tribulations."
World Athletics makes further impactful pledges towards gender equality
World Athletics celebrates #IWD2022 by making further impactful #WeGrowAthletics pledges towards gender equality.

More information on this year's plans and how you can get involved to #BreakTheBias 👇

— World Athletics (@WorldAthletics) March 7, 2022