Jasmine Camacho-Quinn, Yulimar Rojas, Gianna Woodruff, Marileidy Paulino and Leyanis Perez Hernandez (© AFP / Getty Images)
From 15 September to 15 October, the United States celebrates Hispanic Heritage Month, a time to acknowledge the contributions of the Hispanic and Latino population in the United States and throughout the world.
There are many Latina athletes who have drawn attention to Latin America, serving as an inspiration to the next generation of Hispanic and Latina athletes in track and field. And here we shine the light on five such women who have done exactly that in 2023.
Rojas continues her triple jump reign
Venezuela's most decorated athlete, Yulimar Rojas, conquered it all in her 2023 season.
In early July, she represented her country at the Central American and Caribbean Games in El Salvador and won the triple jump with 15.16m, adding another title and record to her name.
Rojas carries her Hispanic/Latino roots wherever she goes. Her charismatic personality shines on and off the field and she's never afraid to express her genuine self, a Latin woman.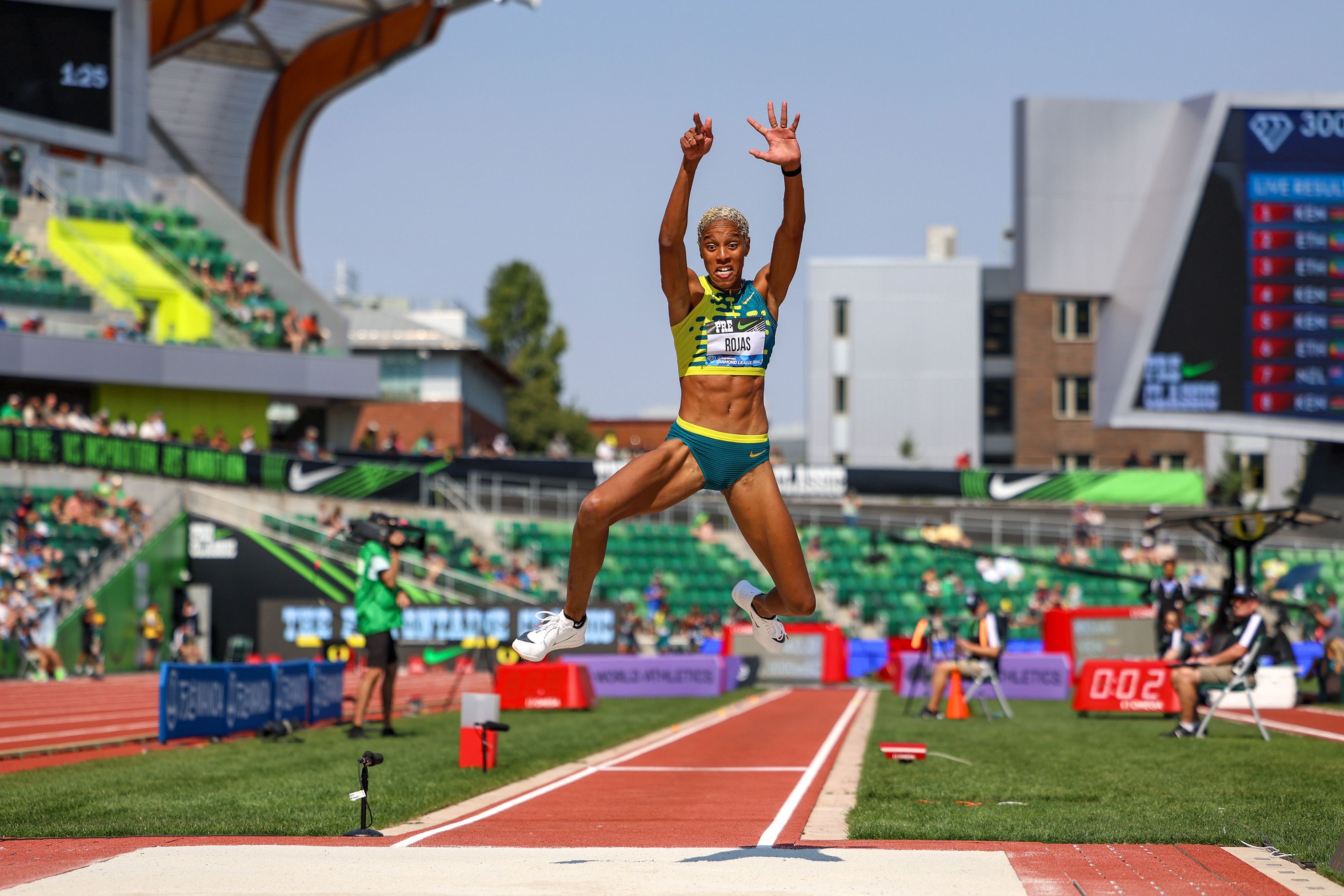 Triple jump winner Yulimar Rojas in action in Eugene (© Marta Gorczynska / Diamond League AG)
"The Latin woman is wonderful," said Rojas. "I characterise the Latin woman as a warrior woman: empowered, full of strength, full of energy and who never gives up on anything."
During the triple jump final at the World Athletics Championships Budapest 23, Rojas experienced something she's not used to – not being in the lead – as she was outside a podium place for much of the competition and was in eighth place going into the final round. With her final attempt, Rojas landed a 15.08m leap to take the lead, making history by winning her fourth world outdoor title in a row.
Following her Budapest triumph, Rojas – who is also a three-time world indoor champion – headed to the Diamond League Final in Eugene. She started her series with two fouls, then recorded a valid 14.53m in round three. Then in the fifth round, she hopped, stepped and jumped to a meeting record and world lead of 15.35m to win her third diamond trophy in a row.
The Latin woman warrior believes her strength comes from her Hispanic/Latino heritage, readying her for the next challenge.
"I am already thinking about the Olympic Games in Paris," she said.
After closing her season on a high note, Rojas heads to a well-deserved vacation in her home country before she starts preparing to continue her reign next year. She has one thing in mind: another Olympic gold medal.
Proud Panamanian Woodruff
Panama's 400m hurdles record-holder, Gianna Woodruff, has proven that she is one of the best Latina athletes in track and field.
At the World Athletics Championships Oregon22 last year, Woodruff finished seventh in the 400m hurdles, and this year she improved to fifth place at the World Athletics Championships in Budapest, clocking 54.71.
Woodruff made six appearances in the Diamond League series, including the Diamond League final where she placed seventh.
"Making it to the Diamond League final was everything I could have asked for," Woodruff said.
Born in Los Angeles to an American father and a Panamanian mother, Woodruff chose to compete for Panama as a way to give back to her mother's native country and inspire the young women in Panama who look up to her.
"I don't want to be the only one here anymore," said Woodruff. "I want other Panamanians, other Venezuelans, everyone from South America to be on this big stage with me."
Earlier in the year, Woodruff took silver at the Central American and Caribbean Games in San Salvador in 56.15. She will compete at the Pan American Games in Santiago de Chile later this year in the hopes of winning another medal for her country.
"I'm looking forward to getting a medal, I know it is possible," she said. "I am going to bring Panama one of its first medals. We are going to do all that we can to make sure that happens."
Rising Cuban triple jump star
Cuban triple jumper Leyanis Pérez Hernández had a successful season in 2023.
The 21-year-old earned silver at the Central American and Caribbean Games, behind Rojas, with a personal best of 14.98m. She was consistent throughout her season, surpassing 14.50m in every competition. In Rabat she achieved her first victory at a Diamond League meeting, leaping 14.84m.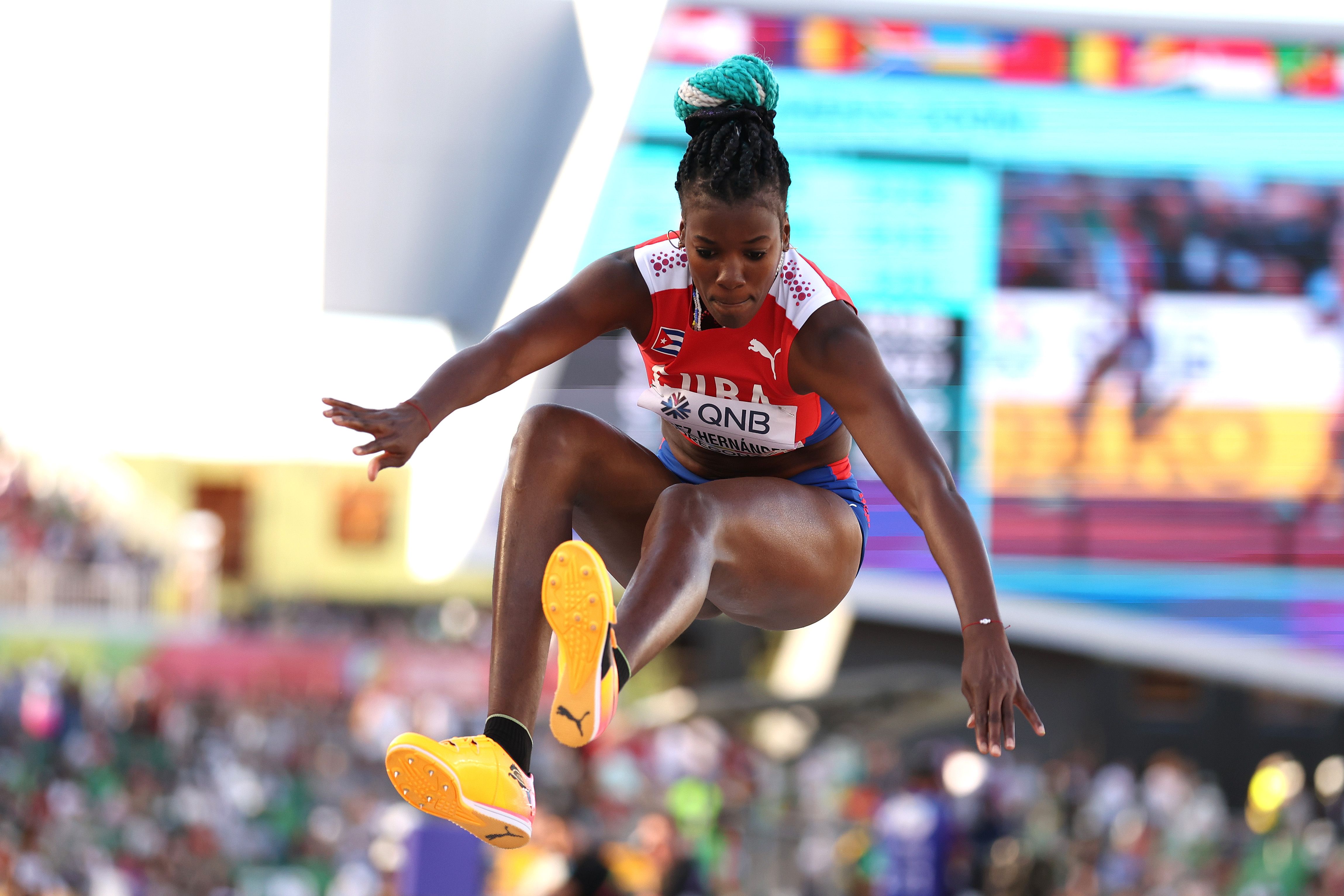 Leyanis Perez in Oregon (© Getty Images)
The World Championships in Budapest was no exception. Her first-round attempt of 14.96m was ultimately enough to place third, earning Pérez Hernández her first World Championships medal. With Rojas taking gold, it also meant the women's triple jump podium in Budapest featured two Hispanic/Latina women.
Paulino's historic performance
Dominican Republic's Marileidy Paulino had the season of her life in 2023.
At the Central American and Caribbean Games in July, she won the women's 400m in 49.95 to erase a Games record that had stood for 35 years.
Having taken world silver in Oregon last year, Paulino had only one goal heading into the World Championships in Budapest: to win the gold medal.
She duly delivered, winning in a national record of 48.76 to move up to 11th on the world all-time list. She also became the first woman from the Dominican Republic female athlete to win an individual title at the World Championships.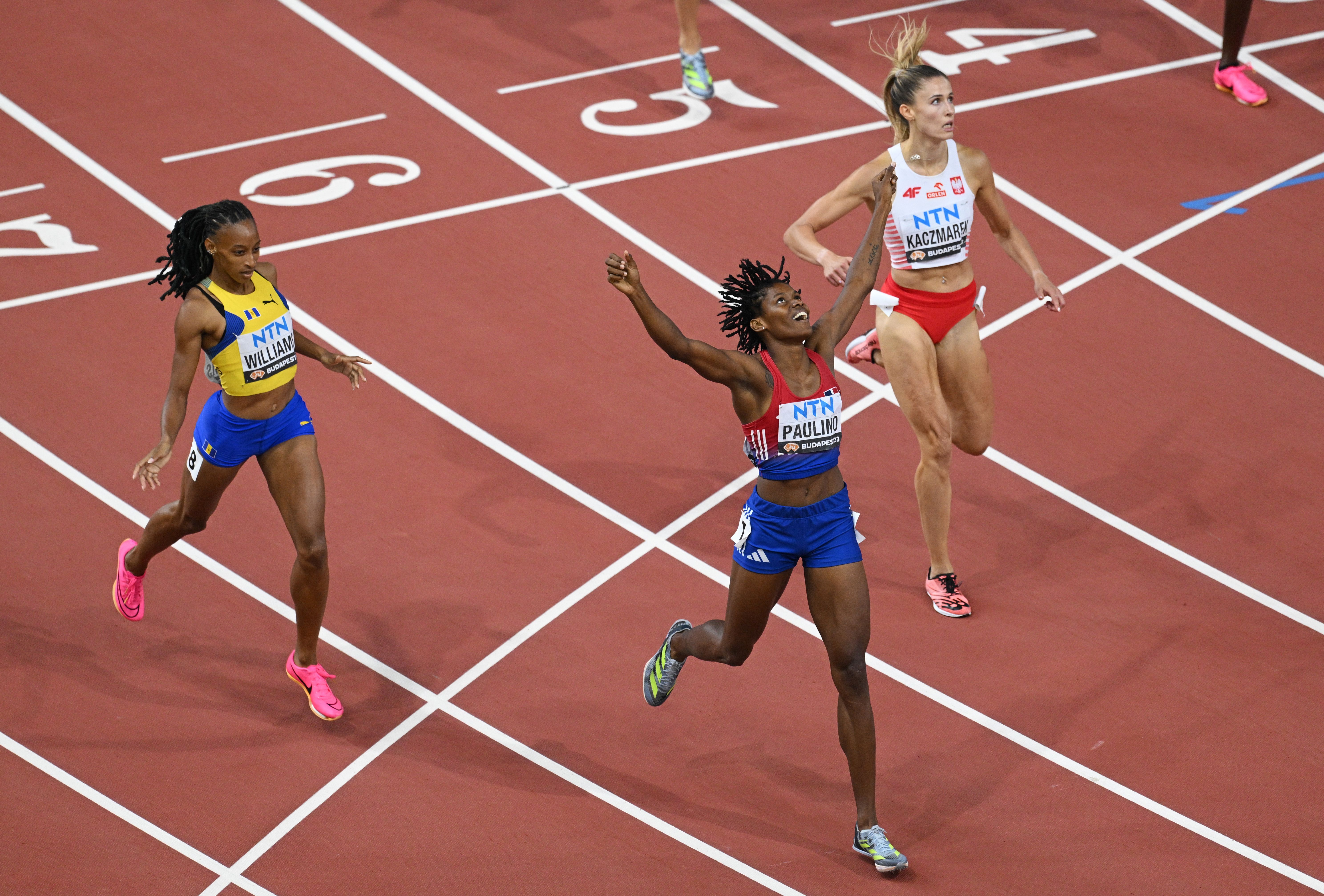 Marileidy Paulino wins the 400m at the World Athletics Championships Budapest 23 (© Getty Images)
The Latina sprinter said that her performances on the track have reached out and given a face to her part of the world.
"Latino America has a lot of natural talent," Paulino said.
After her success in Budapest, the 26-year-old returned to Eugene to run at the Prefontaine Classic. She retained her Diamond trophy, winning in 49.58.
Paulino will wrap up her season by contesting the 200m at the upcoming Pan American Games.
Camacho-Quinn embraces her heritage on the track
Just as she has done ever since she made her Olympic debut in 2016, Puerto Rico's Jasmine Camacho-Quinn continues to put La Isla del Encanto ('the island of enchantment') on the map.
The Olympic champion took gold at the Central American and Caribbean Games in El Salvador in July, having broken the Games record in the heats.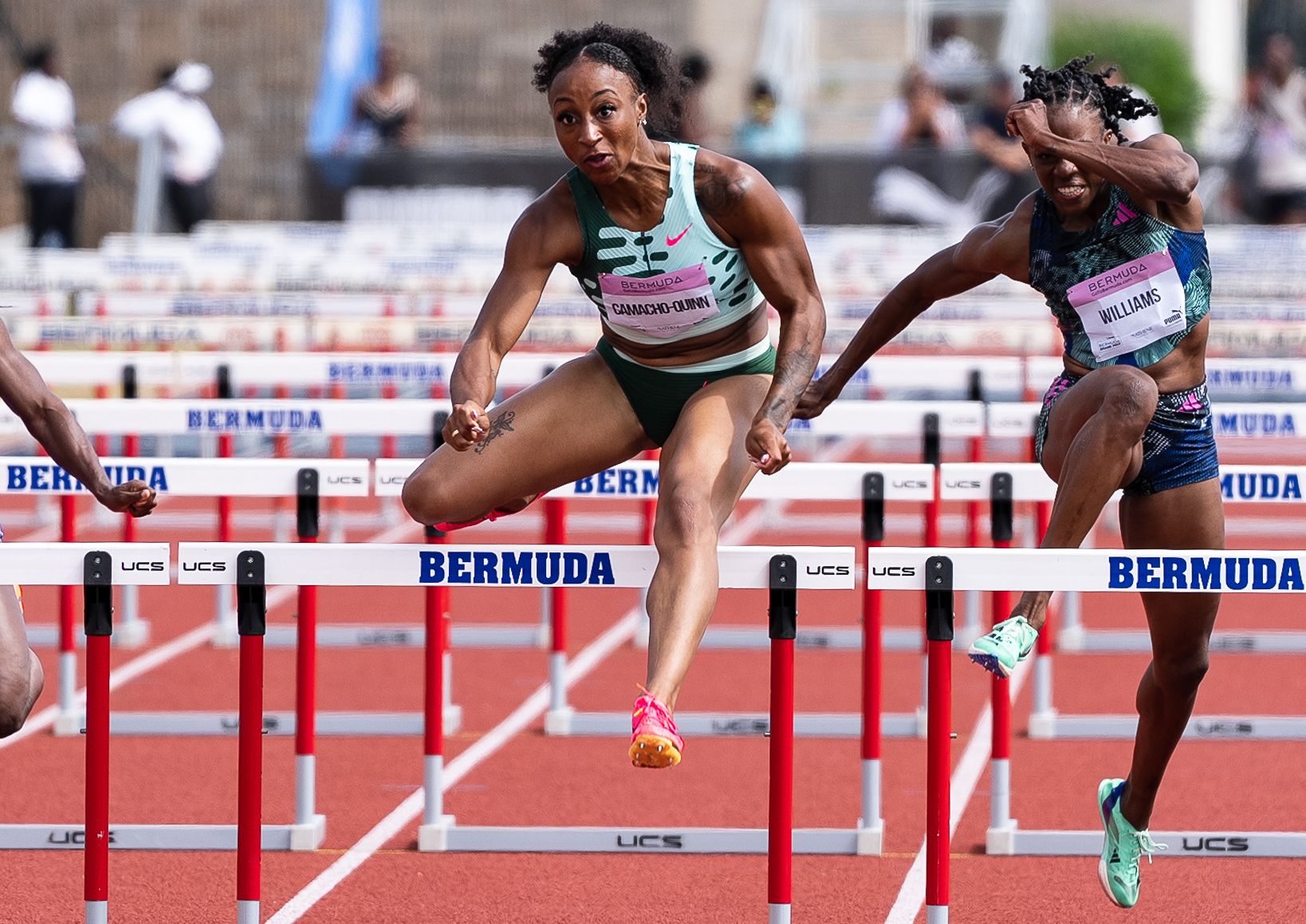 Jasmine Camacho-Quinn on her way to a 100m hurdles win at the USATF Bermuda Grand Prix (© Alex Andrei)
Born in South Carolina, Camacho-Quinn's Hispanic heritage comes from her Puerto Rican-born mother. She decided to represent her mother's homeland as a way to embrace her Latinidad.
In a close 100m hurdles final at the World Championships in Budapest, Camacho-Quinn took silver in 12.44, just 0.01 shy of the gold medal. The 27-year-old concluded her season at the Prefontaine Classic, finishing second in 12.38.
"I'm very grateful for the season, I made it through," said Camacho-Quinn with a smile on her face.
These are just a few of the many women who inspire the next generation of Hispanic and Latina athletes in track and field. Their performances in athletics highlight the importance of representation on big stages that open the door for those after them. As Woodruff said, she wants to be a role model for future Latina athletes.
Diana Ramos for World Athletics