Karla Ximena Serrano pips Ai Ooyama to the world U20 10,000m race walk title in Cali (© Marta Gorczynska)
Mexico's Karla Ximena Serrano and Mazlum Demir of Turkey captured the 10,000m race walk titles in two exhilarating finals filled with drama on the fifth morning of action at the World Athletics U20 Championships Cali 22 on Friday (5).
Serrano claimed the women's title in a nail-biting finish against Ai Ooyama of Japan - the pair separated by less than a tenth of a second in a battle to the end.
Eighteen-year-old Serrano spectacularly improved her lifetime best in the process by almost two and half minutes to 46:24.35, while Ooyama – aged only 16 – made a superb track debut, following an impressive 45:19 on the roads recently.
Her Japanese teammate Ayane Yanai initially finished in fourth place but the 18-year-old was upgraded to the bronze medal position following Australia's Olivia Sandery's one-minute penalty for making three technical mistakes in the race - Yanai clocking 46:43.07 to her rival's 47:37.85.



The 19-year-old Sandery finished fifth in March's World Athletics Race Walking Team Championships in Muscat and registered a fine 45:24.1 personal best in January – the fastest time in the world this year – so missing a medal will come as a disappointment to the Australian athlete.
Ukraine's 18-year-old Valeriya Sholomitska – fourth in this event in the 2021 World Athletics U20 Championships in Nairobi and also fourth in Muscat – was timed at 47:40.67 for fifth. Since fleeing her home country earlier this year, she has been training and racing in different locations around the world.
"I was expecting this win, we always come in positive and I completely trust in my skills. We came in prepared," said Serrano. "The last few seconds of the race were so hard, I thought I was going to come second and honestly, I don't know where that finish came from, it was amazing.
"We have had some Mexican teammates winning this season so today, we didn't have an easy assignment, we had pressure on us because they led a road for all of us coming next. I just thought, if all Latin-Americans are supporting me, then I have to give them an amazing performance, and so I did. Also, I felt really good on Cali's track and the people here are warm and so nice."
In the men's race, Demir – who led for several kilometres at the World Race Walking Team Championships before fading and eventually finishing 11th – lived up to his billing as the fastest man in the field to comfortably claim the 25-lap win.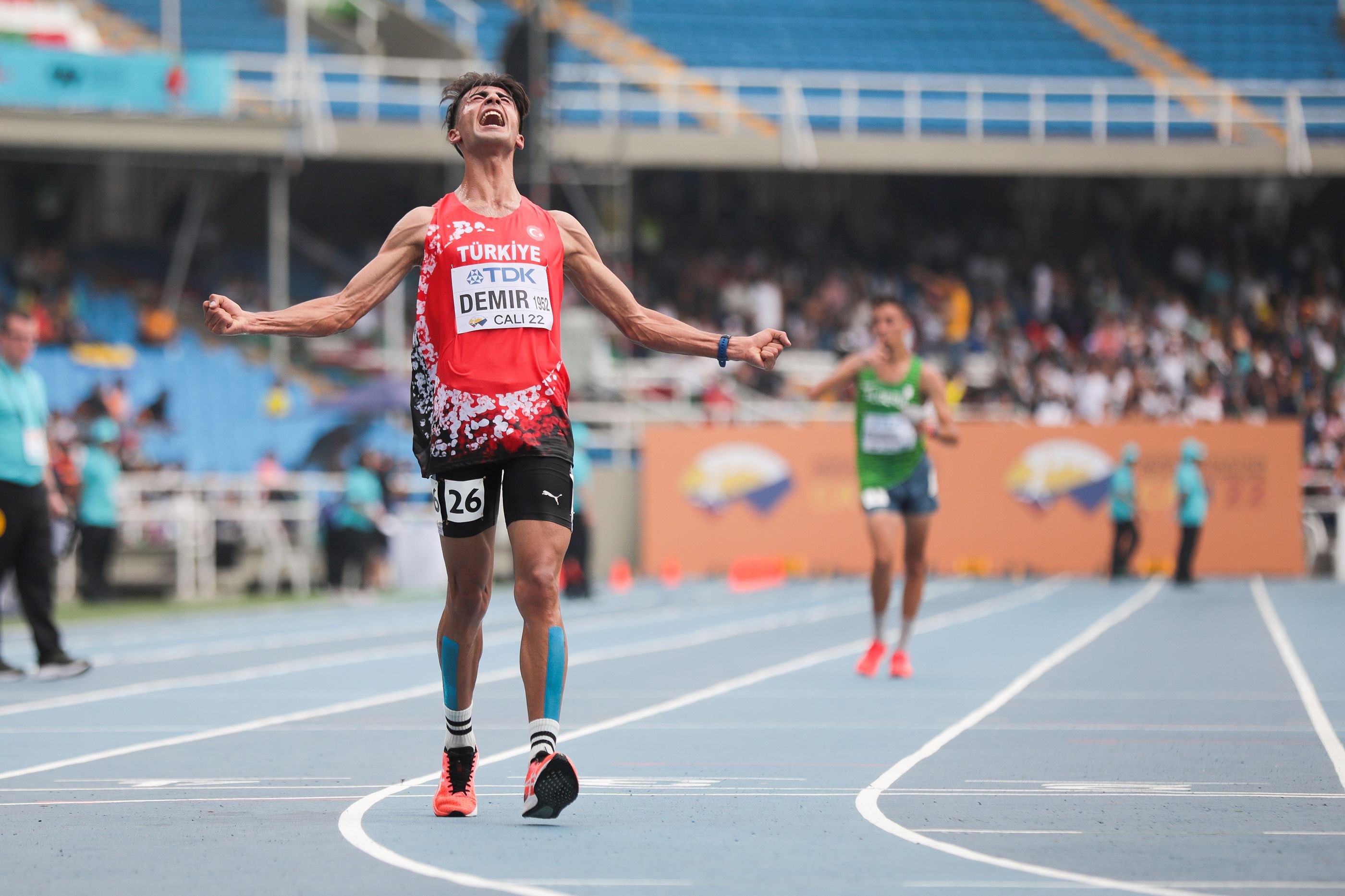 Mazlum Demir of Turkey celebrates his world U20 10,000m race walk win in Cali (© Marta Gorczynska)
Six weeks after walking to a 40:42.09 national U20 record, the 18-year-old improved on his sixth-place finish from Nairobi to grab the gold medal in 42:36.02, as Algeria's Ismail Benhammouda, 19, collected the silver with 42:42.49.
Demir's compatriot, Hayrettin Yildiz, narrowly claimed the bronze medal with a tight finish against Oussama Farhat of Tunisia - the 18-year-old crossing the line in 43:07.95 to the 17-year-old's 43:20.84 lifetime best.
Colombia's big hope Mateo Romero was heartbreakingly sent to the 'sin bin' with only 500m remaining, losing his medal position to eventually finish 12th in 44:21.40, as Kenya's Heristone Wanyonyi – the surprise winner of this title in Nairobi last year – was disqualified.
"Coming here as a world leader, I was used to this but I managed my stress and became a world champion," said Demir. "And my training partner and my teammate is on the podium. It's a great honour for my country, because we made history. We've never had two medallists in one event. We came here fit and managed to get two medals."
Final places decided for 4x400m
The US quartet were impressive in qualifying for the women's 4x400m final on Saturday, clocking a 3:32.94 season's best as the Canadian team registered a 3:33.98 2022 best to progress as the second-fastest team in the field.
Finland surprised with a 3:34.10 national U20 record as the third-quickest qualifiers, while India also set a national U20 record of 3:34.18 - with Cali 400m bronze medallist Rupal assisting on their anchor leg. Jamaica reached the final with a 3:34.92 season's best.
The men's 4x400m heats were led by the Japanese squad with a 3:07.25 season's best, as the Jamaican quartet also progressed to Saturday afternoon's final with a 3:07.32 season's best mark.
The Czech Republic team registered a 3:07.48 national U20 record to move forward, while Spain and the USA also impressed with 3:07.58 and 3:07.82 season's best times, respectively.
World U20 record-holder Mika Sosna qualified for Saturday's men's discus final, with Germany's 19-year-old reaching 61.00m.
But the man to qualify with the farthest throw was Mykhailo Brudin of Ukraine - the 18-year-old European U18 champion launching a 61.47m lifetime best effort to assert his gold medal intentions.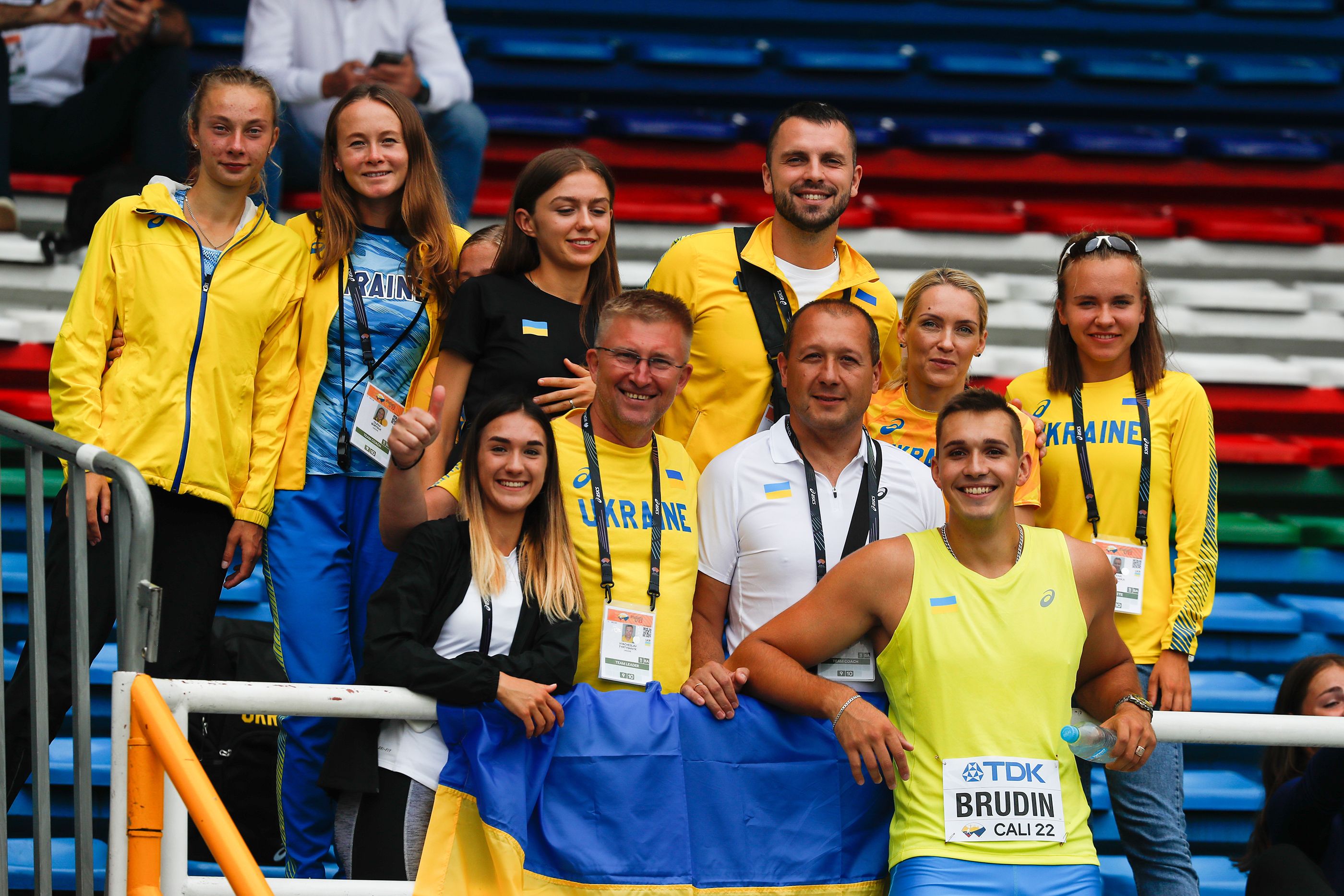 Mykhailo Brudin celebrates his qualification for the discus final with some of the Ukraine team (© Oscar Munoz Badilla)
Germany's Marius Karges also progressed with a 60.69m throw, as did Nairobi 10th-place finisher Dimitrios Pavlidis of Greece, who registered a 60.73m personal best. Kevin Grubbs of the USA also moved forward courtesy of a 60.29m lifetime best.
In women's triple jump qualification, 15-year-old Sharifa Davronova of Uzbekistan led the way as expected, with a 13.24m (0.0m/s) leap ahead of Saturday afternoon's final.
Despite being one of the youngest in the field, Davronova has a strong chance of grabbing the gold medal with her 13.92m credentials, but she will face a tough challenge featuring Germany's Anna Grafin Keyserlingk, 18, who jumped 13.24m (0.5m/s) and 18-year-old Iuliana Dabija of Moldova who registered a 13.21m (1.0m/s) lifetime best to reach the final.
Fourth in Nairobi, France's 19-year-old Sohane Aucagos reached 13.18m (0.1m/s), while Tiana Boras of Australia, 17, also impressed with a 13.14m (0.1m/s) personal best performance.
Nicola Sutton for World Athletics