Japan claims a 4x400m heat win at the World Athletics U20 Championships Cali 22 (© Marta Gorczynska)
Six days of competition featuring some 1500 athletes from around 140 teams and there's now just one final session to be held at the World Athletics U20 Championships Cali 22.
Ten sets of medals are up for grabs on Saturday (6), the men's discus final kicking things off at 3:30pm local time and the men's 4x400m final bringing things to a close at 5:43pm.
Here are just three of those events to watch out for.
---
---
Hill and James go head-to-head
Kerrica Hill finished seventh in the 100m final at last year's World Athletics U20 Championships in Nairobi but this time the 17-year-old is going for gold in the 100m hurdles. She was just 0.02 off the championship record in the semifinals, clocking a world U20-leading PB of 12.87, and entered the championships as quickest thanks to her 12.98 to win the Jamaican U20 title.
But victory won't be a walk in the park. In the next semifinal in Cali, her compatriot Alexis James improved her PB to 12.94, dipping under 13 seconds for the first time, to set up an exciting Jamaican head-to-head.
Hungary's Anna Toth set a national U20 record of 13.23 last month and improved it to 13.16 to finish second behind Hill in their semifinal, while US U20 champion Jalaysiya Smith will also look to challenge for a medal, having won her semifinal in 13.20.
High hopes for Bruus and Topic
Estonia's Karmen Bruus and Serbia's Angelina Topic have both equalled the world U18 best of 1.96m this year and will be hoping to take that form through to the high jump final in Cali, to contend for the crown.
Bruus achieved her mark at the World Athletics Championships Oregon22, as one of 15 athletes doing the Oregon and Cali double this season. The clearance also matched the senior Estonian record and she had earlier jumped a PB of 1.93m just to make it to the final.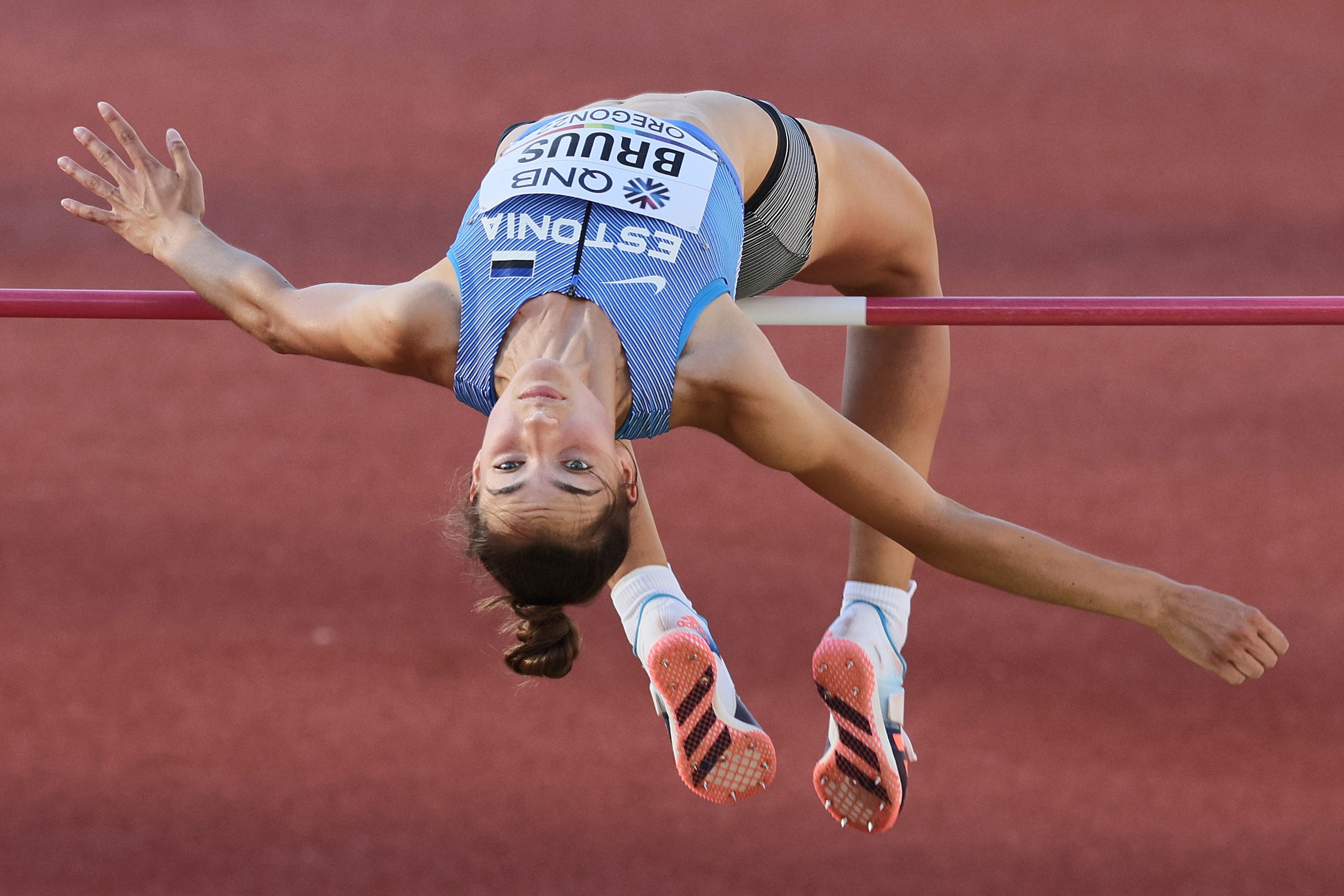 Karmen Bruus competes in the high jump final at the World Athletics Championships Oregon22 (© Getty Images)
For Topic, her 1.96m came at the Serbian Championships in June and she also jumped 1.95m in Athens at the start of that month, plus 1.93m in Kraljevo in May.
Topic also won the European U18 title in Jerusalem in July, clearing 1.92m, as Bruus finished seventh with 1.75m. Now the 17-year-olds will look to push each other to new heights.
Britt Weerman of the Netherlands is just 1cm behind them when it comes to PBs, the 19-year-old breaking the senior national record with 1.95m in Belgium last month. She won the European U20 title last year, a competition in which Elisabeth Pihela claimed bronze, and the 18-year-old Estonian also joins them in the final.
4x400m finals bring competition to a close
The last events on the track are the 4x400m finals, and both look set to be highly competitive.
The US team topped the heats in the women's competition, Mekenze Kelley, Madison Whyte, Zaya Akins and Kennedy Wade combining to clock a 3:32.94 season's best and win their race ahead of Canada with 3:33.98. The Jamaican team clocked 3:34.92 to win their heat, and that quartet didn't include Dejanea Oakley, who finished fifth in the individual final. There was a national U20 record of 3:34.10 for Finland, seeing them win the third semifinal ahead of India, whose team included 400m bronze medallist Rupal who helped them to a 3:34.18 national U20 record.
Britain's squad for the final may include the 400m champion in Cali, Yemi Mary John. Joining them are Australia and Germany.
USA, Jamaica and Japan were the heat winners in the men's event and the final could come down to a clash between those three nations. USA has individual 400m silver medallist Steven McElroy to call on, while Jamaica has sixth-place finisher Shaemar Uter. It was Japan that went quickest overall in the first round, clocking a season's best of 3:07.25, while Jamaica ran 3:07.32 and USA 3:07.82. They'll be joined in the final by France, Czech Republic, Spain, Canada and South Africa, with 400m winner Lythe Pillay helping his team to qualify.
Jess Whittington for World Athletics