Mairy Pires and Fernanda Maita at the World Athletics U20 Championships Cali 22 (© Oscar Munoz Badilla and Marta Gorczynska)
For Fernanda Maita, one phone call changed the course of her athletics career.
Maita was about to retire from the sport and focus on her studies when she was told to speak with the athletics planner at the Venezuelan National Sports Institute, Dennis Brito, to ask if she could train with the national team.
Brito said yes and a month later the then 15-year-old Maita embarked on a six-hour-long drive to Caracas, the capital of the South American country.
"My mom told me: 'You have a future in athletics, you can do it,'" Maita explained.
Maita's first steps in athletics came at the age of five, when her parents used the sport as a method to calm her hyperactivity. As a child, Maita didn't like it. She wanted to dance and sing. But once she started competing and winning, she fell in love with the sport.
It would eventually lead Maita to the World Athletics U20 Championships Cali 22, where in August she was one of seven athletes on the Venezuelan team.
There, the 19-year-old achieved a personal best of 13.30m to finish fourth – the best place by a Venezuelan triple jumper in the history of the championships.
It even emulated the achievement of a certain Yulimar Rojas at the U20 event, the now multiple world and Olympic champion having finished seventh in her triple jump qualification round at the 2014 World U20 Championships in Eugene, where she also placed 11th in the long jump final.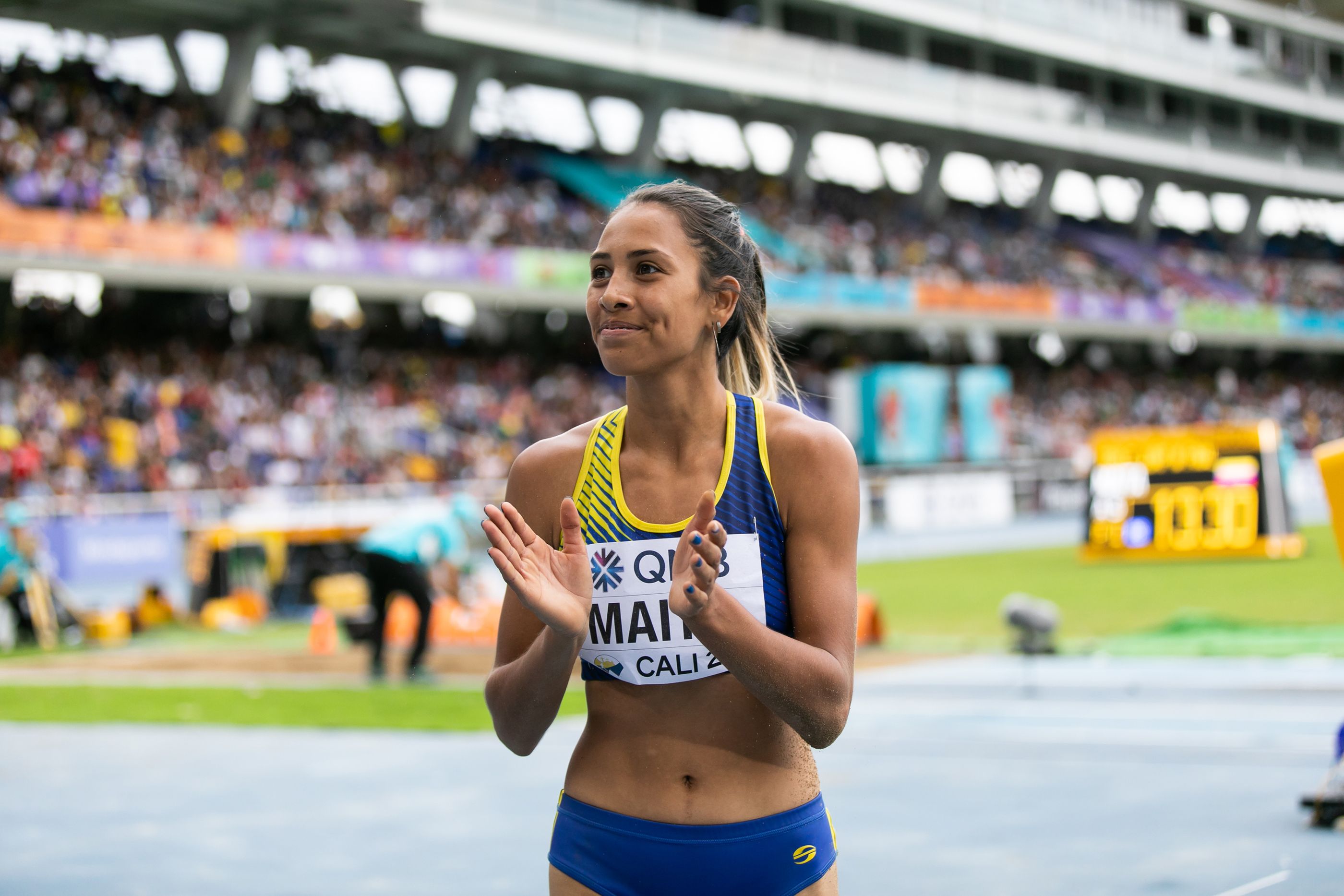 Fernanda Maita celebrates at the World Athletics U20 Championships Cali 22 (© Marta Gorczynska)
In Cali, Maita was the only Latina and Hispanic representative in the women's triple jump final. Her best mark exactly matched that of bronze medallist Tiana Boras of Australia and she finished fourth on countback, narrowly missing a place on the podium.
Having someone from your country that is the best in the world in your event is great, Maita said. Rojas has inspired a whole generation of young Venezuelan athletes with her outstanding performances.
And the triple jump is not the only thing in common between Maita and Rojas. The rising athletics star was born and raised in Anzoategui, the same Venezuelan state as Rojas.
"People are always saying: 'You are the one who is going to take the crown from Yulimar,'" Maita said.
"But I don't like being compared, I would like to be myself. I would like people to say: 'You are Fernanda, you are the next world champion.'"
Maita describes herself as a confident person who trusts her training and athletics skills. Her aim is to break the Venezuelan U20 record, which is the 13.65m Rojas leapt in 2014.
"My mentality is that as long as I improve myself and improve my marks, everything is fine," Maita said.
She hopes to follow in the footsteps of her compatriot Rojas, and join her in future competitions.
"As long as I am among the best in the world, it doesn't matter if I beat Yulimar or not," Maita added.
Another athlete with similar ambition is Mairy Pires, and the 17-year-old joined Maita on that Venezuelan U20 team of seven in Colombia.
From the comfort of her living room, Pires had watched the 2016 Olympic Games on television. That was the first time she heard about Rojas.
The youngster started mimicking the Olympian's jumping movements around the house.
"What are you doing?" Pires's mother asked.
"I am practising."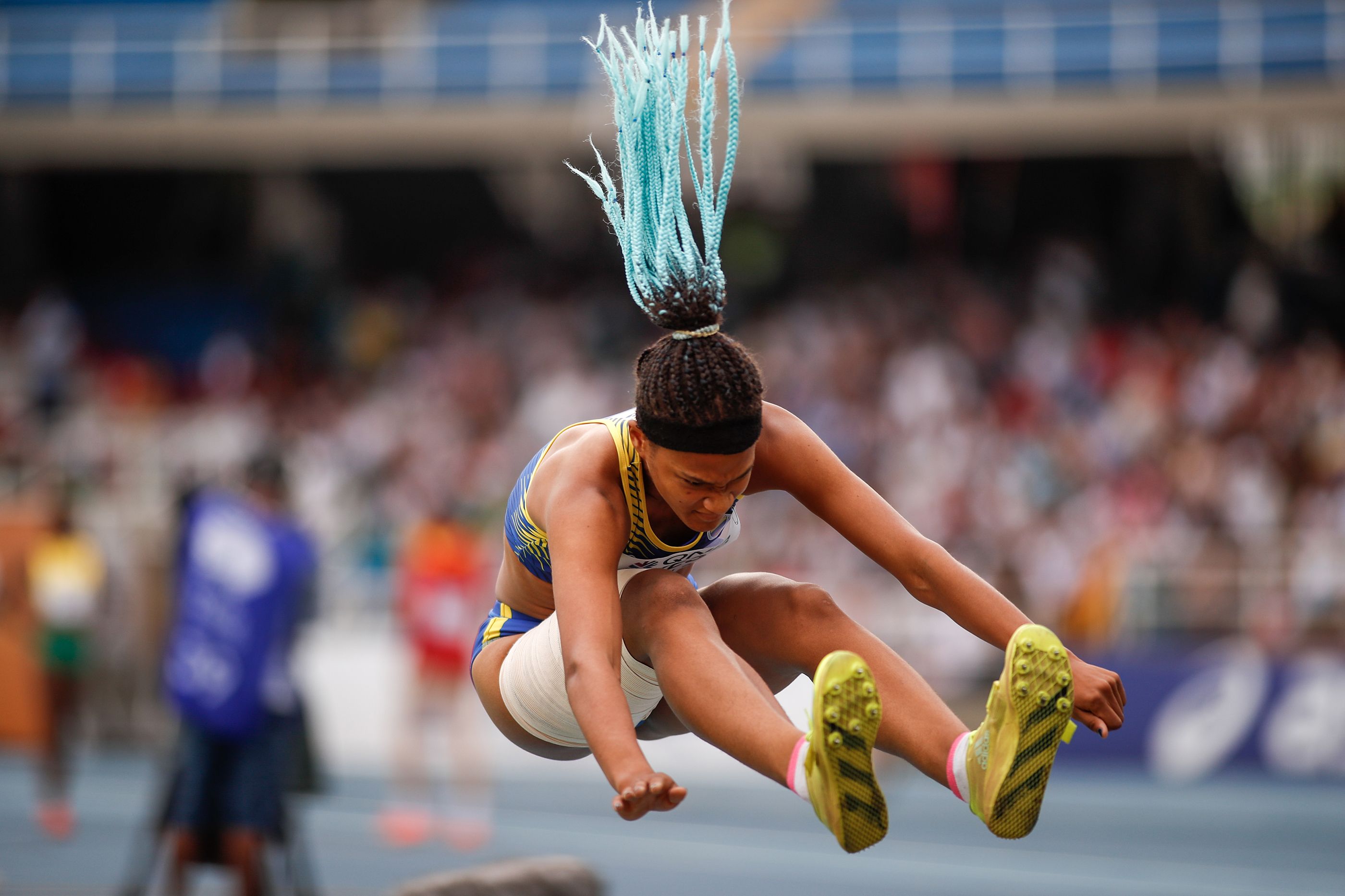 Mairy Pires competes at the World Athletics U20 Championships Cali 22 (© Oscar Munoz Badilla)
Born in Guarico, Pires took part in a range of sports while growing up, including boxing, taekwondo and volleyball. By the age of 11 she had moved into athletics and started doing the high jump – taking the same route as Rojas, whose first steps in the sport were also in the vertical jumps discipline. Pires, however, had a passion for the triple jump.
Pires's coach didn't want her to do the triple jump, believing she was too young and in need of time to physically develop her body and muscles.
For one year, Pires insisted on doing the triple jump. One day, her coach allowed her to try it. Pires did three consecutive jumps and, much to her coach's surprise, she did well. He told her to do it again to make sure it wasn't beginner's luck.
And it wasn't.
Competing in Cali, the 17-year-old contested her first global event and finished 13th in her qualification group with a best jump of 12.30m.
"My family and people from my home town tell me that I have to beat Yulimar," Pires said.
Since the 2016 Olympics in Rio, where Rojas claimed silver, the 26-year-old has been unbeaten in major international competitions. She is now a three-time world indoor champion, three-time world outdoor champion, the Tokyo Olympic champion and world record-holder.
It is a lot of pressure to try to follow in her footsteps, Pires explained, but at the same time, it is a motivation to keep going.
"I have to keep working hard to be at the level of Yulimar," Pires added.
Diana Ramos for World Athletics