Letsile Tebogo, Tina Clayton and Emmanuel Wanyonyi
With a month to go until the World Athletics U20 Championships Cali 22, the world's best teenage athletes are busy preparing for the biggest U20 athletic event of the year, which takes place at Estadio Olimpico Pascual Guerrero from 1-6 August.
This is the 19th edition of the championships, which have constantly shone a light on the next generation of champions, and this year should be no exception. As the days count down, we give you a rundown on how the landscape is currently looking across the range of events.
Clayton and Jackson set for sprint showdown
Those looking to discover the next Usain Bolt or Allyson Felix would be advised to tune into the 100m finals on 2-3 August in Cali and, looking at the current U20 top lists, it's clear USA and Jamaica have a talented crop of emerging sprinters.
Jamaica's Tina Clayton is the reigning world U20 champion and the 17-year-old proved last weekend that she's ready for a stout defence of her title in Cali, breaking Briana Williams' Jamaican U20 100m record with 10.96 (1.0m/s) to win the national U20 title.
The fastest U20 in the world this year is Tamari Davis, the 19-year-old clocking 10.91 (0.8m/s) earlier this month, though she chose to target the US Championships (at senior level) last week, where she finished fourth in the 100m in a wind-aided 10.78 (2.9m/s). Her absence from the US U20 Championships paved the way for Shawnti Jackson, the 17-year-old daughter of 2005 world 400m hurdles champion Bershawn Jackson, to take gold in 11.07 (2.7m/s) and book her place in Cali.
In the 200m, Brianna Lyston of Jamaica should be a strong contender for gold. She clocked 22.52 into a 2.2m/s headwind in April before winning the Carifta Games title in 23.16 in May.
Nigeria will be hopeful of the women's 400m title, where reigning world U20 champion Imaobong Nse Uko looks the favourite, the Tokyo Olympian more than half a second clear of everyone else on the 2022 lists with the 51.24 she ran last month.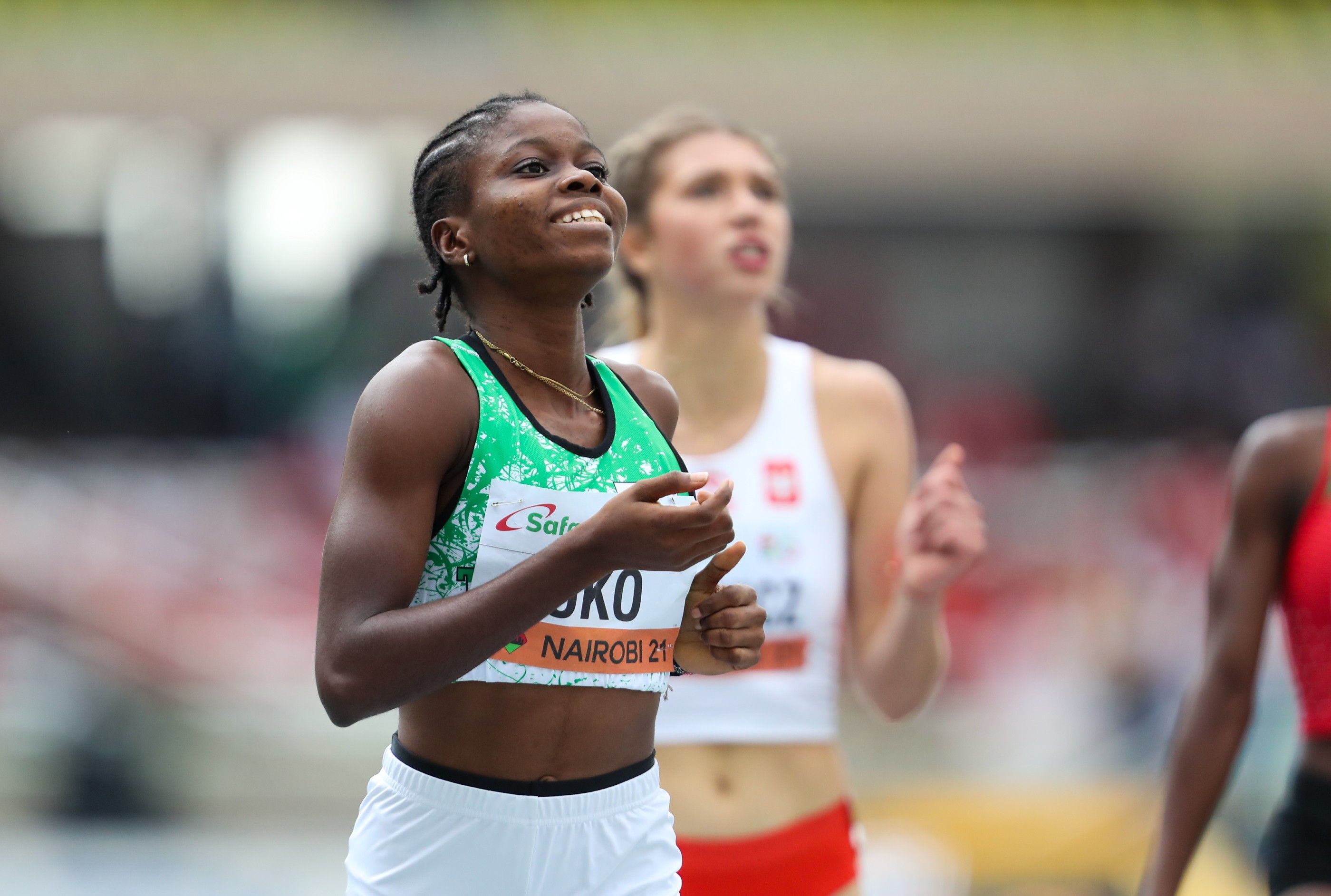 Imaobong Nse Uko wins the women's 400m title at the World U20 Championships in Nairobi (© Roger Sedres)
Jamaica looks to have the strongest hand in the women's 100m hurdles, with Kerrica Hill clocking 12.98 (1.5m/s) to win the national U20 title in Kingston last weekend, while the US U20 title went to Jalaysiya Smith, who has a best of 13.05 this year.
Japan could upset the sprint powerhouses in the women's 400m hurdles where Moe Matsuoka is the second quickest U20 female in the world this year via the 57.57 she ran last month, a time only bettered by US U20 champion Akala Garrett who ran 57.46.
Tebogo looks the man to beat
Botswana's Letsile Tebogo lit up last year's World Athletics US Championships in Nairobi where he won 100m gold and 200m silver and he looks on track to do similar in Cali having clocked a blazing 9.96 (1.9m/s) in Botswana back in April. Nigeria's Udodi Chudi Onwuzurike is also sure to feature after a 10.03 clocking last month.
With US star Erriyon Knighton targeting success at senior level, Onwuzurike is by far the quickest contender for 200m gold in Cali – the 19-year-old clocking 20.08 (0.1m/s) last month. Thailand has never won a medal in the history of this championships but they stand a great chance of doing so through Puripol Boonson, who ran 20.19 (1.7m/s) in Almaty, Kazakhstan, last weekend. The US challenge will be led by Jordan Anthony who clocked 20.35 (2.0m/s) to win the US U20 title last week.
USA has a typically strong hand too in the men's 400m, with Steven McElroy blazing to the national U20 title last weekend in 44.93 ahead of Ashton Schwartzman (45.16), the pair currently topping the world U20 lists ahead of Botswana's Busang Collen Kebinatshipi, who ran 45.40 back in April.
Dutch star Matthew Sophia should contend for the title in the 110m hurdles if reproducing something close to the 13.23 (-0.4m/s) he ran over the 99cm barriers back in March, and he went on to take Carifta Games gold in April in 13.74. Though the USA's Malik Mixon is sure to put up a strong showing after winning the national U20 title in 13.28 (2.6m/s) last week.
Nigeria's Ezekiel Nathaniel should prove tough to stop in the men's 400m hurdles. He had two fourth-place finishes at this event last year, in the 400m hurdles and 4x400m, but looks primed to leave Cali with a medal after setting an African U20 record of 48.42 in May before finishing fourth in the NCAA final. Jamaica's Roshawn Clarke could go close too after blitzing his domestic rivals last weekend to win his national U20 title in 49.39.
Whittaker and Willis spearhead US challenge
The US currently has the two leading U20s in the women's 800m in Juliette Whittaker and Roisin Willis, who have run 1:59.04 and 2:00.03, while Switzerland's Audrey Werro is just behind them with the 2:00.28 she ran in Geneva last month.
Ethiopia currently has the four quickest U20 women over 1500m, headed by Birke Haylom, with Brenda Chebet the fastest Kenyan this year with 4:05.50.
The Ethiopians should again be tough to stop in the 3000m where Medina Eisa is the quickest U20 in the world this year with 8:41.42, while at 5000m two Kenyans – Janeth Nyiva Mutungi and Karabakarione Waniku – lead the way with times just outside 15 minutes.
Reigning world U20 champion Jackline Chepkoech should be back to defend her title in the women's 3000m steeplechase though she could face stiff opposition from Ethiopia's Sembo Alemayehu who has run 9:09.19 this year.
Australia's Olivia Sandery tops the world U20 lists at the women's 10,000m race walk, though Ukraine's Valeriya Sholomitska isn't far behind, while China's Jinyan Jiang is sure to feature given she clocked 1:30:52 for 20km on the roads in January.
Can anyone stop Wanyonyi?
Kenya appears to hold all the aces ahead of the men's 800m in Cali where reigning world U20 champion Emmanuel Wanyonyi should be back to defend his title – the 17-year-old enjoying a splendid season that included victory at the Wanda Diamond League meeting in Rabat. Ethiopia's Ermias Girma, though, has already run 1:44.36 this season and is sure to be a threat, along with Poland's Kacper Lewalski, who has run 1:45.48.


Girma tops the world U20 lists over 1500m with 3:36.28, though US U20 champion Nathan Green isn't far behind with the 3:37.46 he ran last month.
Uganda's Dan Kibet is currently quickest over 3000m via the 7:45.73 he ran in Oordegem, Belgium, last month though Kenya and Ethiopia are sure to field some strong contenders here, while Ireland's Nick Griggs, European U20 champion at the age of 16 last year, might not be far away if he opts for this event.
Four athletes have run under 13:10 over 5000m this year and all of them are East African – Levy Kibet of Kenya, Addisu Yihune of Ethiopia, Merhawhi Mebrahtu of Eritrea and Peter Maru of Uganda – and whichever of them shows up in Cali is sure to contend for medals.
Morocco currently has the reigning Olympic champion in the men's steeplechase and they just might have an athlete of a similar mould to Soufiane El Bakkali in 19-year-old Salaheddine Ben Yazide, who tops the world U20 lists this year with 8:19.63. Ethiopia's Samuel Firewu is next best with 8:19.82, while Danish 17-year-old Axel Vang Christensen has run 8:29.12.
Heristone Wanyonyi made history for Kenya by winning the nation its first global race walk gold in Nairobi last year, and the 18-year-old will be looking to back that up in Cali. Turkey's Mazlum Demir tops the world lists with the 40:42.09 he clocked to finish runner-up at his national championships last weekend.
Topic following in her father's footsteps
In the field events, Serbian star Angelina Topic is very much a name to watch and the 16-year-old high jumper has set a lofty standard for other U20 athletes to match in Cali, soaring over 1.96m to win the Serbian senior title last weekend. The daughter of 1990 European men's high jump champion Dragutin Topic, she was sixth in the world U20 final in Nairobi last year but has ascended to a new level in 2022 and looks poised to win her first global medal in Cali.


Serbia also has the leading athlete in the women's javelin in Adriana Vilagos, the reigning world and European U20 champion whose best of 62.76m has her well ahead of her peers on the world U20 lists, with Cuba's Yiselena Ballar Rojas next best with 60.07m.
Twin sisters Amanda and Hana Moll of USA will renew their sibling rivalry on the world stage in the women's pole vault in Cali, the Seattle duo topping the current entries via their season's bests of 4.51m and 4.40m. Amanda edged victory on countback over Hana at the US U20 Championships last week, where they both cleared 4.35m.
Germany's Helena Borner is the standout U20 women's long jumper this year with a season's best of 6.73m, though a horde of other athletes have jumped beyond 6.50m so it could be a close contest in Cali.
Uzbekistan has only won four medals in the history of the World Athletics U20 Championships but they can make it a fifth in Cali via Sharifa Davronova, who tops the world U20 lists in the women's triple jump with the 13.92m she jumped in May. France's Sohane Aucagos is next best with 13.61m.
South Africa's Mine de Klerk is the leading U20 female shot putter this year with the 17.19m she threw in April, though China should have a strong hand in Cali with Zhang Mengdi, who has thrown 16.62m, while US U20 champion Amelia Flynt has a best this year of 16.53m.
The women's discus is shaping up to be a close contest with three athletes bunched together at the top of the world U20 lists: Emma Sralla of Sweden, Jiang Zhichao of China and Cedricka William of Jamaica all surpassing 56 metres.
Italy's Rachele Mori will likely be favourite for the women's hammer given her season's best of 68.04m is more than two metres beyond that that of the next best athlete: Germany's Jada Julien.
World U20 champion Saga Vanninen of Finland should prove tough to stop in the heptathlon, the 19-year-old topping the world U20 lists with her 6193-point tally in Oulu last weekend.
Rising star Felfner set to launch his bid for gold
Ukraine's Artur Felfner could well prove unbeatable in the men's javelin in Cali, at least if the 18-year-old reproduces something close to the 84.32m throw he unleashed last month in Samorin, Slovakia. That puts him almost five metres clear of Keyshawn Strachan of The Bahamas on the world U20 lists.
South Africa's Brian Raats tops the men's high jump lists with the 2.26m he cleared in Potchefstroom back in April, though Korea's Jin-woo Choi and Italy's Edoardo Stronati should be in the hunt for medals too after both clearing 2.20m last month.
France's Anthony Ammirati currently looks the standout athlete in the men's pole vault, the 18-year-old topping the world U20 lists with his 5.70m clearance to finish third in the French Championships last weekend. He was European U20 champion last year but no-heighted at the last edition of these championships in Nairobi so he will be keen to make amends in Cali.
His compatriot Erwan Konate has better memories of Nairobi, where the French long jumper took gold with a French U20 record of 8.12m, though the 19-year-old's best this outdoor season has been 7.93m. USA's Johnny Brackins tops the world U20 lists with the 8.06m he leapt in Texas in May and he showed he's in fine form when winning the US U20 title last week with 8.03m. Cuba always has a strong hand in the horizontal jumps and Aniel A. Molina looks to be their leading athlete this year with a best of 7.95m.
Jamaica's Jaydon Hibbert stands alone on the world U20 triple jump lists with the 16.66m he jumped in Kingston in April, which puts the 17-year-old star half a metre clear of the next best athlete: Aiden Hinson of Australia.
Germany's Tizian Noah Lauria stands above his shot put rivals on the U20 world lists using the 6kg implement, and he should take gold in Cali if reproducing his best of 21.15m, though his teammate Phillipp Thomas (who's thrown 20.25m) and Jamaica's Christopher Young (who's thrown 20.20m) are also big contenders.
There could also be gold for Germany in the men's javelin where Mika Sosna and Marius Karges top the world U20 lists with their respective season's best of 71.37m and 69.49m.
Greece's Ioannis Korakidis leads the way in the U20 men's hammer world lists with the 77.52m he threw in March using the U20 6kg implement, while Slovenia's Jan Embersic and Hungary's Miklos Cseko have both gone beyond 76 metres.
Sweden's Jacob Thelander tops the world U20 lists in the decathlon, racking up 7823 points using the U20 implements, with Yoran Vriezen of the Netherlands next best with 7592.
Cathal Dennehy for World Athletics