Muhd Azeem Fahmi, Puripol Boonson and Hiroki Yanagita race in the 100m final at the World U20 Championships in Cali (© Marta Gorczynska)
In a sport obsessed with medals, with a ruthless cut-off point between the haves and have-nots, it's often worth looking beyond the top three to find a future champion. That's especially true in the teenage ranks, where many eventual stars finish major finals empty-handed.
Specialists in talent development will always tell you that the road to senior success does not necessitate being a winner at underage level, but that it's vitally important, by 18 or 19, to at least be exposed to world-class opposition – to learn where you stand, and figure out what it takes.
For 1500 youngsters at the World Athletics U20 Championships Cali 22, that's exactly what's occurring each day at the Pascual Guerrero Stadium, with vital educations handed out at every turn.
That's also true for the fans of the sport who, beyond the entertainment of the action itself, are getting a window into the sport's future. In some events, the status quo continues, with Jamaica still bossing the world in the women's 100m and Kenya and Ethiopia crushing the long-distance events.
But those who watched the men's 100m final in Cali will have noticed things are changing there, with two of the three medals won by Africans: Letsile Tebogo of Botswana took gold, while Benjamin Richardson of South Africa won bronze. But beyond the medallists, in keeping with the above theme, something else stood out: Asian sprinters filled the next three spots, with Puripol Boonson of Thailand fourth in 10.12, Muhd Azeem Fahmi of Malaysia fifth in 10.14 and Japan's Hiroki Yanagita sixth in 10.24.
The sprinting tide is rising across Asia – and fast.
"We have many new boys coming up," said Surapong Ariyamongkol, General Secretary of the Thai Athletics Federation. "We have hope for the future."
The biggest hope of all is Boonson who, at just 16, has been a revelation this year, breaking the Asian U20 200m record by clocking 20.19 (1.7m/s) in June. In Cali he was up against athletes with more physical maturity and experience, but he ran with a brilliance beyond his years, clocking a world U18 best of 10.09 (0.7m/s) in the 100m semifinals, taking a whopping 0.11 off the previous mark.
If Boonson needed a pick-me-up in the moments after the final, then he could take consolation from knowing about the senior champions who had also finished fourth in world U20 finals, from Yohan Blake in 2008 to Wayde van Niekerk in 2010.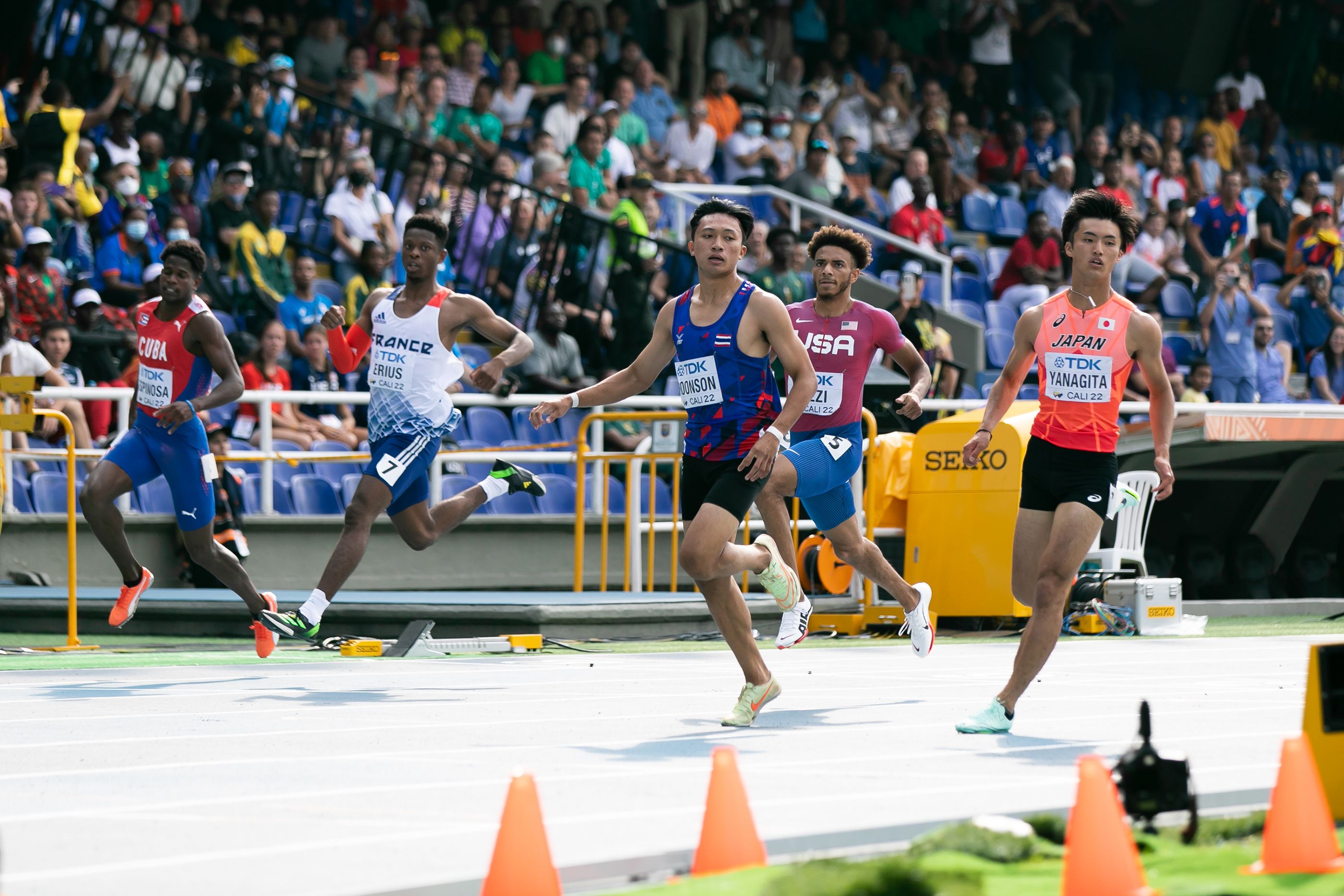 Puripol Boonson of Thailand and Japan's Hiroki Yanagita in the world U20 100m semifinals in Cali (© Marta Gorczynska)
Boonson discovered athletics in primary school, where he was coached by Tanakit Sriwattana. "The teacher said maybe the other sports aren't so good for you, so I tried athletics," he said. In high school, his talent was nurtured by Wattana Suwannaraksa, while more recently he has trained more at the national centre in Patumtani, with Supawanar Ariyamongkol and Worasit Vechapruck sharing the coaching duties.
In Cali, Boonson had hoped to win a medal, but in the final he was edged to bronze by one thousandth of a second, clocking 10.12. "My weakness is the block start," he said. "I didn't feel so good (with that) but after that I felt good."
Boonson faced tougher times in the days that followed, narrowly missing the 200m final after finishing fourth in his semifinal in 20.61, while in the 4x100m relay he pulled up during his anchor leg with what appeared to be a hamstring issue. Nonetheless, his age and ability mean he will have ample opportunities to come again, with Boonson still eligible for these championships when they take place in Lima, Peru, in 2024. He knows his achievements can pave the way for many more Thai sprinters to follow.
"I hope to inspire because no one knows the talent of them," he said. "If they just do it, the results will come." His goal in the future? "The same as everybody – I'd like to be a world-class athlete."
Surapong, who competed in the 1972 Munich Olympics along with his twin brother, knows Boonson is a rare talent, but he's not getting carried away about his potential. "I think he is the person who can wake up people in Thailand (to athletics)," he said. "But (he's taking it) step by step."
Surapong knows the history of Thai athletics as well as anyone. He first joined the national team in 1965 and spent 47 years as national coach before moving into an administrative role. He'd like to see more support for talent development in Thailand as he knows potential stars are dotted everywhere around the country, which has a population of almost 70 million.
"We have more than 700 coaches and they work together, all in a line," he said.
About 1000 kilometres to the south, a similar thing is playing out in Malaysia. In Tuesday night's 100m final, Fahmi finished fifth in 10.14. The 18-year-old had earlier clocked a Malaysian U20 record of 10.09 (0.8m/s) to win his heat, and 10.19 to finish second in his semifinal.
"This was the biggest achievement of my life," said Fahmi. "I never expected I could dip below 10.2 three times."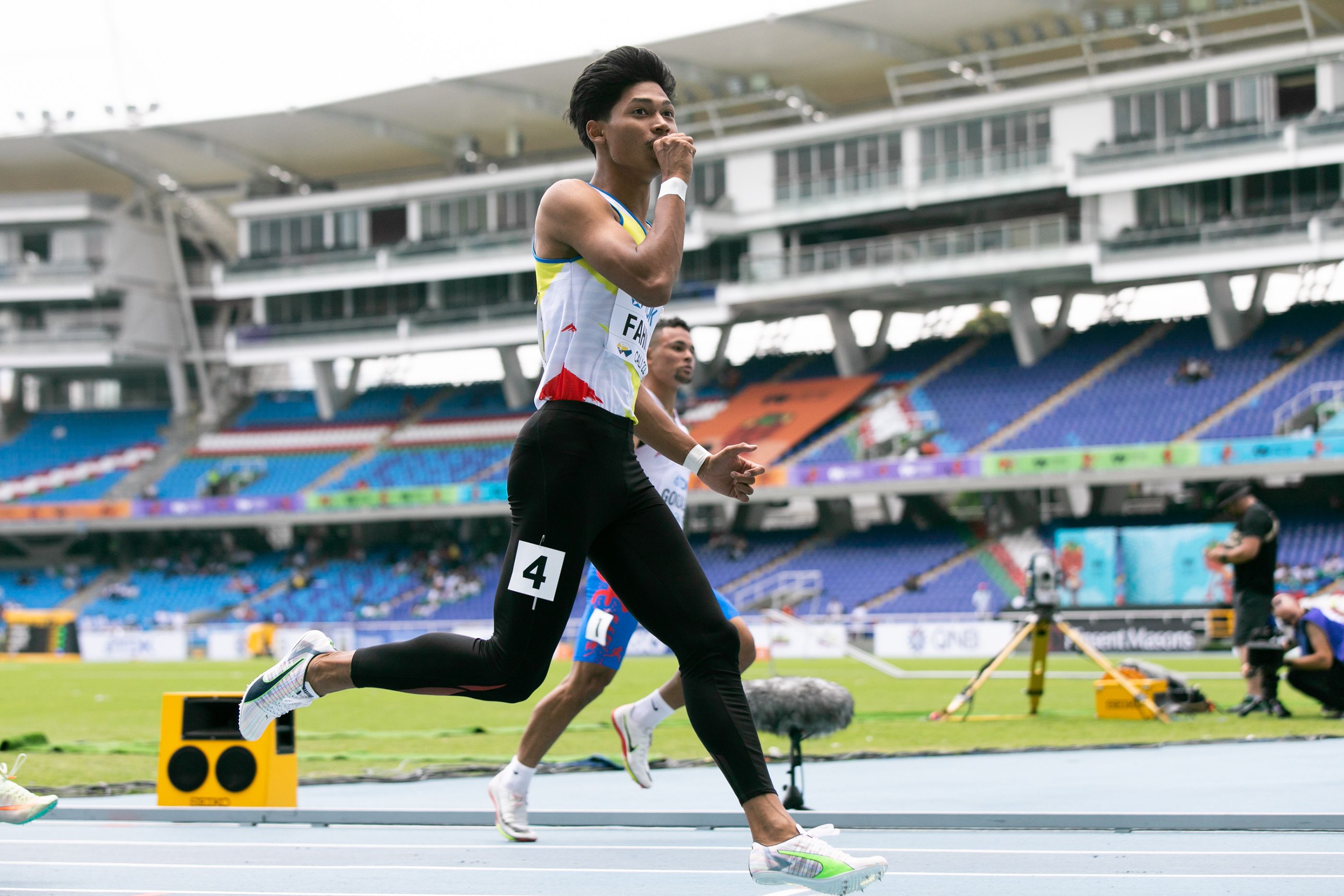 Muhd Azeem Fahmi of Malaysia celebrates his run in the world U20 100m heats in Cali (© Marta Gorczynska)
Fahmi was born in Perak and started athletics at the age of 10, following the lead of his older brothers, and while they represented their state at national level, he was the one gifted enough to represent his country.
His idol is Canada's Andre de Grasse, and Fahmi is coached by Muhammad Amir Izwan Tan Abdullah. Coming to Cali, he wanted to make a mark for reasons that went beyond himself. "I want to prove to everyone that every Asian sprinter can do well," he said. "There were three in the final; that was crazy."
In the 200m, Fahmi clocked a national U20 record of 20.83 (1.0m/s) in the heats and was eliminated after finishing fourth in his semifinal in 20.97, and he will now return home to prepare for next month's Sukma Games in Kuala Lumpur.
The road ahead is bright and, now that he's dipped below 10.1, his sights have turned to the next barrier. "I'm looking forward to dip below 10 seconds," he said.
For Japan's Yanagita, it was also a breakthrough week in Cali. The 19-year-old clocked a PB of 10.15 (0.7m/s) to reach the 100m final, where he was sixth in 10.24.
"Of course I'm really disappointed," he said. "But it was a great race and a great experience for me."
Yanagita is currently a student at Toyo University, where he's coached by Hiroyasu Tsuchie. A student of international literature, he spends his spare time playing Mario Kart, though his racing skills are best exemplified in a pair of spikes. He travelled to Eugene last month for the World Athletics Championships but Japan had a disappointing experience in the 4x100m relay, getting disqualified in the heats. On Thursday in Cali, he helped the Japanese 4x100m team into Friday's world U20 final, and after that his focus will turn to European events in August before going back to Japan for the National University Championships in early September.
This week in Cali has shown him the rising tide in Asian sprinting, and he knows it'll push him to greater heights in the years ahead.
"It's great there's so many great athletes there and that I'm so close to them, I can learn from them and it's more of a motivation for me," he said. "I needed to see the reality and all I can do is train after this."
He, like the others, walked away with a belief he can one day be among the world's best. Now that they've got a taste of it in Cali, they want more.
Cathal Dennehy for World Athletics