Serbia's two-time world U20 javelin champion Adriana Vilagos at the World Athletics U20 Championships Cali 22 (© Marta Gorczynska)
It all started with the vortex – a small, American football-shaped foam missile with an aerodynamic tail. Adriana Vilagos was eight years old and, in her home village of Mali Idos in the north of Serbia, she started laying the foundations for an eventual career in the javelin.
She was playing handball at the time, but her gym teacher noticed something: Vilagos had a faster hand, a stronger throw, than other children, and so she sent her to participate in a children's throwing competition.
"I didn't even know what this was," she says.
Her mother, Derdi, was a handball coach and former player. She worked as a public prosecutor in the same city that vortex-throwing competition was being held in so she brought Adriana along. Vilagos won, then went back playing handball after, but a year later she entered the same competition again – and won again.
"I really started to like this," she says. "Vortex was amazing. The results got better and better, and in the end I threw 79 metres."
The only issue? Vortex competitions only went up to the age of 13. After that, Vilagos had to learn the javelin – a similar but far more complicated technique.
"In vortex you can throw and it doesn't matter how, it will fly, but with javelin you can hit yourself in the head, the back," laughs Vilagos. "In my village it was not very strong for athletics, we didn't have a club or coach or anything, so my mum helped me in the beginning and we learned a lot. We watched YouTube videos for hours and hours to learn the technique."
Aware that her daughter had a big talent, Derdi signed up for coaching courses and she has guided Adriana to this day, turning her from a standout childhood vortex thrower into an 18-year-old who already has two world U20 javelin titles to her name.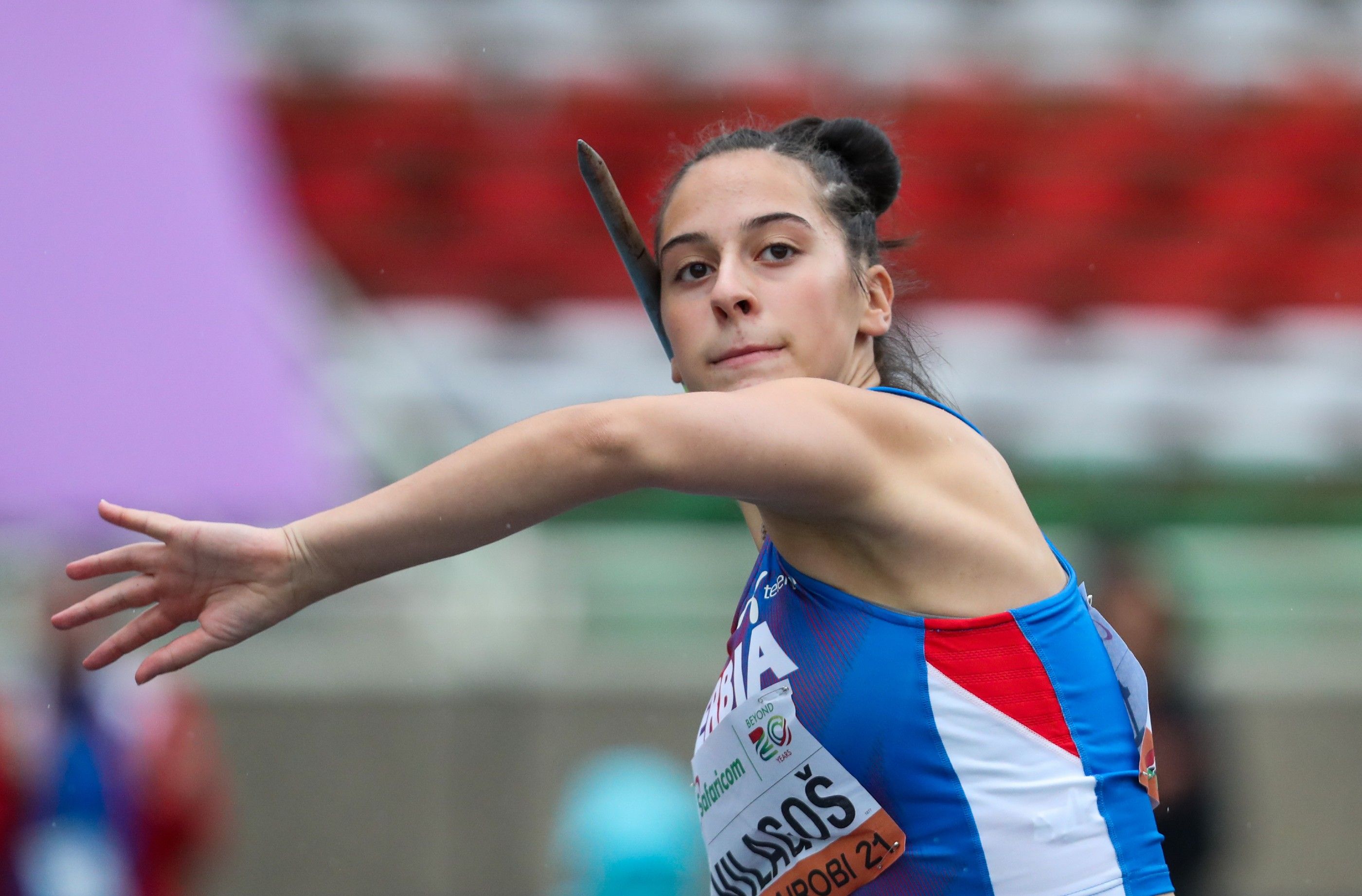 Adriana Vilagos competes in the javelin final at the World Athletics U20 Championships in Nairobi (© Roger Sedres)
Growing up, Vilagos "never thought" she would become a high-level athlete, but in recent years that's exactly what she's become. She finished school earlier this year and is about to start university in a nearby town, studying sport.
She trains once a day, six days a week, her workload relatively light given the distances she's throwing. "This year we started to learn how to do weights but we didn't put on weights yet," she says. "I'm just learning that technique and next year can come the results. We are doing gymnastics, we are playing a lot. Handball was very good for that – it makes my hand faster."
Vilagos stepped away from handball a few years ago to concentrate on athletics and she's been on a steep upward trajectory since. In 2018, at just 14, she threw a Serbian U18 record of 59.69m with the 500g spear, which she improved to 64.73m a year later.
In 2020 she began throwing the senior implement and launched a national U18 record of 57.41m. She threw over 60m for the first time last summer, with 60.94m to win silver at the Balkan Championships, and threw the 500g javelin 70.10m - a world U18 best. Vilagos also won silver at the European U20 Championships behind Greece's Elina Tzengko.
Going to Nairobi for the World Athletics U20 Championships last August, Vilagos didn't think she stood much chance of winning against Tzengko, but that's exactly what she did, upsetting the odds and throwing 61.46m.
"That was a real shock for me," she says. "Elina is amazing – a very good thrower."
But so, too, is Vilagos, who improved to 62.36m last September at the age of just 17. Through 2022 she was consistent, but for much of the year she didn't live up to her own lofty standards.
"I didn't throw that bad, I threw several times over 60m but I didn't get to the big ones," she says.
Heading into the World Athletics U20 Championships Cali 22, Vilagos felt a big one was coming, and so it proved. She got one hand on the gold medal in the javelin final with her second-round effort of 63.34m, which she later improved to 63.52m, a championship record and Serbian U20 and U23 record.
"I'm very happy we are doing good form in the good competitions," she says.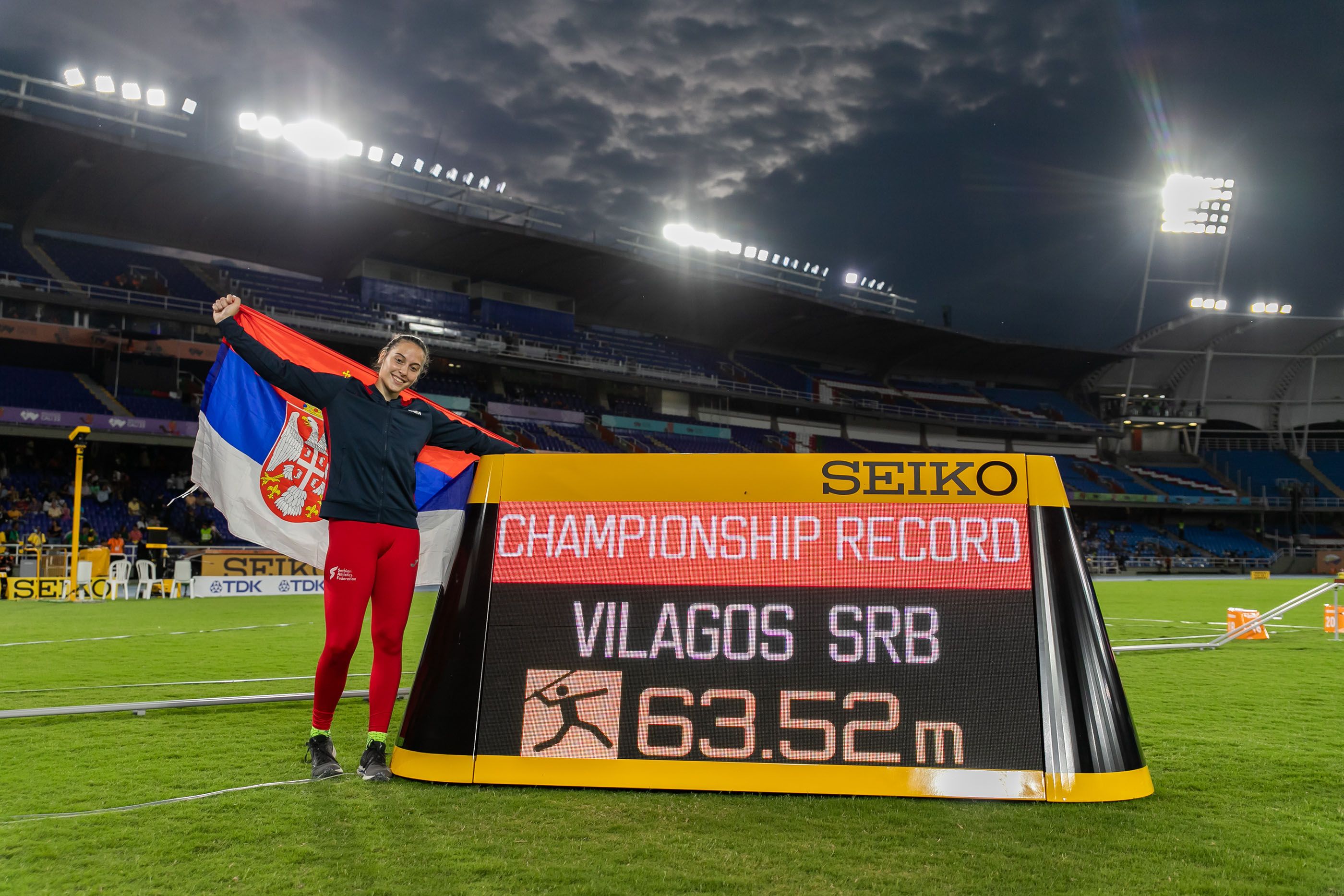 Adriana Vilagos celebrates her javelin championship record at the World Athletics U20 Championships Cali 22 (© Marta Gorczynska)
She's got another big one right around the corner. On Thursday (18), Vilagos will take to the runway in Munich's Olympic Stadium for javelin qualification at the European Championships, going up against some greats of the event like Olympic champions Barbora Spotakova of Czech Republic and Sara Kolak of Croatia – along with her old rival Tzengko.
She once met Spotakova, the world record-holder, when they were training at the same time in Split, Croatia, and was starstruck by the experience. Vilagos was the same when she met men's world record-holder Jan Zelezny.
"He is my hero, he is amazing," says Vilagos. "We learned watching his throws on YouTube, we spent hours and hours watching how he is throwing."
Her mother was right there with her in Cali, and she'll be there again in Munich. "We are really close," says Vilagos. "She's learning a lot to be a better and better coach, to be at a higher level, so I have to thank her for everything."
The world U20 record is the 63.86m thrown by Cuba's Yulenmis Aguilar in 2015, and Vilagos is now only 34cm away from it, and given she's eligible for the U20 category next year it could be living on borrowed time.
She'd like to get closer to it in Munich, but her goal is far more simplistic.
"Just to watch how it is in a competition I've never been in before, and to throw good," she says. "Then I'll be happy."
Cathal Dennehy for World Athletics