Jackline Chepkoech on her way to 3000m steeplechase victory at the World U20 Championships in Nairobi (© Dan Vernon)
A world U20 lead, a national record, a personal best: all three podium finishers in the men's long jump ended the evening with more than their medals to draw the curtain on a dramatic and captivating competition on Friday (20) at the ongoing World Athletics U20 Championships in Nairobi.
It was an outstanding evening for the French team following Sasha Zhoya's spectacular record-breaking achievement in the 110m hurdles at the Kasarani Stadium, a feat which no doubt inspired European U20 long jump bronze medalist Erwan Konate to soar past 8 metres for the first time in his career. Setting a world U20 lead of 8.12m (0.4m/s), the mark makes him the first athlete in his age group to jump further than 8 metres in 2021.
Colombia's Jhon Andres Berrio proved a worthy competitor and nearly reached the 8-metre mark, leaping to a national U20 record of 7.97m which he got at his very first attempt of the evening. The 19-year-old had hoped to improve on the mark as the competition progressed but was only able to manage jumps of 7.11m, 7.59m, 7.38m, 7.64m and 7.68m subsequently.
Jamaican youngster Kavian Kerr, who came to Nairobi with a lifetime best of 7.81m, added 9cm to his mark, starting off his series with 7.14m, then recording a no-jump on his second attempt before launching to his personal best.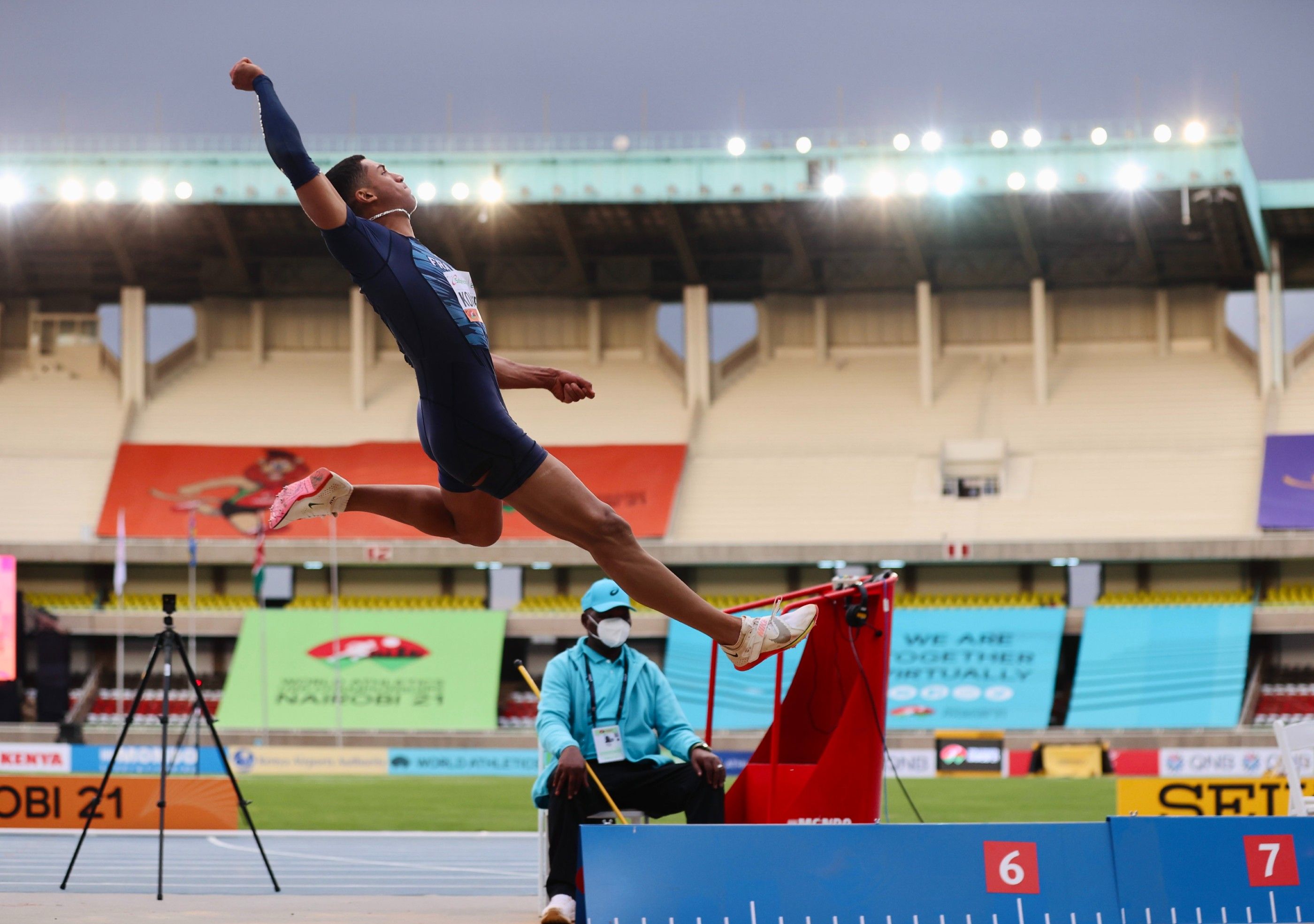 Speaking afterwards, Kanote said: "It is a fantastic feeling becoming a world champion at 18 years old. This is one of the events we consider ours as French people and I am happy things are going my way. I wanted to be the first 18-year-old junior to pass the 8-metre mark. Next year I will try to set the world record at 8.35m (held by Russian Sergey Morgunov since 2012). It's quite ambitious, but nothing is impossible I will work for that."
Not everyone can foul on three out of six attempts and still go ahead to win gold, but three throws were all it took Jan Dolezalek to win the men's hammer throw (6kg). The 19-year-old missed his first, third and sixth attempts.
Eventual bronze medal winner Jean Baptiste Bruxelle initially led the field with his first-round throw of 75.86m, improving it to 77.70m in the next round. Greece's Oretis Ntousakis overtook him by the third round with his superior effort of 77.78m which eventually earned him the silver.
Opening his campaign with 77.35m in the second round, Dolezalek had to dig deep to produce his best throw of the night which turned out to be a national U20 record of 77.83m which gave him the gold. European U20 champion Dawid Pilat was knocked off a medal position, finishing fourth with 77.09m.
Meanwhile, Swedish sensation Maja Askag upgraded from European U20 triple jump champion to world U20 champion after leaving her best jump for last, winning her first global title with a jump of 13.75m to maintain her unbeaten run in the triple jump this season.
Although her winning distance may not have been as far as her lifetime best of 14.05m with which she won the European title in Tallinn, the 18-year-old was happy win the win, especially as she aims to do the 'double double', having already claimed both the long and triple jump titles at the European U20 Championships – the second woman in history to achieve such a feat.
She said: "It means everything. I am honored being here representing Sweden. It has been a long season, that is why the victory is sweeter. It was also good to push each other to achieve longer lengths and for that I am happy. This gold medal further gives me motivation ahead of my long jump final on Sunday."



Spain's Tessy Ebosele set a lifetime best of 13.63m to take silver, adding it to the silver medal she won in the long jump in Tallinn, and just like Askag, will be aiming to finish on the podium in the long jump as well. Darja Sopova won the bronze for Latvia with 13.60m.
Finland's Janne Laspa was the man to beat in the javelin throw, upstaging Nigerian Chinecherem Nnamdi who had topped the qualification rounds with 78.02m. On this day however, it was Laspa who did just enough to get the gold with his best throw of 76.46m recorded on his third attempt. He switched positions with Ukraine's Arthur Felfner who had finished ahead of him in the qualifying rounds, with the latter having to settle for second place this time around with 76.32m.
The Nigerian took the bronze with a distance of 74.48m, making him only the second Nigerian to win a medal in a field event at the World U20 Championships, and the first ever to win a medal in the throws.
Laspa said: "This gold means a lot to me. I had surgery on my elbow last year so I had a short training period coming into this event. This is a very important gold for me because we have a strong tradition in the event. I'm looking forward to next year's world championships in the US."
Although Chinecherem was crestfallen after losing the gold, the African Games bronze medallist, who has just been signed by Baylor University, was happy to have made history for Nigeria.
"The competition didn't play out the way I planned it," he said. "I came for the gold and hoped to hit the 80-metre mark but coming to the final I got a 74. I feel a bit disappointed but I'm okay. Sometimes you get it right and sometimes you don't. To make history is not easy, it's never been easy. For me being the first person to get the first medal in the throws at the World U20 Championships, I'm really grateful."
The host country added another gold medal to their haul, this time around in the women's 3000m steeplechase where Jackline Chepkoech ran a practically solo race from the first barrier to leave no one else with the chance of taking the gold.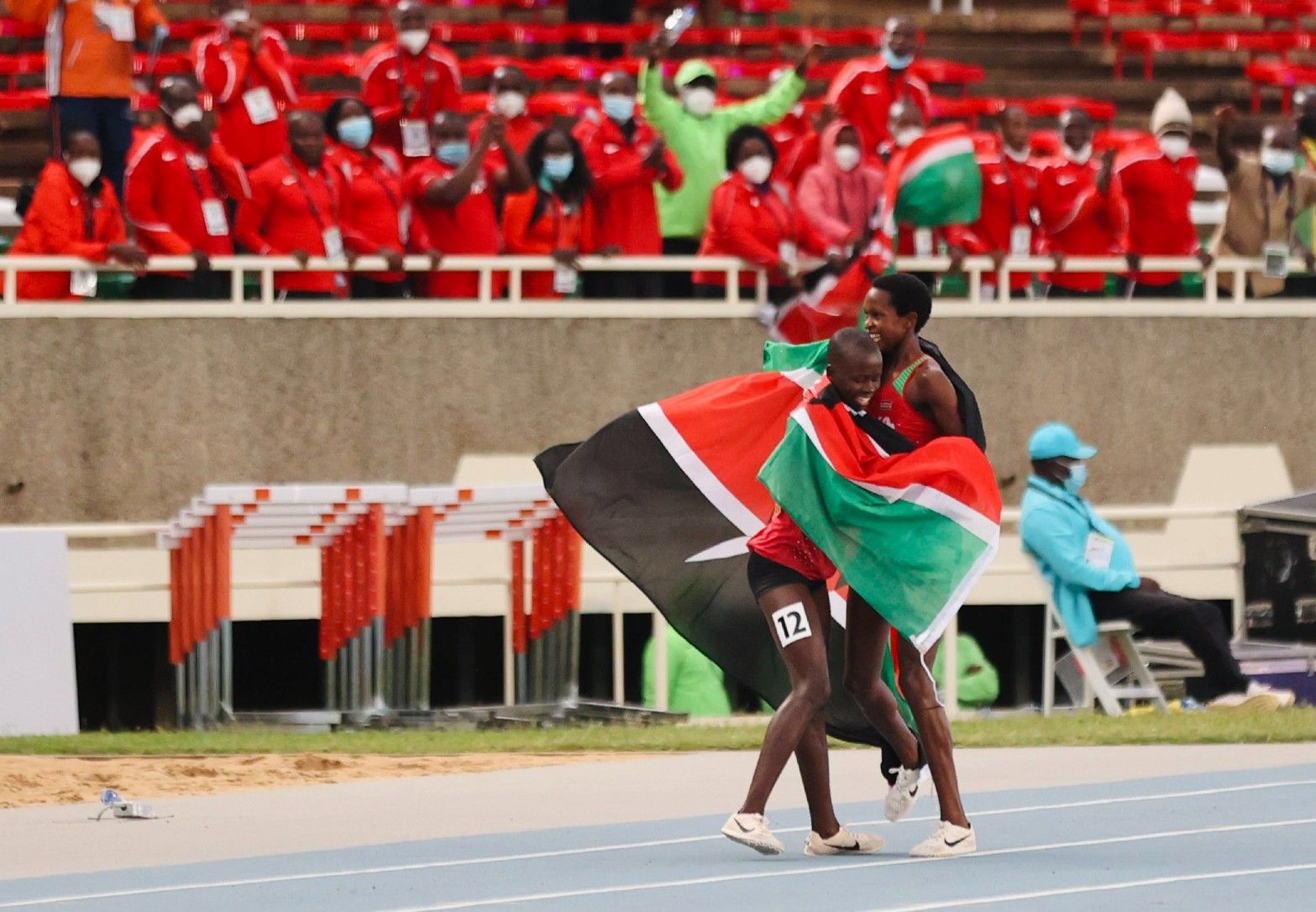 Her closest contender was Ethiopia's Zerfe Wondemagegn who tried to keep up, but after the first lap, Chepkoech established at least a 30m lead, leaving the rest of the field behind until the very end. She raced to a lifetime best of 9:27.40 to secure Kenya's third consecutive gold medal and even though Celliphine Chespol's championship record of 9:12.79 remained untouched, Chepkoech was so excited at winning gold that she immediately did the victory lap as soon as she collected the flag without waiting to catch her breath after performing such as amazing feat.
Wondemagegn won the silver with a time of 9:35.22 while the second Kenyan in the race, Faith Cherotich, took the bronze with 9:44.76 and immediately joined Chepkoech for the victory lap.
Belgium's Jente Hauttekeete currently tops the standing in the men's decathlon with 4381 points after five events: the 100m, long jump, shot put (6kg), high jump and 400m. The 19-year-old comes to Nairobi as the reigning European U20 champion will be hoping to extend his dominance by the end of proceedings on Saturday.
He won three of the five events competed in on Friday, taking victories in the 100m (10.89), long jump (7.44m) and high jump (2.09m), then finished second in both the shot put and 400m respectively, setting a personal best of 48.99m in the latter. Following him closely is Frantisek Doubek of Czech Republic who has amassed 4173 points thus far, while Spaniard Jose San Pastor sits at third position with 3907 points.
Yemi Olus for World Athletics